A
Good evening, everyone and welcome, I will call this september 19th council meeting of bloomington city council to order we'll start our meeting as we always do. If you're able, if you could please stand and join us in the pledge of allegiance.
A
I pledge allegiance to the flag of the united.
A
America and to the republic for which it stands, one nation, under god, indivisible with liberty,.
A
Once again, thanks uh for everyone here and everyone watching thanks for the counseling staff, for your work, pulling this all together and getting us set up for tonight, we have uh actually not a huge agenda tonight.
It's a manageable agenda.
I think we um we've got a couple of introductory items where we've got a proclamation for the international day of peace.
uh We're gonna meet some new city of bloomington employees.
Council member martin has our consent business this evening there are no public hearings or no public hearings number four on our agenda.
A
We have none, no public hearings this evening and leads us into our organizational business where we will have uh three items that we'll be talking about to kind of more along the lines of a almost the study session, the neighborhood traffic management plan, the scope of work discussion that we talked about.
A
We teed up a couple of weeks back.
We get an update on our opportunity, housing ordinance, and then we are going to talk about artistry and the term sheet.
That is in front of us uh to deal with some of artistry's issues, council, anything to add or correct in tonight's agenda.
A
Hearing.
None I would move the agenda, as stated.
Second got a motion and a second to adopt tonight's agenda, as stated no further council discussion on this.
All those in favor, please signify by saying aye aye opposed motion carries 7-0 and we have an agenda.
A
First up on the agenda is a proclamation and I'm going to go down to the podium.
A
Our proclamation this evening is for the international day of peace and uh september.
21St is the united nations international day of peace, and the proclamation tonight actually recognizes that bloomington for 15 years now uh in the civic plaza has been designated as a peace site.
I don't know if you walked in as you walk in our west entrance.
There's a peace pole there and it's always a good reminder that civic plaza is a designated peace site here in the city of bloomington.
A
So here's our proclamation, the international day of peace september, 21 2021, whereas the issue of peace embraces the deepest hope of all peoples and remains humanity's guide and inspiration, and whereas in 1981 the united nations proclaimed the international day of peace, be devoted to commemorating and strengthening the ideals of peace, both within and among all nations and peoples.
A
And whereas, while our communities and our world continue to see a rise in division and conflict, our city remains dedicated to peace, which affirms a vision of our world at peace and fosters cooperation between individuals, organizations and nations.
A
And whereas the year 2022 marks 15 years of civic plaza as a peace site, which represents our commitment to seek peace within ourselves and others reach out in service, protect the environment, respect diversity, foster inclusivity and be responsible citizens of the world.
A
Now, therefore, I'm mayor tim bussey, who hereby proclaim september 21st, is the international day of peace dated this 19th day of september 2022..
A
As I said, uh it's uh interesting here that we're in 15 years of a a peace site here in the city of bloomington, at civic plaza- and I know there are other peace sites as well within the city of bloomington.
A
I know uh at least I think both of our high schools are officially peace sites and have peace polls, and we actually have a we dedicated this time last year or a couple of years ago, a peace poll at uh normandale lake park, and so uh definitely something that the city is dedicated to and working toward, and I'm proud to be the proclamation for the international day of peace. This year.
A
Next on, our agenda is item 2.2, which is the introduction of new employees, and we do this at every meeting. So we have an opportunity to meet our new employees within the city of bloomington and introduce them publicly here at a council meeting with the idea that, obviously we want to meet you as as a city council, but also to uh to get you on camera and let the residents of bloomington see your faces as well.
A
So if they come across you or if they work with you or if they see you here at city hall or out in the community somewhere, they recognize you and see you.
So we have, I think, a handful of folks from community development and carla henderson is going to introduce them for us good evening.
Welcome.
D
Good evening, mr mayor members of city council, um so I have four employees. One is missing right now, I'm not sure he was instructed to come here, but the three. If you want to join me up here, so I would first like to introduce peter hang who started with us may 16th um peter actually is one of our time of sale inspectors, and so he um joined us um he's the son of hmong immigrants who came over after the vietnam war ended in 1977, and he grew up mostly in saint paul.
D
He attended and graduated from harding high school in 1996 and later would receive a degree in marketing and a certificate in business management, from saint paul college and in 2017 he received a building contractor license and started his own company building and renovating homes pete along with his siblings co-owns, and manages a small food truck where they sell egg rolls and spring rolls in saint paul at the farmer's market on weekends and we've had them and they are the best.
D
However, before coming over to bloomington, he worked as a maintenance, specialist and inspector for minneapolis public housing, and so I just wanted to introduce council and the mayor to peter.
Thank you.
C
Thank you mayor for having me um thank you for giving me this opportunity to learn, grow and work with you guys and with the great staff that I work with. Are the people that I work with like carla, duke and everybody else, and it is an honor.
A
Well, thank you and, and we're we're very pleased to have you on board, welcome, aboard and would love to hear more about the food truck at some point and figure out what the schedule might be.
Oh,.
C
Definitely definitely we.
A
Have we have enough?
We have a large parking lot.
We do.
A
Than enough uh uh events and activities here in the city that we'd uh love to sample it personally so yeah.
C
Oh definitely, definitely we do egg rolls and spring rolls.
So it sounds.
A
Wonderful, I mean, whichever.
A
Like them, both very good peter welcome aboard.
Thank you for being.
D
Here, thank you, and next we have veronica martinez um who started with us july. 18 of this year, veronica was born in mexico, but grew up in south minneapolis and richfield. She went to normandale college before transferring to metropolitan state university, where she received a ba in public and environmental health studies, she's debating whether to go back for a master's. So we're going to encourage her to do that.
D
Prior to coming to the city of bloomington.
She served as a business licensing clerk for the city of richfield and a permit tech for the city of minneapolis, and she has a dog named monster who will be turning 12 in years old in january and when she's not working, she likes to spend time with her parents, siblings and friends, and she is a um office support specialist in our building and inspection team.
So.
C
Hi everyone just just want to say thank you for having me for your time.
um It's really exciting working with carla and the rest of the building and inspections team, and I look forward to learning all the terminology but yeah.
I just want to say thank you for your time and look forward to growing with bloomington.
A
Well, welcome aboard veronica, thank you for being with us you're saying the terminology is different from minneapolis to richfield.
C
Yes, it is never been with community community development before um so.
It's all new terminology for me, construction works words and lots.
A lot of a lot of things to learn.
A
Well, good luck!
Welcome aboard glad you're here.
D
All right and our third new employee is emily hespeck who started us on september 1st of this year, so emily grew up in des moines iowa and attended the university of iowa and after spending a gap year working with fema in americorps, she attended the university of minnesota, where she recently received a master's degree in urban and regional planning from from the university so she's drawn to the playing field, because she recognized the importance of being intentional and equitable when shaping our built environment outside of work.
D
She enjoys time with her niece named coraline, who turned one last weekend refused to eat her own birthday cake.
So emily joins us as a planning tech in our planning division.
C
Hi yeah- I um have been working here for about two and a half weeks and I've already been to a planning commission meeting too. So I know this room pretty well, um but yeah, I'm glad to be here and it's nice to see all your faces and hopefully to get to know you better.
A
Well, welcome aboard glad to have you did you do your work at the humphrey school at the university of minnesota.
A
Think you joined a good group and actually my daughter just started last week for her.
A
Well, welcome aboard glad to have you on board here and um looking forward and expect we'll see you probably in front of the council more than once so, yes looking forward to it.
Thank you.
D
So if uh we find john, we will bring him forward. I don't know, um but thank you and um for the this evening very good carl.
A
uh Did your employee make it?
Ours is missing as well missing else as well.
Okay!
Well, we'll get them next time.
We've got!
We do this every week, so we're more than happy to do it.
uh Peter veronica, emily welcome aboard, thank you for being with us tonight and thank you for coming tonight.
Thanks.
A
Item three on our agenda is our consent, business council, member martin, with our consent agenda tonight, councilmember martin.
F
uh Thank you mayor so far I have not heard any holds. Does anybody have anything they'd like set aside all right, easy peasy uh with that I will move approval of items three one through three five.
A
Motion by council member martin, second by council member d'alessandro to accept tonight's consent, business.
No further council discussion on this.
All those in favor, please signify by saying aye aye opposed motion- carries seven zero.
Thank you, council, member martin.
You had an easy one tonight.
Well done.
A
uh As I mentioned, as we were presenting the agenda, we have nothing under item 4 our hearings, resolutions and ordinances, which is a rarity for us.
So we'll move on to item 5 on tonight's agenda, which is our organizational business and item 5.1, which is a discussion of the scope of work regarding the neighborhood traffic management plan.
Now I mentioned: we've we've teed this up.
We brought this up at a number of different occasions.
A
I think the desire or the the wish to find ways to basically slow folks down in in our neighborhoods and drive more safely within our neighborhoods and so we're looking at uh possibilities and options tonight for different ways that we might be able to make that possible and uh we've got uh julie long, and I see kirk roberts here as well to lead us in this conversation of our neighborhood traffic management plan.
Scope of work good evening.
G
Good evening, thank you, mr mayor and council.
G
We heard last july when you authorized and funded a study that it was to be more than just speed limits, so speed limits plus, and so we wanted to make sure that we understood what your scope of work was and that we were meeting those needs.
So that's the discussion we want to have tonight.
G
I can't skip these.
These are very excellent, um so the goal of the program is to promote safe and livable neighborhoods by reducing the negative impacts that traffic and residential areas are causing, so we're doing that through six e's as they relate to traffic.
I always like to lead with the engineering one I know.
No one else is really is enthralled with that.
As I am enthralled, aren't you impressed, um but the other five is there's total 60., so it's engineering, environment enforcement, education, engagement and equity.
G
So we want our study to make sure it addresses all six of those areas, and I'm going to turn it over to mr roberts to talk about what we currently do now.
B
Mr roberts, good evening, thank you, mr mayor council members.
So first up is speed limits.
um The let's see is the.
As the council knows, the speed limit on local streets was established by state statute at 30 miles an hour.
It was that way and the cities had no choice.
They we had to modif.
We had to follow that up until about 2019, when the legislature made some changes and the cities now can establish different speed limits on their local streets.
B
So several agencies jumped on that minneapolis and st paul went to 20 miles an hour.
Edina and a few other jurisdictions are at 25.
Now some agencies have done the evaluation decided they wanted to keep the state 30 miles an hour on local streets.
B
There's a lot of interest in the city for changing the speed limit.
As the council, though, has intuited, when you ask to bring back a full program, changing your speed limit is not by itself going to do very much to modify driver behavior.
B
The what it does do is play a really crucial role in the work that public works and the police do in neighborhoods, and it's kind of a key measure for all the other policies we're going to discuss tonight and so, for example, when the police go to enforcement on local street or engineering goes out and does a study.
B
We look at the the overall speeds if it's at or below 30 miles an hour, there's no problem there, that's a good street.
They can't do enforcement.
We can't do much in terms of our traffic management policies that we have and so that speed limit is essentially the bar, whereby we measure uh everything that happens on those streets so and that's where it can, in conjunction with those programs, can be a really effective tool to manage traffic the um because we never had authority for speed limits.
B
We as a community never really had a conversation about what our expectations are for speeds on our local streets.
um Now we can- and we should that's one of the the most the critical pieces of the work that we're advancing per the state statute to establish a new speed limit for our local streets.
We've got to go ahead and look at traffic conditions in the city as they exist now how people currently drive crashes and safety issues in our neighborhood streets, city-wide and general characteristics of our neighborhood streets.
B
So that's the engineering and administrative part of the work.
What uh and that's that's what we're, including in the scope of work for our study beyond that there's the other five e's.
So we've got the engineering we've got to do the other five v's that by necessity, is going to include the city council, the police department, community outreach and engagement communications and legal staff.
B
Local streets traffic management program- this was developed in 2009.
It was updated in 2012.
As the council knows, one project in that time has advanced to implementation.
That was the louisiana avenue splitter island there that was accepted and embraced by the neighborhood, was built this summer and is working quite well.
That program needs revisited.
It needs updated we're, including that in the scope of work we need to look at the eligibility requirements.
The the first thing is the the speed limit we're going to use for that program.
B
If we're going to update that, that is a critical piece of data for that program, we need to update the eligibility requirements, look at the cost data and participation that we use.
We need to make sure it's relevant across all of our neighborhoods in the city whether the housing is is single-family, residential or if we have multi-family or rental communities.
It needs to treat all of those areas.
The same across the city make sure it's equitable, and then we really need to improve awareness of the program.
B
It is written somewhat in engineering, speak, it's not well understood or well known about, and that's a key thing is to improve awareness and visibility.
B
Another thing that we do is proactive traffic management with our pavement management program.
This work begins about two years in advance of the pavement management projects once the pavement's identified as needing rehabilitation, traffic staff advanced the neighborhood.
So this summer we spent out in those areas of the city where we're doing pavement work.
We looked up the crash data.
We looked at speeds.
We took a whole bunch of data collection.
We went and talked with the neighbors.
Where do you like?
What's working?
What do you not like about traffic in your neighborhood?
B
We got a lot of really good feedback, starting that work two years in advance also gives us the ability to take our things like we can do a mock-up of a traffic circle.
If we're having an intersection problem, we have some rubber curbing.
We can go put a model of that in the road and let neighbors see how it's going to work.
We've got a couple seasons to do that.
It's a good program and it's been responsible for a lot of our success in traffic management in neighborhoods drawbacks.
B
Are that it's just kind of limited to areas where pavement work is occurring, so it might not encompass an entire neighborhood or there might be a problem area just the next street over that we can't take on with that.
But it's a very good program.
It's very economical way to get traffic management in that's generally well accepted.
It's also somewhat limited in what we can do, what we can propose.
B
So, for instance, um the neighbors might want speed platforms, but they won't all agree, and we probably can't get them to agree in the time frame that we have to deliver that project.
So we're kind of limited on the tools that we can use, and so what we need to do is identify those specific toolkits.
We can bring forward the specific ideas clarify how residents opinions are used in that and then just again, better awareness of the program.
Take it out of the engineering realm into something the public can can understand.
B
Speed awareness: this is a program that police and engineering do.
We have radar trailers that the police deploy semi-permanent and permanent radar speed signs that engineering and maintenance put up in problem areas when we're contacted by residents.
The police are obviously deploying the trailers extensively now and they can move those quite readily the radar signs.
We move as frequently as we can it's a good program and it's really useful to help raise awareness just for drivers perspective, especially in the summer months.
B
This is when people are driving as enthusiastically as they generally do in the winter they tend to slow down a little bit and so the complaints that we get it's a good program during those months.
We need better awareness of the program how residents can initiate it, who they can contact, what it's going to do and how we can deploy it.
B
We also need some recommendations on how much we should budget and how we should staff this on an ongoing basis.
B
Parks planning and neighborhood integration.
This is something we're just starting, so we have the river valley master plan that identifies trail head accesses into the river valley, and now we have the park's master plan.
What we're doing now is coordinating with parks and recreation staff on improvements in the neighborhood on the streets in conjunction with the work that's going on in the parks.
B
One thing we steadily heard from the public is: is our parks can seem somewhat detached from the neighborhood and there's often not great ways to walk, especially for younger walkers and less skilled pedestrians, and so we are including traffic management techniques and pedestrian enhancements to improve the local road network around those parks and the communities around the park that we've got right now.
B
Bryant and treadball are planning for construction in 2024, so we've been working with the community and working with parks and recreation to see what things we can include there to get people to the park safely kind of make those parks better tied to the neighborhood.
B
We need that formalized and documented a standard set of items that we could deploy, such as perhaps curb bull ballots, where we have pedestrian trails connecting to streets things like that, and then we need to make sure that we are deploying that program consistently around the city so that we serve all the residents.
G
So I will take over and talk about what we're proposing in our scope of work, and this is where we're looking for some feedback of yeah- that's great or no we're not interested in that or that's good, but you forgot that um so some of the plan minimums that we would like the consultant that we hire to look at is the current conditions of our streets.
What kind of accidents are they having what neighborhood characteristics may be influencing traffic patterns and livability?
G
We also want to look at similar programs in other jurisdictions and we want to make sure we have a robust public engagement component that understands what the desires and expectations are of our community.
As mr roberts mentioned earlier, we've never ever asked anyone what speed limit do you want on your local street?
G
We might get a variety of different answers, so we want to make sure we understand what that that expectation is because it's hard to meet it.
If you don't know what it is and you can't define it, we would like to develop a toolbox of livability approaches.
We are very familiar with traffic circles.
We've done a number of those studies, but should we be doing chicanes?
Should we be doing directional closures?
Are there other things we haven't thought of and also those all have trade-offs.
Some of them have benefits.
G
Some of them have disadvantages, especially when it comes to winter maintenance.
So we want to make sure that we understand the full scope of what these changes would entail.
G
As mr roberts also mentioned, we want to update the 2009 traffic calming program for local streets.
Yes, we're very successful and very proud of the louisiana project, but if you have one project in over a decade your program's- probably not working as you intended.
So let's revamp that, so we get more participation and meet better needs of our community.
G
We'd also like to formalize the speed awareness program and make recommendations, as he mentioned as well.
G
One of the ease is education and we want to make sure that we talk about the different characteristics of streets, so we have a lot of homeowners or multi-family units on collector roads.
Collector roads have a different function than local streets.
Not everyone understands that the example I like to use is, if you're on the freeway- and you know, there's some sort of backup and traffic is slowed down.
Well, great traffic has slowed down, but we all know that that means people are diverting to other places where we don't necessarily want them.
G
So we want to make sure that people understand that we want our collectors and our arterial roadways to function that way and local streets are somewhat different.
G
We also want to, as mr roberts indicated right now, 30 miles per hour is our bar, which we judge.
So if you call and say I'm having a trouble on my street, we're judging you against 30 miles per hour, your expectation may be that it's 25 miles per hour, but we're still doing all our data we're collecting and it's 27.
Well, that's great!
It's below 30.!
G
If your expectation is 25, not so great, it's a little over, so we want to talk about speed limits and then we also want to talk about our proactive pmp work and make recommendations.
We think it's been fairly successful, but others might not, and let's look at it objectively and see.
Are there other changes we should be making with that program?.
G
And then this one is the one that I'm most excited about.
It's the one stop shop for a dashboard to help us with some guidance, because I truly believe if you are a community member who's experiencing some sort of traffic issue, you don't know who to call you don't know what programs we have and it's kind of amazed to try and figure it all out.
So I would like something: that's much clearer and much easier to communicate to the public, so those we also have some others, perhaps suggestions those aren't.
G
They aren't requirements of our scope of work, but there are other enhancements.
G
Some communities elsewhere are using slowed or shared streets programs.
Some of them have speed legends, which is where they actually paint the speed limit on the roadway or optical speed bars.
Where you know the skip marks get closer together, so you think you're going faster than you or slower, depending on which way you do it.
Of course, we want the slower option.
G
We are undertaking the active transportation study and that is separate, but it would be naive of us to tell you that there aren't going to be some neighborhood traffic livability issues that address bikes and pedestrians, so there might be a component of it.
We we want to make sure the two studies work together in tandem, but we don't want to skip over something, and then one of the other ideas we've had is maybe make a safe routes to parks program similar to our safe routes to school plan.
G
And then so now I would ask for your feedback.
Have we are we close?
Are we far apart, so make sure that when we issue our scope of work, that it meets, what your direction is.
A
Absolutely thank you.
Thank you much.
I was struck when uh mr roberts is talking about what we're currently doing.
The recommendation for at least two or three of them was a better awareness of the program, so I mean it falls right into this.
Need for for education and engagement and letting people understand helping people understand what the city is currently doing and what different tools are available.
So uh I I'd like this.
I like the ideas in this.
A
I like the um the notion of not only thinking vehicles but pedestrians and bicycles as well, because I think you're absolutely right that is going to connect with it.
It's going to fall, it goes hand in glove, and it just makes perfect sense to do it in that way, uh and I also like the notion of a tool kit.
This is, as we've talked about this isn't, as you said, this isn't just lowering the speed limit and expecting this problem to go away.
A
There's there's a lot of different pieces to this puzzle that we need to put together and come up with a comprehensive plan that works across the city and some things aren't going to work in some neighborhoods and other things will work in other areas and we get that.
We understand that and I appreciate the again the notion of a toolbox where different things can be used at different times.
So council questions thoughts on this council member colter.
H
Thank you, mayor um yeah.
I I think um I like what I see, I'm I'm struggling to.
Think of any of the ease that you haven't touched on.
um I'm also really excited about that one-stop shop idea, because even you know even folks who email us, we send them to mr keel and he send them sends them to somewhere else, and I mean folks aren't exactly expecting like crazy efficiency when they email the government, but sending someone to three different people gets a little bit much.
H
um So I think that's a really frankly something that other departments might want to think about too in terms of how they interact with the public.
um So I yeah I like what I'm seeing and I want to.
Thank you also for teaching me a new word tonight.
I had not heard what a chicane was, and so I literally looked it up on the dictionary and assuming you're not referring to to use chicanery.
H
A series of tight turns in opposite directions in an otherwise straight stretch of of road, so I did not know that so.
Thank you so much.
A
Councilmember d'alessandro.
I
Does lombard street in san francisco qualify?
I
um Thank you, mr mayor.
I think this is a a great plan.
I'm very excited to see you, including the program um roll out for models like the louisiana avenue one.
I know that I mentioned when I saw that that I'd really like to see you know the ability for us to hand out to people you know.
Essentially, if you want to do this kind of thing in your neighborhood, you know: um uh here's here's, how you can go about it, and so I'm super excited about that.
I think that that's a great thing.
I
I also think that being proactive about about managing this uh also makes a lot of sense, and I'm delighted to hear that you're doing that.
I know mr roberts and I had the chance to talk uh at the bryant avenue event earlier this uh or le.
I guess it was last week um about the the way that we can move people in neighborhoods to and from our parks.
Now we have a real problem there.
I
We just don't have uh you know that connection and so, um and I hope that will include potentially working with hennepin county in that area, because you know some of these roads that we're talking about that are connectors are actually county roads right, and so we need their help uh in some cases um or if they go in and put in a a bus, stop and then don't help us get anybody from that bus stop to somewhere else.
I
That kind of defeats the point right, and so um I think, hopefully, they'll be useful to us in this card. I think the the one thing I think um I'd like to see- I don't want to say it's missing, but maybe a little bit more active promotion on is bringing in the active transportation and the ada conversation to kind of be more comprehensive about this in large part, because I think we need to make updates to those anyway and we had talked about pulling ada and active transportation together.
I
I'm wondering if there's an economy of scale here, at least in part, that we can get with our with our consultants uh around their ideas.
For that.
um So I think that's it for me.
Thank you.
A
Thank you, council member councilmember, martin.
F
uh Thank you mayor.
I I just wanted to to highlight and give a big thumbs up quick to the proactive traffic management with pmp, because, especially with the toolkit developed and people being able to see in a more concrete way, their suggestions, maybe coming to fruition or learning why they may not work.
F
I think, would drive a lot of participation and it's a great opportunity for us to touch base with the entire city on a rolling basis over time, because we might be able to catch concerns they have in their neighborhoods that are completely unrelated and use that as a segue to hand them off to the appropriate contacts.
F
So yeah, I I love the idea and if we could make it even just from a referral standpoint, cross-departmental a huge opportunity.
J
um So I just have to say that I'm very very excited about this. I think like many on the council, um you know this is a issue that I've heard about so many times over and over again and was definitely one of my top priorities.
J
When I first started on council so- and I know it was the same with others and so just really excited that we're having this conversation and that it's not just about speed limits but a more comprehensive approach, and so um I just want to say that I really appreciate uh that you've named increasing awareness of the programs that we have in place, and I also really appreciate that you're thinking about increasing access so really like the one-stop shop idea, and then I would encourage you, as you know, you're going down this path of working with the consultants and doing research and the analysis to think about other ways.
J
We can increase access, so I think about people who live in our community who might have language barriers or other barriers. How are they going to find out? How are they going to get more information about the program?
J
I assume, if it's on our website, it will be able to be translated, but you know just thinking through things like that and then I guess I just wanted to clarify one thing and then I have another question.
So you talked about the parks, planning and neighborhood integration, and then you also talked about safe routes to parks, and so is the is the difference between the two that the first is kind of more about how to how do you, like it's really more of that integration?
Piece like I guess, instead of me answering it.
J
I guess I would ask: how do you see them being different.
G
um I'll take an attempt at that, and then mr roberts can correct me where I'm wrong.
G
We have been looking at it with as part of our pavement management program as proactive things and right now we have connections to our parks that are behind trees or that dump you out in the middle of the road and so for me the first part is to correct those and then the safe routes to parks is more globally into the neighborhood and how to get to the park.
So, okay, that's how I differentiate them.
B
Councilmember, I think that was exactly spot on.
You know we need to integrate the park into the neighborhood into the street network surrounding the neighborhood, but then bigger picture I'll use bryant.
As an example, a lot of people go to bryant park from across 86th street, which is a is a collector's street.
Quite a bit busier quite a bit more volume.
They still need to get across that street safely, and so yes, that the integrating is that micro view and then the macro was maybe that safe routes to parks, plan.
J
Okay, thank you for clarifying that, and I also love that idea and agree with it.
I live across from tretbao, so my children, when that park is done, they will have to cross 90th so uh which I'm like.
No, that's not going to happen so uh really appreciate that and then this may be kind of implied in what you were uh talking about in terms of things we're already doing or things that we want the uh the study to look at.
J
But are we going to consider the approach to decrease road width where we can- and I know this kind of came up in last week's listening session?
I know it would not be, and I am not proposing at all that we would just go- tear up nice, fine roads to decrease their width, but I'm just curious.
J
If that thinking is going to be part of the assessment, I guess.
G
um Mr mayor councilmember carter, it was not our intention to include that, but we certainly could I'd like to give you a little bit of an update, because we were at planning commission a couple weeks ago, and some of our planning commissioners are big into narrowing our streets, and we knew that.
So we did an estimate of one of the streets.
That's proposed for the 2023 pmp program.
It is about a half mile of streets in that neighborhood and it was about 800 000.
They have existing, curb and gutter.
G
They have it's about eight hundred thousand dollars just to do the surfacing for that neighborhood and it adds another seven hundred thousand to move the curb in.
So that would be I'd toss the ball back to you guys and say: is this something you guys want to go forward with, so just to give you a ballpark and frame it so we're talking real dollars instead of hypotheticals.
J
I do think that when you come back with the results of this study, it would be helpful to include information like that, especially for as a reminder to us and for those who are listening in um who maybe aren't listening tonight, but we'll be listening to the results of the study to know that we've considered it and that that there are, I mean that would be very.
Those would be significant cost considerations, but we also know that road width also plays into people's speeds.
J
So are there other things that we can do, which I think is part of the study.
G
That our hope was that the toolbox would we could do bump outs to give that feeling of narrow with and a more economical solution at the other issue we have is we have 340 miles of streets and only 14 of them right now, don't have curb and gutter.
So we have a neighborhood.
We are going to ask them.
Would you like to see it narrowed, but there aren't as many opportunities as there were probably two decades ago.
Okay,.
J
Yeah thanks for that again, I just think naming it that we've considered it that we've looked into.
That would be really helpful.
I also will just say that there's like a very weird squeaking noise happening.
I don't know if others are hearing it in the sound system.
It's like a high-pitched okay.
I wanna make sure I wasn't the only one I don't know what's going on, but just wanted to.
Let the folks in the back know.
J
It happens every once in a while.
A
Call us any other questions: council, member, nelson and councilmember loman councilmember nelson yeah.
K
Thank you mayor.
um First.
I really appreciate that you expanded the scope of this from just the uh speed limit to be very comprehensive here.
I've got three things one.
It would be nice for you to look at explicitly.
What are the goals like?
How will we know that this is successful?
Are we trying to reduce that traffic?
Are we trying to reduce accidents?
Are we trying to reduce complaints to the city?
What exactly can we measure to know that we're getting where we want to go?
K
Second item I have is when you look at different recommendations, if we can get sort of the impact you think they'll have and the cost, so we can prioritize because, obviously I'm assuming there's going to be costs associated like you just mentioned, uh you know to do the redo roads, which I don't think makes a lot of sense to take out a perfectly good road to make it more narrow for that that amount of money um uh and then the third item I had was um looking at other ordinances within the city.
K
uh One example that I have is there's been a policy and probably a very well-founded policy to keep uh cars off of streets, but cars on streets actually narrow the street and provide a certain level of traffic calming, and so is that something that we should at least look at. um You know how we have those policies and I'm not. I don't know exactly how we encourage people to park on the street, but we have a 24-hour thing.
K
You have to move your car, but if you have a functional working car, that's there for 72 hours, maybe that's okay!
Maybe that helps in that neighborhood to slow people down and things like that.
um My last suggestion is not ever going to happen, but to advocate for raising the driving stage, but because I live by a high school, it's the kids.
K
So um the last thing I would say um just as point of information, I read or heard an article on public radio. I think about uh hoboken new jersey that has not had a traffic fatality in four years, um not an exact uh analog to uh um bloomington or much more dense community being right outside of new york city and about 60 000 people, but they took simple steps with like flexible bollards and things like that.
K
In order to help control where traffic was there were inexpensive methods and- and that's I guess getting back to my goal- you know if hoboken can do it, you know maybe bloomington can do or get close to it. So, um thank you again for doing this, because I you know, I mean people's lives are at stake when and what we're doing the livability of our neighborhoods is at stake, and the mayor has said this, and um I agree it's probably the most frequent thing that I hear when talking to people about their neighborhoods.
A
Thank you councilmember, and I appreciate you bringing up the hoboken example, because I've said many times that uh you know you have a good city program in place because when others steal it- and so yes and I'm encouraged to hear that you're looking at other jurisdictions and what they might be doing and what might be successful, because if we don't have to reinvent the wheel so to speak, we don't have to so council member.
L
Oh, thank you.
uh Oh maybe we can put some rvs out there too.
L
Totally kid on that.
So, um as I think about this- and you know I think you know- my colleagues appear- have already stated how uh you know how much they've liked this- and I also agree with that.
um I kind of think about a couple of things I think about when the storm had gone through bloomington and how it knocked out a lot of the trees and how, when I came home just how differently I felt about the neighborhood, you know I felt like it was a big sky.
L
All of a sudden next, my brother had always talked about it being kind of a big sky.
And what are you talking about?
I mean it's always kind of really woody um and then I also think about when I've been in richfield and I've seen kind of what they have done with those streets in terms of the roundabouts and just how the the the feel of the streets are, and so you know a lot of ways.
L
I look at our our streets as kind of like arteries and the veins uh of our entire existence here, and I think about place environment and health. uh When I look through those things- and I think this is- you know- to use a word that uh or one of our champions of this councilmember carter uh exciting, you know, if that's another e, that I look for, and I know she used that uh during her commentary uh today is that you know how do we make our streets exciting?
L
To I mean, maybe maybe the police chief might not feel that way cruising through the city, because because they're exciting, but you know how do we make it?
You know a sense of place when you come through.
um You know traffic calming narrowing.
I definitely agree with that.
How do we measure that definitely agree with that?
You know the connectiveness uh and the characteristic of the roads and that sense of home, and so that's one of the things that I think I know that doesn't happen.
L
You know at one point in time it's going to take a long time to get there, but I just think we want to be real intentional in terms of how we think about uh doing that and then from an environmental standpoint. I wonder if it makes some sense to kind of uh look at both you know so, for example, salt on the roads.
L
You know there's an impact in a sense with you know how we utilize the salt, so maybe it maybe it doesn't make sense to narrow the road um in the sense of it's going to cost a lot to do that, but maybe it makes sense from an environmental standpoint to reduce or narrow that road, because there's less salt that needs to be used.
L
So I'm hoping that we will consider some of those types of things some of those types of trade-offs uh when we're when we're looking at this um and then also some of the health impacts as well.
You know when we slow down the those pieces, really got health in all policies with the environment.
So I'm really looking forward to an exciting future.
When we look at these uh these items going forward.
A
Thank you, councilmember.
A
You have enough to work with there.
We.
G
Do thank you very much.
We appreciate your time.
A
And uh what? What are next steps in terms of how this will all roll out.
G
We are going to finalize the scope and probably issue it sometime in october, receive the proposals in november and then be back to award something in december, and I would anticipate like a kickoff kind of in january and it probably will be like a nine month study.
It's not going to go quickly.
We can't solve all those problems immediately, all even if we wish to.
A
Well, I think it makes sense also, especially here in minnesota. You can't just do a study in the summer. You need to study in the winter as well and throughout the season, so you've got to make sure that you get all the information that you need so.
G
And public engagement's easier, it.
A
Thank you.
Thank you.
Councilmember d'alessandro yeah.
I
I just had a quick question for you: julie apologies, mr mayor.
I should have asked this earlier, but it came to mind as we were talking, um I'm just curious.
Do you expect that the the folks that will respond to this rfp will give you kind of a um kind of a tiered approach, meaning like here's, the best, the best options and then here's the good and here's better and like will we get?
I
We get a sense because, as as uh council member nelson mentioned, you know, maybe we can make some trade-offs there based on you know um this might be the best option, but it's too expensive.
So let's look at this compromise solution or whatever do you know if how that is planned, or could we ask?
I guess, for that.
G
We can certainly ask mr mayor councilmember d'alessandro. We can certainly include that in our scope of work, so that that's what we get.
I
Okay, yeah, if that's okay with everybody, I think it might be helpful to us to just get some bumpers for what um what's worth our time to do what would not be worth it in the sense of both costs, but also here's what's cheap, but also not really going to do much.
I mean that's also a good thing for us to look at.
I think, okay, thank you appreciate it.
Thank you.
A
On item 5.2 on our agenda- and this is an update on our opportunity- housing ordinance- I think um we've done this a couple of times and heard updates and actually have made changes as we've gone along to improve things as well. But I think tonight is a simple update as to where we are and we have carla henderson and I see eric coleman moving forward as well.
D
Evening welcome good evening, mr mayor council members, so the opportunity housing ordinance does have a clause in it that the uh requires an annual update from the two city council from the community development director on or before october first every year. So here we are, but um I can't do it by myself, so I brought the experts along.
D
I would not be up here talking about housing without having our housing administrator, erica coleman and even though mike palermo has a promotion to the port authority, he is definitely our housing guru with all of the data um and actually put this presentation together.
So if you have questions, I've got a deep bench here.
So um oh thank you matt uh all right, so we're just gonna cover three components: talk a little bit about the ordinance, the incentives that have been utilized and then a development update and we're gonna kick right into it.
D
So um this is, I call this erica coleman's slide because uh she's always coming like. Oh, my gosh you're, not gonna, believe the income area median income so for 2022 you will see for a family of four eighty percent. um Ami is at eighty nine thousand. Four hundred dollars- and so you can see that we had a significant increase from 2021 to 2022.
D
These numbers are set by at the federal level by our department of hud and have been approved by minnesota housing right she's, adopted by minnesota housing and the met council.
D
So just wanted to show you that slide um and then basically the oho requires either on-site or off-site units payment in lieu dedication of land, purchase and rehab existing units, and so majority of the developments that have occurred under our 2019 ordinance have been on-site units.
We have had one payment in lieu of project, but really it is for off-site units, because that payment will be going to another development off-site.
D
And here are a list of the incentives, um obviously providing a lot of flexibility in our development standard, and then we have a number of financial based incentives as well.
I wasn't I'm not going to read the whole list, but I think you guys are pretty familiar with these since they come before you and a parking update.
So a few months ago this was modified.
The biggest change was to give more of an incentive for our 50 and 30 ami units, and so um like do you want to talk about the slide at all.
D
Yeah, that's our big update and then we wanted to let you know that we have a lot of materials available on our website.
We have a oho handout that can be found.
D
We really want to walk developers through kind of what the city has to offer and then the next slide is going to be kind of hard to read, but it's basically all the incentives utilized by project and I'd be happy to realize.
I just didn't get emailed to you, so we will get this out to you um and really.
I think what this graph shows is that some incentives are really valuable and some are not as valued.
D
So you really need multiple options: kind of like a menu so that um because for certain projects, uh some appease more to a developer, and I should also note that eight out of the ten projects received tiff and we believe that none of those eight would not have occurred without that tif incentive.
D
And then we wanted to show you the percentage of projects, basically by the utilized incentives.
So you can see uh parking and then the tiff all the way down to the land right down, but the parking stall reduction really is where people where developers find their help, find their sweet spot on their projects.
D
And this is a graph you've seen many times uh we are, you know on our way um to get to 60 50, we're behind on 30 ami and really want to shift the conversation with developers that approach us. I know erica talks a lot um to developers about you know we would entertain certain projects, but we need to see more deep, deeper affordability for the incentives, and so we have heard that message loud and clear.
D
We see it in our numbers, and that is um how we're moving forward- and I just wanted to show kind of like five of the most recent projects.
D
This is a senior project in south loop that is still under construction, but moving ahead.
D
Cadence is also known, as formerly known as 8012 old cedar, which came before this body multiple times for um to get this project over.
I think they're open, yes, they're open, so they rebranded there's the air apartments.
That's the crown plaza conversion, the hotel units.
D
Carbon 31, which is under construction right now in south lube, we're out there a couple months ago for their groundbreaking. This is the fourth development of bloomington central station, which will have a grocery store as well.
D
And then noble apartments, 8200 8200 humboldt, which has been demolished and um I haven't been by there well, I know councilmember d'alessandro drives by there, so you should see some activity great.
D
So we wanted to talk a little bit about.
What's next, we don't see any changes in their near future.
We do know we need to update the nexus study the last time it was done.
It was in 20 2018, um but we really want to before.
We invest in that study.
Let the market settle, so that we have a stable analysis and that will help us determine.
D
You know any updates that we want to make to this ordinance because, as you know, this is kind of a living and breathing ordinance that ebbs and flows as the market changes and as the demand changes and so.
D
And that is the end of the presentation.
So if you have questions um be happy to entertain them and, like I said erica and mike are here, um I'm sure they'll provide much more detail than I ever could.
A
Thank you.
Thank you for the overview.
L
Oh really just one one question: actually just maybe it's two questions, apparently we'll look at it.
So uh going back to the incentives, we don't need to go back there, but uh are there any things that uh developers are asking for uh that that maybe we should add to that and then is there a way that we could leverage the the new inflation reduction act?
That's out there to have additional incentives.
E
Thank you, mayor, council, member.
So far, there hasn't been anything that the developers are asking for.
That's not included outside of more money.
E
Right always asking for more money, um but uh I would have to read up more on the inflation reduction act.
There's a few tales to that.
That I'd have to look at a little bit closer to answer that question about how we could take advantage or apply that.
L
Thank you for that and, as you have a chance to have a look at that, the thing I'd be particularly interested is in some of the environmental incentives.
I don't know what there may be in there.
Maybe a colleague down here may have a better sense of that, but if there's anything, we can move in that direction where we can help folks to kind of leverage that to be more environmentally uh sound.
L
I'd love to see us do that, and if we can drive that right down, even if we have to put something in like, I think we did with the uh with the uh uh water park piece.
A
Council member colter and then councilmember d'alessandro, councilmember coulter thank.
H
You here um could we actually go back to that slide that showed the the incentives used in and how the number of projects or percentage of projects that used each incentive?
It was a bar graph.
H
Not that one the next one, thank you.
um Do you have any concept of why I mean I'm seeing a fair number of these incentives that I mean, in particular the um the development fee deferment and um for area ratio bonuses, things that I kind of thought and it seemed like developers, might be more interested in that really haven't been used.
All that frequency frequently.
Do you have any insight into that.
E
So I will start with the developer fee deferment.
We have had projects that have used litec and there's only so much of their developer fee.
They can defer so taking that in consideration as another source for achieving affordable housing.
E
That would be why um that one would not be used as much and then the the second one you mentioned site area reduction was that poor.
E
Floor area ratio bonus mike.
F
How much of it is there?
That's a planning uh specific.
um I think why you don't see as much floor area reduction is because you also we have density bonus, so those two are kind of related.
F
Some of our standards have more of a floor area ratio, so the amount of floor area to your site, where some of our standards are more just number of units per site, so we're less restrictive.
With that floor area ratio, some districts are more reliant on it, but that's where you see that density bonus, kind of taking that over that's more of the constraint than the floor area ratio, but in some cases we need that.
One too sure.
H
Thank you.
That's that's helpful.
I guess I just generally it's interesting to me that some of these are not used as frequently as I kind of would have expected them to be so um something to to think about.
Thank you.
A
Councilmember d'alessandro.
I
Thank you, mr mayor uh related question on this slide. Actually, um if, if our goal, I guess I'm confused a little bit on on why parking stalls or reduction in parking stalls is such a no-brainer for these folks, I guess what I'm getting to is our.
I
If our goal is to reduce the monthly rental cost to a a resident parking stalls are kind of a one-time investment they're, not necessarily something that you know they have to pay for every month I mean, maybe some people use that model right and include that in a fee, but from a development perspective once the parking residence is built, it's built uh so how, if they get less money per month for that unit,.
I
What are they paying back, but I get I'm just um so help me out.
If that's okay, I I'm sure I'm missing something pretty obvious to everybody else in the council.
F
Yep, mr mayor councilman d'alessandro, so essentially with that parking stall reduction, there's kind of a couple of factors going there, one it's just construction cost of an actual of pavement right that you're, you're constructing and then maintaining, there's potholes over the years.
There's some there's costs associated with that.
But beyond that that surface area is now constraining your site and building areas.
So you might then have to add another floor because you're adding so much blank space for parking.
F
So if you're able to reduce that, you might also, at the same time be able to increase the number of units you can do increasing your cash flow.
So there's kind of this push pull going on with that one, and then it also kind of relates to your enclosed parking requirement as well.
That's expensive underground parking, and how much can you squeeze under that?
Knowing that for units that aren't?
Oh, you can charge for that.
Our oho units you aren't able to per our development agreements, uh but you can make a premium on that.
F
In some cases, some people are looking for a second space underground, especially in winter, and you do can make some make up some of that money in the that underground space.
So that's where that kind of push pool comes on in that space on this space utilization, I.
I
Think is it just for qual follow-up question here then so is it?
Is it fairly common then, or a pretty pretty much that that space is utilized, then as additional floor area?
Most of the time when you see the plans come through.
F
Yep, uh typically, in some cases you can see we also have kind of open space requirements.
So maybe you now have room for a patio to meet those open space requirements um uh but or that impervious surface requirement.
Now you have some room for that, so that so they they all kind of interplay together and it's kind of a complicated.
It's not a straight formula.
We've reduced this now you get extra units, but maybe they're meeting others, and that's where you see that interplay between some of the open space requirements a new one.
F
But maybe I don't need to take that incentive and I can go for another incentive instead or right.
I
Thanks for the education, I appreciate it.
A
Counsel, additional questions comments on this.
A
Some question that I had I just based on.
I think what councilmember lohmann touched on, what you're hearing from developers what they want more of obviously than more than more money.
But what are you just hearing from the development community in general regarding the development um atmosphere here in bloomington and and the work that they are able to do with the opportunity, housing ordinance.
E
So, thank you mayor for the question, so um in general, what I'm hearing from the development community is that they do want to be here.
They do want to be in bloomington.
E
They would like to know more of um know quite a bit of developers from previous positions, and so what they're, comparing it to is where's bloomington's land and when they say that they're saying where's the land that the city owns instead of having to go and go through private market, they want to know where the land is the city owns, and we don't own a lot of land like that, which is where I think we take the opportunity with the opportunity housing ordinance to provide the incentives that help with the development of affordable housing while we're all meeting mutual goals.
E
So they want to be here.
They want to partner, grow, learn more and I think just developers are overall excited about bloomington.
A
And that's good, that's good to hear him.
It's it's good feedback and I'm glad that developers are seeing this as a positive place to work and um and no we don't have big tracks of land, unfortunately to develop, but we keep that for for parkland and I hope that helps in the development as well council.
Any additional questions.
A
Well, thank you for this update.
It is very helpful and I'm glad to get this update on a yearly and annual basis just to see where we are and the information that you provide.
It's it's enlightening and it's it's definitely a worthwhile time spent to learn more about where we are with our opportunity.
Housing ordinance.
So thank you all so very much councilmember.
I
D'alessandro a question for you actually do you expect that this?
um The content of this presentation will will change with the with the change in the way that we're doing the um the hra and the port authority mix and everything like that or is it?
Are we gonna still expect to see the same kind of information on a regular basis.
A
That's a good question.
I think the the expectation is we'll see the same type of information.
We may be getting it from different sources or from, uh for example, if, if the port authority is now concentrating on the larger developments and the hra is on in more of that 20 units or less, we may be seeing it a little bit differently.
But I think it's the same type of information that we'll be seeing just perhaps in in a slightly different format or from slightly different players in the in the whole organization.
I
And do you have an expectation that, as a result, there's there's the development potential for an opportunity, housing ordinance for the smaller unit areas then, like do we have an equivalent program for the hra around their 20 units and under them.
A
I don't think we've had that discussion yet.
Okay,.
I
All right I'll leave it to that thanks thanks.
A
Counsel, anything else very good.
Thank you all very much appreciate it.
A
5.3 on tonight's agenda is a look at a term sheet for artistry and council.
You have it in front of you.
We received the final version literally as we were walking up tonight, wanted to make sure that you had a chance to take a look at it and what I'm going to do is just basically lay out some of the details of the term sheet and then we'll call on our representatives from artistry to fill in some of the blanks and get some of the details.
A
uh Mr verbruge is uh joining us remotely and uh jump in at any time jamie as you're as we're going through.
All this.
Your your signal right now is is good just to let you know, you're looking you're you're all there in one piece so as as we have heard, and we have seen in the twin cities, media artistry has some significant financial issues and again I'll.
A
Let our artistry folks go into some of the details of it, but as a result of those financial issues, artistry is coming to the city of bloomington for a pretty significant financial infusion to keep the organization afloat very simply without the the city's uh support.
The the future of the organization would be would be doubtful to be honest, and I just want to go through just very briefly a couple of the details within this term sheet.
It's two pieces of financial assistance, a grant of 150 000.
A
That would be an immediate grant so payable by september twenty second of this year to uh to to address the most immediate and urgent payables.
A
That artistry has right now is required by a contractor by law, so basically an emergency infusion to make sure that they can pay their bills and and be sustained um and then we'd look back we'd look for uh from artistry! We would look for a written report detailing the usage of these grant funds by the uh the first week of october of this year and a report to the city council by october 17th.
A
The second piece of the puzzle would be a loan of 350 000, which would be a 50 000. uh It would. The long term would be from october 2022 to december 2029 and it being alone. The loan repayment schedule would be fifty thousand dollars a year for five for seven years and uh would be an annual fifty thousand dollar repayment and again, the city council would consider this loan agreement at the october 17th meeting and as um and it would be forgivable.
A
It would be there there's a possibility of forgiveness, a part of this loan as well, depending on some of the the work that artistry is able to do some of the conditions of the loan that uh the city would would place on this, that the city would maintain our two non-voting ex official board members appointed to the artistry board.
A
That's our city, manager and, and one member of the city council that artistry would provide the city with an enhanced management plan within 30 days after the effective date of the loan agreement that addresses enhanced internal financial controls, monthly financial statements and an establishment of an audit committee by december 31st of this year.
The loan conditions would require a detailed development plan approved by the artistry board.
A
uh There are additional things here. I just want to highlight some of the the important things also by december 31st, a return on investment report provided to the city with uh subsequent return on investment reports provided annually by december 31st in subsequent years operationally.
A
The agreement would require the that artistry provide the city with a plan to ensure at least seven exhibits per year in the greenberg gallery and six exhibits per year in the atrium gallery, with no change to the 2022 calendar and uh in addition to that, to produce a minimum of four shows per year in the schneider theater.
A
Now, as I said, you've got you've got this in front of you.
I wanted to highlight some of the the things that uh just kind of jumped off the page of me and perhaps that members of the public would be interested in learning as well.
A
Wanted to to to bring this forward, uh mr verbruggie uh anything to add, as we as we kind of move forward with all of this.
M
Thanks mayor, no, that's a that's a good summary of uh what has been uh worked out for the term sheet and uh what a great things appropriate to hear from artistry.
Very.
A
Good, so with that, I'd like to invite our our representatives from artistry forward, we've got pat milan, who is the the chair of the artistry board and uh kelly foster water, waiter warder, thank you uh who is the interim executive director and who comes to us uh from?
Is it theater move or latte latte dot?
Thank you uh and as a respected member of the twin cities, arts community, uh mr milan good evening.
A
Welcome um not the best circumstances to have you here in front of us under, but uh glad that we can have this conversation.
N
uh Thank you for letting me darken your door this evening, uh and I should point out that mary pretnix are vice.
President of the board is also here with us, mr mayor and council members.
I am pat milo and I'm the president of the board of directors of artistry.
I've held this position since june of 2021.
N
In the middle of the pandemic, I became the president of the board, as the city manager outlined in the request for council action, we're facing a significant operational shortfall.
It's approximately six hundred thousand dollars and the truth is we sit here at the intersection of what is really an existential crisis and a plan with a bright future.
We actually have both and in a moment I'm going to ask kelly, foster order to address the plan for the future, but at first on behalf of the board.
N
We owe it to you, and we owe it to the community to explain how we got here and that's what I'm going to talk a little bit about here and happy to answer any questions like almost every arts organization in the state and as we've learned in some reports in the last couple of weeks, really all around the nation covet put us in a really difficult spot.
N
The productions that were staged in the schneider theater and the black box historically and regularly have accounted for sixty percent of our two million dollar annual budget. That money really helped support the performing arts, the visual arts, arts, education and uh also creative place making.
N
But during covet one season was cut short. The second season was lost altogether and then this year we resumed our season, and then we really had shows there that were designed to kind of bring back and thrill the audiences.
N
It didn't work.
uh We were really surprised, but it didn't work overall.
Attendance, this year dropped from our average of 90 percent of the seats sold for performances in 2019 to mid-40s this year, and it just never got stronger.
N
Our season ticket base, which skewed among the oldest in the region, dropped significantly this year and most of our sponsors were also in the recovery mode themselves.
N
So in-kind donations, individual grants all of that kind of stuff, really dried up for us for quite a while covet brought real changes and challenges, but I have to say that neither the management nor the board managed it very well from a management standpoint.
N
We believe that this season would actually come roaring back.
We scheduled big productions with larger cast and we were really ready to move audiences with some strong productions, memphis for the adults, shrek the musical for families, and we were wrong.
The audience just really never showed up, and while the board was concerned about our big bets, the management team expressed confidence that they thought things would improve with time, but they did not and shrek, which really probably should have been scaled back or perhaps even considered to be cancelled.
N
uh It went on as scheduled and it continued a deep downward slide in our financial position now beginning in january.
The board stopped getting financial reports.
N
Much to our dismay, and in april our executive director cited a cash flow problem, quite literally at the 11th hour, threatening to make payroll seven o'clock the night before payroll we found out, we might not make it the board responded, we covered the cash flow issues and we were assured we would be pretty good through the end of the end of the year.
At this point, we're not getting monthly financial reports, yet we're not sure why there is a problem with the accountants, but we can't quite get to the bottom of it.
N
The board needed to make additional cash donations uh even after we thought it was fixed in july and then in august and every time we were assured it was cash flow.
But the truth is we had a serious revenue and expense problem.
N
At this point, a task force of the executive and finance committees demanded that the executive director share a list of all invoices and the outstanding debt.
N
The deception actually continued and as we pushed for more detail and demanded a board level conversation with the accounting firm, our executive director notified us that he was going to resign in 12 days that kelly foster water has been on board, helping lead our ship.
N
We have tracked down the expenses, we have righted the relationships with the accounting firm and we've created new internal controls for handling invoices, but in the end the board should have had tighter controls over the financials and the executive director.
We should have seen that we had a financial problem and it would have given us more time to figure out the situation that we're in right.
Now.
N
I will tell you that the board is engaged on a daily basis and in fact, some of us pretty much on an hourly basis with kelly and the new leadership team.
N
The board is creating an audit committee to assure we don't ever fall into this trap again and if we survive this crisis, we are going to bring on a full-time development director to ensure that we maximize arts grants donations and corporate sponsorships.
N
So I will remain and we can ask more questions, but I really would love for kelly to come up and kind of tell you where we're going, because there is a plan, and we have to remember that this council supported artistry in an effort in the mid 2015 to help us become self-sufficient and it worked.
N
We were rolling and we think we can get there again, and we really believe that the leadership of kelly so kelly I'd love for you to come up and share 12 days into this. uh The plan that we're putting together and why we think this still makes sense.
O
Thank you, mr mayor council, members city staff.
I'm grateful to be here and by way of introduction, my name is kelly and I am an artistry alumni.
Actually, ironically, 10 years ago tonight you got facebook memories.
Does that ever come up for you, my memory of me closing a production of 42nd street right out there receiving the legacy robe for having a positive influence on my cast, and I thought somebody better bring me a robe today.
O
I I share that because it's it's um every single day this week has been I've been reminded of what artistry has meant to me and to our community, and I think about that time and why I chose to do that.
Production and the people that I worked with that have become lifelong friends and colleagues, but even more importantly, by being a part of that show my career catapulted in new ways, and I moved on to direct and choreograph on stages around the twin cities and around the country.
I became an arts administrator.
O
I've worked at several arts organizations in the twin cities and have been able to impact thousands of students and artists, and much of that began with the relationships that I had here at artistry and the amazing thing about that is I'm just one of those stories, and so I felt like it was important to remind myself why we're here and and remind the council of the good work that has been happening for years here at artistry, pat shared a little bit about what has happened.
O
You know what has happened and I'm going to share my remarks and happy to dig into questions after due to a debilitating pandemic and a slow return to public programming by audiences across the country.
Phantom of the opera is closing after 35 years on on broadway.
We are not the only ones in this situation, we're not alone and, of course, some missteps of our previous leadership.
We've come to this place.
O
I've thought a lot about what I want you to know, and then I thought what would I?
What would I want to know if I were you which led me to actually as a member of this community, what I want answers to I'm looking at my friends out of work, I'm looking at our community that relies on artistry to bring jobs to artists in this community, and I want answers too, and I've spent the last 12 days looking for those answers- and I think I have some and I want to share them with you.
O
This new leadership team, along with staff and board, have chosen transparency and accountability as our approach to this challenge.
I think that's important.
We see this as the way forward for an arts organization in this moment or any organization in this time in 2022.
O
We think the way forward is to build trust to practice what we claim to value and lift up the mission and the people that make the mission possible.
We could have handled this information many ways we chose this.
We chose transparency, honesty and collaboration and as hard as these 12 days have been, I would not change that.
I believe that that's the kind of leader I want to be in the kind of organization I want to work for, and I've been grateful to our city partners for supporting that transparency and to our board.
O
As I look at the mission of the arts center and the mission of the city and of artistry, we are aligned.
It says on your website that this art center is a premier, arts and cultural destination in the south metro home to a diverse group of professional and community arts organizations, and I look at the word diverse as a dei professional.
I've spent most of my adult life working in diversity, equity, inclusion in schools and in theaters and in arts organizations.
O
When I see the word diverse, I want definition, it's a buzz word and we need to move past that, and so I think, about diverse and how it's meant in this statement.
It's the types artistry.
We bring a diverse type of art to the center into this community through theater, through visual arts through glassblowing, through all the different ways that people get to express themselves through the arts.
We also have a diversity in the way it's delivered through education, through performance and through community engagement, and then we have a diversity in demographics.
O
If you look at the work that artistry has done over the last years, and especially in the last few years, we have grown our diversity in our audience and in our artists, did you know that over 60 percent of the visual artists that are part of our expositions are bipark artists?
That's been happening at artistry, we're committed to that and have been we've been leaders in that area, and I think our mistake is we haven't talked about it.
O
We deliver these goals on behalf of the community and on behalf of the center, in each definition of diversity and we're poised to build upon that and expand upon that model for the good of the people, we're aligned and proud to serve this city and help you fulfill your mission.
I want to just take the moment to remind the council that our partnership goes beyond the hundred thousand people that artistry brings into this center every year.
O
If you start to count the partnerships in our schools in our libraries, if you think about the creative place making- and you add the positive media, maybe before this week- that we've received that's close to 200 000 touch points for this center and for our city, our kennedy.
Senator partnership between artistry, the city and bloomington public schools is a national model.
O
We provide quality, professional development for teachers at low cost of the city and the schools because of our deep database of teaching, artists and expertise, our creative place, making partnership and the artistry's team's expertise and experience help broker important conversations with our bipod community members, highlighting the work of native artists, artists of color and building bridges that will allow us to create more equitable practices.
We've been doing that work.
It needs to continue it's important that it continues.
O
Our technical team in the theater brings efficiencies and expertise to the productions for all who use that theater, not just artistry.
We want to expand that we want to do more.
This spring, we had a feature in the minneapolis star tribune about our production of memphis and the groundbreaking creative team made up of three established black women artists who hadn't been given opportunities other places they were given their chance here to critical acclaim.
O
We produced a children's show called polka dots, which we performed at the flint hills, family festival at the ordway, which was another opportunity for the center in artistry to expand their reach into our community.
O
The demographics of our community is growing.
I know you're totally aware, I'm not saying anything, that's not important to this council.
I just wanted to repeat it.
It's growing in expanding and exciting ways, and so is the work and the artists that call artistry home my approach to equity, diversity, inclusion and access is additive.
We build a bigger table, we make more space and we have been striving to do that work over the last year and I'd be happy to talk about the positive impact of the work that we did last year.
O
Even through the difficulties of covid.
One of the biggest missed opportunities of the past is, we haven't talked about it.
We haven't spent time finding new partners reaching out to the community of bloomington reaching out to the corporate sponsors.
The institutions our work at artistry is some of the best kept secret, which is a huge waste for the impact that we're actually having in the city, and that is the way forward for this organization.
O
This week alone, this new team at archie staff, has brought clarity to the finances engaged with the board and city in transparent ways.
As partners rallied public support, in spite of frustrations with past leadership, identified new funding sources, both earned and contributed taken steps towards rectifying past delinquencies and connected with our important pest donors and key stakeholders in 12 days, we have turned some things around the things within our control.
We've turned around.
O
This is a new way to operate, as all of our eyes have been awakened to systemic injustices and the impact of a culture that touts care for dei but lacks the results.
I know many of you are frustrated as I am.
We need to to act on our convictions.
We are proud of artistry's track record of change, transparency and diversity, both in the last weeks and over the last 60 years.
O
It has not been perfect who can say that we have, but we have made progress forward and we see the priority in this for our city partners and we're grateful.
So I have four next steps that I wanted to share with you.
The first step that I see forward for artistry.
It was mentioned by pat and we've had great conversations with our city.
Friends.
We need to create a transparent, accountable financial structure that I would advance.
I would expand upon what's written on your sheet and say we need board training.
O
We do need that audit committee.
We need further development of our board governance committee.
I'm excited about monthly financial reports to the board finance committee and quarterly reports to the city that help demonstrate and measure our impact and compliance to the goals that we've set.
O
The second thing is: we have to develop a new funding model that includes revenue, both earned and contributed and reinvigorating our community approach to creating work which will help us with our expenses, engage our natural partners in the city and other resident arts organizations, our corporate and institutional partners, and build a robust donor engagement program.
O
If I've learned anything over the last 12 days, people love and care about.
Artistry are people frustrated sure, but are people giving up?
Surprisingly, no I've had amazing conversations with donors with artists they're asking for accountability, but they want to be a part of the change, and that was a question.
I asked myself for the first three days is artistry worth saving, and what I have heard from our community is that it is.
O
It is worth saving, invest in ours, so number three invest in that community through new and enhanced programming that addresses the barriers to the arts, experience by our most marginalized neighbors, through education, community engagement and performance and then, finally, when we when we, because I believe we will move through this moment, we will embark on a strategic planning process that engages multiple stakeholders in developing the next stage of artistry theater and visual arts.
O
The support we're talking about tonight will give us the opportunity to ramp up to explore a more engaged, a more community-engaged organization, marrying our important community theater history with our current professional model.
It is in our vision, and this new team is committed to that work.
I said this to to uh the city manager.
We are not asking for something for nothing, and I write that down.
We are not asking for something for nothing.
O
We stand ready to serve the expertise of creating and delivering arts and theatrical programming on our team is an asset to the city and to this center, and we look forward to discussing ways we can continue to serve serve you all better, create efficiencies and impact that benefits the center in exciting ways.
O
This is one of our strengths and one of the strengths of this model, this national model of how to create an arts organization partnering with cities and resident arts organizations, and I'm excited for us to blow that up and to be that example that other cities look to to say.
This is how you provide equitable arts experiences for your community and beyond the last six months of covert trouble isn't really a year and a half and financial missteps are not a full representation of who artistry is and who we can become.
O
The result of this pandemic has hit our organization in deep ways, pat mentioned it brief pre-pandemic.
We had about 2 700 subscribers, which is a great number for a theater of our size in our city last year.
That was down to about half of that.
Already.
This year we are past last year's goals, and it's just beginning which to me is evidence that our financial rebound is already on the move.
O
This result has been challenging, but does not discount the impact and opportunity that artist artistry represents for the community in the city.
O
This grand subsequent loan are an investment in this community, the artists and audiences it serves, and a commitment to real diversity, equity inclusion and access that will have demonstrated results that we can all be proud of.
O
I thank you for your support over the years as a member of this community every summer, my summer date with my daughter, was to the artistry summer musical.
Ever since I was in it 10 years ago today, I thank you for the priority you've given the time this evening and a special thank you to the city staff that is putting countless hours preparing and supporting us in this work.
We welcome your partnership, we welcome your accountability and we welcome your questions.
A
Thank you, mr fabregi, are you gonna add anything as we go here or um you're available for questions?
How are we.
M
uh Mr mayor, I'm available for questions, and uh I would I would uh just emphasize and add on to a little bit of what uh mr milan had to say about uh how some of this unfolded.
M
It had been a regular practice for the finance committee to receive uh monthly financial reports, and it was a regular meeting and uh as I've shared with the council in in individual conversations. uh A lot of this began at the end of last year, when the long-time accountant, retired the new finance person that was hired, uh died. Unexpectedly, after a couple of weeks, the executive director had difficulty finding a permanent replacement.
M
They turned to clifton larsen allen, the auditor to provide accounting services, and it was during that transition that the habit of not receiving the financial statements on a monthly basis began to unwind, and I think that mr mylon summarized it well in terms of uh probably too much trust in the executive director and not enough oversight from the finance committee and the board to ensure that those statements were being received in timely fashion.
uh It was a confluence of a series of bad events, and I would echo past comments.
Mad management.
A
Thank you, mr fabregi council questions, council member lowman, then councilmember d'alessandro, councilmember, lowman.
L
Thank you mayor, um so I just want to be sure, I'm clear here.
So was it 23 months without a financial statement?
No, I'm not sure I'm clear, because I don't.
N
Sound right, it's off the top of my head.
We either didn't get one in december or we got december was the last one.
O
I believe december was december.
N
Was the last yeah and then um we had a retired person, and then we had a death. So there's a couple of months of instability trying to find someone to do finances, and then our auditor stepped up clifton larson stepped up and said we have a different division that could do it and so they engaged.
N
But then we weren't getting financials and then just in all transparency, it was refer told to us.
They were late they're having trouble hiring people, but the truth.
Is they weren't getting the information they needed to be able to provide financial reports?
N
So that's where we made the mistake of relying on our executive director who said it's a problem they're going to get to it and as it turned out, we weren't giving them the right information.
It wasn't that we were giving them false information, but some key things about how deposits got made or what they were credited to created, confusion and the individuals trying to do it could not put a report together and then we got to may and all of a sudden red flags are going up for all of us on.
N
What's going on and that's when the board actually insisted on contacting clifton, larson, independent of the executive director and that's when we realized, we had a problem.
L
So have you seen a financial statement?
Yes,.
N
I'm sorry figure out when.
L
The next time you saw a financial so.
N
We now have uh what I would say is draft financials through the end of our year, which was june.
We have that that's being finished, we're going back with the help of kelly and the staff to make sure everything is in there, and then we proceed to audit.
So we can close those books and uh the relationship with the uh with the accountant is good you're dealing with them now and we'll have our financials every month we're in we're in a good place there.
N
We still need to find somebody on staff to do it, but that's a until we get there.
We do have a very solid provider for accounting.
L
So then, my last thing and I'll, let other folks ask questions.
I certainly certainly have a lot more questions, but so um my one question is uh so: how?
um How confident are you in terms of the you know where you are from a financial standpoint right now, in terms of you know, this is the number that you need, and this is you know, we're pretty sure.
This is where the revenues are.
That's where the expenses are.
How confident are you is there?
You know something else hiding underneath the coverage.
O
Yeah I mean the first.
My first week was was just a lot of discovering um new things.
I would say that our staff is confident in what they know is coming.
What our expenses are.
We've made.
We've made difficult decisions to post, uh I won't say postponed, because we were able to reschedule um our shows which will help us hold off with some expenses.
So I feel like we have a good understanding of what needs to go out over the next few months and what we already have coming in.
O
What we have planned coming in what we need is that the amount coming in is just not going to cover us to get us to a place where we can ramp and move forward, and so that's why we're here looking for support to help cover what we've learned is past due nothing is delinquent.
We are not delinquent on any of our loans.
We just have past due and a few artists that still need to get paid and our staff has did not get paid this week.
L
Mayor, um I'm not going to ask this now, but um I'm interested about the 2015 in terms of just making sure this council, since not everyone's here at that particular point in time- uh kind of what happened during that period of time. That kind of because I think that's an important background for how we're here today I mean certainly for the folks who've got questions, uh but I think that'd be important for folks to know.
A
Councilmember d'alessandro.
I
Thank you, mr mayor, um how many how many board members are there.
I
And how many of them are were members of the finance committee that you referred to four four okay, and were you a member of that committee?
Yes, okay, um what was the first revenue generating activity that artistry had here in 2022?
Was it the show in the spring, in fiscal year?
2022?
Yes, which is calendar, correct.
N
No, it isn't no.
Our year ends in june, okay,.
I
So sorry, so fiscal would have been through the.
I guess: the fall of 21.
N
And we didn't have a show on 21.
okay, so it was.
We.
O
Had a show in the fall of 21, so we're coming out of covid our first um production now mind you we had summer camps, we have community engagement, programming happening. We there's there's a full gamut of of um activities that are happening at artistry throughout this time to us as much as we possibly could during covet, but our first production after kovid was songs for new world. Here in the schneider we chose that I was consulting with the theater department.
O
At that time we chose a show that had a small cast size that allowed for um small costumes, simple set, because we knew that we would be ramping into something new and and when I look at those numbers actually while it while it certainly wasn't what we had been in the past, it's actually surprising how well we did.
We had great reviews, we had great response and it wasn't what our team had anticipated.
O
But I think, like most arts organizations, we just didn't realize how difficult it was going to be for people to come back, and especially here in bloomington, where we have this amazing base of audience but they're older.
So we made a lot of phone calls and we learned that my spouse passed away.
O
I don't want to come alone or I'm still, not confident in being in a room full of people with covet, even though we had the um the best most up-to-date coveted restrictions, we could so that that's does that answer your question for the beginning of that.
I
Yeah well, I was curious about whether or not it was um did it end up in the black.
I
And so I guess, when I think about how 2022 was gonna look like I know you mentioned, you didn't have financial statements in uh after january.
Essentially of that, it seems to me that you had the first half of the year's statements, though.
So what was the reason if you could opine for not raising a red flag even before the problem of statements.
N
I do think that one of the things that gave us reason for optimism was the the classes in the summer that we have, which probably was the first revenue, and we moved those classes outdoors here around the city, uh property and those were well attended.
But I also think parents were dying for their kids to get out and do something- and I remember that we were pretty positive, like people really want to come back.
But again that was outdoors and uh and then we moved into the theater season and we we had reason for optimism.
N
Everybody thought everyone was going to come back, but uh when we hit you know our most expensive pieces are theater and that never performed to the level that we had.
We had hoped, even at our what we thought were conservative numbers at the time and for.
O
What it's worth most non-profit theater organizations their their ticket generating revenue, is around 35 of their revenue, so artistry was going to have to make a different decision around their income model because of covet, and also regardless right.
Moving forward.
There's there's been missed, opportunity and contributed income and.
I
Meaning, meaning that the fact that I think you articulated that 60 is currently but so you're saying that you if this was your job anyway, you would have said hey, 60 percent spent, expecting 60 of the budget to be brought in by those productions is too high.
We need to diversify.
Is that your point?
Absolutely okay, um okay, um I'll hold my rest of my questions.
Thank you.
Would.
O
It be okay, if I answered something that I thought that I heard was about this year, why would we move forward with a with a production this year did.
I
I hear it my my what I was trying to gauge if, if I'm a mayor um is if, if you're, if you're, um if your budget is a fiscal budget from june of 21 to july 21 to june of 22., you would have had six months of your statements and from a from a financial projection perspective.
I feel like there was a missed opportunity by the finance committee and I'm not trying to opine here.
I just that's why I'm asking the question.
I
I hear us hearing that, oh it's because we didn't have the statements and by the time may came around.
It was too late, but there's a question in my head about why?
What did the first six months look like that?
Wouldn't have raised the red flag for you prior to this right?
If I'm, if that makes sense, do you want me.
O
To do you mind, or do you have something sure I've got something?
First of all, I would say that um I can't put myself in the brain of our former executive director, except based on conversations that I had with him, but because our season tickets were selling at a higher rate.
I believe he was that's why he felt like we needed to move forward, because, in order for us to succeed, we needed revenue and our season tickets was traditionally our best way of getting revenue.
O
So I believe that's why he continued to move forward at from that side of the the seat.
I will also say if we look at last year um in our season song for new world was our first show and let me find my percentages um it printed on the back.
Do you hate when that happens?
I'm so sorry.
O
So we that show was around 40.
Our next show was around 57.
Our next show was almost up to 60 percent, so there was every reason to believe that we were going to continue to grow.
This is in no way making an excuse for some of the decisions, but me as a theater maker.
Looking at that, there is every reason to believe that we would be um coming back in a robust way and that continue to produce would be smart.
I
And those those numbers you're referring to 40 60, those are seats, sold percentage.
O
Of seats sold in in our in the runs of those shows.
Thank you.
A
Council additional questions council, member nelson.
K
Thank you mayor.
um Just following up on council member d'alessandro's um questions about the finances, I looked at the 990 that had been filed and it looks like in 2019 there was a loss of 327 thousand dollars in er that was probably 2020 2021.
There was a loss of 362 000 and at the end of that reporting period, there was a deficit of a hundred and forty five thousand dollars.
K
um Is that accurate and why?
If there was a deficit at the end of that period?
Prior to these accounting, problems was not something done at that point.
N
I wasn't on finance or the leadership at that time, so I can't comment to it and I don't know if mary knows either.
um I do know that we were able to raise money.
N
uh When we we'd see when we were down periods, we were able to go back to to raise money, uh but I wasn't part of that conversation, so I I honestly don't know. I do know that until we talk talking about coming into it, there was that reason for optimism in this past year from summer sales of the outdoor pieces that we were doing and that looked like it was a step up step up. um But to that specific question I will have to get back to you, because I don't know the answer.
N
What's that right and uh our.
N
President saying we received grants okay after those happen, so I and- and there were years when that would happen and we knew grant money was coming in a cycle.
So so.
K
May just not have been accounted for is what I'm or the timing of the times afterwards yeah um and then uh a similar question in terms of financing.
um You have the accounting firm and just a specific question: have you looked into the uh employee retention credit, and is that a possibility?
I don't know if non-profits can avail themselves of that.
O
I'm at the beginning of that conversation, but I do know that our the previous executive director had engaged a firm to help us discover what we are eligible for and today I connected with them this past week and today they reached out to say that they're close to finishing that their account of what what we might be eligible for.
So we should have answers to that soon.
K
um Yeah, just for my limited knowledge of it, it seems like you, had a significant loss in revenue which is requirement.
K
And you kept employees working, they.
K
Number two, so, yes thank you, I'm just looking at all of the other funding sources that might be available.
um Have you spoken with the county or any other like state agency in terms of art grants that might be possible to get and and where would those things maybe come in.
O
We have a meeting this week with the minnesota state arts board staff, something that I felt was important.
We we are, we've received funding from them for this year and they're about to start dispersing that funding.
It happens over time.
You don't get it all at once.
O
It happens over time, and so before we made any statement, I called and spoke with the folks at the minnesota state arts board again, because I'm just focusing on transparency and honesty and- and I want a new way forward- we had a good but difficult conversation, and so um we have a meeting pat- and I, with the state expert folks this week to talk about where we are, what additional funding might be available and and frankly, they want to make sure like I'm.
O
You do that um that we are making steps to be accountable and um move forward in a equitable way and.
N
To your point, we're turning over every rock for not only the things we've gotten in the past.
What did we not pursue for what, for whatever reason to see what else is out there?
Okay,.
K
um And then you had the accounting firm that did not provide uh monthly reports and things like that, have they been paid and if they were paid, did they actually fulfill the terms of the contract.
N
I uh miss mayor and councilmember nelson.
uh They could not produce those monthly statements because we were not giving them the information they needed, but they have done the work we do owe them money.
They have given us a tremendous amount of grace in paying it and they are working with us to get us across the line so they're the ones who have delivered the uh financial statement through the end of our fiscal year and they're working on our current pieces of financial work.
Now.
K
Okay um and then a specific question, maybe for the mayor for the city manager, the first portion of what we have in the term sheet is a grant, and why is that portion not set up as a loan, and I I think it may just be timing of it.
But mr brookie.
M
Thank you, mr american council, members, council, member nelson uh you're you're, correct uh council member nelson that um we just didn't have the time to get the details that we thought were necessary to put together a loan agreement for the full amount uh we wanted to. uh If we're. If we're going to proceed with this, if the council is amenable to that, we wanted to get them through the urgent uh issues here that in the next couple weeks and then come back to it. The uh if the council wishes to structure it as a loan.
M
um We we can certainly talk about that and then try to deliver on what those terms and conditions are.
It's just a short turnaround.
Time from when uh artistry needs the money to uh that we're concerned about being able to put those terms together, and I want to reiterate the proposal, as the mayor highlighted at the beginning- is that the loan agreement is structured to be forgivable.
M
If there are certain performance measures that are hit by artistry and we need to sit down and work out exactly what those metrics are going to be, and a lot of that is going to be determined by the new direction being set with the new interim executive director on the board working together and we didn't feel we had the time to do that.
K
Okay, thank you.
um If it's all right, I got two more questions.
um I remember uh pre-pandemic and I think it was mentioned earlier that artistry was was doing well at that time and we have always had a history every year that I'm aware of of providing funding to artistry, but I think that amount had been reduced and do we anticipate going forward that we would still be at that reduced amount on an annual basis or- and maybe it's been 12 days so again,.
K
You know- maybe you don't know that yet, but are you anticipating that you'll have to come?
In addition to this, ask for us to raise that amount back up.
N
Our goal is to get through this period, implement the new model and go for additional money in places.
We've never gotten it before.
So to get back to that self-sustaining model, um we we just this is a big ask.
We get it, um and this is a tough ask, but uh our belief set in where we can go and what we can do and knowing where we have been and have been successful, makes it feel like it's really worth it, and so that's where we are, would we do?
We want the continuing a smaller grant?
N
Absolutely if you'd like to give us more we'd, be more than happy to find a way to spend it, because, apparently, we've been very good at that in the past, but the uh but no we're we we assumed things were going to kind of continue. The way they had had been- and this is the big ask: okay, jamie, okay,.
N
Hand up jamie's telling me to stop no.
M
No, that's that hand was not telling you to stop that.
I was just indicating that they uh wanted to share as well, um and I appreciate the question councilmember nelson.
uh I also heard council member lowman earlier just referenced the 2016 agreement and we will provide that uh to council just as a reminder what was set out in that initial supplemental cultural arts grant that was provided in 2016 uh for members who were not on the council at the time.
M
The intent of that agreement was essentially to serve as a bridge while artistry was transitioning from a community theater to a regional theater, and there were performance metrics that were included in that agreement as well, and for five years we had provided two hundred thousand dollars a year uh to artistry, and I would say that they were on track to um achieve what they had set out to prior to uh so council member nelson t uh your question.
M
Yes, when we did extend the supplemental cultural art agreement, um we lowered that amount to fifty thousand dollars a year. Instead of two hundred thousand dollars a year out of recognition that artistry's finances were stabilizing, they were getting closer to the objectives uh that we had agreed to uh and recognized that it was probably only a couple years away and of course, that was pretty pandemic.
K
Okay, thank you for that information.
Just one last question and um apologize if it sounds a bit harsh, but I am just wondering if you've talked to anyone an attorney about bankruptcy, going through chapter 11, reorganizing, renegotiating some of that debt.
Things of that nature as an option for this while being able to come out of it in a stronger point.
N
We have um we've had that discussion. um It's been a crazy 12 days.
N
The we initially went to have that discussion and our attorneys said: let's talk employment law first, because we were going to be pushing payroll, and so we focused on making sure we are not in violation of state law for the payroll that we have to deliver within 31 days of the last paid date, so that so they pushed us to that and then the second conversation we had with the law firm is with an expert on nonprofit law, and so then that one pointed out bankruptcy uh proceedings.
N
I am no expert but for nonprofits is different than corporate and um one of the interesting things I never knew before is none of our creditors can actually force us into bankruptcy unlike corporate.
So the kind of initial conversation was, let's hold off on that until absolute possible.
Because what really happens is we lose control and I think the city loses control too.
So, if we're heading in that route, let's figure out what's the best way for what's happening with whatever artistry does to remain in in the control here.
N
So uh so, we've held off on a deeper conversation there to focus on employment law and and also the non-profit information that we needed to deal with.
I see.
M
Yeah, thank you, mr mayor and council member nelson.
I forgot to answer one of your questions uh that pat and kelly had referenced.
The term sheet specifically says that the loan agreement doesn't guarantee or prohibit other or additional city cultural arts funding for artistry through the city's cultural arts funding grant program.
M
So that's the annual allocation to residence, arts organizations and other arts organizations if they, if they apply so it doesn't it doesn't this.
This uh proposed agreement uh does not influence any future consideration for um other grants, either existing or new.
If it's in the council's interest to consider that.
J
Thank you mayor.
um So first I just have to say kelly.
I appreciate your commitment to the arts and to the artistry and you're very brave, and you know for taking this on and kind of just jumping in, and so just want to acknowledge your your leadership and your courage and really appreciate it.
I think we can all agree up here that the artistry is a critical organization and resource in our community and and we want to see a turnaround.
J
um So I will I have just like several of my questions have been uh asked and answered, but I guess you mentioned some things that you're going to put in place in terms of better fiscal financial management policies.
You talked about the audit committee.
You talked a little bit about training of board members, I'm wondering what else right like.
Are you changing your bylaws?
Are you thinking about the makeup of your board and the skills and the expertise?
J
I mean I've worked in a funder role with nonprofits, and now I work for a non-profit, and so for me, it's very like I almost cannot even wrap my head around like how it got to this point and just knowing my own organization and the controls we have in place, and so um I guess I I almost feel like.
I need kind of more information on what are those financial management policies and practices and controls that you all are thinking about to make sure that this doesn't happen again in the future.
J
um And then I have one additional question that might be so.
N
The first item is, the board is going to go through training and we're going to make sure we set up the systems and controls uh one of the most interesting things that the the non-profit attorney expert said to me is: he said, you know minnesota nice works against us pretty badly on on these non-profit boards.
N
You have citizens who have real jobs and they have a passion and they come onto a board and the interesting thing that happens in a lot of these boards is people don't want to challenge executive leaders and so, instead of challenging, they leave and that's a really interesting statement, and I started to look back and look at some departures from the board, and I was that was a revelation for me.
N
I also serve on another very large board where the controls are much tighter and we have an audit committee, but I do think part of what happened to us is.
We fell into how this all started institutionally and while we were pushing the theater to become more professional and regional, we didn't push the board to do that.
N
We did some changes when I came on as president we used to meet almost monthly.
I changed the meetings to quarterly and then pushed work to to the committees, because we did not have a lot of committee work.
So we are now in a committee model with committees meeting monthly to get things done and bringing them to the board, because I do think our board operated like uh like a lot of people who enjoyed the arts and they came to a meeting and- uh and so we have made some of that change.
N
But we do need more rigor and I think we have to go back to your point.
Revisit the bylaws make sure that we've got the protocols and the systems in place and not just meet the standard of what should be out there.
But I think the training will help us understand what we can do to make sure we'll never get in it.
Although I can tell you this.
N
All of those who are on this board will never allow ourselves to get in this position again um because in the end we kept thinking it's coming, it'll be okay and many of the board members wrote checks in a belief, set and trust, and uh it's it's been a shocking experience.
So a lot of change is coming, but the basics have to change, and so that's, where we're going as quickly as we can.
J
um So I guess my next question um so do you feel like that 150 000 grant amount?
Is that what is needed to like what?
What is that?
What what is wrapped up in that number- and I don't know who would answer that question um and then I guess my second part of the question related to the grant and loan if we were to move forward with a loan.
J
um I guess what reassurances do we have or like what happens?
If something does happen and the artistry um doesn't succeed like?
Are we just out 500 thousand dollars or you know what I mean?
I guess I just kind of want to.
I just you know this is a big decision to make and we're also at the same time, having these conversations around our tax levy and investments we have to make, and so you know just wanted.
I guess have a better understanding of that piece too.
N
You want to take the first part.
O
Sure um I didn't I should have printed this part out, but basically this first hundred fifty thousand dollars will help us to make our payroll for the team.
That's that has chosen to stay, and is they all have and are working hard, so it helps us make payroll for the next.
For the past period we missed and the rest of the month.
It helps us to live out the payment plans.
We've set up with a few of the folks that we have a larger back pay to.
O
It allows us to pay out our artists that have already been working.
For example, wonderland is performing, so it allows us to help get them their contract committed as well as our resident arts organizations.
So it allows us to to have this shortcoming to to continue to do business and to make good faith efforts with the folks that have um been so patient and partnered with us.
I don't think I'm missing any.
Am I missing any.
N
I think it's okay, what guarantee mr marrow yeah.
M
If I can jump in on the second part, um councilmember carter, you're correct there is, there is really nothing to collateralize to the loan uh in terms of um assets that artistry has so, uh as as staff has looked at. This we've come to this recommendation based uh on a couple of things. The first is that uh if artistry were to cease operations, there's a fair amount of activity that would still need to occur.
M
Leah hughes is is available to answer any of the operational questions you have, but we've estimated that providing a base level of service continuation would have an annual cost that the city would end up absorbing of about 385 thousand dollars.
M
That's for continuing to program the galleries uh it is for box office operation, it's for um operating the ceramics deal and continuing operation schneider theater.
M
Even if it's not artistry productions, there are still other resident works organizations and, and our staff also seeks out other other companies that may stage productions here uh and that base level service council is based on uh an assumption that you would not want the center for the arts to largely go dark, which is that what would end up happening if we don't program the galleries and don't have some activity occurring in the theater and utilizing the studios.
M
So that's the first thing there's going to be a cost exposure to the city.
If artistry ceases to operate, and I say, base level of service, we did also look at all of whatever artistry is doing, and um it looked at uh what it would be for us to maintain level of that service and that's closer to a million dollars a year.
If we were to do that.
M
uh Second, is that um there there is no guarantee of uh success.
M
um What I, what I do think it's safe to say is that the the energy that has been created uh granted kelly's been on with us for 12 days, and uh you know I I I would say that she has at least outlined a vision that we believe has a chance to be successful.
M
And so that's what we're hoping and I, when I'm saying we uh I'm, I think, I'm speaking for uh people who are on the board as I'm I'm a member of the board and pat. Maybe you can expand about the confidence level that the board has in the vision that's been laid out, but that, combined with the exposure to the city is why we're recommending we go forward.
A
Well, you you mentioned earlier when you first started talking about the I mean the frustration and the anger in the community and count me among them, because I was uh as councilmember lohman mentioned. I was in the discussion in 2015 when, basically it was the same discussion and as much as I appreciate the transparency and the accountability and uh as much as I appreciate uh you know, the the equitable arts opportunities and the inclusion and the diversity, and as much as I appreciate the vision.
A
What I really want to see and be comfortable with is a plan, then we're not having the same conversation five years from now.
Right and honestly, I I don't know that I'm comfortable there, yet we we have talked we've been talking about our our our goals.
Our priorities, we've been talking about our stewardship financially to everyone in in our community, and I mean this is a.
This is a tough pill.
This really is- um and I say this is somebody- and these folks all know this.
A
As a ardent supporter of the arts who has who has talked loud and proud about the 12 million dollars a year that the arts actually bring into this economy but to to see a model where it seems to come in a cyclical way uh and we were a million dollars in and it it solved the problem until it didn't and now we'd be a half a million dollars in which I would assume we're gonna solve the problem until it possibly doesn't and it's it's frustrating.
A
It really is, and I'm not sure- um and I guess I'm not not sure exactly where to go next with all of this, I I know it's a it's a tough business, it's a it's!
It was a difficult difficult time for everybody, but at the same time, as I said, we're we're stewards of public money.
This is this is real cash, and this is from our granted.
It's from our strategic priorities fund we have to ask ourselves: is this?
A
One of our strategic priorities is: is keeping an arts organization and keeping the lights on one of our strategic priorities?
And to mr verbruggy's point, I I mean I get it, it's that we would incur costs, but then I think it would be worth the conversation of uh exactly what and how those costs would be.
A
You know I could understand uh the uh the gal the needs in the galleries or or uh that's that's great space in the schneider theater somebody would use it.
I've got to imagine we could find renters of some kind or groups to come in, but is that is that one of our strategic priorities to do it in that way?
A
um And I don't know I'm curious to hear your your opinions, council, council, member lowman.
L
You know mayor, um I remember back in 2015.
Quite you know, I don't know if it was jewish, a different mayor.
um You know talking about a business plan.
You know and- uh and I just remember- that dialogue so much and uh asking some of the same similar questions and the thing that I I don't see with this right here is really.
uh You know to get to a point where this organization would have a you know a you know, somewhat of a slush fund or some type of way to prevent themselves from getting back.
L
Here again I mean we were here in 2015.
now it's 20., but in all, certainly there are valid reasons.
I'm I love the arts.
I mean I even spoke at one of the uh you know raised a bunch of money for uh for artistry um and- um and I'm very upset about this- uh that we're here and the thing that I'm not convinced with, and I like the vision and that type of stuff I'm just not I'm not seeing the plan.
I keep.
I keep looking at okay, we've got demographic changes.
L
um When is this kovit actually going to you know, take down the numbers. Just don't seem to match up, and so my thing is: I don't want to half do this.
L
If we're going to do this, I think we really have to figure out a way in which that uh this never happens again, um and so um with the way this the way this is proposed today, um I I certainly cannot support this, and the question that keeps coming to my mind is um you know: is this something that can sustain itself um on its on its own, or is this something that needs to be pulled into the city and the city needs to do this, but without a concrete business plan and some way to get to a um you know a place where this can be endowed and we can kind of let this thing kind of roll on its own and that's what I need to see before.
L
I can support something like that.
You know if it I don't know how long that would take to get us there, but that's what I could support, but that's not what I'm seeing here today so.
A
And a refresher memory council member, uh it was the previous mayor. It was mayor winstead, uh who made those arguments, those compelling arguments and if I recall I was on the other side arguing. We were both on the other side, arguing in favor of that million dollars, and I think we got beat up pretty good about about that and uh it it did prevail, but not after a long conversation about that yeah.
L
I think it might have been a six one vote.
If I remember right, but I mean there was, you know, a number of us were tentative, but you know I.
uh I want this thing to succeed um and I want this thing to to.
To I mean you look out on the on front of the of the building.
We've got the arts here and uh I think that's an important part of you know my history and an important part of the history of this uh of this city.
L
So um you know I don't come at this lightly, but this is almost exactly what this looked like back in 2015 and I just can't in good conscience to what you're talking about in terms of strategic priorities and values.
I got to take a step back and I gotta I gotta consider what that looks like and it this right here cannot support it as it is right today.
Mr.
N
Mayor, if I may please, I just wanna- remind the council: artistry did get to a self-sustaining model in 2018 and 2019 and it was working. I will say this: you could see that that model did need to change again and kovid and george floyd was the absolute garage door slamming down on the model that we had that needed to change part of the difficulty at the time was we had an amazing subscriber base that was very much older, skewed much older.
N
So, as you tried to change programming, it was difficult with an audience that didn't like what was coming in, and so you know it's hard to walk away from what you got and but we were working our way toward that.
But I you made that investment and it did work we're back here because of extraordinary circumstances, and I would say this: yes, there's this management and the board.
We have our own maya culpa for what we didn't see and didn't do, but with covid.
N
Every arts organization in the country is is going through a model change right now and I do think that the models are going to be dynamic, because I don't think anybody really knows what it's going to be and there is going to be some experimentation with it and trying to meet what the audience wants and how it comes.
N
But can I can I drop that model on your desk right now? I don't think I don't think we have it we're working on it, but I understand what you're saying, but I don't want to to think that the investment didn't work because it did work and uh and now we've got to find a newer version of that model to make it work going forward.
O
Is it okay, if I add a little bit, I first.
O
When this whole, our whole community was rocked by the death of george floyd in a number of ways, and um and certainly uh working at a theater at a time when theater was closed and the world was stopped and we were looking at just such difficult images in our community.
O
um I just don't want to.
I guess I when we when I when I say his name when his name comes out.
I want to put respect on that situation versus just as if it's a- and I know you didn't mean that, but I just think it's important to pause and say that was a moment in our world's history that, regardless of how you feel about it, change the hopefully change the narrative in ways that is powerful and important, and- and I know I spent that summer- filling up theaters with supplies for the.
O
That we used theaters that were closed.
We filled their lobbies with supplies for the community.
The arts community showed up in ways that were powerful, and I hope that your community felt that, because that that is certainly what I saw and to me the way to get past this moment, no one's madder than me.
Can I just like I'm not very formal.
No one is madder than me.
I looked people in the eye and said you have a job.
O
You will be paid.
You will have opportunity.
I looked people in the eye and said: can we do this?
Tell me because if we can't do it I'll make a new plan and I was told we could no one is madder than me and I'm so sorry about the I'm, an artist, we're gonna, just cry, but here's the deal, here's the deal mistakes were made.
I believe that the leader was underwater and couldn't believe it in his history was probably chasing him down.
O
I believe that's true.
It doesn't change the fact that we're here, but we are mostly here because of a pandemic.
Artistry has continued to serve this community and we have had an amazing partnership with the city that has allowed us to do that.
That's actually what's unique about artistry, you are right.
Most theater organizations are closing not most many.
The size of artistry are closing right now because of what's happened with the pandemic, because their model didn't work because the world is asking more of them.
It's you know it's expensive to be equitable.
O
It's expensive to fight racism, it's expensive to um provide health standards for people that are asking for something new.
After what we went through.
All of that is true.
In 12 days we have been able to find what the nut is, and in those 12 days what I thought a week ago, I had pared down and found a way to make that possible.
I don't have a business plan.
O
Yet what I'm believing and why I'm standing here is because we're asking the city for time we're asking the city for time to say this is a treasured 60 year old institution that has provided much for the community.
I realize it's a big ask.
I do not want to diminish that, but we are asking for time to give you what you're asking for, because nobody wants that to happen more than me or my also my husband who's, like you do what, with your job right, this is we want.
O
We need to create a model that works and to be an example for theater everywhere.
I've worked, that's what I have tried to do and I feel like I'm uniquely suited in this moment, to take a team that is poised with passion, ideas, intelligence and and demonstrated success.
O
We're poised right now to do something new and the heartbreak.
Is that, because of some mismanagement, we may not get the chance.
I fully understand that what I'm asking for you today is to trust in the model to trust in the impact and to give us time I promise.
If we come back, I need to pay the people that have worked.
That's the bottom line.
People have worked, they deserve to be paid.
O
Let me do that and if we can't find a model, that's sustainable, then we will come back and we will tell you the truth.
O
We will tell you the truth, but we need time and I fully believe we will find that.
Because of my experience and because of the what I've learned, I spent a lot of time this week, not only working with the staff but talking to arts leaders across the country that I know that have either led successful organizations or led organizations.
Out of a whole.
I've been on the phone with a lot of people, taking a lot of notes and the advice that I'm getting and the affirmation that I'm getting tells me.
We can do it.
O
But I know that I have to give you more than my word give me time to give you that plan.
We will do that.
A
Member coulter council, member nelson martin and alessandro councilmember coulter.
H
Thank you mayor.
um Well, I will um I will try and keep my comments brief here.
I mostly um held back because I wanted to hear what other folks on the council have had to say, and I want to say as well to the members of the community, and I mean community of artists served by artistry the broader community as well as the community here in bloomington.
I am also an ex-official member of the board I have been since february.
I believe um so.
H
I am relatively new, um but I want to acknowledge my own responsibility in this as well as a board member that I I did not provide the oversight as a board member that I should have, and I I want to acknowledge that I think you know this.
As the mayor said, this is a tough pill to swallow and I I think we need to be a little bit clear, first of all about what we're discussing here tonight because, as I read this term sheet and city manager, maybe you can correct me if I'm wrong here.
H
It says the city council will consider the loan agreement on october 17th and our october 17th meeting, and that's at that point we will pres, I mean.
Presumably I presume this would come to a vote.
We'd be asked to approve or reject that loan agreement for that 350 000.
H
So what we are really considering tonight is not the full five hundred thousand dollars well really considering tonight.
Is this 150 000 dollar grant?
Is that an accurate understanding.
M
uh Mr mr mayor council, members, council, member coulter, that's that's accurate.
H
Thank you so I mean, I think we just need to be clear that I you know, I think the points that that have been raised as far as accountability and financial information and guarantees.
You know, all of that.
All of that is is absolutely valid.
That is all important.
I don't think anyone is going to say otherwise, and I think that is information that we can consider on october 17th.
H
I think what we are talking about here tonight, as as the interim executive director just pointed out, is providing for folks who have provided for us in essence ensuring that folks, who did the work, are able to get paid and I'm not thrilled with the idea of the city, essentially bailing out a non-profit, but I I think it is important to recognize what artistry contributes to our community and I think mayor to to answer your question for myself.
You know this is funding that that comes out of our strategic priorities fund it.
H
You know it will, of course, have an effect on that balance, but from what I've seen, I think the fund will uh still be fairly will still be sustainable.
So to answer the question: do is this a strategic priority and, to my mind the answer is yes.
I absolutely do believe that this should be.
This is a strategic priority of the city.
Is it how we would love to like to be using these funds?
H
Absolutely not, but I do believe in addition to you know, as the city manager mentioned the financial implications that it would have for the city, if artistry were to go black, I mean this is not.
This is not a zero-sum game.
It's not as though we just you know, hang out for rent sign on the gallery.
We that results in some cost to us.
H
I do believe at the end of the day that providing this this funding, which again no one, thinks we are in a good place right now.
H
No one wants to be here least of all me, but providing this funding I do believe, will give artistry time and they I mean presumably have agreed that they can come back to us by october 17th, with a more folsom, with a more detailed plan to get at some of the issues that have been raised and if folks, do not feel at that time that that's a good enough plan, we are free to vote.
No.
H
We are free to reject that loan at that time, but I I you know this is not a good place to be in I'm going to say it again: it's not a good place to be in, but for where we are right.
Now this grant funding, I believe, is better than the alternative and I think that's how we need to be evaluating.
This decision is not: where would we be in an ideal world or where we would?
H
Where would we be in a world where the recovery from kovid is not was not what it has been?
But what is the alternative, and I, the alternative to me is- is not acceptable.
It's it's not what I think align with the values of this council, as we've stated them.
It's not what I think aligns with the values of this city, um and it's not what I think aligns with my own personal values.
So um you know reserving absolutely reserving judgment for that october 17th meeting.
H
I I do think what we have in front of us for right now for this 150 thousand dollars is something that I can support.
A
On down the road councilmember lowman.
K
Nelson, uh thank you mayor, councilmember lorman, um this one's tough, uh it's very tough and um you know, I think one of the things that you talked about was trust, and I think that is important and you know uh you know. Trust is built over time and you've had 12 days, and this is the first time we've had the pleasure of meeting um you know so.
K
But what I can look at is the performance of the organization, and you know I already talked about the last couple years and and they weren't great and you've, been very clear about that. But what I did is I looked back in 90s from after the infusion in 2015, and I think it's somewhat illustrative of the point you're trying to make is you had revenue of uh just shy of 1.6 million in 2016 and a small loss of about 58 000 had net assets of negative 32 000..
K
So obviously, you were in a situation in 2015 and you're coming out of that in 2016., 2017 had net income of 375 thousand 2018 had a net income of 85 000. 2019 net income of 115 000 and had grown it to an organization that was over 2.2 million dollars. So after that last infusion artistry, as a group took and grew the organization by 37 percent, they built a reserve from a negative number to over 550 000.
K
They had over three months of cash in you know, assuming that they could cover with that.
Three months was not enough for a global pandemic um and that and that's what hit them and then yeah.
There was obviously some oversight, some management, a situation that that ages were prepared for, but I look at a track record of the last time.
The city stepped up to help them.
K
After that point, artistry performed artistry did what was asked to them.
They grew the organization they started to grow it regionally.
They successfully built up that nest.
Egg.
Someone had talked about making sure that they have a fund so that they're sustainable in the long run.
K
I think the other thing that we already talked about is we cut the city funding that we did annually from two hundred thousand to fifty thousand dollars saving a hundred fifty thousand dollars every year in our budget, because they were more, they were much further along on the path to sustainability or self-sufficiency.
There.
K
I look at this in two ways: one people did work and they can't make payroll, and you know I just I'm hard-pressed to put those individuals in a position where they can't have the money they need to pay their rent to pay their mortgage to pay for food to pay for their basic necessities.
K
um When this is simply going back to the same level of funding we provided just a couple years ago.
K
I completely agree with my colleagues about having a better business plan having uh having allowing us to see that I mean I want to see the budget.
I want to see what this looks like.
I want to see how how good it is.
I mean you, you couldn't go into a bank with this and ask for money.
K
You know it just would not happen.
um You know- and I would not pass this on october- whatever 17th, if I don't have a business plan, financials see what this plan looks like and have confidence in it and the other thing I would say about that, though, is assuming, as we discussed that you know it's still we're going to maintain that 50 000 a year in our annual funding to the arts uh or to artistry.
K
You know this is over seven years, another fifty thousand dollars that we're committing so we're half of what we were in the past, even under the even with the loan of the forgivable loan program going forward.
So uh I I don't like it, but it's clear that you guys don't like it either.
K
Nobody likes this, um but I I will support the 150 000 tonight because I think artistry as an organization has proven that they can be viable, that they can be self-sustainable, but for a global pandemic, and that's not bad yeah, a lot of our organizations, don't they they rely on a lot more assistance than what they've asked for in the past.
A
Let's remember martin in just one minute, uh mr verbruggy, something to add to that point.
M
Yeah, thank you, mr mayor and council members.
um I I just want to provide a little clarification uh council member nelson councilmember coulter talking about the business plan coming before october, and so I want to be clear what the expectations are in the term sheet.
M
It indicates that we will have terms and conditions related to the the loan agreement itself and then what conditions there are that would make those annual repayments forgivable.
M
It had.
It doesn't say in there that there will be a business plan by them.
Additional uh term sheet uh item is that the development plan is due by the end of the year, and I know that artistry is working on a development plan.
M
I think the question that I would want to ask pat and kelly is uh how how comfortable or how likely you think it is that you won't have a business plan that you are confident standing behind by october.
17Th.
M
Because the earned income is obviously different than the donated income and the development plan is about the donated income, which is really about trying to lessen the reliance on especially theater ticket revenue.
I think they mentioned earlier that our that artistry's reliance on theater ticket revenue is greater than many other organizations, and so part of the effort with the development plan is to reduce the reliance on on the earned income and to drive up the donated income.
Is that kelly?
Is that in an accurate statement?.
O
Yes, I think that's the accurate statement to the question of uh a business plan by october 17th.
I mean that I I acknowledge.
That's quick, that's a quick amount of time, but what I'm hearing is that is a priority and that's important to this council, and so that would become my priority and I believe I have the um team of people and the focus that we could come back with something that you could look at and, um I believe feel good about.
O
So I say yes, I think it's important, I'm hearing it's important from you all and it's important to me to make sure that we could do it that we could really do it.
So thank you for that question.
C
Thank you mayor and I've.
F
Just got a couple of quick questions here, if you don't mind um so in in terms of the loan conditions as they are included here, uh do we anticipate as as that plan is coming together, that these may change substantially?
F
I'm just wondering if, for example, in the new plan, moving forward having four large main main stage shows through the end of next year, uh if that proves fiscally unrealistic and it's we've included it as a requirement in the loan conditions, I mean how much how much wiggle room are we going to have by the time this comes back to us for final approval on the 350 minimum yeah.
O
As far as mainstage shows, four is the minimum from what I can tell so far in order to actually be financially sustainable.
More programming is how you get to that place.
So four is the minimum.
In order for us to make.
F
I guess because, if possible- um because I I do agree with my my colleagues and and making sure the folks that are owed money are covered so far, I think that's a reputational thing for the city, um considering the close partnership we have with artistry, but I would be very curious to see at that minimum of four shows what growth would we need to see in purchase ticket attendance to have those float successfully, because, obviously that has a lot of impact on the way things are marketed and outreach and all that stuff and then I I would also be curious in acknowledging it's a quick turnaround.
F
I'm a professional major gifts, development officer for non-profits and I've never seen a major gifts program stood up to that extent in under three years or so so and obviously hiring a director development. That's another level, but that's uh exercise and building momentum. So I'd also be curious. How fast or is the organization anticipating that individual major gifts or sponsorships would need to grow in order to hit the end of this season in a sustainable place? um But again, thank you.
F
Thank you for raising your your hand to to jump in and steer the ship and keep things on course.
It's obviously a huge task.
I agree.
150 makes sense, um but yeah I'd like to make sure we're not just climbing out of a hole to hit a wall at the end of the 23 season.
A
Councilmember d'alessandro.
I
Thank you, mr mayor.
uh Most of my comments will be about the loan terms.
um uh I, I am fine with the grant.
I don't know if there's any more to say on the topic, I think it's all been said.
I
um You're right, artists need to get paid, um they don't get paid enough as it is in my opinion, um so I wanted to first start by saying um my comments are probably going to be they're going to sound, pretty harsh and like I just want to acknowledge that neither of you are the reason we're here right. We know this now, uh pat you and I'll have a little bit of a talk.
I
I want to acknowledge that right um were you on the board pat before um before becoming president yes, and, and so were you involved in the hiring process?
No.
I
Okay, you weren't on that committee.
Okay, uh helpful!
Thank you!
So here's where I'm at with the loan there are there are some things about the structure that I think are just should change.
If we decide to move forward with this first off, I don't think that um and- and you know, um council member colder coulter- I will I will.
uh I will defer here um because you've only been on this since february, and I believe it was my predecessor that was on the board before that, so not here to take accountability.
I
Okay, um uh I I would argue that we should replace uh the city manager x, officio position with with uh one of our finance folks and specifically our risk manager personally uh for the term of this loan, and that's because I want us to have uh accountability at a level where we aren't distracted, where we have somebody whose job it is is to help us understand, risk and, uh and so I'll defer to you miss economy. Schuler about that, um I you know mr verbergy, and I have had this discussion already.
I
um He has to take accountability for the fact that this happened uh on behalf of the city um and, unlike the two folks here, pleading for them there.
You know for mercy.
um He was on the board for this entire time, and so we need to do something about that.
In my opinion.
So I apologize if that sounds harsh, but I do think accountability is warranted.
I
um I'd also like to see none of the people that were on the finance committee show up anywhere near finance or at the audit committee in the future, and I think we should make that a condition, because we have to show people that the people that are going to be responsible for this going forward are able to do the job and those people have shown themselves to not be able to do the job.
So um I understand the the situation he and here's what I here's.
Why?
I
I'm saying what I'm saying this entire city went through a pandemic and we got reports, and I wasn't even on the the city council until january.
So I know, as a citizen that I was able to go, and I saw our hospitality teams come and show us what they knew was going to be a dip in revenue, and we prepared for that and that's why we didn't raise taxes more than we did.
In fact, I think one year we didn't give.
I
We didn't raise a levy at all during the you know, some of this, you you, as in the royal you could have done better and you didn't- and it's fair enough to say the pandemic is the reason but fiscal accountability during the pandemic.
I
There are winners and losers in that game and artistry is a loser just flat out.
So let's do better there.
I'd argue also um throw it out to the team that I'd like to see these payments done quarterly and with a with a with it out if they don't meet their targets.
I
This idea of one lump sum and it's gone I'd rather see either annual or quarterly payments made with with conditions at each level, so that we can call the loan out done and not put more money at risk if possible- and I don't know if that's doable I'll- throw that out there for the for the legal teams and the accounting teams to sort out, but I think that's another con area of control doesn't change.
I
The number doesn't change the ability for us to you know, get you where you need to be, but it sounds like you guys, are super confident in your ability to deliver so which is wonderful.
It's great to know that there's an organizational leadership position that you all are willing to take like that.
But let's just let's just put that in the writing, then um so apologies.
I know that probably sounds really harsh.
I
um Unlike um what you said earlier, I am not from minnesota, and um I, and so I apologize my east coast is showing that explains it.
Thank you.
You're very welcome.
My east coast is showing tonight.
um I also am a huge fan of the arts and it's painful to be having this conversation, and I have ultimate respect for your willingness to stand here and listen to it.
um I think that's everything.
Thank you.
A
Thank you, councilmember councilmember carter,.
J
Thank you mayor, so uh I'm not going to be repetitive. I will try to keep my comments short. uh I am okay moving forward with the grant I do. In addition, though, um for the grant there's the grant repayment conditions reporting, I would love to get an outline or a plan, so let me go back to the loan thing.
J
So in the loan conditions, we have the enhanced management plan within 30 days after the effective date of the loan agreement, and I think that we, I would like to see that uh before, like before, we have the loan conversation so that we know the accountability mechanisms that are being put in place.
So I think it says report to city council on october 17th.
J
I would love for that management plan to be presented at that time. So as part of the grant agreement conditions, I just I might probably part of my biggest concern, uh as others have alluded to- is just the um the fact that there wasn't strong financial management policies and practices and controls in place and, like others, you know I just uh you know we we.
J
This has to be like the last time right, and so um I do like councilmember d'alessandro's idea of uh breaking the loan into payments uh that we would uh instead of one lump sum, so I always want to add that in there, uh but otherwise uh really agree with a lot of what's been said and again kelly.
I just want to thank you for your leadership on this.
I know it's very obviously very difficult.
J
It's very difficult, I think, for a lot of people up here for people involved the city who have been involved with advancing the arts for so many years, and so, as a council member, it's very I mean, as has been mentioned, it's very challenging um to be up here, listening to what's happened, and um you know wishing that we had more insights sooner.
This came on upon us very quickly and so um yeah.
Thank you for your leadership.
A
Thank you, councilmember uh councilmember lowman, and then I think we can start moving toward a wrap up here.
I think everybody's everybody said anything everything, everything and everything has been said.
It's just not in their.
L
Own way, so let me say this now, certainly um you know, I think you know from a reputational standpoint. You know we certainly could pay the artist and and do that, so you know regardless of this particular agreement, so I do think, there's a reputational risk, but there's there are different methods by which that we could, as a council, uh go about fulfilling those those those terms. um Let me ask you just one question here: um you know if you weren't going through all this and you had to put together a business plan.
L
What would that timeline?
Look like.
O
I've been in crisis mode for so long.
I'm not really sure what what what that looks like I I was thank you for the question I was looking to the end of the year to have enough time to have the new staff um get to know the community reach out.
You know understand the position.
We have two new artistic directors in the theater area that are vibrant and thrilling and and the community has rallied around actually during this time.
um So I think I I was looking to the end of the year, but um well.
L
I mean I'm just saying: yeah.
L
Amount of time- let's say none of this stuff was going on and you'd say: okay, you know six months a year.
What would it?
What would it take to kind of say this is be able to come back and say: hey here's, a real, solid business plan and a model uh that the community could get around and.
O
I think in ideal world I would have at least 90 days so that I could engage more stakeholders have more insight, um have longer conversations. So I think I would ideally ask for 90 days.
N
I actually write them for a living and 90 days is part of what we have to make sure that we do in this.
One is get it right or at least get it right long enough that we're in a position where, because I do think it will be dynamic because I don't think we're, we don't think, we've arrived anywhere yet and I do think you've been having conversations.
N
I've been having conversations with people around the country and I think we want to make sure we collect enough really good insight from other people, so that and and here so that we can put something together that works quickly and then we're in a position that we can recognize that we're in a dynamic situation and we will adjust as we go, um and I think that that's important and- and you know the other thing we're going to do- is we're going to look for money from sources where we've never gotten it before.
N
Frankly, we didn't ask so that's the other part of what we've got to do, um and we've got to do that simultaneously.
With writing this and getting out and doing those things with a with a highly engaged and active board.
Doing all that too.
So.
L
I want to just let you know I've served on many boards, even when I was uh young and I've gone through some of the experiences where I'm standing over there.
I want to let you know it is not a lot of fun.
um uh So I appreciate you know this is volunteer, work um and and.
O
It's volunteer, work right.
L
Now right, you know and having the history behind this and so and I think it's really important, but I think the question um that I keep asking myself and then really until I see a business plan and I think you got enough votes here. This is going to be the method by which that it's going to handle and I'll handle this and it's going to be, and certainly I want to make sure folks are going to get paid. So I wouldn't, I definitely would not leave here without making sure you know.
L
If, if my particular point of view prevailed that folks didn't get paid but but in the but in the end I go back to 2015 and I you know, I asked all these hard questions of a board that I believe in and I believe in the arts, and I wanted to succeed and that's the reason why I'm being so tough tonight.
That's the reason why I'm not going to support uh this piece right here, because I don't without seeing the business plan.
L
I think it is irresponsible, as a public leader to move forward with that and you've even said it yourself.
You know you need the business plan.
You know you need about 90 days, maybe to the end of the year, and I want to give you that time to be successful, because I don't want to fail.
So maybe that means it needs to look differently than what we have here today and that's why I'm not going to support this?
I am very supportive of the arts.
I am very supportive of artistry.
L
I wanted to succeed and I'll do anything.
I can do to help you uh to do that.
L
But the way this is structured tonight um I feel like we're repeating it and we're going to go down the same pathway again, and I want to make sure we don't do that, because I think that, because of all the things that you mentioned are so important, uh the people of color uh those folks who are disadvantaged, uh who rely on this organization to fight the types of things that we're trying to fight um that are really at the heart of what uh we've kind of are getting ready to do and we're starting to do it's critical that succeeds, and so I want to let you know that I am going to be like a dog on this, to make sure that it does succeed and and what's written here, and if I don't see a business plan, I will not support that when it comes forward.
L
But again, thank you for your hard work.
I appreciate the board.
Even our staff members it just it was a really difficult circumstance in the situation, but I think we've got to be tough with our public funds and I hope that we succeed with this and thank you again for being here tonight.
Thank you.
So.
A
Much that's memory card, quick question, yeah.
J
Thank you, man, I'm just asking a clarifying question, so councilmember lemon, you said what's in front of us and I think today tonight is about the grant, not the loan, and so I guess I want to make sure everybody who's watching and listening understands that we are, we are vote like we.
We are being asked tonight to approve the 150 000 grant amount.
The loan will come at a later date.
The loan request will come at a later date, and so I guess I didn't.
I wasn't sure what you were yeah.
Let me let.
L
Me let me clarify, um I I'm not going to support this grant, because this the way that this is written, supposes that on you know that uh business plan comes back. You know on the 17th, you know our you know uh and that that we you know we'd have you know we have that particular plan that time. If I'm wrong, you know you know correct me if I'm wrong, but I just in terms of how how we stated it tonight- and I don't want to take all night to do this.
L
I think we've got six folks to kind of move this forward, um but council.
I
Member, if I mean if, if.
A
I, if I could ever if I could everybody- um I I understand the confusion here and I understand what we're trying to accomplish and what I might suggest here, based on what I've been hearing and what I've, what I've heard him.
Thank you for the help here, ms manderscheid, to the way the motion is written.
Then, yes, we are we're approving the term sheet as it's in front of us.
The way the motion is currently written.
A
However, the revised motion that has been suggested perhaps would be to make the motion to amend the term sheet, to remove all references to the loan and approve the remaining parts of the term sheet dated september 19th, with artistry approving, uh with artistry approving a grant of 150 000 and authorizing the execution of such agreement that separates out the pieces that you were thinking that we you know we might want to discuss a little bit more.
What kind of date we want to put or timeline.
A
We would want to put on a business plan that kind of thing, but it moves forward with this.
This grant separate from the loan, and then we can continue our discussions and by october, 17th have a bit better discussion and understanding and maybe have the the lone terms match.
What we've been talking about here.
A
Okay, as long as that makes sense to everybody so.
H
Member coulter, thank you mary.
I know I've spoken already at length about this, so I will be brief, but um I just I want to say here and now that to pat's point, excuse me about an active and engaged ward as a board member.
I am making a promise to each and every one of you here tonight that we will be consulted as a city council that I you will hear from me and the city attorney is going to make sure I don't violate open meeting law, but there will be active conversations.
H
I am making that promise and pat and kelly don't go anywhere because we're going to exchange phone numbers and a lot of other information too.
um That is my promise to all of you that that, as best as I can your concerns, your questions, your desires will be communicated to the board and to staff as this project moves forward.
um So I'm not going to attempt to make a motion, because I can't summarize what you just said, but I will let that.
A
If everybody is good understanding, we have two motions to make tonight and the the amended motion that was provided here addressed the first motion.
A
So it reads uh a motion to amend the term sheet to remove all references to the loan and then approve the remaining parts of the term sheet dated september 19 2022, with artistry approving a grant of 150 000 and authorizing the mayor and the city manager to execute such an agreement.
A
I would look for a motion on that.
A
We have a motion by council member alessandro seconded by council member coulter on the motion, as stated any further council discussion on this.
A
All those in favor, please signify by saying aye aye opposed aye motion.
I
Adjustment available to move 150 000 from the 4200 strategic priorities fund to the 6500 center for the arts fund in order to fund the recovery of in order to fund the grant for artistry. Can I make that a amendment it currently.
A
You just did okay, thank you.
Yes do.
We have a second.
A
Motion by councilmember d'alessandro seconded by councilmember coulter to approve the budget adjustment resolution to move 150 thousand dollars uh from the funds to the the funds, as directed according to uh the motion for the uh for the grant plan for artistry.
A
Any further discussion on this.
No further discussion.
Council, all those in favor, please signify by saying aye aye opposed aye motion- carries five two loman and bussy in opposition.
Well.
Thank you very much thanks for thank you coming forward.
Thanks for the discussion.
Thank you for the work.
Thank.
O
You thank you appreciate it.
A
Is mandatory clearing everything.
G
Pretty sure yep, I'm just gonna quick check on the vote requirement.
There's this there's a, I think.
It's higher level, I'm double checking right back.
A
Okay, council uh item: our final item on tonight's agenda is our city, council policy and issue updates. uh The item that I will bring forward is um our listening session tonight. Ms allen s came forward, we discussed once again a conditional use permit and the construction of a conditional use permit from 12 years ago in the construction of a driveway or an entrance into the smith park.
A
Parking lot and mr david clark came forward with, in opposition to the proposed levy that we passed a couple of weeks back and I had questions about the levy and uh we did direct that we would be talking budget over the next two months, basically with uh obviously with the truth and taxation meeting coming up on december 5th, I believe first week of december, so our truth and taxation meeting uh council, anything to add council member martin.
F
uh Thank you mayor first off. I just wanted to say it was a fantastic heritage days parade uh this past weekend, and I want to thank the the board of the organization for putting that opportunity together uh and a huge thank you to the volunteers who came out. Were there all day, sweeping stuff up directing traffic making sure we didn't have a parade going in somebody's front yard uh and uh thanks to council members, loma nelson for taking the time to come out and volunteer for that as well.
F
That's appreciated uh and just a quick plug for this coming monday over at hometown church we'll be doing the district 4 town hall, so I hope everybody out there is able to make it looking forward to fielding questions.
That's all I got.
A
Thank you, councilmember councilman carter,.
J
Thank you mayor on us in a similar vein.
uh I just wanted to share that.
The bloomington remembers veterans event was a big event, was at nine mile last night, so the mayor and I were there and the room was packed so great, showing lots of um there was news media there.
I think the mayor got interviewed and they had a live streaming like a woman who was interviewing people throughout the evening, so I showed up coming from a soccer game and a.
J
Hat and a sweatshirt, not knowing that that was going to happen and was interviewed, but um was a really fun energetic evening and it seems like they really garnered a lot of support and uh a great fundraising opportunity for them.
So I don't know if you wanted to add anything.
No.
A
Thank you for bringing that up councilmember.
It was.
It was a great time and said before this.
This this group, bloomington, remembers veterans, is a fantastic example of just a great grassroots organization in the city of bloomington.
They've identified a need and have been working hard for a couple of years and we're going to get them across the finish line, because we absolutely we need a veterans memorial in the city of bloomington.
J
And I'll just add that um terry did mention that he missed council member alessandra who was traveling for work. But um he specifically wanted me to tell you that.
L
Ever so briefly, uh there's also the um ev fair that took place over the weekend too.
There's lots of going on and also the um uh bloomington historical society was open as well.
So I got a chance to go over there.
um There's I mean the ev.
Fair has really grown.
If you haven't had a chance to go over and see that I was absolutely astonished by uh you could take a tesla uh ride along um or you know, ride different uh cars.
L
Even I even looked at a snow plow, that's all electric as well so uh next year.
Look for that!
If you haven't had a chance to see that there's lots of ways you can utilize electric uh uh tools in order to make your life better.
A
Very good can't sell anything else tonight, nothing else, council.
I would entertain a motion to adjourn.
A
Second motion and a second to adjourn this evening.
No further council discussion, all those in favor, please signify by saying aye aye opposed motion- carries 7-0 council thanks much for the discussion tonight.
Well done good work thank much to uh the staff for pulling this all together and thank you to our community members who are here this evening.
Thanks everybody watching good night.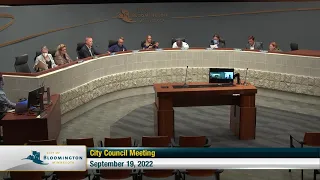 ►
Description
September 19, 2022 Bloomington Minnesota City Council Meeting

0:00:00 Start

0:03:28 2.1 International Day of Peace Proclamation
0:05:57 2.2 Introduction of New Employees

0:12:30 Consent Business
3.1 Amendment for Landbridge Ecological Agreement
3.2 Memorandum of Understanding w/Northwestern Health Sciences University (NWHSU)
3.3 Encroachment Agreement Approval - 8737 Woodcliff Road (Lot 27, Block 1, WOOD CLIFF HILLS) PL202200157
3.4 Approve Out-of-State Travel Expenses
3.5 Approval of City Council Meeting Minutes
0:13:11 5.1 Neighborhood Traffic Management Plan - Scope of Work Discussion
0:47:56 5.2 Opportunity Housing Ordinance Update
1:06:33 5.3 Artistry Term Sheet
2:49:22 5.4 City Council Policy & Issue Update