A
That's we have a vanity link now so Dory's thanks cool, so we'll get started, so it should be a fairly not too long meeting.
But if you go to, let me go post the slide deck in this human chat in case people.
Don't have it just brief.
A
You know kind of updates intros for any folks that are new to the call we'll go over a scheduling, update, there's a bit of a conflict for a couple of folks, including myself, in terms of the current schedule, so I think we're just going to move it to the second and fourth Tuesday of the month.
A
We have a community presentation from Michael today to talk a little bit about what he's working on I have an update on kind of where we are with the landscape and and white paper, and then we'll close it out with any other questions to the group so to go to slide three anyone new on the call that one it wants to introduce themselves to the group before we move forward and kind of what you do.
B
Hi Chris yep can't hear me.
Yes,.
A
We hear you well, oh yeah,.
B
Hi I just want to say hello to our event, so since it's the first time to join this excellent online meeting and I'm long from kth and I'm a yolk EHD student in computer science, my supervisor is Martin mattress and our team is really interested in chaos, engineering and the self-healing software, and also some fault injection things.
So it's really related to this work and yeah I'm very happy to like contribute more to this community in the future cool.
Thank.
C
I'm joining from from under Robert I'm new to the group as well, but we are starting to do more of.
C
So me and all auslan who's, seeing an engineering manager they're both interested and will start participating in the group as well.
Awesome.
A
Welcome anyone else, hello.
D
I'm Zak I am working at lift on the performance team.
We are just starting.
You begin concerted efforts, organized efforts that have buy-in from everybody towards guessing so where I am.
A
Concerted efforts, okay, anyone else.
A
All right, okay, that said it looks like everyone else was on previous calls.
So the other thing I want to mention is we have them kind of a meeting minutes document.
Please add yourself to that.
A
If you attend just just makes it easier to track who attends and who doesn't so moving on slide four, so there's a bit of a scheduling conflict for a couple of us, I'm just gonna propose that we keep the same time, but we move the meeting to be every other, we're on every second and fourth Tuesday of the month that ideon Pacific and we'll start with that change on July 10th and July 24th moving forward.
Does anyone have any issues with that specific timing?
A
Keep it a.m.
8:00 a.m.
Pacific just moved the week week with the weeks we do it.
You.
E
Okay sounds good, sounds good.
A
Allisyn scheduling is always a pain in the ass Oh, appreciate people being flexible, flexible here, all right, so I'll get that updated on the meeting, inviting the Google Calendar.
So oh, but I'll do that after this meeting so slide five and six kind of cover the landscape.
So one of the kind of outputs of the group that we want to accomplish is to actually come up with a landscape similar to what we have available currently in CNC F.
A
If you go to L dot, C and C F dot, IO, you'll kind of see this, you know huge cloud native landscape which basically covers the different companies and technologies in this space.
So you know, we've been trying to take.
You know an index of all the different projects out there and try to categorize them into different categories.
A
I've been struggling with this a little bit, but I've made a little bit of progress, I'm curious.
If anyone has any comments before I kind of talk about my specific proposal, how we add this to the current current cloud native landscape.
E
Yes, I kind of commented on that github issue and I was I.
Did some comment on what I was wondering?
What would be the next step?
Do we did we put up some excel sheet with various categories, or do we continue to do this on the github or.
E
Effort on that yeah, yes,.
A
So there so there is a I mean, there's a tool that essentially the landscape that I've worked at the repo that will eventually make the additions and changes too, and then we have a design team that will render a pretty graphic based on that, but I posted a spreadsheet, where I'm collecting is essentially I'm filtering at some of the projects that we've added to that sheet to be at a certain level where, let's say they're they're, not just like a research project.
Maybe they have a bit of a community in C and C.
A
If we kind of have this ridiculous criteria of like at least 250 github, freaking stars right or whatever, essentially it has to be something- that's you know has somewhat of a community behind it, but I'm fine doing it in the spreadsheet so you're more than welcome to make some additions there, I'll post the spreadsheet in the github issue too.
If that works for you, oh yeah,.
E
That's great yeah I was looking for some place where I can put more dots, that'll help.
Thank you.
Yeah.
A
Eventually, that will be dumped via pull request to the CN CF landscape, okay, cool yeah, I'm in terms of categorization.
You know: I've real I'm really torn on the, like, obviously there's hosted offerings, and then there is basically tools that focus, maybe on different aspects of chaos: engineering, whether it's you know, storage, security or just general.
A
You know, shooting pods or interfering with networking, I haven't like I, haven't been able to come up with with more than that, I wonder if it's even worthwhile to try to break things apart into into into kind of that into those pieces.
But I, don't know if you have thoughts before yes,.
E
I did make some comment, but I'll make my traditional comments on that spreadsheet.
But basic idea was, you know we could do the framework as is and.
E
Itself can be split into node networking, again: storage, okay, I'm, just like as I said, and.
E
Could try to put each of this projects or the application against those categories?
Yeah.
A
I mean there: the challenge is: it's still somewhat of a nascent space right, so there may be only like one or project in a specific category, which is fine, I.
Think that's, okay, it's just there's just not many project, at least that I found there through my research, but I could be wrong.
A
So any other comments from the group.
F
It seems like a good baseline what you've done so far yeah there are so many angles that you could look at it.
That is probably easier to look at this.
The way you've said.
A
Yeah sounds good and the challenge is some tools overlap and do multiple categories right.
So then you get in this weird situation where a tool appears on every every section, which is just weird.
So it's the other thing that you know also came across my mind.
Is you know, do we also have a category for the cloud providers that support?
A
You know chaos engineering in some fashion, natively right- and you know one way of this of doing this exercise is basically also kind of publicly shame that cloud providers to support this more natively if they're not not listed, at least with my selfish CNC I've, had on so Michael, so yeah take a look at that spreadsheet and we'll we'll go there and eventually that will end up in a pull request: okay, hello, it to the CNC F landscape, so moving on slide, 7, &, 8, so there's basically slide.
A
7 is basically kind of the criteria that I mentioned that we use for what we add to the landscape.
Essentially, we just want projects that are more than just research projects or someone's kind of small project stuff.
That's actually fairly used but slide 8.
It's basically my attempt of we essentially have two options here.
We either create kind of a new category within the current landscape and just add a section, maybe under kind of where orchestration and management is and create a specific subsection forecast engineering or create an individual, separate landscape specifically for kit.
A
You know, chaos, engineering, group group to group the part, so my concern was, if we don't have enough, you know.
If we have a couple handful of tools, then maybe it makes sense to kind of graft in the in the bigger landscape.
If we have more than that, maybe we could have our own separate landscape, I, don't know if there's strong feelings in the group of which way you know we go forward with this.
We want to decide now.
It's just I thought.
G
Well, we can start small with under another project and as it grows like as the work starts growing we have in that time the best thing is to get going.
Yeah.
H
Agreed, oh yeah, and and increase.
F
I wonder what what what is the world if she want at this in CF?
Regarding you know similar sort of topics like security back, maybe testing other, although I felt like that that will basically gathered together in sort of a bigger landscape, yeah.
A
So I mean if you look at that landscape.
I pointed you so the way CN CF has organized it's it's.
You know each project is free to create its own working groups or effort.
So, for example, kubernetes has SIG's and working groups around storage, security, node and so on.
Each other projects in CN CF have similar setups.
There tend to be a little bit simpler, CN CF wide.
We have working groups dedicated like server lists.
You know networking storage, stuff that affects all of our projects.
Chaos.
A
Engineering is a working group that we intend to propose just CN CF once we're a little bit further along, so it just you know, working groups tend to work with other working groups if it makes sense, but I think you know step one is you know, let's get organized enough where we have maybe a simple landscape position, statement of a proposal that we could bring to C&C F before trying out trying to work with the other groups out there.
A
All right so so from my feedback from the group is, will will create our own kind of smaller landscape, similar to kind of with the work we did with survey lists and kind of go from there and then see how that works out and grows over time.
Okay, cool all right, slide, 9, so so moving on so not much, let's see where we slide 10 or slide 12.
Sorry.
A
Basically, the main things here is pointing people out to the white paper issue we're gonna iterate on that on github, instead of the Google Doc and just send pull requests there, I will formally work on the proposal to C and C F, the former working group.
We have the scheduled time to present to the technical board for CN CF, but I.
A
Don't envision us doing that until probably late July August timeframe, so are the Nets gonna open up for any questions and answers' is a couple reminders that Kaos cough is coming up believe in late September, CN, CF sponsoring and will be there so be great to see some folks.
There I'm also really looking for volunteers to present next time.
So I don't know if you know whom I maybe want to present litmus or if anyone else has something present.
It would be good to get you slotted for ornette next, our next meeting any volunteers, yeah.
E
Sure I think you know there is an intention to present litmus I'll check with the team and we are just in the middle of another release, so I'll update to slack but we'll try to make it to the next slot.
Yeah.
Okay,.
A
Good anyone anyone else feeling a demo, if not how to slot in witness.
A
I feel like so you got a lot of background noise, but we got you Pumbaa for.
A
Worries any other okay, so that's good, so I got volunteers for next time.
Any other questions from the group I like I guess: Karthik had a chat for Michael demo fire drill in the future, if possible,.
J
Yeah I'm happy to do that next time.
I just don't know if it can be recorded just because of yep cope, got it call a corporate policy but yeah I'm.
If you're looking for demos I'm, we can do fire drill next week or next time, so cool any.
A
Other questions or comments from the group.
C
Dinners, fine and there's increasing yeah I was wondering what the difference between these two things is.
A
Add yourself to the maintainers fall as that's how I'm tracking folks to add to the github team.
So please do that you'll!
Basically anytime, we make a major decision or anything like that.
I essentially just want a simple majority from the maintainer like when we finalized it for Mosel proposal.
I'll ask the maintainer x' for a vote before we bring it forward to the technical board, so sample requests.
A
Well, any other questions just.
F
Quickly, I was looking at the white paper exactly on the github and I was wondering where it's it's not.
It wasn't easy for me to know where to put an effort into its.
It seems good to be a good baseline, but obviously missing a lot of things.
I guess what could we help or what could.
A
I help yeah I mean it would be great if we had that if someone would like to if you would like to drive more that white paper, you know you know for me not having a lot of you know, expertise in this particular field.
That's a little bit difficult to drive it.
A
So if there's something that you basically you know at the end of the day, what we developed will be disseminated to a fairly wide audience right so that you know that's kind of my goals come up with something that you know anyone could kind of read over. You know: 10 10, 15, minutes and kind of get a good overview. What the hell is going on and in chaos engineering, so so I'd I'd go for it like what, if you think, something's missing make a suggestion and we could kind of all work together on this.
F
An outline or QC or something like a like a set of of.
F
You, okay you're back anyway, so yeah I, guess the.
F
Line and like sections and stuff like that, not necessarily field, but just as a strawman to say well, this is a structure yeah.
A
So yeah we could go there.
You know the other thing that I that would be.
Nice is since I still kind of consider this in East and field, having maybe a section around a couple, maybe a handful or a few case studies.
So you know obviously internet scale.
Folks, like LinkedIn, you know, are doing this Netflix some of the bigger ones.
So, maybe highlighting you know a few of those concrete kind of case.
Studies in in the white paper would be a good thing.
In my opinion,.
K
Chris, do you have a reference of like an another white working groups like white paper that it might be a good thing to look at yeah.
A
I, do I'll put I'll point it to you in the chat right now.
Give me a second it's a little dense, but here I'll show you it's right here.
So if you go to the service working group.
A
Section you kind of see.
uh So basically you know it's summarizes, you know what is the fields?
What are the benefits, pros, cons, different use cases and and so on so I'm, not advising us to go as crazy in in-depth, as as they did, there's a I think a lot more politics in the service space than there is in chaos.
Engineering, so I think things that are a little bit simpler for us.
K
Yeah I think what you said about it being an ace in space.
So I was going to say it more like it's not very far out of academia and whitepapers.
Yet so yeah I think training carefully is pretty smart.
Yeah.
A
And you know to be honest, like you know, at least within a CNC.
If membership, you know, we have a lot of companies a lot of cloud providers, so what we do will influence thoughts.
So as long as we position away like you know, this is new.
This is being pioneered by some of the you know.
Internet scale, companies out there, we kind of want to disseminate this practice for for everyone and show them different tools and and things that they could use.
A
You know my my future goals has always been to have the cloud providers support this kind of by default and also us having a stable set of open-source tools available, for you know, folks to use to implement this on their own.
Could that be the mission of this working group?
Actually, the dot that kind of is the mission produce, fly paper landscape and make a set of recommendations to the TOC, and maybe projects that belong in in CNC F and in the future.
A
Well, I mean we'll have to come up with the mission before we present it its technical forward, otherwise it will get on.
So that's, okay!
Well, we'll work on that nori!
A
Well, any other questions or thoughts appreciate everyone's times and getting this you know we're still in the bootstrapping phase, so definitely appreciate people taking time out of their schedule, but it's great to kind of hear from practitioners and- and you know, iterate on our kind of white paper and landscape.
So all right thanks a lot all I'll close the meeting I'll the recording will be post on the CNC F YouTube channel I'll make sure to post it on the slack once it's done, but hopefully within 24 hours.
A
So thanks a lot thanks thanks again Michael for taking time.
I know it's early in the morning, so appreciate it thanks!
Thank you!
Well, you take everyone all right.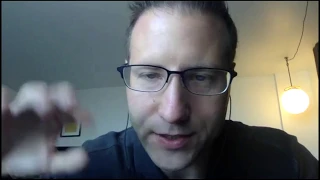 ►
Description
Join us for Kubernetes Forums Seoul, Sydney, Bengaluru and Delhi - learn more at kubecon.io

Don't miss KubeCon + CloudNativeCon 2020 events in Amsterdam March 30 - April 2, Shanghai July 28-30 and Boston November 17-20! Learn more at kubecon.io. The conference features presentations from developers and end users of Kubernetes, Prometheus, Envoy, and all of the other CNCF-hosted projects