A
Alright, let's write about five after the hour.
Are we good to get started.
A
Can anybody hear me?
Yes, all right, cool clicks, one more reminder since we've had a few more join, these meetings are recorded and eventually loaded to YouTube so I've got.
Can you guys see the meeting minutes on my screen?
Yep.
A
So first just the typical call-out is there anything documentation related that anybody specifically wants to add to the agenda today.
A
Cool I did have one thing hey good morning: I have one thing: I wanted to add.
Just like a side project I've been working on um I'd really like if we can to try to get the glossary done before Owen s.
That way when I think there's like I, don't know three or four sessions that knowin s.
Oh it'd be nice.
When people start asking, you know what is NSM, we could point them to some of these stocks and then get the like Reader's Digest version.
A
So one of the things I added here is this guy and I'd appreciate some help with this guy, but I've been poaching, some of Ed's slides I've been creating some of my own modifying some stuff, but in addition to the glossary, which is you know, just bulleted list of terms and definitions, I've been kind of working on this guy, which kind of incorporates pictures gets a little bit more detailed on certain things, etc.
I am not the most artistically inclined human being.
So anything that doesn't look pretty.
A
You know we can clean up, but just trying to like put some visual representation to some of these terms, and then, if we want to flush out and add a little bit more detail to some of these definitions, um you know we can do that.
A
The core focus will still be on the glossary until we get that done, but um I've been starting to work on this in parallel just so, we have something a little bit more just off the shelf consume both in the glossary itself and then today, in the glossary I've been kind of going into the specs and putting together what I think certain definitions are and I kind of like to review those today I'll try to avoid any philosophical rabbit holes being opened up, that I lead us down and just kind of focus on some just key components on.
A
What's what so before we move back the glossary?
Does anybody have any questions, thoughts or comments on this deck.
A
um Queenie I keep hearing myself.
A
There you go okay, so I think we roughly have sort of what we think the data plane is.
A
We have a couple of sub components we might want to flush out, but I started going into some of the other components just so we could start making some progress.
So we had this kind of generic definition here for the network service manager, I added them a little bit more detail, the daemon set, which resides at the host level, providing a full mesh by forming connections to other managers within the NSR domain, which I'm stacking.
A
These terminology is going to be interesting in both the glossary and that deck I was showing you, because so many of the definitions, relying on other definitions.
A
Additionally, the daemon set manages the G RPC request for connections by matching clients with appropriate endpoints Fredrik Nicolai, any technical inaccuracies, or am I close- is there anything we want to massage with this.
A
Frederik, you might be double muted, I saw you come off, mute and zoom, but.
C
Yeah I think this is I think this is a good I think this is a good definition.
A
Okay, so I'll clean that up a little bit so a network service registry.
It is a cluster vim or physical network level registry for of NS n components and then that's the simple one-liner for what the registry is.
Then the registry domain I kind of flush out some of those.
What some of those components are?
The registry of all network services, network service, end points providing said services.
The network service managers registered to a specific NS are and I don't know.
A
If this will change, because you know Ted spec is still kind of going through its paces, but I'm just based on like what was in the deck and like I'm, told it from like a couple different places.
You know the glossary definition versus that deck definition, which will try to flush out a little more just trying to capsulate.
If someone goes into the watch and says what's inside the network's registry domain, it's these things.
A
Is there anything that I missed.
C
So that so the question- okay, so no resource manager, domain, yeah, so I think this is a collection of embassies and NFC East that are managed by an assembler by an Edison manager.
So so we only had the network servers register domain itself, so these so on.
The network stores register.
C
Okay, good, we got the ordering a bit better on that so I'm reading through the through the definition.
It's a couple times just to make sure.
A
To call out is that this domain is specific to the host level.
I, don't know if I put that this guy yeah.
C
While a the network service registry is specific to multiple.
C
To multiple managers, so it's more.
A
Yeah, so in that definition, I call outright that it's at the.
A
There's cluster of them or physical network level right I, originally.
A
Something in this that said that it was on the host level, but I, don't I, know I I couldn't.
A
It the way I want so I world it down to this, but I don't know if we want to expand it a little bit or not.
I.
C
Think this is I think this is good and the reason the reason why is right now the pattern is generally that oh andis season tennessee's are managed by the the NSM manager of their specific host, but there might be a pattern where that doesn't it doesn't have to be true, and so so I think by wording it in this way gives that flexibility, where someone has a reason to like here's, an example like.
Perhaps perhaps you have a.
C
Perhaps you have a and this some sort of NSC or NSE that is exposed outside of the cluster and then it's and then it decides to to connect back in, but it, but perhaps perhaps it uses a service.
Maybe someone finds a way to chain it in like I'm, not suggesting that people should do this, but you know there may be other.
There may be other scenarios where by wording it like this, it makes it may it makes it more clear that this is that this is the relationship right.
A
Okay, so there's four more definitions that we have been this proxy: never service manager.
Is this a thing.
C
Yeah, so that's that is definitely thing, but it's so so it's it's more about the protocol level, though so it's it's generally it's when something is event as a an SM, then our network service manager and it's speaking, the and it's and the network service manager, protobuf and exposing or requesting a service at that at that at the manager, protobuf level and so a proxy.
C
This is more about a pattern where we have something that speaks that particular pattern, and but it does something it doesn't think that's different from from a standard network service manager that would typically reside in the daemon set.
So this is able to perform an arbitrary step or set of steps that that that can augment your your network, so I used an example in the use case.
These case last Friday, where suppose that you want it like, you had a VPN and a VPN had something that it exposed right.
C
Let's say well obviously expose the VPN and you in the VPN had its own set of security credentials, but perhaps you as an operator wanted to add some additional credentials or something something there that the VPN and it's II did not itself to not support, and so the concept of the of the proxy and SM is that when you make a call to an endpoint it would it would expose a it would expose it and at the endpoint that you're connecting to and the control level would get proxy through that and make sure that certain things are true or reroute to certain areas or pull in more and X keys is necessary and this, but does not necessarily have to drive through you, don't have to necessarily go through the data plane such APNs em.
C
So so you could then inject additional.
So in the case of the VPN you, maybe you inject some additional credentials as an example, and then they can been done for sit and and reject things that don't match your your requirements.
Does that make sense I.
A
Mean it sounds like it's basically like it gives you the ability to add additional sets of instructions post a network service much like if the network service itself has some type of exposure, that's beyond what the daemon set wants to do.
Then you can put this proxy in between and add more stuff, basically right, yeah or.
C
If a more complicated example is, if you want to centralize like MSM, is a distributed environment, if you need to have some centralized behavior, this also gives you a hook to do that.
So a really good example is suppose that you wanted to do some form of routing where you wanted to take a very specific route through a network and very specific through specific places and entities, and so on.
C
This also would give the ability to to pull in the exact ones that you want in a centralized way, so you want to do some form of like traffic shaping or traffic routing.
That's very that's very specific, and you gave this pianist M enough information, the thing that exposes that pianist and we gave it enough information so that it could centralize that information.
So it gives you so it gives you the ability to to also centralize as well.
C
So generally, we don't recommend people centralized because there's a lot of complexity in relation to like Auto healing and that kind of stuff that they're gonna introduce themselves that they ideally should get for free if they or for free, if they just use the standard patterns.
But this pattern is necessary for some of these cases to work.
A
Gotcha, so let me read this out loud and tell me if this makes sense, an additional shim layer between the network and network service manager allowing for additional sets of instructions to be layered on top of network services or create hooks for a centralized information model in the distributed network service.
I ask.
A
Don't have Watson today, but I kind of wanted to UM get your elves and especially his this.
um Let's come up with a very generic definition of a connection and then I think what we can do is throw some of these many definitions down here as like sub examples of connections, maybe or I, don't know but I mean a connection.
Is it anything more than a point to point or a point to multi-point?
You know flow of traffic like I'd like to keep this as simple as possible and make it vague.
A
So then you know the people who want everything very greatly defined will probably be mad at us, but then it just saves us for many people nitpicking the definition, because you know, if you go to granular, then it might not meet what they view.
The connection to be.
C
Yeah, if that's good point.
A
Want to get equal, Taylor, yeah.
C
You want to give you and say see wire, like that's good, go see what a wire is in a in the ending author II. So that way you can have one definition approver for both.
C
Unless there's a definition between the connection and a wire I suspect there isn't.
A
Well, I think actually yeah will do to it like the one definition.
There's a difference.
I think is so a wire is a point-to-point connection like it's really like I, said and I think I'll put that underneath up what wire is one of the sub definitions of this, but um the one difference I would say here is a wire means that you have some.
You know physical or logical entity that spans two points and connects them right.
A connection could be a point-to-multipoint connection.
You know you can have pointed multi-point connections as well.
A
You can't you can't split a wire.
There's got to be a multiplexer of some shape or fashion or splitter.
You know, there's there's some external entity that is added to a wire and then connects multiple wires to do a point-to-multipoint, but those are all still connections.
So I think we'll keep this super vague and just say a point to point or point to multi-point exchange of information between endpoints, maybe or something I know help me.
You help me massage that a little yeah.
C
The one thing I want to be careful with is that we don't give the impression net that you have point that, with the wood wire you don't have.
The wire connects to one thing and one thing only and not to not to several things so, but logically, I definitely go at your point on that as well, that if you're doing some form of load, balancing or using some form of connection splitting or so on that it's still a connection.
A
Right and so I mean a wire is really just like in my mind, and you know if we want to change this, but like I view it as like a sub component of a connection right so like, let's look at an NSC that has two interfaces that connected to different NSCs right, so you've got this client he's got multiple endpoints that he connects to you and his connection overall, no.
B
No, no, no, no connection is definitely point-to-point.
I, don't know, I mean I'm, probably missing something but point-to-multipoint.
We don't have such thing.
What this comes from.
A
Be sure that I feel like you can set up identical containers, slash pod, slash, viens and like okay, the point.
B
May be yes, yes, you can, but then then I mean each each outgoing or incoming is going to be a single point.
To point connection I mean you don't have multiple like I mean that's.
A
Where the whole application approach versus the network approach gets a little fuzzy to me right, because every single one of those individual point-to-point connections to me is what kind of what Frederick is describing as a wire.
So this is the NSM definition, though, so we can.
We can make this what it needs to be so that it makes sense for innocent developers and consumers.
I think.
F
Basically, I think what Nicolai suggests is that for, if we consider a single connection, that it should be a point-to-point, but if we consider a pod, then it may have multiple connections.
Yeah.
F
So but we cannot call it a point to multi-point connections if I mean as a definition of four connections.
So so so is it possible to make it this way for a connection is something like a path of a packet flow or control message, as we know that we transfer package, we transfer packet or transfer palos through a connection.
Sometimes it doesn't actually goes the data packet, but it control Meister, for example, a service request.
It's not a data flow, but it is something like a control message.
F
So can we call it a path of these two types of information.
G
So the connection, in my view, is essentially the data plane.
A
Right with Ed's definition like the net, like it's actually the bullet right above and that's why we were gonna.
Have these services all right.
A
Plane could be Neutron right like innocent as far as the data plane is concerned is.
A
With edge definition, so so neutron itself.
C
So yeah this is where the this is.
Where are we, where we're probably running to its problem?
So we talked about Neutron is plane in reality.
Neutron itself is actually a network service that you would think connect to through some through some means for the subnet itself.
So we think of Neutron Neutron is actually a mixture of multiple things.
Neutron has any networks which is a subnet or abridgement, and it has a data plane component because you can also run whatever Neutron is whatever sitting behind Neutron and ship you, packets, and that bridge domain.
Well,.
A
New Sun will create connections for you right, like yeah.
A
That's that's.
The data plane conception like at least from Ed's perspective right is, if, like in Assam, just knows that if it calls Neutron, even though Neutron is doing lots of different things for us at the end of the day, what I really care about is it provides connections so maybe I'm right like we, we somehow tie connections the data plane, but we have to just make sure that it's not necessarily the innocent definition of a data plane, because obviously Neutron itself is not part of any connections.
A
It's it gives you connection, but it's not connected to anything.
You know.
G
Yeah, so in that case should be differentiate between control plane, as well as the data plane, not according to Ed.
Okay, because I.
G
Because this is going to be very important right because, in my opinion, as we speak, the data plane is nothing but a tunnel between two soft switches or things like that right.
So, whereas the connection is where you have, if there is a control flow, is essentially, you have to look up into the service registry.
Get the handle reach out to that of the NSM on the nodes in assam the whole connection flow.
G
So that is, or do we essentially explain a connection means it's both control flow, as well as the data plane creation, so that people know when I say connection.
It's all together.
A
Or what, if we seed a little bit, we and.
D
Was gonna say romantic might be a sentence that we have above and then replace the definition replace where it says, connections with the definition.
So if we had NS data claim may handle local and remote data flow between two points.
Does that actually make sense remote service data flow?
If it doesn't, then we're?
Probably not.
We don't have the right definition.
A
Yeah I'm with Taylor I, think we kind of cheat a little bit and get a little pedantic with splitting hairs around data flows, data paths and data plans and just go use those definitions to kind of massage some of the awkwardness of us trying to navigate both the application and the networking world.
We.
D
Can break down the application, we can have an application connection and a different one for something else.
So we've already started to split those out in the glossary, so we can say a application network service connection or whatever.
We need and then define that and if we can generalize it fine, but let's define the one that we understand.
So what?
What is that thing about?
If you take that sentence, NS data playing may handle local and remote service, something.
What is what is connections in that sentence?
D
What Watson had was?
Are we talking about the actual, like network, socket a tcp/ip socket?
Is it something like the actual physical goal that mostly the physical interface, but then I asked vs?
What is that there in that sentence, and only that sentence.
A
Yeah, that's very good point.
A
I'm, just we might not use this, but I just want it right next to it everything so that people can view it in context.
A
Yeah I, don't know the microwire thing actually just confuses anymore.
Wait too many competing definitions.
Here, innocent data plane may handle local remote service connection.
B
So fred is this: coming like this microwave I probably have missed previous caller I.
Don't remember, but is this just the connection between the pot and the data plane.
B
Yes, I mean, if you're doing a remote connectivity did.
This would be it exactly like I mean you can do mem if' between the data plane and and the port, and then you know the X LOM to the remote data plane.
So then, the micro wire would be this small piece that actually connects, and then the connection is the is the is the actual connection between the two participants on both ends of them.
Okay,.
C
So so I get how I get why this was made.
I think so.
C
So a wire appears to be the full, the full connection between the client and the endpoint on the data path.
The Micra wire appears to be an individual component, so, for example, NS c-- 2 data plane going to a kernel interface would be a microwave and then the data plane to connecting to another data plane with VX lan would be a microwave and then that data plane connecting 2 to the n.
It's e with the same mif is my choir, so it's and all them combined together when you strand them together turn into a wire.
B
And then, and then the connection is the abstraction, on top of the wire, like the logical thing, that we are we're manipulating when we like when the client, because essentially in the code when we say connection, this means that the client says: okay, I want the connection, etcetera, etcetera.
We don't have notion of wires and microwaves, but this is just in the quarter.
Instant.
A
A good point Nikolai.
The definition should line up directly with the code right like yeah.
B
But that's that's not ruler, I mean if we say that the connection is kind of a abstraction of the notion of being connected, and this is built on top of the wire and then the wire is built of micro wires because you know there are these small segments where the packets or the data is passing.
Then I think that not at least for me, that's that sounds like very good I mean very close to what we hear today.
B
The description but I don't know Fred.
C
The problem with the word connection is it's it's over.
It's it's overloaded, but it's overloaded and a very nuanced set of bodies.
C
Yeah like it's not even like yeah yeah, it's it's it's it's about as bad is the word as the word that's worse than our data plane.
B
I agree, but but then we have request connections I mean we can fold this terminology all over.
The court I mean.
C
So how about we do this?
We have the wire the wire is, is managed as part of as part of a connection.
So in other words, when you request a connection you get, the wire can go away.
We will Auto heal the connection, the wires for you, or rather will I, don't heal for you, which we may get a new set of wires, but it's still the same connection exactly.
B
So that's what I was saying: I mean it's kind of an abstraction on top of dome top of the well but yeah.
It's.
C
Gives you the semantics you want as well, because if you want to sick load, balancers or multiplexers or so on, then it's still a single connection.
You may be going out of it at NSC, but you get all of these things as part of your connection.
A
So do we are we gonna build these yeah the way we structure this in the glossary?
Like so connection, you know just real quick at a very simple thing.
Is it's data flow between two points?
Are we adding more to this, or are we gonna in the wire and micro, wire, etc?
Kind of do like a Russian stack, doll approach, and you know so connections the outermost aisle you pop it up, and then you say: okay now, I have wires and wires build connections and then pop the next all and okay.
A
These wires are comprised of micro wires.
You know, based on how an SM is stitching things inside of a host yada yada, like is that kind of how we want to do it, and then all of these together comprise the data plane.
B
Can we can we just mention like I mean in when you say a data flow between two points? Can you say that it's built on top of the wire, because.
B
It's kind of disconnected from the rest of the I.
D
Don't understand the point of a wire and a micro where, when you, the connection, seems the generic version of what wire is also saying like it seems redundant to say you have this connection, you have a connection between two points and then the wire is a connection between two points.
It.
C
Your primary tailor yeah, so the wire, like suppose of you, you made a request to do, connect to let's say an ICMP responder right like we will use the ICMP respond as an example.
So you may request a connection all right.
C
We and you get wired into a into the ICP responder.
So we look at the entire path.
The ICMP responder example has a kernel interface, which goes to vb p.
Vb p, then, will communicates to be p p on another host o using the X LAN and then the remote vb p or the ICMP responders.
Bgp will then connects to the ICMP responder using a off that entire chain is the wire each individual components within that the curl interface via clan and the mem IFR individually being referred to as as micro, ours.
C
This is a does that make sense.
Ok,.
D
So the wire is um every.
D
All the implementation of the connectivity from end to end, and that creates the entire wire and the micro wires- are the the implementation to connect each point.
Okay and I just use the word.
I was trying to flee and what is the connection you said the wire is from end to end.
What's out.
D
Wiring connection, okay,.
C
So a connection so so the way that the API was designed was you, you don't request wires your request connections.
So if you request a connection to a VPNs, you get you you, may you may be wired directly to the video but, as we know in series use case, she gets wired.
She gets the next page with a wire to the to a firewall and then that firewall then is typically with another wire to be VPN gateway and or to the ER to the VPN.
C
And so in that scenario the connection represents the full context from her client all the way to the VPN service that she's requesting and everything in between that full thing that she's getting from end-to-end is the connection.
A
All right and so I was trying to encapsulate that, as you guys are talking an end-to-end data flow between two points built on top of physical and logical wires.
C
Yeah so there's a does that make.
Does that make sense with the with the connection it.
D
Sounds like you're saying the connection is logical, yeah requesting it's I'm.
D
I'm wanting access to a service and innocent builds the connection based on the wiring, between whatever components are necessary and there could be different implementations of the same macro wire I wish there's a different word than that.
But so you could you.
A
Could get it we can?
That word is totally made up, so we can totally change it.
Yeah.
D
When you're saying there's that in the Sara's case for the VPN and I'm a little bit confused, why it's not a wire all the way to the very end versus saying we have a wire to one service and then that stops and then you have another wire to the next and that all of the wires create I guess if we broke down Sara's into the micro wires, and then you say: where does it go from we're saying a micro air?
This consists of a single wire.
D
Here's where the next wire is, and then the entire set makes a connection that may make it make more sense, especially since you have the visuals for that we could actually identify each of the pieces.
Is it?
Is that actually readily available right now?
The diagram that for Sarah you.
C
Know and pull it up.
It's in the it's in the slide show.
C
Network serve as much thought: I, oh yep, there's link and the top code and documentation and the narrative a narrative or.
C
Narrative one yeah and the jump ahead, a few slides.
A
Think what they're trying to describe with the micro wire is these interfaces.
C
Yeah at ease whatever internal.
A
Come yeah, whatever internal component is connecting your client or endpoint to the I, can't call it a data plane anymore I'm, like the forwarding element.
C
Actually, this this one, so we don't have a full end-to-end example of Sarah's story.
We we show a single set of connections like with the tunnel and everything, and so this is higher thing, though, like if you see going from the pod to two interfaces, a subnet to the VPN gateway to the VPN, concentrator, etc.
Like that entire thing is a connection.
A
Me if I can find you something with more granular diagrams real, quick frederik, just because I think, because these questions pop up a ton I think we could probably find you something more granular.
A
Yeah see this is where it's there's a.
This is real, quick, though just to cat capture the whole concept of a connection versus a wires.
This connection and innocent in terms, is just like this logical construct of me requesting really in my mind, I guess we should rephrase it as a connection in the NSM terminology as a request for a wire.
A
If you look at like what this shows, but we can talk about that in a second.
Let me see if I can find.
A
Tell me if you see anything that you can speak to I'm Frederick, something like this guy or do you want me to go back up towards the other ones?
Let's.
C
Start with this one, so with this one we see, if you look at the I'm, gonna say salmon-colored one with the tunnel and I think it's gonna.
Do it at steps: nine, ten and six and nine in step six.
So each of those using the current term will be a micro wire.
B
Even the two new itself, including.
C
The tunnel, the tunnel itself, is also a micro wire, so really.
B
Yeah because in reality it's just established it's just a bit too longer than whatever it's in reality, because in reality to just be between the two data planes like they need to connect the edges of the two data plans, yeah yeah.
F
Another thing is that this graph only shows two nodes, so, let's suppose there are three nodes or something, then you have multiple channels which compose a complete wire.
Then it is reasonable to just take a tunnel as a micro where.
C
So, in terms of in terms of the wire, the wire would be the cool culmination of the interface wire, the tunnel, that's the interface, and so the wire would be the connection of all that as a as a unit.
C
And then what I'm thinking yeah?
This is a good one, I'm thinking what a connection can be is.
C
When you make a request for something, let's say the Ennis and it's one, so the connection I believe could couldn't spawn this entire and it's up to us to come up with the definition we're not comfortable with that we can.
We can find something else to do to describe to describe it, but mine.
My idea is a perhaps a connection is that full baffle rendering of the graph of whatever it is.
C
If you get, and when you make a request, you say I want to request the connection, the rendering of that entire path on the data plane they get to you to that they get to provide you up to that service with all the wires would be.
Yeah would be the the connection.
A
So for this connection, definition do we want to say an end-to-end data flow for a network service instead of between two points and then to end data flow for a network service built on top of physical and logical wires.
Yeah.
C
I feel much more comfortable with that and using a VPN example.
Again like you might have a firewall and I you might have a l2 or l3 firewall.
You might have a Content firewall.
You might have some logging mechanism that you talks into that.
That's all part of the pension and but at the end of the day the user is requesting a connection to a VPN portal.
A
Now, let me ask you this Frederick, you guys can see my mouse cursor.
A
Hey so where my mouse cursor is hovering this little section of purple tunnel is that a wire or a micro wire?
That's a liar!
Why, okay, so so, then like based on that definition.
Maybe we specifically say that, like difference between a wire and a microwave, is a wire is the actual plumbing between an NSC to an NSC or an NSC to an NSC like it's the composition of all the micro wires, it takes to get you to have that NSC to NFC connection, exactly okay, getting somewhere here so on.
A
Why are the physical, logical, implementation of a connection between a client and endpoint comprised of microwaves, okay, so that's kind of what I had there do we want to wordsmith Tiffany.
D
So one of the things that was I think you know Watson mentioned below and that February the term that might help unless I already has a definition where we could say so.
The connections that logical thing it was a yeah that first part yeah channel.
So the connection is that logical and contract and.
D
Nsm exposes channels or makes those available, and the channels is the what I think we're saying is the wiring.
So it's it's whatever everything is going to go across and then those are made up of individual you're gonna wire.
The interfaces together, I, don't know I'm trying to figure out if we can use something other than micro wire, but a channel is a concept and that's known, at least in an application side.
D
If you think of go language, Erling, elixir and thinking of how you're sending the traffic you're going to have some type of connectivity, and that could be whatever it's running over the physical, the mem, I F or whatever.
But it's a channel for sending the data, and that's that I don't know.
Is that useful or not to get on that path?.
B
I wrote in the comments: I never met channel Oh anywhere.
What.
C
We we used to have channels and an exam when we first started it and we actually evicting channels out.
C
This is the idea is that we would establish a connection and then we would be able to request for multiple channels within that connection.
But what we found was amended of complicating the the structure of NSM, and so we opted to to get rid of channels because of that.
So if someone could still implement channels within a connection like there's no problem with that, but that's left more as a as a exercise for the application, rather than being part of NSM itself.
D
If you scroll to the bottom of the document and just found something that he was planning on bringing up today and very very bottom, and if it's saved did it not save okay, it looks like it didn't.
D
It's showing saving- maybe it hasn't, come up.
A
Well, three of the minutes.
D
Glossary you're in the right place, um I'm just not seeing it on yours.
D
Well, I'm still showing it saving so they're, partly there or not that didn't really work.
Did it I.
A
Think this picture, though, encapsulates uh what we're all feeling right now.
A
No I'm, joking aside, I mean we got at least five or six definitions.
It's done today, so this data plane slash connection, slash bar thing is just the problem is isn't.
This is like the crux of what NSM is giving us right.
Like you request, connections innocent provides you wires.
Those wires are comprised of whatever we're going to call micro wire right.
So we just need to figure out the right way to articulate that so that it actually lines up with the code.
A
What is the link between wire micro wire cross connection, local remote connection in the code described here?
Let's pull it up.
E
Yes, because it's a it's kind of disturbing when you are talking about fire and in the conveys, we are talking about cross connections and we want to move yeah.
E
Have to sum we have to match just to bless.
A
Erasing so I think, based on what Frederick was explaining and Frederick correct me if I'm wrong, that this top trap is a little whatever parallelogram here has, you know, shows the inesita NSE, and this right here is quote-unquote a wire, and then, if this was the entire network service, then between those two would also be the connection.
If there was two more NSCs trails after first NSC, all four of those individual elements would comprise the connection and the intermediate the green line.
Flash cloud in between each of those internal parallelograms would still be wires.
A
When we drop down to these bottom parallelograms and I, don't we don't have to call it a micro?
Why I almost would prefer a more distinct name, just so there's more clarity between connection wire and whatever we call this thing, but the NSC like this interface right here, and maybe that's what we call them.
We just call them interfaces.
A
I, don't know like this interface here between your data plane, whatever is forwarding, and this is once again I hate the fact that we use data plane on in these types of slides as like what a data plane truly.
Is you know your forwarding element, but that discussion aside there's going to be whether it's you know: mem IFE, host user SRB straight into this.
A
You know and it's its own data plane, but there's going to be some type of interface that is injected into your pod, your VM or you just literally assign a physical interface on a top of rack somewhere, and that is kind of I sort of think what the microwire is representing and then, when you string all those interfaces together, if you have a wire so.
A
I could completely off the mark.
The.
C
Other term that we've used for them was local and remote mechanisms, so kernel interfaces, etc.
mmm Af are local mechanisms and things like VX, LAN, GRE and so on.
Our remote mechanisms, so that might be that might be.
A
Another way to do we get rid of yeah, get rid of micro wire and just put two different definitions down for local and remote mechanism.
Yeah.
C
That might be, and we could say a mechanism, it's something that that does like the touch point A to B and mechanism can be local or remote.
A local mechanism is a local mechanism.
A remote mechanism is, you know, and we can come up with definitions for those, so that might be, and I gets us away from the wire the wire microwire nano wire.
You know what happens: I'm issuing multiple wires together, you get a rope, I mean it gets us away from that.
Apparently.
A
Yeah we're getting very I mean it sticks with the nautical theme right of you.
Building ropes on your ship type thing, lots of weaving going on and.
C
If you do something wrong, you get a lot, I mean, or maybe you want to the mountain so.
A
Where you get the giant question mark that disappeared at the bottom, okay, so we've only got five minutes left. We don't necessarily need to start peeling this onion just yet on mechanism, but I think, that's probably you know, or we call it a channel I, don't care but like getting away from, like you said, like all these nested definitions of a wire, but a connection is something I request for an Indian data flow of a network service and it's built on top of wires.
A
A wire is the physical or logical implementation of a indiv like these individual connections between a client and an endpoint, and then next week we will get through what a mechanism is and then I think.
Once we have these three things fully boiled down, we should come back and tweak data plane a little bit because at that point we've got like and probably get thro forwarding element up here too, we'll just take a journey and we'll break down all the individual components and then we'll say, based on all these components.
A
Instead of having this kind of nebulous definition of a data plan, we'll say like the data plane is comprised of all these things.
Plus, you know the concept of feminists and perspective / a perspective, it's just what I'm working on it is what I use to request connections.
So, whether I go to a cube, lit and say: please, you know, do X, Y, Z or I go to Neutron like doesn't matter I'm.
A
Just I am asking for my connection to be built for this network service and whether I go to the int provider or an intermediary in SM is going to sort of be agnostic to that, and then I think we're pretty close to done with the core parts of this.
A
Ladies and gentlemen, which is good I'll, be honest to you like Ian and Edie, and a few others added some, like you know terms in here into use not unique to NSM I, you know, I, don't I, don't think we need it like if individual papers want to like all out terms and like reference, but I, think we shouldn't try to boil the ocean and make this too dense. We should just stick to the NSM specific terms if people are okay with that, yeah.
C
I'm fine with that like empty, empty use.
A great example right.
A
Like I, don't feel like I need to define that here.
I.
E
Just want to get the answer.
B
What Matt was pointing out that there is a difference between the glossary and the code and I would personally prefer if we gave a clear glossary and then we can adjust the namings in the code, it's better to have good definitions that you can expose to the world, and then you know get back to the content.
Exactly yeah.
C
Now best time to do it, because once we have people starting writing this in production and those become G RPC changes which become a lot more yeah.
A
Yeah- and this is why I'd like to try to get this done before ons and then we can get people who are grammatically more superior to myself, and hopefully we can get this so that it's not just something that anybody can come in and edit and we put it out and get next to the code so like as they're reading through the code.
They can quickly jump to the glossary and reference.
Something are.
C
You recommending that we print out a glossary for people to have.
C
You think we should have like a glossary printed out for people to take home, I mean I.
A
Eat that or, like you know, ons service Mestre's, all of that at a minimum, maybe just slap it in to the very end of your slideshow, so that way when they go and reference the slides or whatever they can get it and then, like I, said I'm once we finished, this I am going to continue to work on this I'm gonna try to see if I can get Watson to help me since he's got an eye for the artistic and I'll, probably flesh out these definitions a little bit more, just make them a little bit more wordy, or at least just give like them like I.
A
Think in fact, I'm probably going to work on this today is this concept of a mechanism, a wire in a connection and I'm, actually just going to draw a multi-tiered, no kind of what I did down here for the data plan.
I'm then going to start.
You know doing something like this, but showing like with arrows pointing and says this is the wire.
This is the mechanism.
This into end is the connection and just put the imagery right next to the definition.
So we have that to go along with some.
You know the glossary itself.
A
Because yeah I think just reading the definition, if you haven't like actually tested the stuff or looked at the code, you're, probably not going to have any idea what it means.
A
All right, we were read at the top of the hour any last-minute thoughts or concerns.
A
All right well, once again, I really appreciate everybody's help, and this helps me so immensely and just my general understanding of what in this and there's as we do this week by week.
So I appreciate it here.
C
Our pleasure and yeah, let me know if, if any other questions come up as well, if, while your choir writing on more definitions or kind of wordsmith, this stuff will do alright.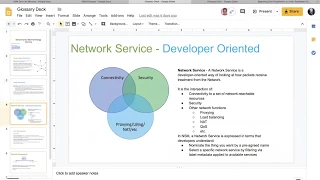 ►
Description
Join us for Kubernetes Forums Seoul, Sydney, Bengaluru and Delhi - learn more at kubecon.io

Don't miss KubeCon + CloudNativeCon 2020 events in Amsterdam March 30 - April 2, Shanghai July 28-30 and Boston November 17-20! Learn more at kubecon.io. The conference features presentations from developers and end users of Kubernetes, Prometheus, Envoy, and all of the other CNCF-hosted projects