A
Okay, so got the the meeting notes up.
Can some can someone share screen with the meeting notes.
A
Hey, hey ed: are you able to to share a screen with meeting notes on.
B
One second yeah, thanks to the meeting notes on my air here somewhere there we go they're even here recently, because I have myself to the list.
So let me go ahead and share that.
A
Okay, well, this Gordon gets started.
So first is there anyone who needs to be added to the list?
Who is not able to add themselves?
We can add you manually or have someone else idea.
Oh.
C
Yeah yeah I'll Morton can't reach Google.
Today, I am.
B
Having some difficulties sharing the meeting notes because of I'm not sure what yet good someone else.
D
What the heck I've just got, one I guess, if I just share my whole desktop, okay, sure, screen and you'll, see all my ugly secrets and then go okay.
Can you see me okay, or can you see my desktop yes and the meal should be right in front all fantastic.
D
Okay and then I'm looking at the agenda, whoops, that's May 25th.
How do they get down there?
I.
D
Don't know how it scrolled down.
D
So, are we oh here we are okay, I got it.
July 9 8 with the agenda should be right in front of you read so read away fantastic.
A
Thank you very much so the first first question is agenda bashing, so I added some stuff to the agenda.
A
If you'd like to have a conversation about something, then please speak up.
A
Okay, so let's go ahead and move on, so first option was to review with docker hub images I as of last night. I, don't think ed has anything on the docker hub is so correct.
B
That's correct: do we have something where we're ready to push I I'm happy to go to sort that out?
If not, you know I'm happy to go.
Make that happen.
Apologies!
It's been a little bit of a weird week for me.
A
Well, what do you think Sergey?
Do you think that we're at a point now where it makes sense to do testing to start pushing some of the images up or no.
E
I mean we could, if some, if folks, wants to play with it with what we have already I mean it would be great to have an extra feedback, or you know, reports on some issues.
If they don't want to build images by themselves, then having them or the docker would be great, it's not mandatory, but it would be nice yeah.
A
I I think it'd be a good idea to stew to start building out some of that, even though the functionality is not really there to to run we're close yep, so I think it'd be good to start getting this, and so that way that it's been testing and baking for a while.
We can, as especially especially with the attention coming of better continuous integration, testing.
A
That'll, that's coming up, I think it'll help tremendously.
When we get to that point, let's see we have a make file that has been created.
A
There's there's a couple bugs that I found in the make file that I'm going to fix today, but basically you should be able to type make and and have it work, I, don't know if this works in the OS, X or Windows environments, it definitely works in the Linux environment.
So if anyone wants to test on my their Windows or our OS X I make contributions.
That would be very welcome.
A
So mascots did anyone come up with any ideas for for our mascot.
A
I had a I had a talk with actually I was taking a look at at potential option and I.
Tell me what you guys.
Think of this, so I was I was thinking of perhaps some form of a of a tunnel spider as a as a mascot.
You know it's constantly weaving the web and constantly building tunnels and and connecting things together, and we can find a way to make it really cute.
A
Does that sound like a good idea or well.
D
Fred is every as everybody in their youth or some people read Charlotte's Web instead of saying something.
Maybe their web could say.
B
Something maybe do a stop at some point.
I know from experience with other communities that when you get to the point where you you were sort of making schwag stops mascots make amazing schwag.
A
And one of the things that I particularly like about it is like, like in the Linux and and go mascots that they're they're live, they can do things and you know they can take them fish or they can play golf or whatever, and so so I think something something that's quite live.
You know it's.
E
Have to be sorry it does, it have to be an animal, doesn't.
E
I mean alternative.
You know like in the old days the telephone system was basically human driven, so there was a nice girl, switching the connections.
So if you could get some sort of a like that, drawing on that switching the connection that could be also.
G
You want to keep a 90 space, you could go like splinter from the Teenage Mutant Ninja Turtles.
A
So constantly traversing traversing the tunnels and and making them a safer place.
Yeah.
G
Because, as we know, there's a series of tubes so.
A
Well, I will let I will let ed take those things and see what he.
A
Okay, so we can revisit this topic as well.
There's a lot of important stuff.
We want to get to so Tom any any luck with was some of the documentation yeah.
D
I I'm not I'm trying to do end-to-end here and I I I didn't I was hoping to get.
You know, pull request ready by last night.
D
That's gonna take another day or two right: I was trying initially to work with a CentOS distro, of course, as you might guess, but I ran into some issues with just trying to lay up the packages in such a way basic stuff, so Google protocols buffers would work with with the go versions that I could do in the mixture of upstream and packages and I went back to Fedora 28, which is you know, as documented here is much better and that's much quicker moving along.
D
So when I get the things updated for Google 28 and everything built and running, I will document the process.
It shouldn't be very long now.
Sorry for the delay.
Oh no.
A
Worries you know we're happy to get any any work, any help prints.
D
Anyone so the one issue I have I wanted to bring up.
That's that is hard to deal with is there's a lot of run, a lot of dot MD files.
That sort of tell you bits of how to how to do things and I decided to write one from scratch.
So I don't know whether I should so I'm going to do a but a pull request with just this file, and then we hopefully that'll start the discussion of whether we want to consolidate this the startup and build documentation or not start up, build and run.
D
So it's just.
uh You can wait to the pull request to start that discussion.
It might be better because it looks like we have a lot of things on the agenda today.
Yeah.
A
So it's just a teaser we're.
We moved the wiki to the.
A
To the main, repo and okay.
D
Yeah, that's right, so it should go in there.
Yeah.
A
And the plan the plan is to at this point is to eventually generate hugo based website and, and you that'll give it much better layouts much better table of contents and yeah.
D
Right, so if I seems to me that if this is an MD file which it is, then it should be a step toward that absolutely.
A
So Hugo takes markdown and it generates HTML for those.
What.
D
The general idea of having three or four dot MD files that we have to if we're gonna have multiple ones, then we just have to organize them in a hierarchy like will agree with each other.
It makes sense and look like oh you know so, but it's just a discussion.
We have to go given this I.
Will I see that note here?
But but let me don't know why I didn't look at this yet because this must have just pulled up in a recent poll request so or in a recent poll.
D
So let me look at it and see how my stuff fits in since I haven't checked anything in yet or it's set a pull request.
I should be fine, I'll make sure it goes.
It fits into what we got here and then we can discuss what to go further.
What to do further?
Okay, I'm done.
Okay,.
A
Were you able to add any documentation for this CNC if.
C
It was a say yeah, so after talking with Edie and I had started some initial work on this and I think I was going at different approach.
So I was looking at kind of a general overview versus focus on working with the NSM project, so I'm redoing the write-up to be focused on what do we need in this project from NSM?
So where is that integration point and talking with them?
C
It may be better to open like a issue or a pull request, or something similar to and the kubernetes side, where you have the kubernetes enhancement proposals, the cuts or something like that.
So have a essentially a write up, which could be an issue or whatever and say, here's the project, the CNF project, and how we're deploying these containers in kubernetes and where they fell to.
C
We, where we can't use the kubernetes ways or build them containerized without stepping outside of what kubernetes offers, which is the networking side is, is what we're needing so focused more on that and highlighting so give an overview which I had already been working on.
But I want to highlight those parts where we were actually blocked and there are specific areas where we're just fully blocked so I'm pivoting.
C
To do that, so I think my question for y'all would be do you have thoughts on where something like that should go a issue or it could still be a dock like we were talking about or the wiki either way, but it's more of a request for comments on what we're doing and then helping to drive any features that you all might be doing to get feedback and help y'all in that direction.
A
Do you have any thing to add towards X, since you had a conversation.
B
Because I, you know, obviously being able to meet those needs, is certainly among our objectives and and I think being able to get something you can use sooner rather than later.
At least for me personally is something of a priority, and so you know getting an issue where we could sort of dump them out of the Navy from there.
We can break through that, but it's the smaller more actionable issues thanks, B he's an excellent idea.
F
I'm glad you said back I.
B
Have this vision of you sitting there with the submit button, yo cursor.
B
Yeah I mean my guess, is it'll probably get broken up into smaller issues as we go, but just getting the information out there makes it tractable.
C
Absolutely we may end up just closing this out.
It may be more of a conversation issue to build out what how do we want this to look her, and this could lead to enhancement proposal type thing for y'all or whatever so great I'm working on a draft in a Google Doc and we'll get that into okay.
F
Now, all those groups are doing it, it's creating some SSL Certificates TLS certificates and creating those as secrets in the queue current is in the Kuban.
It is using the kubernetes api s-- and all this can be automated using an init continuous.
So when somebody is trying to deploy, they can just deploy a UML file and an init container comes up and does all this work for us.
So that would be my next step once we once I get some feedback about this approach and what we are doing it.
F
This is a little bit manual and I would like to be more automated and so that nobody has to run those step to create those SSL and everything, and it gets done in the background.
Oh.
A
So definitely looking forward to the pull request on on that.
A
And definitely everyone has worked on.
One thing source is like.
Thank you very much.
You know, even if it's not checked in at the moment or anything like that, like we're very grateful for the for the work that's been put in just backtracking.
A little bit recall one of the rien ounce nents.
Remember that there is a cloud native network function, seminar at the open source submit that's gonna, be on Tuesday August 28th in the afternoon.
A
So for those of you who are going to be in Vancouver during that time, make make sure just to make sure to sign up okay.
So a couple.
A
Review of development activity, so we had a few starting with issues closed.
We, the ones that were the most prominent to me, where we had the shell check was, has been added to our bills.
So you can, whenever you add any shell scripts it'll automatically be a part of the build and and help find issues with portability or or otherwise, and the integration tests are now Rena bowl from console from both console and Travis.
So you should be able to to run the integration test and see them work from the pull request.
A
We now have a pluggable architecture and it has done a tremendous amount of work towards getting us to this.
To this point, so basically, we we want to have the project set up so that we can add and remove plugins based on the beads of of whatever it is that this being that is being built.
So this is an important step towards it.
B
Yeah, just to give one concrete example of why this is important.
You know we're in the process of writing things like the network service manager and by writing with a plugin architecture.
B
We can make it trivial for people to plug in replacement components for various things, but the biggest example of that would be game play where, basically, if you have a different data plan, you'd like to use it with MSM, you really should just be as simple as write your data playing plug-in and then you know, take the MSM plug-in and plug that in to replace a minute.
Has the data playing that you want to use and then away you go.
A
Yeah there's other other benefits as well, like even the configuration management is done as a plugin.
So if you want to swap out the configuration management for for one that integrates more closely with your with your operational environment, this this makes it possible so so doesn't definitely and also greatly increases testing, because you can mock out pretty much any any major component.
A
So we now have a network service endpoint example and circuit dude.
You want to give a word on on how that.
E
Yeah sure so to be able to run m2m testing.
Basically, we need three components: an SM client, an SM as a server and the NSC which offer its channel or whatever service it or offers to the NSM, and so we had an assembler end and an SM and I just pushed lost beats for NSC and what it does is so the way it works now initially, when NSC comes up same as an SM client, it calls for an SM and basically gets the socket for further communication.
And then it starts.
E
Nse starts the JRPG server, which is waiting for connection requests and when there is a client which is an assemble and it needs to connect specific network service to the specific channel, then NSM client calls to the NS m and then NS m on behalf of the client, calls to the NSC to get the information required for programming of the data plane. So this chain is now working and basically the next step would be to add the data plane programming for or for these two NS m client and an NSC.
A
Okay, let's see we have copra and Viper that we're adding into the system.
So these are go frameworks.
A
Cobra is designed to to integrate with command line, basically to build out a command line set of parameters and pretty much a very large number of major projects, use use, Cobra, so docker I believe kubernetes does I quote at Citi definitely does and we're also bringing in VIPRE, which is the sister project of it, which is designed to manage configurations, and so VIPRE allows you to store.
A
Your configurations in a variety of ways could be on files which is Jason or or yeah Bowl, or export it off to us to some configuration management server like at CD or or I'm vault for secrets, and so that's so that that should help us with overall configuration execution and configuration of the of the system.
B
Probably worth noting there so if I first look backs the plugin and the log plugin is also backed by loggers and we're currently doing what I sort of call and what I'm clots are calling logging by label, which is when you set up a logger, a longer plugin used to say.
Okay, these are the sense of labels.
I want all of my log messages to carry and they they get at it because loggers logs in Jason and one of the nice things about that is when you then go to configure a lot of levels.
B
You configure log levels by a selector on those labels so that you have a great deal of flexibility about your tuning log levels up and down in a fairly local way.
A
Yeah, that's why I had loggers onto the list of stuff that was added in as well.
So we've already spoke about the make file.
We spoke about the documents move, we've had work more code cleanup, and this was also peers merged in the last two weeks, as opposed to last week's we do not meet last week so.
A
Okay, so on to some of the main main agenda items, we are working towards trying to become a kubernetes workgroup member edde I'll.
Let you speak on this yeah.
B
So um not the last scene are you meeting by the one before we want to sing everything?
Is it look hey?
You know it looks like there's frost here, one only be to become a student working sub-project.
The other would be to become a career, Diggy's working group and the opinion that came back from sig networking was.
B
We would really like to sponsor you as a working group rather than was a sub project, which I think is a perfectly good good answer, and so I opened the pr for that we're going through this sort of the normal dance there.
Where you know the folks who think networking who are sponsoring us need to speak up, there's a little bit of confusion right now.
Somebody closed the PR because they thought it should belong and sig networking proper.
B
That's gonna, be a discussion between people like Tim Hawken and be the sort of bigger picture of kubernetes folks.
um He is about to go on three weeks vacation.
So this discussion will likely go on, will likely have a bit of a pause and then continue.
B
But you know it's all sort of the normal process for the working groups coming into existence.
Hey.
D
Edie could could you like describe those options?
A little better I think I understand it, but it sounds pretty critical about in what sort of base assumptions are made about your project when you join I think remember well,.
B
Yeah, so being a being a suit network, some project would basically mean that we would do the network service mash.
You know into the kubernetes repo and as a sub project of cig networking and in Signet working has said, they'd like two things about network service measures very very much.
The first thing they like is that we're actually technically orthogonal to the standard kubernetes networking.
B
They think that is awesome, but the second thing they said is: they also recognize the possibility that we could be use to solve problems like multi-tenancy for kubernetes networking, and so at this time they don't really want us to strictly live under sea network in the kubernetes repo.
They like the fact that we're working independently orthogonal e it preserves this as a options best for them, and so for that sort of thing a working group is a much better structure.
I think this is actually probably good for us.
B
I think we can move much more quickly in an independent repo, not as a sub project right now, then we would be able to move as a project of state network and more a young growth state.
Such that this is really the best fit for the project.
The point I've made repeatedly to save networking and I think we sort of generally agree about that here.
Is we're really perfectly happy to go with whatever disposition?
B
Sig networking thinks is best over time, and you know they will figure that out so I think right now our key focus is delivering something.
That's valuable and you know we can.
You know, decide what future just position of the code looks like as we get it down.
Yeah.
D
That sounds good, I.
Think at some point, though, probably and maybe right, it's clear- we're not ready for it yet, but we'll have to see where we fit in with people solving the multi or attempting to solve the multi-tenancy problem and whether we can and how and what we're gonna work.
B
It turns out network service dimension if you were to choose to apply to the multi-tenancy problem, is an insanely clean solution to that problem?
It avoids a whole lot of problems that you might otherwise experience in trying to slowly cut and see, and that that's one of the reasons that was expressed.
Why they they like us as a possibility for that.
H
And has this been proposed?
They were Sigma, didn't see working group as in this discussed that within that group that the service mesh could be an options.
No.
B
And thank you.
We should probably go talk to them about it.
Let me go try and get in their agenda and get some slides together and talk about the other thing.
I do want to be mindful of is, and this is something right, probably what Tim's guidance so I may not do it terribly immediately.
Is that I want to make sure that we presented in a way that is comfortable for the Signet working group?
B
One of the reasons the significant group loves us is that we're not trying to rewrite the whole world on them and I'd like to continue to hold them you're, not here, to change everything stance because they they have been convene.
B
By other folks, who are you change a ton of stuff.
B
They said yeah I know it's nice, the the what I would call the healthy politics of you know, keeping humans comfortable and, quite frankly, I think before they're gonna have any strong opinions.
They're gonna want to see us deliver something.
A
Yeah I think short term.
The plan is pretty straightforward and it plans.
The short term plan is pretty much the same, regardless as to where we end up as a project in from a from an organizational perspective which is just get the product out there, get it in people's hands, find use cases make sure that we map to them.
A
You know so it's really.
This is really about the long term.
You know where, where do we set?
How do we interact with other with other groups?
What what?
What credibility do we have?
Besides, we have something working you know like how do we interoperate with other with other groups, so I, think I I think this is not as important for the short term but incredibly important for for long term.
A
So I've had an action item for the a multi-tenancy group and it doesn't doesn't need to be this particular week.
We can work even just working out when the right time to talk with them and keeping that on the on the back burner would be would be enough for that.
So so I've added that on is there any other questions on this particular topic or shall we move on.
A
Okay, so the next thing was the continuous integration and I added this agenda item before the a little bit more.
To add to this so I'll, Adam, I'm gonna, add a link real quick, but basically one of the things that we realized was that we're going to have limited.
A
Eventually, we're gonna be limited by by Travis in terms of the type of testing the weekend that we can do, and so in order to support multi node testing I reached out to the to the CN CF cluster organization and I also had a talk with some of the people who are running the cluster a packet and it looks like we're getting strong support from both CN CF and the people who run the cluster at at packet.
A
So so we're waiting for final responses on what's gonna happen with the cluster was gainax gaining access to the cluster, but long story short C&C.
If has a testing cluster for for various types of testing and continuous integration, and what we want to do is we want to.
A
We want to have either Travis farm out continuous integration, tests that are multi node onto these systems or, if that's, if that doesn't work as well, because of limitations in CI system or time and at the very minimum, have some form of a daily daily build that verifies the that we haven't broken the the world in a fundamental way.
A
So, and in the long run we with we should also it appears, it will also get access to some interesting hardware as well, so we should gain access to DP, DK, enabled Nick guards and there's also the possibility of gaining access to two hardware that is capable of speaking more esoteric protocols.
So not a guarantee at this particular point for those for those items and at the very minimum right now we're starting small.
So that's that's where we're at with that, and one of the things that I'm also going to do is I.
A
Have a kubernetes install installer for ansible.
It works on both send to us and into systems, and I wrote this for the Linux Foundation for their IT group, because we needed it in open daylight and turns out that CN CF CI Group.
It appears that they don't have something that's equivalent to this.
So I'm, going to pitch this.
To that particular group.
I know there's a couple people from that group who are here so it's a bit of a preview on something that we're going to do on that.
A
But basically, what we can do is we could.
Potentially, we could potentially use this to install nodes on to that cluster.
If, if there's no current way to do that from from a CN, CF CI tool that already exists and if one doesn't exist and we'll see a wolf work out a way to to integrate and potentially donate some of this to to the CN CF CI group.
D
Ahead, I did I had a comment or wait a minute, so you're done looking at.
A
The very minimum we're going to in order to get the cluster running, we're gonna, need the docker images and we're gonna have to make sure that we have daemon sets ready to go and and running, and we I believe we we have a daemon set already set up, but we'll have to make sure that that is that it's reviewing ensure that it's set up properly and then work out how to spin up in and run those from from Travis and then the last step after that is just to continue building up or integration test and anytime, that we have some form of a demo that we that we run.
A
We also want to make sure that those end up in the integration test as well, so that way that our demo paths are very well tested in our in our hardened.
So quick.
B
Question on that disk on see, I have stuff for installing kubernetes on packet already that we might be able to leverage I.
A
Believe that they do- and that's this part.
C
This is Taylor um with the cross cloud provisioner portion as the cross cloud CI project does provisioning of packet.
It can provision kubernetes clusters on packet.
C
I've gotta issue with this would be use case.
Does it fit what Innes emanating and I?
Definitely like the idea of the ansible roles being available to Linux Foundation, the IT group as a whole I think that's going to be really useful and then, as far as what's most useful for in assume.
If, if this works out that's great, and definitely we can take a look if desired at the cross cloud stuff, we talked about that before and I didn't know where that, where things were as far as the automated testing.
A
Yeah I I believe yeah, that's my my understanding, so cross cloud has something to install on packet.
The absol role was designed for originally for spinning running on a set of of VMs or bare metal hardware that that already exists, and so a cloud provider was not present, and it's in that scenario, but yeah.
If, if it turns out, we can just use the cloud CI, Grubin, ATS provisioner to spawn and kick these things off or we can make a commit to to help in that path like I think that would be.
A
That would be really helpful, so I.
H
Think, there's a there's a cube spring project, which is already using it a little able to deploy Curie's.
It's good it'd, be augmented.
A
Yeah I tried to keep spray earlier and I had some I had some trouble with it.
I forget what the trouble was, but that yeah that's another thing that we can look at as well, I'd see if it works and this environment so also look at that.
C
There's really a large number of tools out there.
So it's hard to say this is the one to use without really looking at the use case in deciding the the cross.
Quad CI has a lot of components and if you go there or you look at the dashboard at CNCs, CI there's a lot of different parts.
It doesn't mean that all of those are necessary.
The the part that's probably most relevant, for this would be just the cross cloud.
C
The multi-cloud provisioner portion of drop a Lincoln in there and it supports, will all the clouds that are currently active on the production which AWS has your GCE IBM cloud is actually the container service, so it does support like using different container services and then packets, an example of bare metal. So it's allocating the hardware resources from packet using the API and then provisioning kubernetes on this and then OpenStack we just added vSphere.
C
Recently it's could target other things, VMs and or your run hardware as well, because we've done like pixie, boot and stuff, but again there's a lot of choices.
I mean digital rebar and crib.
They do bare metal.
So I think would be good is to look at how the testing should happen.
We're saying earlier running it daily and looking at the builds, but looking at what we want.
As far as output I.
A
Think that's good advice, so what I'm hearing the next step that we have to do then is is really nailed down the use cases before we can before we can really work out what tool to bring him.
C
Yeah, that sounds like a good idea.
A
Okay and the last see the last major item on the agenda is the what we're doing at the documentation.
So last time we met, we ran into a couple issues with.
How do you review things?
How do you tell what's changed within the dot within the documentation and github, despite the fact that it stores everything in the git repo and the wiki does not extend the github repo tools to that would to that wiki?
A
So we moved over to the to the main to the main repo, so, basically, everything's been moved from wiki to slash Doc's do CES, and so, if you would like to add anything to the to the documentation, please add it in there and the current plan at this point is to number one build out for documentation, remove sale, documentation, clean up.
A
The second second step is: we want to set up Hugo to generate a a site, and once we have Hugo generating a site, then we're looking at a tool called Detlef eye which can which is capable of triggering on a bond a commit, rebuilding the site and then and setting of setting it up with hosting and then pointing network service mesh that I out towards it.
And so so.
A
Ideally, what we'll be able to do that as we'll be able to add additional documentation to the to the site through through this mechanism and have everything show up nicely laid out on the on the main on the main page.
So so.
D
The bottom line is, is if they're all the docs are and if all the docs are in the docs directory and we can review them and modify them and update them and then generate a site based on and basically have the ability to update the site.
Yeah.
It's great.
It sounds exactly.
A
And so once once a commit is accepted and has been merged in then that's trigger and automatically update to the watch.
A
So I thought that it's a little bit more work than the wiki, but I think the end result is is much nicer and it also promotes also promotes code review on our documentation and we can look at documents as as code as well.
So.
A
There's one last thing that we need to add in I forgot to add it on to this.
Eventually, we're going to also have to generate, go doc and push that into the documents directory as well, and so.
A
We'll have to work out a way to add that entity build system to make sure that go doc is generated when you, when you run the the build and make sure that we add in those the appropriate checks within you know, will work out if.
A
That for medley fide Durango doc directly, which would be ideal, but if it's, if it can't or won't, then we'll see about getting setting up within a bill system itself.
Yeah.
B
I think it can, but I haven't actually verified that yet so yeah we can be done.
We figure that out.
A
And a couple comments that hold your added on as well, that we did I miss from earlier.
A
Holger, we'll take a look at spinnaker as well.
A
So thanks for the suggestion so anyways- that's that's it, for the main agenda is sir.
We have a few minutes left.
Is there anyone any other topics that people would like to to bring up know.
D
Quickly, I I am chair of the NF e Seguin sent us so I always have a back agenda of looking at what and asking people what what packages we need.
An NF e in the CentOS distro and just keep that in mind, and if anybody wants to sponsor this or some combination of packages, we're talking about as met as being in the NF e cig and available on the sense on CentOS distro, we have a.
We have a process for that.
So.
D
Completely contact me or or look on on the dev mailing list on CentOS and look in CentOS, org and you'll see pointers there to the NF e cig and other useful.
That's.
B
Actually excellent I appreciate you raising that.
A
And even if the network service mesh itself doesn't end up in it, we should start thinking about our dependencies and working out what what should?
What should land in there so like well, I'll, give a simple example like if TPP is in, it is a dependency having a VP V package would be useful too.
That's.
D
Already there VPP is already there well, don't.
A
Yeah yeah, so any other packages people can think of the wheat that we need to do it like yeah.
D
Yeah yeah yeah.
Absolutely that's a good point, though a very, very good point: anything you can think of I want a sponsor or anybody wants to sponsor a package, and so it is something that not a zero amount of work, just pushing the package through the system and so on and so forth, then building and so on.
All that all this sort of mechanics of it is.
It would be quite helpful to have people from this community involved in the NF ecig for CentOS.
A
Great, thank you for the thank you for the invite, so I'll definitely jump in and take a look and see what you would you already have as well.
A
Okay, are there any other topics or announcements.
A
Okay, well, thank you, everyone for for attending, and our next meeting is scheduled for next Friday. So start thinking of agenda items throughout the week and feel free to start adding to them earlier on so I'd like to try to get agenda items in a bit a bit earlier if we can, but we'll always have the agenda bashing at the start as well. So even if you forget- or something comes up the last minute like don't don't sweat it like, we can still still get it, but.
H
If you add in the agenda items beforehand and.
A
House a little bit more with its planning and trying to work out the scope of what we can handle in the meeting.
So so again, thank you.
Everyone and we'll see you all next week.
B
There was a question raised on the chat.
Is anybody here going to be at the IETF.
A
Where is that?
Where is that going to be held out.
C
And I'll be there yeah.
A
Yeah, do they ever hold any meetings at their headquarters, which is based in Fremont.
C
I've been attending since 1998 I've never been.
D
Must be al Martin, yeah.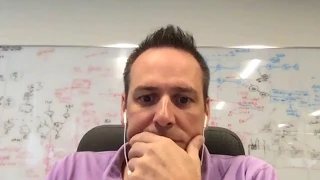 ►
Description
Join us for Kubernetes Forums Seoul, Sydney, Bengaluru and Delhi - learn more at kubecon.io

Don't miss KubeCon + CloudNativeCon 2020 events in Amsterdam March 30 - April 2, Shanghai July 28-30 and Boston November 17-20! Learn more at kubecon.io. The conference features presentations from developers and end users of Kubernetes, Prometheus, Envoy, and all of the other CNCF-hosted projects