A
It looks like we have quite a few uh folks who can't make it today.
B
Yeah not sure who's uh going to be available.
A
Right, oh well, we'll give him a few minutes.
I guess.
C
Good morning, how is everyone today.
D
Hello morning, everyone good morning.
B
Looks like we may need to send emergency caffeine to tara.
F
Yeah sorry, I had kind of a I had a fun weekend, but very busy, and I I splurged I uh yeah my family bought um uh a used, rv wow yeah and then because we bought the used rv, we had to take it out for a test trip which really was just going and getting some takeout and then finding a pretty place to park while we ate.
F
So I now have a 20 something foot monstrosity parked in front of my house.
Oh my god!
F
It's like we've.
You know this.
This whole pandemic isolation thing it's just it's been hard.
You know, like my youngest, is still not vaccinatable.
So.
B
Yeah well, the good news that we've I've just seen is the pfizer has been approved for five to eleven year olds.
Wait what yeah.
D
Yeah, that's just sad today.
D
I did not see that all right so hoping by end of october, they can be rolling out lower dosed vaccine wow, okay, there.
It is good thing.
You got your rv just in time.
F
Yeah well, both my wife and my older daughter had pretty bad reactions to the vaccine.
F
So we have to wait for the pediatrician to approve it for the younger daughter, a lot of autoimmune in the family.
F
All right cool: do we have quorum quorum enough yeah, all right, jan!
Are you presenting.
A
Yeah I okay, I have not before presented on zoom, so I'm going to just click this little icon that says share, screen and hope for the best.
So, let's see what happens.
G
I can also take a stab at it and you can just say next slide if you want.
F
Share screens could be a little weird tracy.
Do you need to like do some kind of permission, settings or something.
E
You should be able, I think, yeah, do you want me?
I think I can do it and it's this one.
D
What happened when you tried?
Okay, there we go.
A
Wonderful good, okay, uh so nicola and I are gonna both speak to these slides.
We didn't really have much of a chance to um to to prepare formally, but we got our ideas in a you know.
Bro.
A
Yeah yeah, so what we were hoping to do um today was just kind of make sure that we were we correctly interpreted the assumptions that we're making about kind of who are, um you know who our readers are, uh makes verify that we are actually thinking about producing the correct deliverables um and then ask a few questions and try to come up with a general sense of what our next steps might be. um So.
A
So, okay, I think we just yeah so yeah.
So these are the assumptions um and this is actually yeah we.
This is a great thing to really nail down.
um So what we want the site to do is share best practices and invite content from the community.
A
What visitor, what we believe visitors come to the site to do is because they want to improve their company or organization, and they want to share their story.
So you can see we kind of got a green blue thing here going with um what's in it for me, what's in it for the community sort of thing and then our deliverables, we are going to try to put together an ia that maps to your content needs um and we're going to try to recommend tooling.
A
Did we also say that we were going to build out a skeleton of the website?
Was that part of the plan?
I wasn't sure.
F
um Plan is very loose, so, okay.
A
Okay, so what what is ia?
Oh information, architecture, it's really just um you know, kind of how the how the content flows on the site perfect.
Thank you um and then one of our deliverables is definitely a contributor's guide.
We got that for sure.
A
um Does anybody have any thoughts on this right now or uh should I go on.
D
Yeah, I think this looks good looks like you nailed the high level points.
Okay, great.
A
So our proposal is this is based on the research that we've been doing in our own team and kind of recognizing how best to support people with technical goals.
um We thought that we would try to put together a goals-based journey for customers and then sort of map.
The content to that- and this slide here is just I just threw some stuff on the screen.
A
This may not have anything to do with what we're actually trying to do, but when we get to next steps, I'm going to propose that we fill this out a little bit more so that we have kind of a high level starting point to work with and the so.
A
The user goals across the top are kind of you know pretty standard issue for um or implement for developing software and implementing it, and then the phases are fairly arbitrary, but also a fairly standard issue, and then the user questions is an attempt to get out what what is the user thinking about at any given time during their their journey. And how can we make sure that we give them that content when they need it.
A
So you can see, you know, for your site, really there's an awful lot in the learn area um and I think you could even have learn down under share as well, possibly but uh so yeah.
So this site is primarily a learning site, which is great um so we'll come back to the slide later.
Maybe go on ahead.
Nicole.
A
uh Yeah, so this is sort of how we were envisioning.
A
The way people would interact with the site that they would come, and the very first thing they would have to do would be decide if they wanted to go down the kind of improve my organization path or if they wanted to go down the share, my story path and um they're, not exclusive. Of course they could bounce back and forth between two of them, but if we organize the content to support them, doing one of those two directions to start with, I think they'll be pretty well located.
A
um So then I was hoping we could kind of validate the stuff that nicole and I put down here.
um Is this really what we're wanting?
What we're expecting they'll be asking and trying to um so I'll?
Let you just take a look at it and.
A
I'll see, if you think that's relatively valid, valid enough to go on.
D
Yeah, can I ask about the when it says gain name recommendation.
A
Oh sorry, recognition that should be okay and, and that was kind of just a wild guess- um are there other reasons that people would want to share their story that we didn't get to.
D
I think, in our experience like when cncf did a survey for their end user community amongst the top two were one just improving the brand of the companies and related.
It was basically around recruiting developers.
So I think okay.
A
Okay, cool!
Let me just get that because it's probably crazy as it is.
B
So one of the things that strikes me- and this is possibly just because it's um shorthand for for this presentation, but I I think we need to make sure that the focus here is on continuous delivery.
B
That's the if you like, that's the overarching approach uh and then cicd is a part of a methodology to to to deliver on that approach great.
How does everybody else feel about that.
D
I agree I'm trying to move folks to talking about continuous delivery and I almost see ccicd as a kind of deprecated term.
Oh okay, but.
D
No, I I I think it it is the generally accepted way people identify that sector, but it's known to be pretty problematic and yeah.
I agree with what terry says: okay, that's great, which is a separate thing.
D
um I think we've had some efforts around the whole glossary topic and I think, as as part of this, we should finalize some aspect of that, which is just a here's, a set of terms, here's what we mean as cdf when we talk about them within our community, some can have multiple definitions, and but I I think we will do that. We should do that exercise and close the loop on it just so we have that common reference yeah great.
A
Very helpful to have a set of terms validated: uh let's see, gap, analysis. Okay, let's go on to the next page and um nicola. Would you be okay with talking to this.
A
Oh you're on mute, sorry.
G
Yeah and it wouldn't let me unmute while I was presenting it and then present yeah, yes, learning curve of not using zoom, okay, yeah.
D
Oh no and it's beauty, let me see if I can unmute you hang on, uh can I.
D
I don't know what okay muted.
G
Okay, can you hear me now.
G
All right I had to, I think I had to deselect share tab audio okay, um so in the introduction of the best practices draft we have, there is a bunch of stuff talking about uh you, know, sort of the history of using waterfall approach and and moving into a more you know, having it iterating more quickly and having that feedback loop and getting into some of the door of key metrics and so on.
G
um But then we kind of jump straight into uh here are all the best practices for arena control and so on. So one of the things we saw is kind of a gap is um providing providing this context around.
G
um Where do I start so?
Yes, you know we would like to modernize the way that we do things with continuous delivery.
But where do I even start?
um What what parts of my current processes do?
I need to address so this sort of assessment piece and trying to understand um that this is an incremental process and that this isn't just you modernize by implementing kubernetes like it's, not that that's not how this works.
um If I quickly jump over to another slide deck.
G
So um some of the some of these, these four dora key metrics um they kind of map to speed and stability, which are things that people are very interested in um this is this- is one of our dres put this deck together, and so, when you look at the door capabilities, you don't just go from a to b in one fell swoop right and the specific capabilities you want to focus on will depend on your assessment of where you are so.
Some of that comes from things like value stream mapping.
G
Some of that might come from doing the dora, quick check or whatever, like or reading through, accelerate and saying.
Oh, this resonates with me.
I have this gap here, but you you don't do this in one file swoop, everybody has their kind of journey, and so, if you want to get to this mythic team x, um that has all these wonderful capabilities.
G
Your journey there you're gonna, have your own path based on where the gaps are in your own process.
um So you know in this deck it's like.
Well, you could blow up what you have and like implement everything from scratch.
But that's that's.
That's one road, that's kind of boiling the ocean.
G
You can keep what you have and then you're not making any progress or you you do things iteratively, and so the idea, then, is you use something like value stream mapping or you use the door, a quick check to kind of see where you are in terms of the four key metrics.
So I think that kind of messaging is is missing from um what we have on the site or at least making those kinds of clear connections, so the people say yeah yeah.
I want to do this like cd stuff.
G
How do I start um so this is.
This is kind of what this slide is about.
Is um we talked in our last meeting about how we want to help users make connections across the whole software supply chain and that we also want to help people understand that you are here.
So um one of the things we identified in sort of helping to close that gap is is talking about.
G
How do you assess where you are and um what your next steps should be and then making the changes based on that, rather than trying to buying into the marketing of oh, you should implement kubernetes or or oh, you should implement this and like trying to navigate the buzzwords right. um So some of the tools are for that are things like value stream mapping using dora. um There are some other frameworks that can help with that, like salsa, um but that's what this slides about so does that does that kind of make sense.
F
Yeah, I think that's really.
B
Important um and I I I, I definitely feel you're right- there is still a significant gap in the middle of of this narrative um where we need to. We need to connect people across, um and I also think it's important that we're we're careful about how we put things in in context, uh because the the thing that I I keep seeing repeatedly is.
B
You know where, where devops and continuous delivery are about going faster in the context of implementing, you know lean product discovery and product commercialization in a silicon valley model, um most people who are new to devops or to continuous delivery, just fixate on the going faster thing, and they believe that they can apply it to anything, and it will work equally as effectively because it's just about going faster right.
H
And, of course, that's right, that's.
B
The without the first half of that the methodology means almost nothing because it doesn't add the value.
It's the it's.
The product commercialization part, that's giving you the value, and this is how you do it quicker.
B
So so we need to make sure that we're we're we're making that connection for people and and and and showing the context, as well as the the acceleration.
H
um No, it's just terry just to clarify, so you mean like the blind adoption of tools, because this is the new buzz too. This is the new tool everyone's talking about we're just gonna start using that, uh without really understanding where it fits into our you know, our sdlc or into our workflow.
H
Is that what you're hitting on that would give give them the context?
Give them the reason behind it.
Yeah it's the.
B
It's the fact that half of the audience are coming from that bay area mindset of already knowing how products are built on, and this is a tool to build them better, but the rest of the audience don't even know how to build products, um but they know they have to build something and what they're doing at the moment isn't working, so they want to be able to do it faster.
B
So you know the the conversation I have most frequently is.
We need a ci cd.
B
um Well.
Why, in in what context?
You know how?
How are you going to apply it?
What advantages is it going to give you and when you dig in you find that they've got a waterfall business process for a strategic plan?
That's five years long and the cicd isn't actually going to give them any advantage at all unless they first tackle their whole strategic approach to to how they're structuring their their product development.
B
Include some of that in the in this middle storytelling, uh so that we we don't uh end up being another misleading source, uh offering a silver bullet of going faster without saying under what context will you go faster?
B
um When perhaps won't you.
G
Absolutely it and that I I think I think you're right.
I think we do have people who are coming in and they've heard about dora or they've heard about these four key metrics.
But I think, if you step back further than that- and you say to people document like that whole value stream, mapping things like what is your process like?
Do you have it even written down, and do you even know what all the players are and and evaluate where your bottlenecks are there, and it might be something as simple as step one is.
G
We have to figure out what our processes are and where things are breaking, because we can't even get to identifying some of these questions that are indoor, because we don't.
We don't even know what those answers are um and and yeah.
Sometimes people are coming in and they're driven, not by speed, but by cost right.
So then the focus might be something like well, you can save cost by.
G
um You know through virtualization, and then maybe you know from from virtualization and bare metal. um You go from bare metal, you virtualize, and then you you, you maybe move to the cloud later, um but it's it's figuring out where you are now and helping people to figure out the tools they can use to to do that. So then they can understand what their priorities are, so that they aren't just yeah using ci cd as this buzzword or like finding some checklist that tells them yeah.
G
You do these 10 things and you have your silver bullet.
I completely agree with you.
Yeah.
H
I'm kind of focusing on the when you know if you're talking about the what the.
Why?
How who and when this is more focused on when to use it as well, because it doesn't necessarily fit for everybody right.
G
Yeah yeah, so that that's a good point to make.
G
Okay, so we spent some time talking about that.
The other thing to talk about is is the importance of team culture, and I don't know how much we want to get into this.
G
But the fact is that, whenever you're working across teams implementing anything across teams requires having a supportive culture that isn't going to allow for change- and I don't know necessarily that we need to get into detail about actionable things for people to do, but even just having something to call out if you don't have a culture that that will allow you to have you know, good communication between teams, for example, then transforming the way you work and breaking some of these bottlenecks is just not going to happen, and then you know go see some resources on how to do that.
G
So that was the other kind of gap that that we had identified.
B
Yeah- and I I I think you could probably argue- that's actually the most important part, because if you, if you haven't, got the culture piece right, you won't be able to deliver any of the other components in a way that sticks.
G
Yeah and and people tend to jump straight to the tools because they look like shiny silver bullets and the fact is yeah.
You can't do it unless you have this in place.
F
And and tools is easier than people right absolutely.
F
Yeah, I I think this is you know we we talked about this many months ago in the earlier days of this discussion about the whole concept of what are the common anti-patterns in this approach.
Right and you know, lack of.
F
Buy and lack of and culture investment are probably the biggest areas.
H
I think fear failure is a huge one for um developers coming in, because no matter what level you are, if you want to implement something and you're trying to battle against what the current norm is in the organization, there's obviously still at least some culture there that are used to using the current process.
Maybe you don't want to change and would only relish not having to learn new stuff and there's always that that's that side.
H
um So there is a fear, failure, no matter what level you are and no matter how much pull you have so to speak in your in your current team. You are going to have that that certain amount of fear there and making sure that you can break down that barrier is is the key thing for me.
F
Yeah, okay engineers, hate change, we know this and- and I think that's where in that particular case, I think, having the um tying it back to the the what terry was saying around context, but even more granularly, which is you know, what are the incremental miles, success milestones or success, metrics that you can be aligning against um in order to show value in the course of the process or, to course, correct in during the process.
F
um I think both of those things to speak to what what you were saying um anthony is that you know how to kind of buck yourself along right, like no.
No, I, like, I got these things.
These things, these three things done.
It's we're making progress here.
You know, and I can tell other people about them and build that momentum right and when I a lot of times when I talk about organizational transformation along these lines, it's it is.
It is that the theme of momentum there are no switches right.
B
Yeah and you could you could almost describe this as being um on a continuum where a one end you've got failure is not an option and the other end you've got.
Failure is compulsory.
B
You know we're we're really talking about a methodology that gets its effectiveness from acknowledging that the best way to learn is to fail all the time as but do it at very small scale and very very quickly.
B
Yes, so so the whole of this methodology is based on making safe spaces to fail in um so that you can learn what you actually need in order to succeed, yeah definitely yeah.
D
And just one thing I was gonna uh just on the list.
I guess because of the resources like for me, team topologies is a slightly different thing like again the topology there could be an assessment um of how your teams are structured and what that looks like and but that's also distinct from culture.
So maybe we want something like the western surveys.
You know the five or six questions you ask to evaluate the culture.
G
Okay yeah: this was very much throwing things at the wall and seeing what sticks so uh yeah.
No, I love it.
It's great yeah yeah for sure that is also.
B
Quite significant because we have to keep in mind from our perspective that a big chunk of the audience will not understand that there are alternative ways of structuring teams and alternative roles that they've never encountered before.
B
So you know, most people who are coming to this will never have met a product manager and won't understand what a product manager is responsible for and what they add to uh this type of methodology.
B
So you know you'll find that many many people will be thinking from a project perspective and we'll be thinking about managers and doers and people allocating work and people delivering work and there will be zero focus on product and you know, and aligning and discovering and measuring uh against what the customer wants so so yeah.
I think it's important that we do try and highlight some of those alternative ways of seeing the world to to show how that fits into making the methodologies work.
G
So um this is, this was mostly just collection for our purposes.
You know if we do.
This is for the sort of community contributed side, some examples of resources that that are um things that have come out of google, so things that we might, for example, highlight in a more google specific um implementation.
G
Some of them are resources that are sort of known in the industry, but um that's really all this slide is um and then some external resources that are related to like dora and some other stuff.
G
This again was more okay stuff that we might need to keep in mind when, when um looking at things, so, for example, um I found that the you had your uh cd foundation guidelines around things like terminology, and you have a code of conduct already um so, for example, if a trip contributor guide, we want to make sure we reference the code of conduct. um So this again is not necessarily content. We would put on the site but stuff. That would be um important to look at in reference um when putting the material together.
B
Probably want to just make.
B
Note on is, you know we want to be explicit about supply chain software supply chain um because again it's another one of those things that we take for granted, but the audience won't necessarily be thinking in those terms.
So again we should.
We should provide some pointers and an overview and just set some context to help people to understand how that fits into the the overarching problem.
G
Yeah, absolutely um I I didn't talk too much about that, because there was that security section in the uh in the draft we have going. But you know particularly this year, um software supply chain security has definitely been front of mind for a lot of people. um So yeah, that's definitely in scope.
G
um Jen.
Do you want to talk about this, or do you want me to.
A
Talk about it, uh no sure I can talk about it.
um So what what we were thinking is that that the next steps- uh probably the first most important thing- and I think we've done some of this even in this meeting- um is to really flesh out those user journeys so that we know exactly what we're doing exactly what the mindset is of the user who's coming to the site and terry, I feel, like you, have a ton of background there.
Everything you've been saying about what they know and what you expect them to know.
A
I think we need to capture somewhere, um and so I'm not exactly sure what the best way would be for us to proceed collaboratively in this way, but I think um I think, if we go back to that slide, I think it's slide five nicola.
I'm sorry, I'm not sure.
A
So um I think, if we could, maybe as a team or individually and bring them back and merge them if we could really flesh this out, so that we have the level of detail that terry was getting to in in describing uh kind of where the customer mindset is.
I think that would be a great next step, because then we could really get into the assigning the content types and where they should be uh for each stage of the customer journey.
Does that make.
B
Yeah- and I think from for me, this always reminds me of the parable of the four blind men and the elephant.
A
Oh yeah, so true, yeah yeah, it's going to be different for everyone, so what we want to do is if we, you know, get close to the 80 and uh hope that the 20 can figure out the rest. um Yeah.
A
But uh but there's just a lot that you said marie that I think could flow right in here and really help.
B
Yeah well feel free to uh to reach out to me. If, uh if, if you want some of my time and we can- we can go through that, okay.
D
Yeah, no, I think this is really really good and uh yeah thanks so much for putting it together.
One thought I'm having is like, I guess, you're reminding me like that.
Google already has a lot of these really useful sites and almost some of this information in a different format.
D
So I guess I'm trying to think through what is the value add in you know we're trying to kind of pull together some different things and I think for me we have to, and you touched on it at the beginning.
You know how do people share their stories?
D
How do we have the community come through and contribute what they're doing or where they're at um and and some and maybe something to do with open source projects, because otherwise I don't want to be just kind of redoing what google's already been through in just a slightly different format, with a different site, um so yeah just trying to think through.
What's going to yeah make this key.
C
Yeah one and tracy, we, you know you and I were talking about how.
F
We want to there's like the two phases of the of these ideas.
One is sort of the the most neutral concepts terms, patterns right and then there's the execution of those, and I think that's what you were touching on as well.
Just now, it's like we've got.
You know, google has done a bunch of investigations of this has have many others right.
How can we bring in uh uh what would we call it like linked content like here's, a set of concepts that are just defined in a neutral setting?
F
Here's how it looks like if you use google stuff, here's how it looks if you use spinnaker here's how it looks if you use screwdriver, right and- um and so one of the things that I think would be really interesting to do is to I you know to see if we can reach out to those projects like who does that type of um uh you know other partners that that can could speak to some of that content in those ecosystems.
F
Yeah anthony's and um I think oh gosh, I'm blocking another name done all that test documentation. I think that's a whole yep um totally spacing another guy's name. Sorry, um you know.
H
I think I think, there's a lot of opportunity.
F
To kind of flesh out that whole category.
G
This looks really messy, but when we had started sort of brainstorming on that first slide we had we had divided.
There was that sort of division between um the community stuff and the um coming in and and learning and wanting to improve your company.
G
um So we hit we had sort of started out with a jam board and kind of tossed ideas around and the thought was and again this is not set in stone.
This is throwing it at the wall and see what sticks um is that someone could come in and if, if their primary focus is learning, then they would come in.
They may not be familiar with continuous delivery.
Maybe they learn about that and they're like okay.
Well, where do I start next?
So they they take.
G
They use an assessment tool to learn about it, and this is all sort of the vendor agnostic stuff.
um So the assessment tools might be.
Dora might be value stream.
Mapping for security.
It might be something like salsa and looking at a security kind of maturity framework, um and then we would get into our best practice stuff here um and then on the right side.
We have okay, so I have implemented some stuff and I want to share some of my lessons learned.
So we can share some of the google things here.
G
We can link between the vendor agnostic, stuff, possibly- and just say you know hey if you want to see an implementation of ml ops, you can look over here, um but we would kind of have these divisions so that people who are coming in to look about hey okay, so I know this is: I want to implement something in the mlob space and I want to see an example of someone who's done it.
G
They know they can look over here, um but if, if it's more along the lines of I'm just starting this journey- and I want to know what I need to address then they're more on this left side, yep.
B
The one thing that concerns me a little bit in this area is how we go about managing the the sort of democratic fallacy problem in the you know, which user stories are we actually going to share and propagate?
B
um You know, which ones are genuinely valid examples versus which are stories about things that people have done, that aren't actually devops but have been done under a devops banner.
B
So we will need to be. You know, mindful of making sure that we're uh we're selecting the best of those stories and the most illustrative of the best practices.
D
Yeah, my approach to that would be almost to let everybody contribute their story, but maybe have a way to upload 35.
D
Wonderful, better word where we like almost like a peer review and there's some that can be marked as okay.
This has been reviewed.
We have a discussion or we've had an open um session where people can almost like defend it or talk through it and then once that's done, it's it's got a badge or something that helps it stand out.
B
Yeah, I certainly think we're in an interesting situation at the moment where everyone you talk to, has a world-class devops process, um but the majority are also struggling to see any value from having implemented it. uh So um you know if, if we're going to help people we're actually going to have to really help them to differentiate between what works and what doesn't and what the context was that made that successful.
A
Are you thinking that you'll have a multiple content moderators or is it kind of going to be this group taking a look at what gets submitted.
A
Or have you had a chance, even if you think that's going to hold.
D
Like I think, with typical open source models, there's a a core group of kind of maintainers or folks, and I would expect best practices.
We can build out and get more folks involved and have a core team.
A
Yeah because I mean that feels like it's another um sort of user goal for the site right is moderate, assess and moderate the computer, so yeah, so we'll maybe stick a little piece to that effect in there just so that it's in the back of our minds.
Yeah.
D
Like any open source project, this needs to be some governance and some kind yeah.
F
Hopefully we can make it really simple, like use this template file, the pr in this way, yeah.
I
I'm sure it'll be harder than that, but yes, that's my fantasy goodness.
This is the bullets right, everything's, right yeah.
I.
B
Mean I think that the challenge will be probably in in the ml op space, um because the best practice in that area is not well understood and a lot of the commercial products that currently exist are not what you would consider to be best practice.
B
So so there will be a conflict between the commercial interests of people wanting to promote their products versus what actually is the best way of working in in those areas.
B
Going to encounter for sure.
G
So I don't know if some amount of that could be tempered with having you know transparent criteria around around um what we vet in order to have like a badge for being featured.
G
Like it's, this arbitrary process where something goes in- and we say yes, you're allowed to be featured, but there's no transparency around how you got there and I think we had.
We had some kind of criteria that was published.
Yeah then we'd have some rationale for that.
B
Yeah or we could, we could go the opposite way and have a market driven approach where we we allow people to post, and then we track their survival rate for the next five years and.
G
I mean that could also be community driven sort of like stack overflow style, where people could upvote solutions that work for them.
A
That would be the lowest maintenance, probably.
F
Yeah, but five years is forever first of all. uh Yes, the whole point of this is to try and help people avoid shows not become part of a social experiment.
D
We just said it's: okay to fail.
Tara, come on.
F
I'm okay, failing if it's, if it's not in the service of you, know marketing, driven solutions um yeah so, but that would be a good problem to have. Actually, if we're to the point where we're having to fight off uh wait, what the hell is this.
F
um This is a particularly true, I think uh you know you think about um a lot of the companies that sell sort of bundled developer tech. Stacks um it'll be interesting to see you know if, if those start to come into this vein, what that looks like, but I do think having some kind of rubric like okay, you must line up in the following ways in in order to be considered, I could be helpful.
A
All right so next steps so yeah.
I think next steps are to really fill in that user journey and maybe the way to start even is to come up with a persona.
I know a few folks are familiar with working with personas but yeah it's.
It sounds like we kind of have one, but we haven't actually shared it or written it down.
A
If you folks wouldn't mind just writing those down, um then we can sketch out a little more in a little more detail.
What their actual journey is.
A
Does that sound like a good thing to do good use of time, yeah, good, okay, okay, I think that would be very helpful because it definitely sounds like there are people coming from a variety of different places and um yeah.
We want to try to catch them all and filter them in the right direction.
A
uh So can you just uh create a shared doc, or is there a way we can?
I.
F
Want to okay now I need to bring it up.
I want to say that we talked about this a little bit in the mega doc, but maybe yeah.
A
Yeah, and that might that's probably the place to start is just to pull that stuff out yeah.
If it's.
B
Had a a piece of persona work from one of the other work streams.
D
Let me just bring that up, and then I I'll give my quick assessment of just give me a minute.
F
Oh crap, I forgot to bring up the notes.
Did you?
Are you taking notes tracy, not in a useful way, all right?
Okay, sorry.
F
I just if you were doing it great otherwise, I realized I forgot to bring up the hack md I'll.
Do that now.
D
Okay, so we did have, and let me see if I can do the share screen.
D
um In other parts of city, if we had kind of these discussions around stakeholder.
D
um Since then, I think we have discussed them with this group and, in essence, all the different types pretty much boil down to it's.
Okay, the c suite one and the developer focused one with lots of variants on each one.
D
um So this the application developer, which is kind of your traditional developer, then there's the the second one is like your ops person or devops person or cloud engineer that, but the person focused more on kind of the delivery and operation side um and then delivery, director and technology executive. Just two different levels of cease of leadership, uh so delivery director more closer to the teams and then technology executives in c-suite, and then there was a bit of a random one which was more from our community on on the advocate.
D
But I think you've kind of covered that in your these are the people who go out and spread the word.
So it's just a kind of different area, and I think where does pm go because I know terry, we had the pms.
D
I think they'd loosely.
B
So yeah, I think this was this was where we we kind of identified, that the the product management role was was missing from this discussion originally and was probably um indicative of a of the nature of the way that teams were working when you know when we got this from from uh from our collaborators, uh so I think you know that's that's one way.
B
There's broadly, this is going to be, I suppose three personas really in the there's, the there's, the the purely commercial perspective, which is your sweet, c-suite roles, then there's the um purely engineering perspective, which is, I have to build this thing, but then there's the bit in the middle, which is the I have to work out, what this thing is and how we get value from it in order to get this team to do something that makes money for this team um and really, I suppose, that's the product manager role.
B
um So so I I I think there are probably three broad perspectives on this.
You know one about what is it?
What value am I going to drive from it at a commercial level, one which is what what is it and how is it going to improve my experience of delivering this and then the one which is you know?
How does this aid me in um effectively delivering things that I don't yet know what they are, and how can I use that to discover them.
A
That's a great summary yeah.
I like that a lot.
A
What is the value?
How will it help my experience?
How will it help me be effective at optimization in ways I don't know about yet.
B
Those are great because I get it yeah, it's that's about linking back to the fact that these practices are primarily about efficiently, discovering things you don't know, rather than officially, you know efficiently delivering things that you already know about.
B
um You know, because if, if we had perfect knowledge, waterfall would be more efficient.
D
And then I think, once you divide the audience into those three, it almost feels like at cdf.
We we just want to target that middle bucket people, balancing both concerns, who are effectively change, agents and have to kind of deal with.
F
All those unknowns right, but I think that's where all of the work that's been done, for example, on the testing stuff is going to become critical, because that becomes one of the number one questions around execution uh when you're developing this stuff, which is, if you don't have a good automation story.
Where do you even start?
What does it look like?
How do you you know?
How do you do that so and- and that's also one of the toughest areas, because it's often the most uh vendor driven?
F
So I think that's that's going to be where the media's well, apologies to the vegetarians I'll come up with a better analogy, but the the media's part of of the user content or the workflow stuff, I think, will be in there.
So I'm very excited about that.
B
Great, I I think it's.
This is going to turn out to be equally important for each of these three categories, because when, when you look at this in context, the reason why you would want to do it in the first place needs to be driven from the commercial perspective, and they are the only people who can actually make this succeed because they have to restructure the whole of the organization to facilitate this way of working.
B
So at some point they have to own and drive this change process for everybody.
B
So if they're not driving the process in the first place, somebody's going to have to sell it to them to the point at which they take on responsibility for driving at um now.
That, in in our experience, tends to be that someone from the engineering side has discovered the methodology and is trying to implement it, and unless they successfully sell it at a c-suite level, they won't be able to implement it because they'll get so far and they'll get blocked by corporate antibodies.
B
And then the middle role, which is the practical one is, is the one.
Where are you guys and you guys have decided you're doing this weird thing, and now it's fallen to me to actually implement it.
What the hell is it I'm supposed to be doing so you know we there.
B
Each of these viewpoints um is equally as important in in getting the success of this process and we're going to need to explain not just how to do it from each perspective, but how to understand the other two perspectives from the third, so so that everyone who's involved can see not just their bit, but also the important parts of the other two personas.
A
Yeah, I think um very often people don't really understand the c-suite, for example perspective at all, and so they don't necessarily even know.
What's going to be compelling.
A
To those folks, so unless.
F
It's a cfo make it cheap.
A
Right yeah, so I guess um what are our next steps here?
Anybody that.
D
So if we like, if that's good enough on personas, I think we start mapping out those stories and I'd be also throwing up prototypes as well great just start putting some concrete stuff down and see how it looks and just iterate.
G
Ahead, um did we want to start investigation of any kind of tools?
Were there preferences or requirements around that kind of stuff?
In terms of where we're publishing what tool we use to publish um anything like that,.
E
No specific remind me: doxie is backed by ascii or markdown.
It.
G
As far as I know, um it is it's it's, it was actually started by one of the folks in the tech writing org here at google.
So there are a number of projects like kubernetes that use it.
um I believe tecton also uses doxy yeah yeah.
So one of the benefits is, we have some precedence and we have people internally who can help us with that?
G
um But we're not certainly married to implementing that. um But knowing that means that we can start digging into- and you know maybe recruiting people to help us things up and so yeah.
D
Yeah, I think that's fine, like I think we had started some work on github pages.
I I don't think, there's a huge difference um and I think it's more important.
We get started.
B
Yeah the overarching question there is: can we use this tool to in a continuous deployment and continuous delivery manner, um and if we can, then that sounds like a good fit.
F
Pretty sure that the techcon.dev uh is still just a repo um and I'm guessing it's similar.
F
Kubernetes as well um and then the other thing- and I guess the toc would be the best place to do this- I don't know tracy.
Let me know what you think as far as starting to spread.
The word don't go to the toc.
I was just as far as like starting to spread.
F
Other uh content, contributors.
D
Limit it to the tsc, but um I think we can hit well.
F
For for the next phase right yeah, I think it would be awesome like I, you know, I'm proud that google is stepping up, but I I you know would love if uh we could get armory and cloud b's and uh and some of the other uh primary project sponsors involved, if possible.
D
Yeah, I think it's for that.
It's it always comes down to what is the ask and the more clear they ask the better.
I think there's only a few people who can deal with um the lack of clarity or you know the discussions we've been having up to now, where we're kind of bouncing all over the place, but once things start to solidify.
D
Here some sections: here's where we need contributions.
uh I think that it becomes a lot easier to get people to look at it and contribute okay, great I'm.
D
Just make those connections and start to pull people in at the board level and the toc level and the other working groups yeah.
F
The only reason I was thinking sooner rather than later, just because I want to just maybe I'm being overly sensitive on the optics of it.
I just want to make sure that people, don't uh the other projects, don't feel like we're muscling in.
D
Okay, I'll have someone here from aws next week.
I
I'll be good and microsoft, don't forget.
F
Boom, oh, that means microsoft didn't sponsor.
Did they.
C
Means they don't return.
My calls.
That's all.
D
Yeah all right screw azure I'd love for them to join, of course, but here we go cool uh yeah.
No!
Thank you so much uh just conscious of time, but that was really great and yeah.
I'm very excited about moving this forward.
F
I was just going to say uh two quick questions.
One do we want to create uh a new repo, then for the for the doxy stuff, or can we repurpose whatever we had started, just create a new repo?
I think, okay, and let me know what you need.
I can speed that up.
Okay and then um really quick.
Just for the purposes of the notes.
Is it possible um janna nicola, for you to share your deck as uh world viewable sure I.
F
Need to let them touch it.
Maybe.
D
And if you're open to it, like, if you're happy for me to start even sharing that deck as we go, I can go around starting, recruit people and pull them into the group or get people who have been previously involved to come back.
A
Sure perfect, I don't actually know how to share this as world view.
G
Yeah, I know sometimes with internal things, we're locked down pretty hard, so I'm not sure.
F
Okay, um I here, if, if you want, I mean this: if you want, I can take make a copy of it and put it on my personal account.
Okay, I know we just make sure that we take off any google confidential because they're, obviously putting google confidential in there.
um I mean, if you don't mind, doing it, that's fine!
If you'd rather I do it in case they're.
F
Somebody gets a stick up their ass, I'm happy to do it, but.
G
Either way yeah um I will take a pass and make sure it's pruned of any internal things, um and I can just ping and chat and let you.
F
Go yeah or you know what the other thing you could do is uh save it out as a pdf and just we could just upload it and just be a blob thanks jen, so I can follow up with you nicola sure, okay, cool!
Well, uh oh late, for a meeting all right.
Thank you.
Everyone bye talk soon.
Thanks.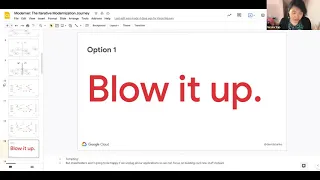 ►