C
Okay, so let's see um this is going to be our working session prepping here to start.
C
Okay, can you all see my screen.
D
All right, I'm just going to add steps here um for people to follow along. So uh as a reminder, after discussion last time, we're gonna, nicholas gonna do the final step of her process, uh which is now that she's set everything up and set up. Preliminary architecture uh show us how to get in here so I've.
D
So the first step is to clone the repo um and then nicola um we're recording, I believe so. We can post this. um So, if you're, whenever you're ready to start walking us through how to get to the point where we're making edits and staging that would be awesome.
B
Yeah, I didn't really prefer.
Don't worry.
B
Yeah yeah all right, let me just pull up what I have here.
B
So everybody here, I think, was added to the team right.
The netlify um account.
D
uh I was: did anybody not get it?
Okay,.
B
So from what I understand, um if you are on the account, um the idea is that yeah, once you you've done your your clone um and you submit a pr um that will trigger a preview build and it should appear at the uh url and network account.
D
So one of the things that I was confused by and I was hoping you could clarify and I can show you what yeah.
D
Is that it prompted me to create a workspace, the language was a little bit weird.
I'm like.
I think this is my space, but the way that it was described.
It's like you're, creating workspace for the whole group, and I was hoping that wasn't true.
B
Yeah I haven't I haven't so I didn't have the benefit of doing a preview, because I I did.
I did one one pr to actually like put the preview site up and I haven't done any pr since then, but um in that life I, if I go.
Let me just put this in chat.
If I go here, um I get a um like a dashboard, basically and under there it will show you production, deploys and then deploy previews and I believe the previews are for when um there's a pr.
B
I actually see a deploy preview right now see if.
D
I take that uh link.
I can link this page not found oh interesting, so yeah.
So this is why I was wondering like if netlify is, is, if there's something special, we have to do to have a group.
B
That I do not know because yeah um tracy.
E
Had said something like this, what you'll find is when you do the registration it makes you set up your own workspace for you for your personal projects, but then, if you, if you then go back to the home page or log in again, you'll see that you're a member of the best practices group um and then you should be able to see stuff from from there.
That's that's what I found anyway.
D
So you're you're able to see the best practices group.
D
Okay, so maybe I did something.
E
Wrong, you might need to uh um yeah.
B
So right now, if you look at your yeah, if you look at your workspace on the top left, can you pull down what what do you get any options for cdf there.
D
And this is the part of that, because I.
B
Went through registration.
D
It wouldn't let me join an existing project.
It.
It forced me to create a new one, unless I should have.
E
I know I know I did um I I I clicked on the registration link and it made me do all this stuff and then, after I'd created this, I clicked on it again and it then successfully registered me to the cdf group and I got the drop down.
D
All right, can you reinvite me then, because I just clicked that link again and it said that it had timed out or that it was no longer valid.
D
And then uh jalander and by dick, were you able to register or did you try to register.
G
Oh, I haven't tried to register in fact I've just I'm just following.
G
What's going on, I'm super new to this.
D
This is a rookie session, we're learning how to be content. Creators, except maybe terry terry, seems to know how to do everything.
G
Yeah I mean I'm happy to follow if there are any instructions that I can quickly look into.
D
We're starting to create the.
D
Right now so, um do you want to drop your email into the chat nikola if you're able to make sure he's added as a an invitee.
B
Okay, I think I have contributor access, I'm not sure if I can invite people, but I will.
D
That was tracy, okay, so I'll have to bug her yeah.
E
So nicola um on the on the cloning side, is it necessary to uh also recurse sub-modules.
B
I think when you build, it gets any modules that are needed.
B
I believe when the automated build gets triggered, it will pull in what's needed.
You just need to get what's in the repo.
E
Right because in the in the doxie documentation it, uh it suggests that you clone their example project with uh yeah.
B
Which is which is what yeah yeah, so um the the the site that we have is a clone of their example site.
E
Yeah, so it might be sensible to uh to add that flag to the um to the documentation, just in case it it's necessary.
E
uh I'll need to look it up specifically, unless anyone can remember off the top of the head.
I think it's recurs sub modules.
Let me just see if I can find it.
D
Oh, it's an option to get clone.
D
uh Yes, it is dash dash recurse sub modules.
G
I don't happen to see any sub modules.
B
Yeah, it may just be necessary when you do the initial copying of the example site, I'm not sure if it's necessary for contributors.
D
All right well to be on the safe side.
I'll just add it to the recommended option.
D
All right, I'm supposed to be bugging tracy, okay!
So um so terry, you you it's working for you as far as having access to the right site.
E
So I was able to fork the repo um make some edits and uh set up a pr, um so I've I've.
I've moved all the introductory material from the original document into the the new site and and that's sitting there as a pr at the moment uh to tidy up.
But I wanted to just test the end-to-end process to make sure that we get it working.
D
All right I have king tracy, do you want to then?
um Okay, so you did this clone and then so, when we look at.
E
Into my um github account and then cloned, my oh.
D
You forked it that's, actually a really.
D
Let's put, uh let's see how do I do this in markdown without making it do weird formatting I'll just do this right now.
D
There we go okay and then once you did, that.
D
As well so the and you have a pr in the site- okay, oh look at that there.
It is.
B
Yeah and then once you're set up with net lafly you'll see that there is a dashboard, a deploy preview and from there you can look at the a preview site that shows um a deployment of the.
D
Okay, I will stop sharing skin. Can you or terry throw up that view? uh I can show you what the view looks like on my machine sure.
E
I think you probably just followed the link in the uh in the logs.
B
I saw it briefly yeah just I.
I keep messing up the audio settings whenever I share, because there's like a checkbox, okay,.
B
I wish they would just say not to share the tab audio by default.
Okay, uh let's try this again all right now, you should be able to hear me um yeah.
So this is the dashboard here um and then, if we we go to the site, then from here we have the production deploy right, which is what's out there now, and then we have this one, which is which has the pr.
B
So if we go here, you're then able to say open, deploy preview and that will then take you to open up in another tab, but it will look like this naturally, okay um yeah, so this this.
B
ah Yes, that is new.
That was not there before sweet yeah, so um it was and yeah just looking at the the url here it is a different.
This is this: is the preview site right?
So um that's where the the pr is deployed as opposed to um what we have in as the production deploy.
D
um So it's from a engagement uh uh perspective like as we start to to get multiple contributors to filling in the content. um Is there does the platform have some kind of syntax validation or other spot checks that help make sure that something weird didn't happen, or do you just have to eyeball it in the preview.
B
um So what I was also doing before I had actually like deployed to netlify is you can um run it run it as a docker container. I think the um that's right, the doctor yeah the doctor files in there, um and actually, if I go back to here since I have it up.
B
Oh, why did that not work?
B
Maybe it didn't deploy okay, um so here we go so I have some information here from from the dog c and running this site locally, and the docker file should be in there.
So this should work.
You should be able to run it locally and kind of preview it locally to see if anything's like horribly broken, but before you decide to open the pr.
B
So that's that's one way to go, and then um I think I had this is from the template on how to use the netlife stuff, but I haven't modified any of this so, like I don't know if this, actually, you know works or anything, but the idea is that yeah, if you're in the team, you should be able to see the the deploy previews, but if you're not in the netlify account, I don't think you'd have access to see this, so anybody who's contributing who's, not in the netlify account.
B
I don't know how that would work specifically.
um I know that tracy said things were set up for the seating landscape um in a similar way to this, with it's also using netlify, and they have the previews.
So I don't know how they do.
Reviews for anybody who, you know submits a pr that isn't on the account that that's the that's the puzzle, piece that I don't get right: okay, because.
B
Yeah, all of us who are here and contributing and part of the netlify account it should be fine.
We can look at the deploys and it'll all be like you know, happy, rainbows and stuff, um but I don't know what would happen if you wanted to be able to see your stuff other than locally.
I mean I think, running running it locally would probably be the only option if, if you weren't um part of this netlify group, okay.
E
So a couple of points on on this, um the the dependencies for the docker image are quite a ways out of date and there are some vulnerabilities as a result.
E
I don't know if there's a specific reason, why we're on a an earlier version.
D
So we should probably oh sorry, go ahead.
Terry.
E
I installed hugo locally and was able to to run a local server and edit against that.
But the only thing that you have to be careful of doing that is that it wants to modify the node.js dependencies which are part of the git repo.
So I didn't check those in because they're they're, referring to later versions of some of the libraries.
B
So I think the docker image might, I don't know for sure, but it might have been created by someone actually um at google um as a convenient way to to be able to do the local previews.
um I could double check.
I could double check with jerry about who put the container together and whether there's someone who might be able to update it um aside from that yeah there are the instructions on how to run the hugo server locally without docker that we could use instead, but yeah.
That's that's an option too.
E
Yeah, it's just one of those things that we'll need to have a process in place for maintaining the the dependency tree for.
D
Yeah, I'm trying to think of depend depend about would work on a docker file.
D
Like on a palm, I've never tried, um I bet there's a way to do it or if we think that I mean my goal would be.
Let's do whatever is going to make it the most automatable to keep us clean, and if that means not using a doctor file in yeah.
B
Just like we can, I would also try to find out what city landscape is doing because they already have something in place with netfly, and I know tracy was going to look into it.
But I don't know what came out of.
D
Which tracy miranda or reagan.
B
Yeah um all right, let me look at the one who runs.
B
Who is normally here running the meetings.
D
Okay, miranda yeah all the traces look like, except they really don't.
D
They definitely are not using a docker file, or at least not obviously, all right.
I will add that to my list.
E
So what we'll need to find out is what the build process is on the netify end.
So what happens when, when the the magic happens in in that pr build, uh and then we'll need to keep any of our offline assets synchronized to the versions that are being used in that, but we'll also need to make sure that that is being kept up to date.
D
Sorry I had a brain fart, so there's packages so there's.
E
Two things going on right.
E
Make sure that we're up to date.
D
As far as bad packages or old packages, but we also have to match netlify itself.
E
What, whatever is in our build process for our netlify instance, is what we have to get the downstream stuff aligned to, but also we need to make sure that that is actually being maintained so that it's on secure versions of dependencies in the first place.
D
Naturally, there's javascript I've avoided this ecosystem.
D
For very silly reasons, because branding I brendan ike pissed me off so much when he was creating it in the first place.
D
Which is a terrible reason not to use a package all right?
Okay, we can figure this out.
um We should have done it in python.
Django.
I'm totally kidding completely totally kidding all right.
Okay, so let me just make sure we're capturing so forking we figure it test.
Look leave it maybe put a note here.
A
um Need to sort out dependency.
D
All right regen, if I invite.
D
Tara and vivek at least did you get one at all or.
D
Did you actually get an invite.
D
All right, um do you want one?
Are you mostly lurking, which is fine?
I just I won't bother having tracy, send you one if you're, not uh if you're, not interested in in hacking.
If it's.
G
Not traditional work, I mean I'm trying to be regular.
This is my second attempt.
D
I'm sorry, you cut out a little bit.
It's your second attempt for what.
G
It's my second attempt to be to attend these meetings regularly.
So, okay,.
D
Sure yeah!
Well, let's start you off with uh you know, maybe someone who can help with pull request, reviews, yeah.
Okay, um all right!
Is there anything else, terry that you ran into in your initial.
E
um So I've I've got some questions for nicola uh in in terms of capabilities with doxy, um because I I'm I'm sort of vaguely familiar with hugo and haven't used doxie at all before yet so I I wondered if we could um tweak the template to give us uh a a cleaner uh sort of call out box.
E
uh So at the moment, if you, if, if you use the um greater than sign in mark down, you basically get an orange bar next to the the text, uh it would be nice if we could actually turn that into a a tidy sort of box around that text, because I think the use case for this is being documentation is mostly going to be.
E
uh You know visually marking out things as being important call outs in the in in in line of text. uh So I don't know if that's something that we can do easily.
B
Yeah, I I mean any kind of css changes you want to make or yeah.
It would just be a matter of going in and figuring out where it is on css.
B
So you're talking about go ahead, go.
B
So you're talking about you, said like the little information boxes and or things like for notes and.
E
So if you use the, if you use the the markdown for for a call out um in the css at the moment, what it does is it just it takes a paragraph and puts an orange orange line down the left hand side of it.
D
Oh and you're saying: can you enclose it with a full box.
E
It'd be nice if we could make make that look, um a bit more unique for the site and make it easier to to see yeah.
This is an important piece of information that we want.
E
We want to call out, as a quote.
B
Yes, um yeah, that's that's totally doable. um I I can take a hand at trying to to figure that out um the the one interesting thing I do want to say about. That, though, is there has been actually research around those sort of notes and warnings and stuff, and if you start putting a lot of them um similar to banner out banner ad fatigue, people actually will skip them.
B
um So you do need to be sort of judicious.
E
Yeah yeah.
What I want to do is is do that thing where, uh like a magazine layout where you would have certain panels where key points are drawn out in the panels, but then they're also repeated in the text, so that, if somebody's just.
E
The page they can skim the key points as call outs, but at the.
E
Time, the you know, the detail will be in the narrative if they bother to read through in it a bit more closely.
E
Now now we can set different uh page types, can't we within yes.
E
So at the moment I don't think we've defined so we're just getting whatever's default.
We.
E
Yeah you you, if you please clarify on what you've set up at the moment.
So so we all understand what we are getting right now.
B
So um there are some that in in the doxy in the doxy, um I don't know what they call them, but basically, like um various templates for these various pages, um there are some defaults that come with it and um we can always either modify the the defaults which I have done in a few cases, or we can um spin off our own variants.
And then you just reference the kind of page that you're you're using um I'm trying to find an example now, but you can like.
Oh, I think it was this one.
B
um You can, for example, like put a box at the top that kind of summarizes things as a little bit of an announcement, for example, um so that I can look for how that style set up and use it for some of the other callouts like notes, um and then there are.
B
Yeah and then there are page styles used for things like the main landing page when you, when you land- and it has, it, looks a little more visual and you scroll down and it has sections.
B
um I have that's using a different template, whereas the documentation, um I really focused it on using much more of a you know, table of contents on the left content on in in the middle and a mini table of contents on the right.
B
um But if there's something else, you think we need beyond that as a page type or if there's a reason why we we want to make those distinctions, that's definitely something we could. We could adjust for sure.
E
uh Sorry yeah, I just I, I think, we're probably going to encounter two broad classes of pages at the moment.
E
So there's going to be one which is mostly narrative with perhaps some images and then there's going to be another class, which is uh more example based and may have snippets of code or configuration in it and we'll probably want to have two different document types to manage those. So we can get a consistent look and feel across them and easily edit that for the whole site, whilst making it easy for contributors to to to pick one and work within it.
B
I guess the question I come back with is: is that a need for a difference in layout, or is that a need for more of a template?
That would say?
Okay, you know things that you contribute should include some predefined sections and maybe some comments in there that have some guidance about what to include in each section or do we actually need a different look for sort of the.
B
Information versus the you know the the example kind of information.
E
I I think the answer- that's probably both um because the the templates make it easier for people to create new instances of something.
So if we set up archetypes to do a particular style of page that would accelerate the setup if people want to use that.
But at the end of the day, it's about simplifying the ease of management of a set of css for a particular look and feel so so if we, I think that the the document type is, if I believe, the easiest way to classify a given page.
E
um But I'm I'm willing to be corrected on that, because I'm not an expert in in hugo.
D
Yeah go ahead, I'm just going to say that that sounds like a a good.
I want to call it a phase two, but a uh a parallel track of effort.
I think it might be.
Maybe we should start a a like a.
D
I don't want to call it a tech debt doc, but like a to have a note stock somewhere, where we capture ideas, as we start putting more of this content in here, and maybe there might be, I think I'm following what you're saying terry I'll have to think about a little bit more, but there might be a couple of things like this.
D
That will then want to have a maybe take all as one pass and do a sort of a site uh revamp um once we get the content in.
E
So this is the the user experience track, so somebody's gonna going to need to maintain the you know the the overall style and the consistency of the pages and make it fit on brand and stuff like that, and so we.
E
Separate that, as a concern away from the way, the pages are actually constructed and it's it's there in the mechanisms.
E
But we just need to make some decisions about how we want to do that and what the initial standards are going to be.
E
Okay, I'm capturing a note.
B
I just wanted to highlight one other thing too, that's unrelated, but I wanted to make sure I don't forget um just looking in netlify.
I was mentioning that I'm a contributor, I'm noticing there's another category here for reviewers and it specifically says that reviewers are free.
B
So I'm wondering if that is a way that we can have additional people who aren't part of the sort of core team for best practices who are reviewers and are able to see at least.
B
The previews see the previews for pr's that come in, so that might be worth looking into.
E
So uh another example of a sort of user experience thing that might be interesting to try and work out is whether there's a a good way to to have a if you like, a next button that automatically goes on on a page or can be coded on a page so that you can have a thread of navigation and people can page through that thread.
Every time they reach the bottom of a section rather than having to drill back up to the menu and.
B
um If we expect that there are certain sections that will be read in a linear way, then that makes sense, but there are a lot of cases where that might not be necessarily the case.
D
Yeah, I guess the question there is um for those are we actually going to have distinct pages or we just have a longer page, a single page, so that would that would be another question a? Would you call it user experience or.
E
But if you have the longer page, then you don't get the benefits of the automatic menu navigation in the tree on the left hand side.
So uh so then, because unless.
D
It's floating and those are ugly right and it's also harder.
E
Yeah well that tree that tree is automatically generated based on the child pages that you, oh.
D
Right, okay, you can tell how much I write.
I develop content like this.
D
Well, that's a good point, all right, um we'll capture that so, let's see so so.
E
Far, the ultimate thing that would be really nice to be able to do is that to have those journeys be different, depending on where you came in from so I.
D
And then I was thinking.
Oh that's going to be hard yeah, but.
B
That is definitely it is definitely going to be hard.
um Another thing to consider is that there is support for tags.
um I think on a few pages, I put some tags in there just to see what they look like, but um tagging pages is supported.
So if there are certain things like this page applies to security, or um this is a best practice page, as opposed to a example page um I don't know- or this page is relevant to a particular um tool.
B
Then uh there there is some tagging that we could take advantage of and then that way we're not sort of held to any linear structure. A page can belong to more than one category, which is the nice thing about tags. um So that's yeah.
D
Okay, uh okay, so far I have the text highlighting issue and then single page versus multi-page um was there another point.
You brought up terry that I I spaced on make sure we capture that around the content.
E
It organization, just the the the stuff about having a narrative path through the narrative.
A
Path yeah.
Thank you.
That's a good.
D
Okay, I was describing those as user journeys and I'm like wait.
That's not what he said.
Okay, all.
D
I mean it it yes, but the narrative path, I think, is uh when I look at this again is going to uh give a better association slightly different to me.
Okay,.
D
No slacker, okay I'll, keep bugging her um because I think I'm blocked until I can get that invite regent. um If I can ping cara to see if she has access to it,.
B
It looks like it looks like the only people who have owner access are uh tracy miranda and um I'm probably going to watch this name. Chris anazek.
D
Won't be able to pronounce that if any.
D
Chris of the people of would you like to buy a vowel.
I was.
B
Just going to say that they're just insufficient bells for me to know how to pronounce that um yeah anyway yeah.
So uh those two have um the owner role in this in this netlify team, so they should be able to invite other people.
It doesn't look like I can as a collaborator yeah.
D
All right I'll bug tracy about that um I mean I can send a ping to chris, but I'm you know he's like vp something much much got it: the linux foundation.
So.
D
Anyway, all right, I will own figuring out, you know getting getting getting somebody who probably wasn't going to be any of us, because none of us are staff for the foundation, um but making sure that we get uh tracy's owner owner account transferred to somebody.
D
uh I'm thinking cara might be the most likely person, so I will work on that yeah and and then, as I can get tracy to respond.
While she still has it.
B
And yeah it looks like we yeah, the reviewer role is free and it looks like you can just invite as many reviewers as you want and they'd be able to see the deploy exactly.
So I think.
D
That would be useful so that way people can have a low stress way to participate all right.
um Okay, so I think we have all and I'll clean up the notes, but it sounds like we've got a decent start.
Procedurally, hopefully I'll get my access fixed today and then we can start.
D
My plan was to to take a good chunk of friday this week to start moving whatever terry hasn't gotten to yet and get that over.
um Okay.
Is there anything else, we're missing or forgetting.
D
Okay, well shoot.
I'm bummed that I somehow screwed up my registration, but um I will.
uh I will go, take a peek at your pr which I'm sure can just be blessed, but we can start our best practices on the repo.
So thank you for kicking that off terry, uh presumably I'll be able to yeah because it's this is just github, not network.
D
um Oh another thing will be to auto, deploy on on submit.
Are we going to want to try and set something up like that?
I'll have to want to see?
If cdf does that or I'm sorry, I think it's that.
B
Going to happen yeah once the.
B
Once it's merged in it will go to production, okay, so the site is.
D
Just live to the head of the repo okay, perfect.
B
Yeah yeah- and I mean I get something we'll need to figure out eventually is if we're gonna like.
Actually, you know slap a real domain on that, but yeah, oh uh right, because right now it's it's a netify address.
D
um Yes, all right, adding a note.
Thank you see.
There was something else.
C
For the landscape, I think it's like landscape.cd.foundation or something like that.
Okay, let me bring it up.
E
This was the whole branding discussion that we were going to have wasn't that.
Oh.
B
Yes, it is the bread, you're you're right, terry, yes,.
D
Yeah we need a yeah, we need a tracy or a designate to continue that discussion.
uh Where is the landscape.
E
There, as an engineer I'm having to do an awful lot of marketing stuff at the moment,.
D
Yeah, so it's landscape, dot, cd dot foundation so probably like best practices, dot, cd foundation or something like that. um But let's okay capturing the note.
D
Okay, note is captured, good call out.
D
Anything else employees prs future css tweaks got help us uh branding.
D
Participant manager license management.
D
Well, something else comes up, throw the question into the chat and.
E
Feel free to ping me on friday, if you need to prepare on anything.
D
uh Sure that would be great uh if I can get to it early enough.
D
Oh damn, all right, okay, maybe I'll start thursday night and then drop you a bunch of of questions.
If I have them and then.
F
We can async it well, I I've got.
I've got a.
E
A us um time zone meeting on saturday morning at about 3 a.m.
So oh.
D
That's just rude.
That means they're.
On the u.s side.
That's like five o'clock.
No yeah wait, five, seven!
What what are we at night?
What's it eight hours right now, nine hours for difference.
E
Well, it's a it's!
A it's upon you ass meeting, so there'll be people from pretty much every time zone in it.
D
Gotcha, I'm sorry strong tea, strong tea or coffee, whatever your advice of choices, okay, cool, um all right!
Well, thank you!
Everyone, god!
I feel like we're just about there, at least for for phase one of the of the content, and then I'm sure it will get really exciting when we start trying to tweak it for for look and feel.
But you know one step at a time: it's fantastic uh and then nicola.
D
um We should chat with jan um about the google right, the the google versions of things to go along with uh uh anne marie and uh who was who's the uh who's that other guy who's been kicking around here blocking on his name.
D
uh There was a couple of other sort of proprietary cool uh goat.
Was it gopinath?
I forget anyway, but we can start getting the the vendor specific stuff examples in there, which I think will be kind of cool.
D
Good all right awesome all right.
Well, thank you.
Everyone welcome to the week go forth, survive.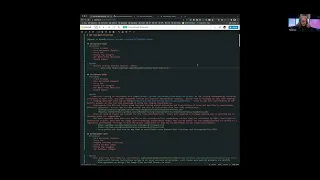 ►