A
Second, till close to the window.
C
Oh, we got a nice background.
There.
A
I'm just too lazy to to remove the green screen.
C
I use the web client, so I can't really have it blurred.
So I'm very limited in background settings.
A
Yeah, I was, I spent half of the weekend uh configuring my work setup. uh Well, it still could be better, but at least it works.
C
You're not on mcdonald's right now, at least.
A
No, it's my phone.
You were.
C
There, the other day, the.
C
I wish it was mcdonald's.
C
Or some other place outside yeah should we expect someone else to join or should we get started?
I guess we can start.
C
Let me share my screen, maybe so andrea.
I know you will not stay for long.
C
It's your first week to go when you need to: let's see if you can share my screen.
C
Yeah, I believe you see it now.
C
So great welcome um second to last meeting this year.
I believe, uh add yourselves, I've let myself later on.
So we have some action items.
Maybe we should start with those, then andrea, you're still waiting for response.
I guess on the domain id or is there anything new there?
B
Dive into the sbdx for several things, so um I will be getting immersed in in that and I'll be able to share what I find uh here shortly.
C
That's good no rush, I guess so far, uh and the proposal is done now and it's already also merged, as I think you've seen on slack in other channels. So we're now a formal project for cva events.
B
Yeah the one comment that we had was: um we should start thinking about a roadmap.
B
And what basically, what we want to accomplish next year is kind of the way I I view it.
A
Yeah and uh what we will need uh to answer soon is what we want uh to accomplish uh by kubecon and then by cdecon.
So it's basically my engine, because this you can use force events if you have something done by them.
C
Let's see, I believe I used the wrong speakers just a second.
C
Again, my keyboard clapping a lot now I think it's better.
Is it.
E
Perfect, when you don't type.
C
I guess otherwise you can tell me so uh the roadmap. Should we initiate some action on that then uh we haven't really maybe have some kind of embryon or read me for the sig events, but not really.
B
I think we have all the ideas.
I think we just need to pull them together in one place.
um I we should probably just start a road map mark down and start adding our ideas to it.
B
And I don't know if we want to do that as a hack, md or if we should do that as a markdown in the repo and and just to start a discussion around it.
I don't know, what's going to be easier.
C
Is it only me or is there some problem with md, it seems like I'm going offline all the time.
A
I'm sure I definitely experience limited bandwidth right now, so maybe it's something global.
C
If it's something on the black md server or is it built bandwidth and other basis as well.
B
Yeah, I'm not trying to type in uh update it, so I can't tell.
C
What's happening, at least for.
C
So yeah, so I believe we should actually have a camera document first to get started quickly, or maybe a google docs, but whatever yeah.
B
Either one, but I think that should be our starting point.
E
Yeah, I do agree.
Maybe uh how can the or google easier to um you have to contribute.
C
In the beginning to commenting in google docs, maybe.
D
You can do you can comment on hacked md, also yeah.
D
Thought about, if you use hacking, if the final format is going to be a markdown, then.
D
Be easier because then it can translate easier.
Should it.
C
Be marked down in the end.
B
Yeah, I think, in the repo we should have a road map that uh markdown is our would be one of the products that we produce.
B
So let's go with hackdown md.
C
Is anyone willing to start up the roadmap then.
B
And, like I said, I think we have we, we have a pretty good idea of what we want to do.
It's just scattered about.
E
Just create the markdown.
C
Make an empty document and have a title: yeah.
E
But I have to plan for it because I don't know.
C
So moving on uh tracy, yep, yep.
C
It's so strange now, jumping back and forth, or it actually is all like here's.
The latest update on this on this ap this.
Actually, yes,.
A
Okay, so for online meetup, uh yes, on confirm that we can host it on zoom and currently I'm setting up a prototype for baby, which is basically coming into linux foundation..
A
I started for proof of concept for captain, but once we verify it, I will be able to create a cdf one in just a few minutes.
C
Yes, yeah yeah yeah, so but it's not yet in the calendar.
Yet I guess then.
A
Yes, it's not in calendar because well so I tried to reaching out to very much.
I didn't get a response, I'm not sure whether she joins tvc meetings anymore.
I haven't seen here for quite a while, but yeah in the worst case.
We just self-host.
C
Set a separate financial.
A
Meeting yeah so for me how it works uh as I seek events, we agree when this event happens and basically with we hosted and branded this the cdf meetup, but it's me or gorilla hosting it or maybe somebody else with permissions, but ultimately what we need.
We need speakers once we have speakers, I think we will be able to handle hosts.
F
So, oh, like I guess what you're saying is we we just need to figure out who wants to do this presentation?
We.
F
Deploy how we can we we can host, we can.
uh I can schedule the uh a a webinar.
We've got webinar software to do that with.
A
So you can schedule, I have access, has access tracy have luck access to so we definitely have someone who will be able to host it but yeah.
What we're missing is actually presenters right now.
So we have a lot of candidates, but we need to agree on the date and who would be presented.
F
Yeah, so I think what we need to do to present this, as I know, andrea, has been, has been working on a poc.
We really need to show the poc.
C
That was done right in the cube con meeting.
Andrea already, you know.
C
And the more that's the same could be maybe for the first time, so you can reuse it even for this one as well, but are we.
C
Two-Hour event, or how long is this event to be looking for.
F
You don't want to go more than an hour an hour.
B
And and half hour seems to be.
F
Half hour a half hour presentation and 15 minutes of questions, you know you want to try to get it done wrapped up within 45 minutes.
B
That way, people can kind of view it during lunch time and things like that.
B
And we'll have to find figure out from the cd foundation how they plan to redistribute uh the presentation. You know because we'll probably get maybe 10 to 20 people um live on it, but then we'll pick up another 500 post uh presentation, so we just got to figure out from the cd foundation if they're doing any um social media around it and if they're doing anything like on the youtube channel or you know how they are able to get out. uh You know what we do out to everybody.
A
Some things uh a no-brainer, so definitely we will get help with social media posts uh same for cdf youtube. uh It might be worth discussing uh things like newsletter, so maybe special newsletters, let's say one tickton on jenkins graduation.
A
So if you want to do a special newsletter on cd events, then it's something we need to discuss with roxanne, jacqueline and others, because it requires significant amount of content.
It can be just one blog post.
We need a bit more.
A
Also, if you get the cdf involved, most likely founding members of cdf event seek, should rather provide some statements for posting and yeah.
I think.
F
So, in terms of the content, though, if we go back to speakers, do you think andrea would do his?
I could repeat the presentation he did at kubecon.
E
Yeah for the plc I'm happy to redo it anytime.
That's why I didn't.
F
Know you were there yeah?
We thought you were dropping off yeah.
F
You have that if we could just redo that, because not everybody saw it right.
E
Sure I mean the poc: is there it's it's working, so we can.
We can show it again anytime and of course, as soon as we have more content, more newer version of that we can.
You know iterate.
F
When, in terms of the time frame, when do we think that um we're going to get uh proper approval for the project, that's done.
A
It's officially effective december 1st.
F
Oh well, that's exciting.
We should get a.
We should have a press release go out.
F
January, okay, yeah yeah, yeah, okay, so if we push it out and if we we should do the we should do it all roll it out. At the same time, we should roll out the announcement and have a date and a structure for the for the webinar.
B
I would say shoot for mid-january.
F
Well, I'm so I'm wondering if we should, if do you think we would want to try to do this through the cd online meetups meetup, or do you want to try to do it just uh on its own?
Well,.
B
That's what that's, what oleg was saying, we're gonna try to do it through the cdf first, if we don't hear back from anybody like kareem has gone quiet.
A
Cdf because yeah I have access um so in the worst case I will just get it hosted.
F
Yeah exactly and not worry about doing it through the meetup.
C
Monthly or something sorry, I.
F
But there there's nobody.
C
I mean seriously don't collide with other planned meetups at the same time, or something like that or very close okay.
A
There are not so many meetups scheduled, so it doesn't seem like a big problem right now,.
C
Yeah should we start planning for it and then, instead of data right an hour.
F
Well, that's what it takes that you know here we are we're at the I mean december is marching forward here um I feel like we should get a date scheduled and make it just you know find out if they can host it for that date and if they can't, as I like said we'll just post it independent.
A
Well, it will be still cdf metaphor: it's just right yeah, because how many cdf ambassadors do we have on this call six of six right, something like that.
I'm.
F
Not I'm not an ambassador but yeah.
F
Ambassadors here that could take it on.
B
So I say we look for the third week of january.
C
um For some reason, I can't update to meet the minutes or meetings anymore.
This I can't be documented.
I guess you still.
Oh now I wrote somewhere else.
B
Hack md has taken over your uh mouse yeah the virus.
F
So how about the 19th of january.
A
I think we need to create a doodle, because we need a andrea who dropped, I believe by now yeah um boss, stephen of course, somebody to host, preferably the rest of the events, seek.
F
Cara is not here. Maybe we can ask uh her to do a doodle. I can send her an email right now.
A
Well, I can just create it.
Okay, I don't know so.
F
Yeah and generally um it's better to do it before noon, eastern or western uh pacific.
A
Time so everyone uh from the sikh is either in europe or in america's right.
Yes, yeah.
A
Yeah, so it will be something between let's say, 3 pm utc to 6 pm utc.
So it's not a big crunch anyway.
F
I think that sounds right.
Yes, as long as it's not too early for the pacific coast,.
C
So is someone able to use sakami in a good way now, then you can maybe take over the sharingans.
A
uh I can't share well somebody.
G
Sorry for joining a bit late, um as I just mentioned there on the the my name- is jamie player from fidelity investments.
I was just working with cara about getting more involved in the sick, so I hope you don't mind me joining the call.
A
So is everyone fun with mcdonald?
Do you want to have preview.
C
That's right: that's fine!.
A
I like to create a phone.
C
So we said andrea could also provide his presentation right.
Maybe we should.
B
Yeah the google group has been created.
Oh sorry, yeah.
That's.
A
Fine, it was just the kitchen cup yeah.
B
Okay, so that one's done- and I.
C
Haven't heard anything on twitter.
B
Twitter account, so I would imagine that the the tweet deck should be done.
A
It is some additional steps, uh but yeah it's just a couple of minutes.
It's a cd underscore events right.
B
It's going to jump from that to like a million in a week.
C
There I consolidated the comments we had uh and pasted them two weeks or something uh so far.
I think if you open the link, I don't think we have got any comments or any feedback from there.
A
I think so I guess at some point we just need to make a call what we take.
C
Yeah, but I think tracy wrote there just now a few days ago.
A
Yeah, so when I was doing my presentations, I was I did a few presentations internally.
I did a presentation on the continuous delivery foundation.
Recently I was actually using this logo, uh but yeah.
It was disclaimer that it's not official at the moment.
B
The last thing we're waiting on was the stacked version.
A
Okay, let's just need to wait for the for you, then.
Yes,.
C
Okay and then about the code of conduct, steve.
B
That's still on my to-do list I'll, I will get it taken care of it's not a big deal.
A
And yeah regarding uh governance, indeed,.
C
Yeah we have a holy quest.
Can you give them.
C
This is a copy of the text.
A
Maybe one comment: uh does it really have to be in spec or maybe it should be in dot github.
B
um Yeah I just learned about that uh last week, where, if you create the dot dot, get repo the dot git repo is shared across any repository uh in the organization.
So it's an easy way to create a single place and have so you don't have to like repeat um the code of conduct, everything uh the license across all the repos.
If you create a dot, get reap dot, get repo.
It was.
B
um Like side effect of github.
A
Yeah, so I'm just showing an example which enabled for captain recently, so basically you can inject all the metadata and all the repositories will pick it up.
For example, code of conduct security metadata also licensed in this case, complete contributing guidelines.
Then you can add a profile.
So basically it's just a small landing here.
You can use so pretty much like personal profiles and uh another useful thing is issue templates, because you can basically create the same issue template for the repositories.
A
So, for example, here it's just if you open any repository.
A
It will be like that, so there are templates for bug reports for feature requests for documentation.
Also, there is a reported security vulnerability which comes from security metadata, so it opens the security policy which is just redirect in this case and last but not least, we added a metadata which points to captain slack for discussions.
A
So we have to enable something like that in the repositories.
B
Yeah, I think we should um definitely do that. uh Do a the dot github repo, uh with all the shared document, instead of doing it in, like you, said, spec and.
D
But the question is: does government fit into the github repo.
B
uh Yeah, what happens is the um it just enables you if you end up in the spec repo, you want to look at how that's the governance is it?
It's all points to the shared location.
C
So should we have the same governance for all projects or repositories in the organization, then?
Is that what we're saying or is it for the spec?
We should have a governance model.
B
No you'd have a governance for the whole, a single governance for the whole um for all the repos.
You don't want to have different different governance guidelines between different repos that'll, get too confusing.
A
Yeah we have such uh case and jenkins.
So in jenkins, we have sub projects which technically have separate governance, but yeah.
I wouldn't say that even in jenkins, we use it actively.
A
So just a simple global ripple would make total sense.
For me.
B
So if you could comment on andrea's pull request.
B
And just uh that we should so there's a couple things in this pull request, one.
It still says tekton.
B
And then we should have it be placed in a github repo, so it shared.
D
So just so, I think that the reason that we placed it there was that the cloud events have their governance in this creeper.
B
Well, it'll still show up in the in the spec repo.
That's the nice thing about having the dot github repo is.
It ends up being a shared.
B
So if you go, if if we go and create another repository, we don't have to go and copy the um any documents into that repository.
They're all point to the shared area: that's the nice thing.
A
About it yeah, it's not the case with governance md, because currently it's not the official metadata by github.
A
So well, you can just create governance, md and point it to github, or you can put the link in readme, but yeah.
B
Well and then a wire there line one likely.
B
Line one, it says, tectonis of cd events.
A
Perfect yeah I'll change the keyboard, because currently I have two and this one is apparently very loud.
A
This one is much better right.
B
Stealth mode with that keyboard.
A
uh Okay, so I guess this is it for with this command.
C
Yeah so then those are the action points then, and then just an administrative discussion.
What about meetings over christmas and new year's the next meeting is december 20th.
I guess we will have that one as as planned, no other thoughts from anyone.
C
But then the question is on january 3rd: do people work then, or should we cancel or move that meeting or I have planned to be on vacation at least then, but I'm not sure how the rest of you do.
B
Yeah we're um for the artelius project, we're canceling everything for the last two weeks of the year so um also.
C
On december 20th that night.
B
Yeah, so I would definitely.
B
The the 28th obviously, and maybe the the third cancel those two the 20th would be up in the air.
C
So it looks like andrea will be off also on january 3rd and december 28th, so.
C
I would vote for canceling those two but keeping the december 20th.
C
I guess you proposed that them.
C
So next meeting is december 20th and then we have two weeks off.
C
Yeah you can share those two like them.
A
Yeah, so basically, big update, which we already discussed, is that effective december 1st um the decision on city events uh is made.
So city events is incubating project.
Within the continuous delivery foundation, there is still a lot of logistics that needs to be done in terms of website updates, whatever, whatever whatever but uh formally it's a part of the continuous delivery foundation.
Now so congrats everyone.
B
Yeah, thank you and we'll start uh working on the onboarding process.
B
So things like uh the zoom meetings and stuff like that, if they needed, I think this is a cd foundation.
Zoom account right that we're using okay, so that doesn't need to move.
um I think, there's a oh like wasn't there something with the repository where we have to add like the linux foundation as and.
A
So I would say it's still not a mandatory requirement because it's not clear what exactly is expected as tracy to share documents with expectations, but I still don't have for guidance generally.
It's just adding another github account as owner of the github organization, but there is no documentation explaining who is behind this github account.
So basically, if you have any private information, then okay, it's a bit tricky.
B
Yeah, I would say, since we're we don't have a lot of private, any private information that.
B
Probably adopt that I'll look at the list of onboarding.
A
So some actions actually need steps from the cdf, for example.
I still have no idea how cd.foundation website is managed, but, for example, we still don't have shipwright listed on this website, so yeah it's something that needs section from caro, tracy or jacqueline, I believe, and for the rest, we can do the most of the things on the cdf against six side.
C
Perspective, everything is set up done for the seed events project.
B
Yeah we just have to go through like the onboarding.
B
And that's kind of a work in progress on this, the cdf side as well, so we're gonna.
C
So how do you started at work steven.
B
I think we have most of it covered, so it's not going to be a big deal to wrap up a few loose ends.
B
I was small thinking who would who would do the wrap-up?
Oh I can.
I can do that.
You can add that as an action item for me, okay and.
C
Of course reach out, if you need some, it better happen.
A
Yeah, who is taking care of the roadmap file or whatever.
B
uh That was andrea, created.
B
He did his party created his empty file, so he's done.
A
The media file is fine.
I personally prefer github issues or whatever, because it's kind of at least moving in this case, because uh markdown files tend to become obsolete but yeah.
It's just a style preference.
C
It will end up in a github pull request, of course, sooner or later.
A
Okay, so good the next one is second reputability.
C
Yeah we normally just take input from whatever happened on the last sig meeting there for sure there was a meeting about this earlier presentation about this.
uh What's it called six store six store right, which could potentially be valuable as input?
C
It's a lot about encrypting data and decrypting it on the other side.
C
And managing the artifacts that you build as well.
C
Directly, we should maybe look into matthias here.
D
I mean it could be that we could look into because six story handles a lot of signatures.
D
um So, for example, if you want to sign packages and so on, you need to have keys or certificates and that's what it's trying to handle like, has the free uh certificate chains and so on uh open source.
D
uh So basically it could be interesting to see if you want to sign our events that we might want to use six store.
For that.
That's the only thing I got from that presentation.
C
Yeah- and I think in due time, we should look into that, but maybe no rush right now. We should focus on setting up the project and focusing on the presentations we have for the project setup first and also, of course, make sure we continue with the vocabulary, discussions and continue the draft.
C
uh Best practices- I haven't, heard anything from any recent meeting there unless anyone else has to go on.
C
We have vocabulary meeting last week and we actually just discussed a bit of the the setup of the project there, as well, just as everywhere else.
C
So I guess we'll come to whatever we were discussing there in the coming sections of the agenda, so the protocol is there.
If you want to go later on to it.
Maybe so I think we can move on to the product setup, which we have already started to discuss quite a lot.
C
Yeah, so just for information, if you were not on the vocabulary meeting the first two there go to contact the markdown link.
There are merged currently to the spec ripple, if you have any doubts or ideas and, of course, provide issues for requests on those and then andrea also created a imported.
The draft spec, yes, a pull request.
C
We said on the caregiver meeting we should have some.
uh We should mark it clearly in there that it's actually not ready for implementation yet, but it's a draft draft or something I'm not sure if andrea updated the readme after the meeting.
But that's what we said last about that one and he also created a primary binding pull request where it's supposed to describe how we can bind our protocol to the cloud events spec.
C
So that's it's more information, maybe on this sikh meeting, but someone would be good if someone looked into that as well.
Of course to describe it.
C
But let's maybe move on to the bootstrap governance, which is more interesting, maybe for us here.
C
So I'm not sure if we have speed enough in this work now and if we have the focus we should have in this crew, I mean now when they sig meetings, everyone just joins, who has the time to join and is able to join?
C
I'm not sure if, if we would need a more dedicated group of people to actually set up the the needed governance and bootstrap stuff preparing for elections and so on for a real committee, what do you think.
B
I think we should um hold off on just go with the bootstrap until next year and then, when we get a fresh start after the new years that we could start focusing on our more formal governance, I think we'll get more people engaged at that point, especially after we had the uh you know, the press release and the meet up, and things like that. We may get a few more people uh to join in.
C
So we just continue as we do now, and try to deal with the items on our regular meetings.
C
Turn off, of course, there is a link there that was shared also on the recovery meeting on the open telemetry charter for handling the governance just for reference.
C
Andrea pasted the text on one in this in the pull request, but there's another one.
There we got on the meeting as reference as well.
If we want to compare them.
C
um Yeah the next question- I guess that's for later then as well.
What will happen with this?
Given scoop, I guess I mean we will continue at least for now.
uh So let's take that discussion later on.
C
uh Other things update our readme, it's an old thing we should do. I guess we can also wait with that one until we really have some more details in this cd events organization and in the representative, so we can refer to the fresh stuff.
B
Through the onboarding checklist, I'll, we'll probably have to update the readme with the some additional information. So um I think.
C
That's where you know the news in the newspaper right, not the reading of our old, our current cigarettes.
C
Right yeah, true, so of course, we need to strip out the information from there, maybe an end reference instead to the cd event organization.
C
But that's also a bit dependent on what will happen with the sig events group when we have the cd events committee in place and so on.
C
So it's not a rush there either, but is there anything else we should move then from the sig events projects and get up to to the new organization.
uh We are moving.
The the spec.
C
I'm not sure what else we need to move.
I mean we have discussions, of course, which are still in the city foundation organization.
This events, repo.
C
Yeah we can, we can keep them until further notice, I guess, but we should of course, eventually merge them as well or remove them as well to the seedlings organization.
C
Maybe that's something we should rush now either about a landscape.
Maybe that could be a bit interesting to to look into where we should play cd events and what things should be called in the landscape.
C
So cara has made a proposal on a observability and analysis category in the landscape.
That's a 203 pull request the next one.
C
uh This was the next one, actually that one is about adding the cd events as a its own, it's referenced from there as well, but anyway. So if you first go to the category pull request, where carlos proposed um do this, I think if she pasted a picture of it in the discussion part, if you go back.
C
Yeah, it's a bit easier to read so there you have it um so uh was it even further down it should be.
C
That one here so the category is proposed to be observability, analysis and analysis and subcategory tracing and messaging, and there we have eiffel and we have uh open telemetry and what is the third one there can't you read it number uh and the proposal is to see the events there as well, then does that sound reasonable to all of you or what do you think?
It's of course hard to to categorize things.
B
I I think, that's a good starting point.
I mean you can always if we have a new category that pops up, that makes more sense, we can always move it, but I think that's a good landing planning spot for us now.
C
Should we make a statement in the poll requester and cara's full request that we think this is a good idea, so kitchen can be progressed.
B
Yeah we should sign up and let her know that we're good with that.
A
Okay, I can do it like that.
A
Any objections or might use jamie.
E
Okay, something like that.
C
Then, if we take the other pull request, one driver they're about the actual, adding of the cd events uh to the landscape.
A
One one: nine six um yeah one night.
C
So there are some things missing there.
Of course the logo is missing and we need.
We need that.
uh But one thing that I had a question about is the crunch base entry.
C
Should we have a crunch base entry for the seed events organization or or should we refer to it as cd foundation? Or what would you think would be the crown space here.
A
I don't think that even jenkins has any crunch-based reference here.
B
Is usually for companies.
C
I think it was sorry, maybe it didn't yeah.
B
It was so yes, so you're just so.
What happens in the landscape is a crunch base?
Entry is required, but for projects that don't have it, we just roll it up to the cd foundation as the reference.
C
Sounds reasonable, so that's what we do with that on them.
Yep.
B
So that's the easy way out: yeah.
C
So what else do we miss?
Then?
Maybe that's the only thing actually, except for the logo, of course, and I guess we really need the logo.
Otherwise we can't have anything in there.
I don't.
C
The risk is always, if you publish it, that people will assume it's it's the final one, even though you the point.
C
You like right now, but we have it really, there's, no, not one that we I mean there are several ideas on improving all of them together, we're combining them.
B
Hold off on the the logo for uh see what happens next week, or so with uh the artwork.
C
Yeah but I can add the crunch base part of this to this commit.
D
I guess also we'd like to use the stacked version here, or am I wrong great.
C
Great, so the version we have right now is broad or it's wide so.
C
We should probably wait for that.
One.
A
Okay, yes, anything else on the landscape.
A
So then, new updates on cd events artwork, I believe we discussed it.
Did your mail account for cd events.
C
Yeah we we wrote that thing two weeks ago, I'm not sure if we need a specific gmail account.
I think we talked about if we need it for youtube or something like that, but probably not or if we should have it for our own calendar or something.
But I guess we can go with a cd foundation.
A
So for calendar you can create a calendar to without having an account.
So basically anyone can create a shared calendar as a few owners, and you have a shared calendar.
You do this for jenkins same for youtube.
You can just create a shared channel um so when you possibly need an account, for example, if you need google drive, uh if you need email for contacts etc, then it makes sense to create a google account, but maybe in this case it makes sense to consider having a google workspace yeah.
C
I believe you're a bit limited in the youtube account if you haven't really a proper gmail account admin right for it.
I mean you, you can be with admin on a youtube channel, but you there are some limitations to what you can do, even though you're not being if you're, not really.
If you don't really have the account itself, I believe I'm not going to.
B
Yeah and what we've done for ortillius is we've created a gmail account that basically, only the people that are doing administration need to know, and it's not like a public uh email address.
It's just for configuration of some of these platforms.
C
Okay, I was like let's stop that for now at least, we assume there's nothing enough.
A
We have a gmail account for captain in this case.
We use it mostly for scheduling, because we have cleanly connected to this account so that anyone as a user can schedule a session to discuss something about captain and another use case.
Is google drive whether it's reasonable enough?
I'm not sure.
C
No, but we do not need it for now at least good thanks.
A
Here's probably one of his cases when you could use a google account.
A
But google group does the job as well.
C
So I'm not sure we need that now either uh I've got a google group.
Could google, the owner of a twitter account then or yes, no, it's just for they come okay.
B
But yeah it's basically any email, but I think.
B
You know that would be like a case for the the gmail email address instead of the google group, because then anybody in the group could have access to the twitter account things like that and usually like with twitter.
You have to go through like a single sign-on and I don't think the google group will get you everything that you need when you do, that single sign-on process right.
C
Okay, I believe we could drop that for now as well.
C
So, let's move on to the meetups uh the first time as I can see there is it's still not called for participation in the csudb room.
A
Because there was a call created on penta bars the problem that, if I understand the situation correctly, they still haven't officially announced their rooms on fosdem website and hence they cannot publish official call for papers.
A
But they, if you look in the park, it's actually up.
C
Yeah, the rooms are there and there is the news from 30th of november, except the developer rooms, and there you have all the developer rooms and some.
C
Very to the right there, some of them have called for participation, but not the cicd one.
A
uh Maybe you saw this from missed it as well. I will follow up.
C
But it's quite a tight schedule for proposing sorry.
A
Okay, I will pick organizers.
C
So last week, kind of gabrielle meeting and eric and andrea volunteered to have a talk, and I guess they will more or less repeat also the cube contract that andrea had for a bit altered, of course, but the same content.
A
So yeah, I guess it's quite.
A
With events right now yeah, maybe I will be doing a week- talk on continuous delivery foundation at the devops this geneva, so it's february 6th, to 7th and of if I do it. uh Of course, city events will be mentioned, but I don't anticipate a kind of heavy discussion about the project today, unless somebody else plans to join the conference- and it actually happens- which is also not clear right now-.
C
Which dates did you say was.
A
It the same as austin, then uh yeah, it's well.
It's not fosdem.
It's just a week after foster just a few days after so for them is five to six ability for four to five and then the next days devops.
This genus starts.
C
Do you think we should be there as well or.
A
Don't think it will be something major yeah.
A
Likely that david will be cancelled all together with the current trends yeah.
So if it happens, I will go there.
uh It's cbf, ambassador or whatever so trace is the gold sponsor.
So for me, it's reasonable to go regardless, so I will see how I could promote the foundation matches there.
C
So, regarding the rest of the agenda, I don't really have anything more to to mention unless anyone else has.
I was just a bit interesting jamie to get your reflections on this.
Your first meeting here, yeah.
G
Just observing yeah, no um I've been working with cara on the background for some time and fidelity where very much interested in standardizing um our our eventing predominantly around cloud events. I'm I'm work for the when the central devops teams within fidelity, um I'm working on uh sort of pipeline intelligence initiative where we're going to be leveraging um the cloud events standard very heavily.
G
So um it's it's just wanted to get more involved, see where I can help influence and um very much work focused on jenkins core, and I noticed there's some plug-in projects there so looking, maybe to contribute back into that and again follow following the vocabulary language to date.
So it's just really to first of all.
Introduce myself definitely want to get we're very much focused on open source and fidelity as well.
So definitely want to get more involved from the community aspect.
G
So I can provide more detail, maybe in a later session, or something like that around the projects that we're doing, but um that's pretty much my um to date, but um it seems like it's a timely, timely time with the project getting full swing so.
G
I hope I can um you more benefit than today than I have been, but it's just really to introduce myself and um very excited with the work you guys are doing.
C
Any time, and also in the discussions, uh we have quite some discussions in the vocabulary on the vocabulary: topics they are in this industry foundation organization in github, under the sig events report.
Still, so, if you go with it, you can see lots of discussions and please involve yourself if there's any topic, you're specifically interested in there.
G
We'll do a meal.
Thank you.
Yeah.
G
More than happy to just provide more context, what we're doing and standardizing the whole devops tool chain and some of the work just be involved during yeah gathering signal intelligence and beyond yeah.
C
Sounds good, okay, so we're out of time.
I need more final words from anyone.
C
No okay, so let's keep in touch next time.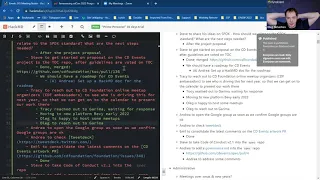 ►