A
Hello emil, I can't hear you.
B
And do I hear you, I might look.
B
Us um just a second now I think I can hear you.
C
Can you hear us now?
Yes, yes, great all.
B
I'm switching uh switching gears, I mean I'm just installing a new microphone and speaker.
That's why?
B
Okay, so we're three people here who couldn't join.
I think uh mauricio couldn't join right and neither andreas and.
B
I love this one.
Okay, it's been some time since rugby was here.
A
Yeah he has a conflict.
I wonder um if we should send a survey, maybe.
B
Yeah, that could maybe be a good.
A
Idea if there is a better time, but there is also an overlap, what happens with the best practices.
B
ah Sake is still no one up there hmm this that we changed the schedule from twice a month right every second week to twice a month.
Maybe it wasn't such a good decision after all, and so it might be so that we should go back to having actually every second week unless the best practices equal, we'll join the same schedule as we do.
C
We could send a call on that.
I guess but wasn't the best products to say supposed to be on.
Second and.
B
Fourth yeah: we ask them to change to that, but apparently they haven't yet and maybe maybe they won't.
I don't know.
A
Yeah, it says on their readme that it's on the second and um it says, but.
D
The character doesn't play here.
A
Yeah the calendar is no so.
A
I I will check, um I mean I can ping christy, maybe later after the meeting and ask her directly yeah.
B
And here we are canada as well. uh I cannot tracy great.
D
Hey guys, hey tracy thanks.
B
So kenneth is a new guy from from erickson actually who we just got to know about today and he might join these meetings. uh We'll see.
E
Fabulous the more the merrier.
D
Yeah great, let's see great welcome.
B
Should we wait for someone else or.
A
I I think it's four past yeah.
B
Let's get started and get started.
Who is in this best practice?
I think by the way is it I think maurice says that right if we should ping someone or you should tell us, let's say you should think christie, maybe.
A
Yeah, I think well, we can ask maurice as well I mean mauricio was going to follow up on this already the best practices.
I don't know the latest update.
We can ask him directly as.
B
So they had their last meeting 8th of march according to the the meetings minutes in best practices.
E
Right that sounds: does that sound right.
B
I don't know I, maybe it's not pushed to get something that could be, but I came to your document says the same.
B
Okay, whatever, let's focus on rc.
B
So andrea, you did some of this to the agenda recently right.
The template.
A
Yes, I I put a template in.
um We can use it for the um for these meetings.
It's uh yes just action point from last week updates for the sake updates from the work streams and then, depending on the day.
There is anything to talk about in terms of media conferences, not post any presentation that might happen and any pr design discussion.
A
Just if this feels like something is missing, please let me know you can add to the template.
B
Yeah sounds good, so I guess last time we we thought that we today would have a presentation from matthias on the the eiffel protocol with the event linking and other related topics.
But that's that's really.
The on the next meeting is that it's postponed the next location.
So we don't have that presentation today.
So the agenda for today is, I guess, quite thin.
B
um Let's go through it.
A
Do you do you want to share the I can d document email or should I do.
B
Yeah, I can share it if you like this one people want.
Maybe kenneth doesn't have the link.
E
Yeah, I just added the link to the chat.
B
So I guess you see my sharing now.
Do you.
B
Sure wait, maybe I'm not able to share through the web client that I'm using.
We see your.
E
Screen yeah, we see your screen here.
B
Okay, yeah, it's great.
I thought there was a problem, though I think it was some other day, but now it might work good.
B
So I don't believe you had an eight piece from from last meeting.
Did we let's see here.
B
Any action points ah this one.
This is an old one which I believe was brought out.
Maybe you know tracy.
If this was brought up on a tlc meeting a while ago, we talked about licenses, I think it was stated there in the meeting minutes.
I saw you.
E
Know it it was steve, steve taylor chatted with him about it.
I don't recall what the uh what the discussion, uh what was really discussed to be honest, but I do think steve.
Taylor probably knows what license that the toc was thinking about.
Unfortunately, he has a customer call right now, but I can ask him to send an email or update this doc.
E
If there was a decision on it.
B
Yeah, let's see if we have the ah this is not updated, there's another.
They have another meeting in its right now.
B
I was trying to search, but I did something.
B
Here, oh yeah, you were there as well until this goes straight.
A
Yes, um try to remember as well if you came to any conclusion, but I.
A
I remember we erased that the question.
A
I didn't remember at any conclusion.
E
I don't remember if there was a conclusion.
E
I was looking at the last toc.
um Let me look at the.
E
Yeah, let me let me pull up the.
E
What did it say?
Let's see.
E
So I would have been on the march 30th right, probably.
A
I think so uh I think it was the last one.
E
I don't see anything from.
B
Easy there maybe was related to.
E
Just says uh yeah, it says any um any guy from the linux foundation, any osi approved license is okay.
E
That's all they say, and then they um do say that for clas, if we have code artifacts, uh we could we. We could name them and move them to a dedicated repo under under cla checks.
E
I don't know if we're going to get to that, though, we could, though, right.
A
um Yeah, I think so I think eventually yeah. It would be good to to get like uh a name for a protocol and get a dns name allocated, um so we can use it in our events as well.
A
So we could have a repo with a website that pointing to the specification but yeah so we're still early days.
I remember now another thing that was discussed as a distinction between specification and standard.
A
um So I guess the point was that if, as long as we do a specification.
A
It's it's relatively straightforward.
A
If you were to do some really some standard and apply for this being recognized by iso things like that, then it's much more complex the process.
It's not something that we considered at all.
B
And I guess before we go there, we should consider this spd-x extension, for example, or other similar initiatives that exists.
B
Yeah, so I guess it's a bit premature, maybe to to decide on something here now for the licensing, and I guess what we do now I mean we only create drafts and we discuss things on github.
We discuss it of course publicly and I'm not sure.
If what we discussed there is considered something that we should have licenses for those documents, those working documents that we have but before I guess we release anything on this protocol.
We should of course make sure it's licensed correctly and so on.
B
Or does anyone think there's urgency an urgency to to decide on licensing.
E
Just from a course of putting things together, it feels like, if we have this stuff sorted out, we can just move forward in the direction that we feel we need to as opposed to going back and revisiting.
E
So I I feel like it makes sense, just go ahead and just make an assumption that we want to license this.
E
I know the dynatrace folks are pretty excited about this sig, I'm sorry that nobody's on the call from dyna to trace today, but you know we have some potential to work with them to bring over uh parts of captain, possibly so I feel like if we have the.
If we have.
This are kind of our ducks in a row, it'll be easier to move.
E
I think the work we're doing on definitions and um you know the protocol.
I think we should have under a license to be honest,.
B
So how could we go about selling that then.
E
I guess we just have to decide on a license.
Yeah.
E
Them you know, I've looked at licenses so many times and I absolutely hate this project.
When I was on the eclipse foundation, we spent over a year writing the um the the eclipse license uh and there's so many out there.
I wish the toc.
Maybe we could just ask the toc to suggest one.
B
Yeah, so we go back to the tc again then and say we don't just want to use annie.
Please say which we.
E
Yeah we to take the easy way out.
I wonder what captain is running under.
E
That's what uh apache ii is what um artilleus is under.
B
An iphone is also under apache.
A
Let me check with captain license it's apache too.
It's about you too.
Why.
E
I think we should do that.
Maybe we should just put it out there and make sure everybody on this.
um Do we do do we have a mailing list for this yeah?
We do.
E
It out and say this is what we're thinking about using um please.
Maybe we can start a discussion on it.
Where is we do have discussions?
E
I think that folks from dynatrace would be if, if captain's under apache 2, we should be fine, then I would think, unless I'm not understanding anything about the apache 2 license it's the most open.
A
It's rather permissive yeah.
B
I guess it would be possible to change to another license later on if we, even if we would go for that budget, you know.
E
Before we actually, if we had a product that we were going to release, um we if we changed it, then, but I'm guessing that apache 2 is going to be fine.
B
Yeah.
Okay, so let's assume that, but it's good that we should maybe uh present it on the media, still say that we intend to do this.
E
Yeah, please let us know if we're making the wrong decision tell us why.
E
And you know email you probably can bring it up at the toc uh the next call and find out.
If anybody there has any concerns about that, it doesn't.
B
Meeting is that tomorrow, or is it next week?
B
What is nowadays so maybe I can see it in the agenda.
E
It is next, it's the 27th.
B
Okay, so they run every second week, then not the same cadence as we do.
E
Lucky, for you right actually hand handy to have on the alternating weeks.
E
And then I didn't, I wasn't here uh two weeks ago because I had a conflict.
um How how are we doing did we get?
Have we got anything?
I haven't looked at the uh our doctor shared document in a while.
B
The meeting two weeks ago was canceled due to the holidays.
E
Well, maybe that's why we don't have anything for a month right.
E
Okay, but I didn't miss anything, I don't feel.
E
Okay and I have just a on a site on a side note, I have joined the cncf's app delivery, sig, trying to uh kind of listen in on what they're working on and they're, not they're, really working on right now, the definition of an application um which fits far more into the ortilius realm than anything else that we do because it's like is infrastructure part of the application.
What's an application package in a native environment, it's no longer an msi.
What is it?
E
Those are the kinds of uh discussions they're having, but I'm still, I'm still I've still joined it so I'll. uh So I can try to cross-pollinate between us and what they're doing.
E
And that is uh what has spawned the get op sig.
E
So I'm trying to keep uh on top of what is happening on the cncf side of the house with.
E
It's great, but, to be honest, the captain has a much captain fits better now into this event sig than anywhere else, so I don't think they're going to try moving anything over.
E
Think that dyna trace is eager to work with us in defining.
You know the protocols uh defining the you know the structure and potentially bringing over uh parts of kept in if they can.
B
Great, uh so what about andrea, bringing it to the toc as well? Should we add that, as an ap, then.
B
Yeah, exactly if you will be there or see, if I will be there, I could take it as well.
Of course, I'm not trying.
E
And I know I'm bouncing and I tend to do that emily.
You said you thought we needed to come up with a name, um a name for a potential uh platform or whatever we're calling it.
E
Did oh, what are you guys thinking?
um What are you thinking in the long term where this is going to go?
Do you think we'll have like a a listener or a control plane?
Is that what we want to do?
I'm just curious.
B
I think primarily, we should have a protocol definition a protocol itself and that the protocol should have a name.
I guess, but I also assume that we have some kind of ecosystem around it, with some tools sending and receiving those events, and maybe even other tools as well around it.
A
Have sdks or something right.
A
I mean at the transport level if you are transported by cloud events, uh we, you can already use the code events sdks to generate events and receive events, um but you might want to have a higher higher layer or higher level of sdk on top to make it easier to produce events or receive events that are compliant with what we define.
B
uh I don't know if it's time now, but we had on the interoperability last week you were there, I guess most of you.
uh We talked about this spd-x metadata specification or standard.
That is there and we should consider if, if this event protocol that we intend to provide should use should be kind of, it should be based on spdx somehow or should should be an extensions spdx or the metadata part of it exists and not the vocabulary or the I don't know.
B
Then of course, this pdx doesn't talk too much about events as such, maybe but but the data data items.
E
Yes uh and I hate to push it off to steve, but he has been pretty involved in working with spdx because we're starting to um integrate with that from the ortillius open source side, they're going to start bringing that data in and aggregating it up at an application level based on a collection of uh services.
E
So I think he'll have some.
He has been working with it, so I think he'll have and cyclone.
I think cyclone is what we're actually going to integrate with to get the spdx information.
But um I think he'll have some insights in how if there is something that we should be doing with spdx, certainly uh you know we can make it easier for people to integrate or have an event that calls spdx.
That would be really good because I don't think most people running builds right now are thinking about s-bombs too much, but in.
E
What that's, where the gap is, it's just not sexy.
You know, s-bombs are critical, but, to be honest, are pretty freaking boring unless you're weird and you like, put seeing all that data which is kind of what I've always done.
A
Yeah yeah, I think, we'll have to see whether it's something that we want to include natively in the protocol, or it could be one of the attachment types to have this spdx information.
When you do a build and send an event, I don't know the build is finished.
What do you want to do?
You want to have the uh bill of materials attached as part of the events or you want to have a link to do it so that it can be downloaded or something like that.
E
And I um I think that I think her name is kate.
Stewart uh would be uh pretty open to helping uh pull together some kind of an event stream for spdx.
If we chose to go that direction.
B
Yeah and I think we could of course, probably leverage from what they already have in there, and I mean if we would be made an extension somehow to to the spx standard.
We will have get it out for free, I guess, but we will also be maybe limited to what we could do a bit, but anyway, we shouldn't of course forget about that option.
So we need to consider that in some way and someone should in some way investigate it further how we should proceed with spdx.
E
I'm gonna, I'm gonna volunteer steve for doing that, because I know his head's already in it he's.
E
So he'll have a pretty strong understanding.
I think, since he's already.
E
Hands in it sounds perfect.
C
I know that uh last time to build the sig uh katie has talked about that they were gonna, do in 3.0, uh work, something they call pedigree, and provence and pedigree sounded more like precisely in this area that we're doing so. I took a look at their notes, trying to figure out more of it, but it sounded like they haven't, really started anything there yet, uh but it would be kind of good to see if we can link into their discussion about it and see what they're thinking if we can use anything there for free.
C
Yeah, that sounds very good.
C
But for my understanding.
E
I haven't yeah and can't remember the pedigree was the ownership and the province was uh the life cycle or where it's where it's at?
E
Is that what they were looking at?
I remember the two lines, but now I don't remember how she was describing them.
B
I think the category was more the the build and test than delivery process within a production pipeline or whatever we call it.
I.
B
The whole see I see, I see the life cycle more or less in some sense, for one level at least for one product or application or whatever we call it.
B
I didn't really get to the my head around exactly what what were the borders of this pedigree definition.
E
I thought I had it when she was talking about it then now you ask, I don't remember, I must have committed it to short-term memory, but I know one of them.
I was like, oh that's something that's in the life cycle.
That might be something that we want to be thinking about for events and that's as far as I got, and I know that one was ownership.
C
I pasted the link to her presentation and nice.
C
uh It's that page or the next one where they talk about pedigree programs.
E
There's a lot of work that went into this powerpoint.
B
So, which page is it this?
Is it's nice.
C
um It should be 43 and 44.
A
Yeah and forty five two and forty six, there are a few slides.
B
So this is the period and that's all this, which is.
C
Development releases, pedigree and uh upstream and downstream, and so on, that is providence.
B
What do you think's the tracer that steve can can cover for us in this discussions or maybe even be part of?
If there would be a pedigree group working group set up?
Do you think he could join there or.
E
I I think that he, I think, because he's already got his head into it- he's a good candidate to do that.
B
But maybe we should be two people there.
If we have possibility.
E
Probably will start uh depending on his time requirements I he he may start checking out on this particular sig or project.
However,.
B
Let's not push it on him, but we can ask him next time he's here: yeah.
E
Like I said, he's got his head into it, so you know he's working with it for tilia, so he's just a good candidate as a resource for it and we're.
E
Meet with her, we have a meeting with her coming up sometime next week to chat about uh sbdx and ortillius and ortelius.
Storing some of this because remember ortelius is just a massive we're: a data hoard, we're storing data, we're starting metadata about deployments and that's why he's been working with it initially to find to add to that, to that data store.
B
Okay, are we done with the uh guess so on the dictionary work stream?
I don't know if there are we we had a very short meeting.
B
Was it two weeks ago, uh very few people ended up there um wouldn't really say much more than uh that.
At that meeting people hadn't had the time to to work on any of the github discussions that were put up and neither on the pull requests.
So there wasn't much to discuss actually in the meeting.
I believe I remember so.
B
The meeting ended very very quickly.
There is a new one tomorrow, every day.
B
So we'll see people have been able to do something.
C
Oh sorry, come on.
No, there we go.
Did you see that eric asked the question on slack?
He had to start a discussion on how to take decisions in a vocabulary.
Group.
C
I can paste it in the chat.
E
It looks like there's quite a bit.
We still still have still a lot a long way to go.
I'm looking at the discussion.
E
Compared to what we have in our dock, there's a lot still there's a lot, still open a lot of work to do, which is good.
B
So I don't know if we should discuss that decision point here.
The discussion, but I guess my take on it- is that we we could in that work group could make some some easy uh decisions and then but then they need to be based.
I sort of present it to the sig, I guess and if, if needed, then it can of course be reverted, but we shouldn't stop the vocabulary group from progressing proceeding by putting a strong process on them.
B
I believe for now, but then, when the protocol is more formal, maybe- and there is whatever maybe at the edition out or whatever, then we might need to have more controlled decision setting for us or something.
C
I wonder about say: yeah continuing tracy.
E
I was gonna say: do you think we need to just come up with a a date that we want to um have a first draft of this.
So everybody knows that we have we're working towards an end goal just for our first draft that maybe we could then present.
B
Yeah, that would be great if we could come up with such a date.
I can't really say it of course depends a lot on on how many volunteer resources there are to do it.
Of course,.
E
Which means we may need to reach out to some folks and see if they'd be willing to participate in the discussion.
B
And dedicate some of their time to it as well.
B
Because I mean personally, I have a very hard time prioritizing the this work, but.
E
Hey you know your policy discussion.
You got a lot of good feedback on that when we pushed it.
E
And we do have member companies who oftentimes don't know how to get involved in some of this stuff.
E
So I can um why don't I make?
Why don't I do this?
Why don't I send as the cdf board member rep, let me send out to the general member the problem with the general member list.
Is that a lot of marketing people on it, but I can send out to the general member list of uh a a description of what we're working on and what kind of help we're looking for.
E
Let's see if we get any takers there, maybe there may be folks from harness that would get involved.
I think there's might be folks from ops that we get involved um love to get some folks from snake involved.
We don't see them hardly in anything, so I I we can do that and see.
If we can't get some more conversation around this, I think it'll make a.
uh I think, we'll be in a better uh place.
If we do do that, if we can get some more voices in it.
B
Out to more people, of course, sure why not I.
E
I do that, what uh what link should I send to them? um Should I, if I look at the vocabulary, where is the vocabulary.
A
So I think you can send them a link to what we have written until now, which is I just put it in the chat?
Okay.
A
Well, maybe you can start sorry with this yep.
B
I'll say: introduction.
A
And then you could link, I mean all the open discussions that we have are in here in the discussions is.
A
It should be yeah yeah, okay,.
E
All right, I will send him that and the um and the discussions.
E
And I think we could also, um we can also ask uh roxanne to push it out on the um on twitter.
That tends to get more feedback and, of course, we can put it on on slack.
We can put on the general channel on slack.
E
So let me push it out in a few places I'll do that today.
A
All right, thanks, tracy.
A
Good yeah, I think, with the with the early days as well, we slow down a bit, so hopefully we can start getting back to the discussion within this group as well.
I I had a talk to prepare as well, um so yeah.
There are things getting in in the way of making more progress, but I think we did make progress so hopefully we can continue.
If we get more contribution, that's even.
A
Something that I wanted to mention is that, from the meeting we had in the dictionary meeting we had think was on the 23rd, um so the one yeah before this is some action points to create some github discussions and not all of them are done yet, but yeah, a good amount of them are done, but there's still some pending.
A
So we we we give more discussions uh like the 4k specific one or the one about deployments and version.
Analysts brought up.
C
Four keys is created now, oh, I just did it before or an hour ago, or something.
A
Oh, that's great I'll mark it in the thanks.
Matey.
A
Sorry, I didn't mean to pick on you just just for the list.
C
Yeah, I noticed that you linked to the uh github version of it, not the hack md, so you couldn't click on those links, but.
A
um One, let me put the I can d link in there.
A
I can decide I'm basing right now.
B
This is showing my document, though,.
B
Is there a discussion topic to link to matthias or.
B
Is I can add it if you want to, it seems most of the other ones are, have the discussion linked to them so.
C
Yeah then I should add.
It's also.
A
Okay, I guess I'll probably die with a workstation update.
A
Yep, okay, um yeah!
I can take next session um so for me type conferences.
I just put here link.
uh We will have a virtual header and ap cdcon.
A
So thanks tracy for submitting.
E
Yeah I turned into birds of a feather, but that's okay, they're, going to still advertise it kind of the same way instead of a panel they're just going to call it a buff.
B
Yeah, I guess we called for both.
I mean you get.
Yes, you requested a panel tracy right and then me and andrea said the same time requested about that.
E
Yeah, I'm not sure why they did that because, but I haven't been on the cd planning meetings, because I know they only have certain number of buffs they're going to give out.
But apparently they wanted to give the sigs buffs, and so they asked if we could do the buff instead of the panel yeah.
B
I think that there's no drawback is it I mean we could.
um The belt could still be kind of a panel if we would like to.
E
That's exactly why they thought it would be.
The difference will be the folks who the difference will be it'll, be.
E
Record it ahead of time, so we can still set up questions to sort of stimulate, thought and conversation which I'm happy to do.
We can still treat it like that, but everybody will be in be able to to chat and ask questions and it'll be much more interactive.
A
Okay, do we want to some discussion um about this in the next meeting, or do we want to set up a dedicated chat or.
B
We should start looking into topics.
I think what we should do, what we should focus on on the buff.
E
I think yes, I think I think a good way to do.
That would be to come up with different um topics, and I can we can treat it like a panel.
I can ask the questions and try to push the conversation um if we want to you know, we've got some time here, but if we want to start a shared google doc and start just thinking about the questions that we want to ask ourselves so to speak, um and then on that day I can just basically work from the shared doc.
E
So let me just do that really fast here.
Let me just put a doc together here.
E
And then you can just put your name on it and say you know, here's the question that I think we should ask or the discussion we should.
E
I'll send a I'll send a link to um to everybody on this.
A
Thanks yeah, I guess uh the advantage, maybe being it above is that we can do the panel-like discussion.
We can have our answers, but also other people will be able to join in and we'll have, I think, two hours time slot.
So we can yeah.
E
We get a lot more time.
That's for sure that was.
E
Not a 30 minute panel anymore.
B
It seems looks like a 30-minute buff in the schedule.
A
Is it really oh, I thought it was.
E
Going to last for an hour: well, we got 30 minutes in.
A
Oh, that's right: where did they see?
Oh sorry, I.
E
I thought the boss for an hour.
Originally, they talked about them being an hour.
A
And checking the tecnon one, it's also off an hour now.
Maybe it was just a niche scheduled like longer one.
B
It's half an hour seems muslim.
B
Any other conferences there is the the one that fatty and cara will talk on the.
uh What is it the cube?
Come right, that's quite soon, I'm not sure have you seen if there is any event related talk on that conference.
E
There are, there are potential spa.
I know that there are stuff that the uh the day zero events at kubecon um there are still openings for that and I'm not sure what those day zero events, but kate was talking about something as well.
I thought on the spdx side.
E
So I I don't know off the top of my head, which ones that we should be looking at right.
B
We can look at it on the next meeting and see if we have anything we want to promote that. We should listen on into on the conference.
E
Yeah tomorrow, I have my afternoon blocked off to look at submitting some stuff to kubecon.
If I pull together, some cfps I'll send that email out to you guys as well.
E
Maybe we can think about it because they happen really fairly quickly.
I think the kubecon we should try to.
I think we should submit something to kubecon, I'm not sure what.
B
You mean kubecon in the autumn, then the north america cubecon, is so.
E
Yeah, that's, I think that that closes in maybe the beginning of may.
E
So we should submit something for that.
E
I don't know if we should submit a panel or if we should have one of you submit something.
um I really don't know I've.
Never I've never been successful at getting talks accepted at kubecon, but that doesn't mean we wouldn't be able to it just means I haven't been able to so I don't know what we should.
The reason why I phrase it.
That way is because, since I have not been successful, I don't.
I can't even think what we would pitch unless we just have um kubecon's not until october.
E
If we try to get our if we say we want to have our initial draft of our vocabulary done by um end of third quarter, that that gives us quite a bit of time. um We could present the the first draft of the vocabulary and that might get accepted.
E
I don't think I'm the person that should be presenting that, though,.
E
One of you guys want to step up and potentially submit a talk for kubecon.
A
um Sure, well we can discuss. I mean I could do that I usually submit to kubecon, but we can talk to mauricio as well to make this interesting or well.
E
So it closes sunday may 23rd.
A
Do you have a link to this e.
E
Here I'll send this off.
I just dug it up.
E
I mean we could make it easy. I could submit the same panel discussion that we did for cdcon, but I think just one of us presenting the results of the vocabulary.
E
Work we've done will probably be one.
That's going to be have a better chance to get accepted, but I don't.
A
I'm just trying to look at the tracks and there is a ci cd truck.
E
And there, because captain is part of it, we could actually.
E
Potentially list that as one of the open source projects that we will be discussing, that sometimes gives us a little better chance to get in god.
They've got a lot of projects.
C
uh One thing with this uh kubecon is to say we will not select a submission that has already been presented as previous cncf4 linux foundation event within the last year.
C
If your submission is similar to previous talk, please include information.
Now this version will be different.
E
Well, we will not, since we've only been we'll, only have a bit of buff, we'll have no have done no talk so.
E
Because it's not until we're you know we're talking about october.
We should have a pretty decent um vocabulary by then.
You would.
A
Think yeah, I think so I mean, though, for sure there would be something to be discussed back to where.
A
I mean we might have some demo as well too.
That's what I would be hoping for if we managed to set up some poc based on this protocol.
That would be something interesting to present, especially if we do that with one of the project that is in the scene under the cncf.
A
That would be a good, a good submit for sure.
B
Yeah, I agree it could be hard to say now already if we submit something now and say that we will have it but sure we might have it or we can present whatever we have at that time.
E
I think we'll have something by then.
E
But if we're going to do it, we got to get it submitted because we can't er well, we can.
We have a month to get.
A
I think there is a month, so we could still discuss it uh next next meeting, maybe also with a wider audience and let's see if we want to do, we want to try the panel what we want to do. We can have multiple submissions as well, so I mean we can try to have a few, and hopefully one of them will be accepted so that we we get some kind of representation from the group.
A
Okay, uh I think we only have three minutes left all right, so if there is anything that we missed the discussion, otherwise maybe we could close it here for today.
A
All right, um oh this one something I wanted to mention so as I've seen um gabe is her name she's on vacation, so hopefully, when she's back we'll get some updates about the recording from this meetings.
A
So all these meetings have been are being recorded, but they're not available on youtube yet, but they will be um and also the older ones.
B
Okay yeah, so thanks all.
B
Some of you tomorrow, maybe the vocabulary meeting and the rest in two weeks.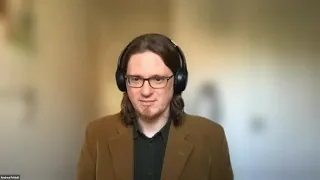 ►