B
I got a very well thing.
Thank you.
A
Good good, I'm glad I'm glad it's just two of us on this call for right now, because actually I want to ask you um more about tecton and specifically uh text on and get offs, and this is something that maybe I need to uh I'll message you more about it, but um in all likelihood, what's happening now is I'll, be doing a course um I'll be on the cdf side of it.
There'll be a course on get ups between the cncf and cdf and for our cdf projects.
I think an exemplary project would be taxon.
A
Sound like so, I need to find out a little and you're my you're, probably the person I know the most who works uh on tact on, so I figure you're my lead into this, but I should um I'll probably need to liaise a bit if we choose to time with the titan community around some, maybe best practices before using tecton forget ups.
Things like that.
Does this.
Does this sound.
B
Let me think so: in in tact on itself taken community itself, um I mean tacticon tends to be quite non-opinionated, while ddops is definitely an opinionated way of doing things yeah. So we don't have anything specifically for like githubs in tecton, but you certainly can use tekton for doing githubs or combined with githubs um yeah. I think the uh the open shift folks, so that's uh that there is a techno distribution on openshift, which is called openshift pipelines and if I'm not mistaken, they have some github's component there.
B
But I need to check.
I don't want to.
I can check on this and let you know if there is anything we could use for this kind of content.
A
Okay, that's great that thank you very much um yeah I I mostly became familiar with get ups through using jenkins x and jenkins x was using tecton as its engine.
Basically, so I and I realized.
A
Is a very opinionated tool on top of the tactile, um so yeah.
B
Yeah, I guess that's, that's another.
That's another option to to go the junkie next round.
A
Yeah, except I was, I was chatting with anchor and he said that um jenkins x was a little bit, uh maybe wasn't entirely compliant for for for get ups.
There was this.
I think the cncf has an entire get ups working group.
I obviously need to become more familiar with what they're doing there.
A
They're maybe becoming quite quite prescriptive on on best practices, so.
B
Yeah, because, but either way I mean you will need something on top of tekken to implement like okay, specific githubs patterns.
I think okay, because I mean tecton itself doesn't um yeah, doesn't do anything specific for for githubs today, okay, so.
B
Kind of give you the building tools, building blocks that you can use to build a githubs type of approach, but yeah.
So it can be a little bit of a long shot.
A
Yeah, okay, that's good that clarifies a lot.
Thank you.
A
So how is everything with cd events.
B
Seems to be very quiet today, but yeah, no, it's um holiday season. I guess no, but yeah working on the spec working on um the pse for metrics, the one we presented at the um yeah, cdcon or kind of on slides trying to make it happen.
B
um Yeah we say we submit a talk with eric for the open source summit in in ireland about this this um this plc and it was accepted so definitely want to have it up and running by then.
A
Good congratulations!
Nice and these metrics are they?
um Are you building off of the door metrics or is it.
B
Yeah yeah, that's that's pretty much so I I trying to set up a communication channel with the four ps team as well yeah, um so that yeah, hopefully we can collaborate on this um yeah, but I mean eventually I would like to collaborate with them and for sure I mean if it happens in time.
For, for this talk, that's great.
Otherwise we can do it in apparently anyways.
A
Nice good all good plans.
B
What's what else?
No, I think these are the main things.
At least I mean we've been trying to narrow down the scope with 0.1, make sure we agree and what we want before we can make a 000 is and yeah this poc for metrics is part of it, so that is.
B
We need to keep moving on and yeah.
We left um fidelity folks coming to the siege events, doing a presentation at some point uh this summer, hopefully.
A
Yeah that was yeah a lot of back and forth on that, so are they?
Are they now lined up for a time to come and speak.
B
There are two two dates um um still open waiting for announcement yeah. I should follow up on that.
A
Yeah they're good fit.
I mean they're, definitely interested and doing very similar things and yeah.
A
Really really good so um for the metrics talk and then is it or 1.0.
A
um Are you working on the python? Sdk then is that is that sort of.
B
Yeah I mean I would hope to be able to use a python sdk I've not been working on it myself, but but um yeah I was going to I mean if eric was here I mean, do you have any? Do you play enough uh doing anything on that.
A
I I I would love to just because I would love to be.
uh I would love to be contributing and then I would also like to be writing again by then.
um I now that I'm working on this get up thing.
I don't and there's one or two other things.
A
I don't know what my bandwidth is, and I I also I'm finding out more this week about what this uh getups course will entail, um both both overall and then also splitting it with the cncf.
A
um So as I have more clarity on that I'll kind of know what my bandwidth is but yeah I do miss, do you miss writing, quite fun, and- and I I would like to contribute like it's kind of hard to be involved and not actually continue.
You know so yeah.
B
uh If you have time to to contribute, of course, yes very.
A
Welcome but all right, thank you.
B
um Yeah, I I know eric wanted to just to spend some cycles on that, but I know he started, but not seen much more scenes.
So we need to sink and see.
um Yeah would be good.
I used to do titan as well so wouldn't mind doing some yeah.
B
More python, again yeah, so um yeah.
B
Yeah, it looks like none of the other folks who I mean emily is on holiday.
B
Okay, um yeah.
We had a a good attendance.
We have this alternate meeting on the other every other week.
The.
A
Early, I mean for me: it's super early.
It's like a super.
B
Early one yeah yeah, yeah yeah.
A
And but that's nice for for asia, I'm sure is it for asia and europe to yeah.
B
So we had good attendance there.
A
Yeah yeah um and how is it going with well I'll speak for you later actually um yeah nice good.
I'm glad, I'm glad that that meet-up is great.
I probably won't be able to make that meeting because 86 in the morning for me so I'll have to watch it online.
B
Okay, you're still in the u.s right.
A
Yes, yes right now, and I might, I might indeed be for a bit and then I might um move back to europe, because the u.s is a lot crazy right now, but uh yeah we'll see it's nice to see family so.
B
Yeah well, a prime minister is signed here, so it's the.
A
Prime minister, oh wait has he resigned because I I heard he resigned and then it was like well, he hasn't.
Actually, he said he would well.
B
Yeah yeah he's still there, but at least until they started the race for the new leader of the party and.
A
He's just hiding in a closet, hoping he can stay it's time to go.
Yeah yeah, that's funny times.
B
Yeah all right good to see you cara.
A
Yeah good to see you on there have a have a good rest of your day.
Thank you and.
A
I'll ping, you about um tectonic get up stuff, yeah.
B
Yeah yeah, absolutely okay!
Thank you!
Okay, let's chat about it later, bye.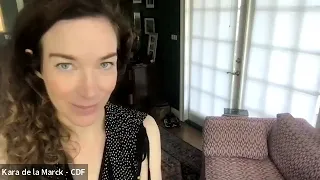 ►