A
Hi all good to see you again after the break.
um Welcome adam.
I think you're new to this meeting.
A
Yep, you can present yourself a bit later.
A
So, let's see if we got any things slack from anyone, no.
D
I spoke to andrea before the meeting he was in another meeting.
Then I'm not sure if he's planning to join or not, but he might be a bit late.
I guess.
D
Okay, do you think we should wait for him or uh no, I don't know if he will join, but if he does join he might be a bit late.
So let's just start.
A
Okay, so let's get going, um I don't know.
I haven't prepared anything for for this meeting and a specific topic to talk about so uh I'll.
Try to wrap my head up once yeah.
A
But if you have anything eric, you can start.
D
No uh uh though what me and andre are working on is the four stem presentation which needs to be recorded and uploaded by next monday.
So that's the current focus uh and there are some some some things that might be interesting to get feedback on.
I don't need to walk through the whole presentation with you.
I think that will be a waste of your time, but some some things that could be discussed- maybe um I think one is- is what from a cd events uh project perspective, so.
A
Sorry, sorry before you continue, maybe we should just introduce adam since oh.
E
Yes, sorry, yes, it would be good.
A
So uh well, we can have a round table as well for adam but adam. You can start just telling us who you are and what your your intention is joining us.
B
So I'm adam, I'm just a graduate developer for um est um and I just joined the ctel team to work on mostly spinnaker and I'm working with jillander and fatty.
If he's oh he's not here right now, but yeah, that's pretty much it for now, I'm pretty new to uh open source, and all of this so uh be patient with me.
If I don't know anything, I guess thank.
A
You you're you're, very welcome, so uh est is the company that fatty also works for the ericsson software technology. So aaron will be a developer in that company, helping out developing open source stuff.
A
And I see jill andre is here as well: hi delander welcome.
D
I think he's not in audio yet.
A
Yeah sounds like that and maybe then we should present ourselves.
We are some of us for the most of us, the usual suspects here, uh so I'm emil beckmark.
uh Both you are yolanda and adam.
You met me before I work very soon.
D
I can go next.
uh My name is eric.
I have worked for ericsson way back when, but now I work for a company called do while, and I specialize in continuous integration and continuous delivery.
E
uh Steve taylor, I'm with uh deploy hub and part of the ortillius open source project as well.
That's underneath the cd foundation.
C
They have italy, I work for ibm and I'm with the tecton project as well.
Under the city foundation,.
F
Yep uh go next matthias, uh working together with emily in erickson, uh open source.
A
Good and I think that was all right yeah- I can also mention that andrea and I are the ones uh sharing the the sig especially interest group, which this meeting belongs to that's the current status, at least okay. So now uh eric please go on and let's try.
D
No, as I mentioned andrea and I have been working on the presentation- and I think one thing that would be good to discuss a little bit is: what do we want the people who see the presentation to take away from it?
What should their key takeaways be?
D
I guess one obvious one is that that we would like more more people to join the effort, but it might be good to try to identify like what kind of people do we want to join the effort?
What what is our our biggest target, our main target there yeah, so we can say the right things.
D
So one thing I think that tracy has brought up.
This is yeah.
Basically, we need need people from the other big players in the continuous delivery area to help the line on on events, but I don't think we can just say say that in a presentation say we're mainly looking for people who are already in big continuous delivery projects because- and I don't think- that's necessarily the only truth either.
D
But that is one of the members that we would like to have.
I guess.
A
Yeah, just to frame the context a bit the foster conference is is stated to be by developers and for developers.
So it's it's mostly developers attending the conference.
It's not as much business owners or managers, so that kind of people it's it's mostly actually developers there and of course they could be in any any area.
The continuous integration community deployment or delivery is just one area, and I guess the the room there, the is it called dev room is, is called ci cd right.
Is it.
A
So the people attending that room is probably into city, at least in some sense.
D
Yeah right now, one of the big focuses of the presentation, or one of the underlying message is that using or when cd events is in place, uh there will be less work.
Writing a lot of glue code to make things fit together, because we will support that sort of or projects can use the cd event specification to support out of the box interoperability, so that should hopefully be appealing to to developers unless they are more found than I am of writing glue code.
A
I think you should push push on the term interoperability a bit as well, not just the events part but interpretability and arch and say that the events is one way to deal with interoperability.
D
Yeah, I saw andrea had a fantastic picture that I really liked from a previous presentation where there was a bunch of logos for different tools and they were differently colored differently, styled arrows everywhere, and that seemed like yeah.
It basically seemed like glue code.
In some sense, you have to do different things to make things fit together, and our message should be no.
We can actually, we can enable a future where you use one communication tech to make, but yeah uh it's a good point with pushing more for interoperability.
D
I think that goes where sorry very well, in line with the message as well.
E
So I was thinking that um we could almost kind of reach out to folks to find out what their cicd world looks like you know what what are all?
What's your diagram?
E
You know you know so because that would be one of the things that will really help us to narrow in when we start looking at the next events to do.
If we can find a a common area between different companies, cicd process that you know, maybe it's around the the build, for example, or maybe it's around uh deployments, or you know whatever that we can we if we can kind of collect.
E
You know a set of ci cicd diagrams that we can use that to kind of drive us in our use cases and what to tackle next.
D
That's a really good point and I think that could be appealing to some people as well too.
They don't have to commit to doing much work.
They just need to come to us and tell their story, and we will record it and take it forward.
That's a very good point.
E
Exactly record your story, you know that would be uh interesting and I know some folks won't want to divulge the company, because companies don't want to divulge how either bad they're doing or good they're doing because of different reasons.
But you know somehow, if we can make it more, allow them to be more generic.
C
It sounds like a very good idea, I'm wondering because it's virtual conference, it's a bit harder to interact with the audience, but maybe we could.
We could put like a google form or something in the chat in parallel.
C
As their recording is playing, we get, you know, put it out to the audience and say well.
D
Yeah, I think, just having like one question in that form: uh can you just list some of the tools that you use together and then get that gives us really good input for like okay, what what problems do or what?
What use cases do we have for different tools that that people need to have interoperable.
E
From the presentation point of view, kind of laying out what we're doing, what we're trying to achieve and what we need to be able to move to the next step and the to being able to move to the next step is gathering this information from folks.
A
Don't have to necessarily.
E
Gather that information on during the conference, but being able to get them directed to a place that we can get that.
A
Yeah exactly and I think uh making them push.
Information to us might be a bit hard if it's a very complicated form where they need to write a white paper or something of the use case.
So maybe it's better to that.
We pull the information from them.
uh So if we can more or less get some contact, just a name from them and mail address or whatever yeah.
A
Help us to then get their use cases we can reach out to them afterwards.
Instead.
D
What is your contact information and, and maybe just like list some of the tools that you work with together?
So we have at least some starting information.
D
We can even skip that part, but I think I have a feeling that people would be slightly more willing to give their contact information if we also asked at least one question that they thought was relevant.
Otherwise it would be like subscribing to a an anonymous email list and nobody wants to do that so, but yeah, it's a good point, make the form easy.
That's really good.
C
Do we run into any personal information handling nightmare if we start asking.
A
So maybe I shouldn't write it in in the chat or something they can use your contacts and just simply.
D
Yeah, that's a good point.
I think a form would be reasonably fine.
At least if we state like okay, we will.
We will delete this information after some point, I'm not sure yeah, but that's a good point.
We don't want to run run afoul of any groups or regulations.
A
I guess in those platforms there is often a way to contact the other people in the conference right if you're, somehow logged in to the conference, you can chat with the people in the conference without they them revealing any other contact information.
A
So as long as you have a name, I guess uh during the conference anyway, I guess it's possible to reach out to people in the conference.
E
Yeah yeah yeah conference communication in the conference shouldn't be a problem because everybody would have signed um the appropriate legal stuff.
A
I actually think for foster.
There is no registration required, so you might be able to lurk in on the presentations without even being registered anywhere.
So that might be one drawback.
If that's the case.
E
So let me share what we've we're working on with the artelius and our kind of flow diagram for our get-ups model.
So this is one of the things one of our folks is putting together.
It uses the diagrams.net um and it basically gives you the flow who's doing what um at that level.
E
So this is this gives us.
This is really detailed, because it's going into our design dock, but if we can get just even a high level of what people are doing, it will really help us understand the different steps that they're going through.
E
So we have captain argo and ortelius and github all kind of plumbed together uh at this level, uh and it's amazing how complicated get ups becomes at scale.
D
Yeah definitely scaling up really causes a whole different type of issues that that we don't see in the beginning of things.
A
Yeah, I think if people find your presentation interesting, they they will probably be interested in what is booking a follow-up session with one of us and one of them uh in a later time slot. uh So I hope that that should actually be the way forward here.
D
Yeah then we should offer that as a way forward as well.
So that's good, I think yeah.
E
And I think, like uh andrea was saying, maybe just a simple form, uh to kind of list what tools people are using um a google form.
Maybe we we pre-populate it and let people check you know which tools that they are having their ci cd pipeline, just as a starting point to collect some high level information.
E
And then you know we can then, like you, said, drive into some more detail.
It'd be great to be able to get get pictures of people's pipelines.
um If there's an easy way to do that, uh to understand what tools doing what in the pipeline.
E
I don't know how to gather that information.
D
Yeah yeah, that's something to think about.
I think from a timing perspective.
Since uh again the the recording has to be done by monday.
D
It might be that if we want a somewhat more complicated form, I think andrea and I are going to need some help to create that form.
I don't think we will necessarily have time to do it so either we we set the ambitions a bit more or lower, or we work together on it either way.
It's fine.
A
But I guess the form doesn't need to be there in on monday right.
So you can.
You can oh.
D
That's right: that's right to the forum.
A
During the conference, instead.
D
Yes, yes, that is true or we can create.
uh I guess we can create a short link that we can later re-point to something else.
That's a good point very good point.
E
Yeah, that sounds like a great idea.
D
Yeah then, um yes, so one takeaway that we want people to have done is what we've just talked about.
We want their input on on like what what the priorities for getting things to work together and how their flows look.
Are there any.
D
Key takeaways that we want people to to have from the presentation.
E
um Like you said at the beginning, uh working on the the glue you know, so one is getting the information uh about what people are doing then, second, is how we take that information and implement it in the event side, um and so it's kind of twofold one is fact more, the other ones like how do you contribute um in what are what are the different areas? You can contribute.
D
That's true because I mean at some point: we will need to have a whole bunch of different projects, adopt the cd event specification and actually both send and receive messages according to that specification, and that will, of course involve a whole bunch of different projects so yeah we can start to to try to infuse people into thinking in that direction as well.
E
So those would be the two main topics I would.
I would consider for the presentation.
Well, third topic is explain what it is.
What we're doing you know that would be so.
Those are kind of like the three high level bullet points, explain what we're doing, what we need from you and how you can contribute.
G
I'm just taking notes here.
C
All right, so it's what do we do?
Why do we do it and how to contribute?
Is that right.
E
uh What we do, what what we need from you.
C
Oh, what we need for you: okay,.
E
And then how to contribute.
C
Yeah yeah and I think, on the how to contribute, of course, if someone is available or willing to do it, uh I think we should mention that we are always open to presentations in the sick events.
I mean, if.
C
Willing to come and present their pipeline and say which tools they're using, which are the pain points.
C
That's for sure something helpful.
I think.
E
That could be a good um instead of people.
E
You know writing down what they do uh come give a.
You know basically come give us a demo of your pipeline.
E
And we'll do we'll do all the note-taking.
D
Yeah, definitely that could be an offer as well.
It might scare some people- or at least I know a whole bunch of people who are really not fond of coming into an unknown group and presenting stuff.
I used to be that way.
Myself perhaps still am, but some people will really enjoy it.
I think we can offer that as well.
E
Yeah- and I think um what we've found with like ortillius is, if you provide a um a calendar link to get on somebody's calendar to just to talk about um some just 15 minutes to talk about the project and and get some more one-on-one time.
I found that that works really well um and we use uh one.
It's called once hub.com and you can.
E
They have a product called schedule once which is free and basically it links your calendar to their site, and you can say you know in the mornings or afternoons I'm going to give a 15-minute time slot and people could go self-schedule.
D
Speaking of things like that, it would be good, I think, to update the see the events github repository readme, not reaper with me.
The organization read me to include contact information that is not already there.
I didn't really see it, but like come talk to us on slack or join the github discussion or whatever channel we want to have for people who just stumble onto the github project, because that link we will present in the presentation, and it would be good if that can be like the starting point for finding everything else.
D
Until we have the dot cd domain.
F
The communication that I blinked in the chat that we have on the in the uh cd foundation.
D
Yeah, so we should make sure there's a link from the cd events organization to that information.
I guess.
F
Sorry, andrea, I boarded you there.
C
No, no!
It's fine um I'll just going to ask whether it's from the org page and the readme that shows up in the org profile.
D
Yeah it's under this, like dot, github repo.
I think it's some magic yeah.
A
Yeah, so it's in the profile folder in the github directory.
I think I created the first version of that in the.
D
Another topic for this meeting: we don't have to be done with the presentation right now, but that I I think at least I would find a bit inspiring- is to say okay now we're in a new year.
So let's make some new plans and that it's always exciting to see like yeah.
D
We we mentioned last year that by say february some points we would like to have something in place so that we can go out more strongly to a wider audience, and I think we discussed a little bit what we wanted to have in place for that.
But I don't remember that much.
There were some use cases that we wanted to enable, I think, or at least have written down.
A
What's that all then for for the presentation, the first implementation, eric andrea.
D
I don't have any other things in mind.
Basically, the structure would be where they're already intended structure.
We will start with storytelling, then go on to introductions talk about what is continuous delivery events.
What is cd events, some use cases and then what cd events can do for you and the way forward and wrapping up with some key takeaways and questions.
D
That's the rough structure.
G
That should be quite a good thing, sounds great.
C
Maybe one question I mean we, I think we plan to show two use cases um and my idea would be to to maybe have um one use cases with this, which is specifically related to interoperability, between tools, so tool, x, y z, talking together and the other use case more about like collecting information consistently across different tools which are not necessarily talking to each other, like the the four keys or metrics type of use case.
If you will right.
A
Yeah, I think it's good to have those both both those points in the presentation makes sense.
uh It's only the first one.
I guess it's so well.
The first one is more about interoperability than the other one, but in some sense it's interoperability as well between a reporter environment or csd system and its metrics, collector or visualizer, or whatever, that's in some sense interpretability as well.
A
So will you exemplify with four keys specifically or will you make it more generic.
A
Is that maybe more for the cube con proposal?
You had her.
D
I guess for for kubecon it it's more likely that, since it is the the dora metric so to say for this one, I I don't have a strong opinion on it.
It might be easy, but we could also say that basically anything, but that we want to understand about what the system is doing or where we are in the catalog.
A
Maybe not too many are familiar with the four keys but nora.
Maybe people are anyway familiar with them.
A
Good should we move on.
A
I see someone pasted the link to the cdcon cfp.
E
Yeah, that was me I just.
E
That I came across and they are starting to open up uh call for papers on that.
It's like middle of february- or I think, is the the closing date, but.
A
January 28th, so if you want the first track to get accepted, uh it should be done by the end of january.
A
Yeah, of course, we should have some events, presentations and discussions there.
I saw that there was a.
They see, the event suspension as a project in focus or I guess all cdf projects are intended, but that city events which actually added there as well to the list, but that's good.
E
And I think we could reuse what we're um I don't think we're going to need to stray from what we just did. What we're planning to do for fosdem.
E
For another meeting um but looks like we're moving along pretty good.
A
Okay, good to talk to you see you on monday, maybe see you.
A
Bye bye, so in the link I pasted there, we can also see the the suggested topics and the project focus where cd events is mentioned as a project, that's quite good um yeah.
I guess we'll discuss that more on sig meetings as well, who wants to create presentations and attempt those things.
D
uh Is there work on going to add us to the projects list in the menu of the cd foundation webpage.
A
Yes, oh well, there is a ticket, the github ticket for it.
I can.
I found it right yesterday, yeah, I don't need to see it.
I just want to make sure someone is on top of it.
Oh well, I'm not sure anyone has to take it on the task to actually do it, but I saw that there is a ticket for it.
It was created by oleg.
C
Hopefully, once we finalize the logo.
A
Right so we can mention that as well, but we just today got a new proposal on the logo.
A
I think I pasted there now is just reference to that: the information to the cdf webpage and everything and about the logo.
It's this one.
A
So I see that eric has already voted on it and I as well.
So if you have an opinion on the what the dog should look like, please go there and have your say.
A
I think we should try to finalize these discussions quite soon.
D
Yeah, at least uh we will we'll want one logo to have in the presentation. We can pick the closest one that you think is going to win, but if we can settle it before, then that would of course be pretty nice as well.
A
Yes, I guess before monday it might be hard to actually have it.
Yeah.
D
So, that's not for that, but if we can have a little bit of more consensus or closer to consensus quite soon that way.
A
Yeah, I think you can maybe set it as a preliminary logo.
The.
G
You and I are top right, one yeah.
Let's do that.
A
Yeah, at least to me: that's that's good, I don't know andrea and matthias.
Have you looked into the proposals.
H
No I'm looking right now.
You said the top right one yeah.
I was hoping to see a stacked version which is.
A
Yeah, I assume that they will create the stacked version for us as soon as we have set along from the first version, maybe other.
I.
C
I I like the the third one on the right side just connected, but yeah the first one is also nice.
F
What is the difference between, in the first row, between the left and right hand.
D
There's slightly more distance between the the stem of the d and the start of the waves, I had to go across light to see it, but it's like a one or two pixels difference.
A
ah Yeah I had a hard time seeing that as well: okay, andrea, which one are you referring to.
C
On the third line, on the right hand, side.
C
The d is not as tall as on the top one and the waves connect to the c and the v.
C
Yeah, it's just as light preference for me, but I'm I would be perfectly happy with that top one as well.
D
uh My issue with the third er or to write to the third row is that that out the leftmost wave and the c they form together the side profile of a head to me.
You have the upper top of the head and then the ear at the bottom, which might be good or bad.
But that's the only thing I can see when I look at that combination.
C
Yes, he might be showing different things: different people, yeah.
D
But we did comment on that that initially we didn't want the d to be too long, but of the exist of the alternatives that we have right now.
My favorite is still the top right.
One.
A
um Also, as you said, andrea, I'm a bit curious to how a stacked version would look when the events, the text events is below the cd, what it would look like, really, if just to be all centered or how it will be so.
A
And sometimes I actually also understand that the d, the stem of the d, is quite high there, but yeah whatever.
C
Yeah, this is difficult because the.
C
The stem of the d is not in the middle of cde, because maybe a stacked version could just shorten events to e, and then you add c d e and then the wave and then it would look almost square.
But the stamp of the d is not in the middle, so it wouldn't be balanced.
A
I think we also requested a version with with just the cd and not the events at all.
I mean more or less just an icon without any, but the cd is there because it's part of the um so I think I see you andrea, did a comment in in the in the request earlier.
A
On having a way to have a very small logo, without any text really and to me that would be just the c and the d maybe similar to the cloud event.
Stroke.
D
It might end up being horribly unbalanced if we only have text to the right.
Sorry to the left of the stem of the d.
What I did just for for my own experimentation's sake is I kept the cd and I kept the e for events, but I made it bold and I also stretched it out a bit.
It doesn't look good to have a stretched e, but at least it balances the whole uh whole logo, so it doesn't tip over to one side.
I'm not sure if something clever can be done there in some way.
C
Yeah, yes, that's along the lines I was thinking, but shouldn't be too diffic different than from the full version.
A
Yeah, I also actually wanted the the radius or the the waves to be behind the text somehow this as in the third line there right, but I think it's a bit cleaner, the first row, the lower there is a bit cleaner to look at so.
A
Unless you have different colors, I guess on the right, the waves and the text, which would make it easier more standout.
A
Yeah, maybe we shouldn't spend more time on it here.
D
One tangentially related question not to the logo, but to see the events as a whole.
D
Will the plan for for the next couple of months be to have this meeting as a cd events, project meeting or by la city event spec meeting, I guess in some sense and to have the other meeting as a sig events meeting, or should we set up a different cd events project meeting as well?
Just so we don't so nothing forced between the chairs, as you say,.
A
Yeah, I think we at least said that the initial, like bootstrap committee for the cd events project will be the sig.
uh In some sense.
Maybe it should be for more formal with some persons allocated to it really not just me and andrea uh stairs or something, but some more people actually.
A
Was registered as bootstrap committee, but and then I'm not sure, maybe we continue with the sig meetings as the project meetings in some sense as well.
I think that's fine yeah and then the vocabulary meeting should still be the more technical.
A
So for the rest, it hasn't been there today, but uh where we discuss the protocol more in in detail, so we don't stop evolving the protocol at the same time, yeah, that's ask us, as we've seen today, it's it's very easy to take all the time to discuss smallest administrative things and.
D
We have most of the administrative things in place that we need for the project itself, so hopefully we can sort of switch back to more spec related work as well.
A
But it's a valid point, so we don't forget evolving.
The protocol.
A
So how can we come to consensus on the logo line?
If you just try to finalize that, maybe pasting our own shot sounds like a and then three fourteen look into it.
A
And then should we should aim to decide.
Finally, on monday, then, if one of the ones that we see today are okay or not,.
C
Can I make just a another suggestion for the for the logo?
I was looking at the waves on the first column and the third one.
Sorry, the third line.
First column.
C
Yeah, maybe that's better.
C
So this is: can you see my screen in my pointer yep, so this one has a smaller wave so that the d is not a stall and it has a different font, and I I like the font on this one.
C
So what about combining the two so having the the smaller a slightly thicker wave, but with this font so kind of combination of these two, this one and this one.
C
Which I guess maybe it's like this, but this has different colors.
D
I think it would be really interesting to see that, however, that would look and it could definitely be a contender, I think, as well uh yeah.
I think that it seemed like the the the designer would appreciate exactly what you're giving now like very concrete ideas and yeah take this.
Do this this this and this.
So if we can give them that they might be able to come back a bit quicker than last time,.
A
Yeah agrees: well, I'm not sure about the thickness there if the thickness of the waves should be the same thickness as the cd or the same thickness as events, but both could work fine.
I guess.
D
I I voted for, or I suggested, having one where the waves are thinner, just to see how that would work, but we maybe those two- can form the base of uh a new set of proposals that would allow us to take things even further and of course I mean uh we cannot always change the logo later.
It's not like we're going to print the thousand business cards tomorrow.
So it's it's reasonably easy to switch things out.
If it's just small small changes.
A
I guess a comment commentary regarding the balance between the the letters and and the waves and everything if we would go for the third line, the c there is more to the left of the the waves than the on the first line.
uh It.
A
Even more unbalanced, I'm afraid if we go for the third line right, yeah.
A
Maybe the waves could be a bit more less dense, yeah separate head apart a bit more separated on the third line, even though they are thick, they could still be a bit more separated, so people take more space and then maybe be all the way out to the left of the sea.
On the third line.
D
Do we know if, if the designer is using something like adobe illustrator or something like that to draw these logos, then we could get the source files because then we could at least mess around with things, and then we could give it back to the designer and say: can you do this, but professionally.
D
Because trying to move these things, it's a bit annoying because unless you have the separate components, it's quite hard to to mess with.
A
Yeah, I think it's a bit strange that we don't have the actual ticket that they are working on.
I guess they have some kind of ticket where they or some kind of repository where they actually store.
A
But maybe we don't have access to.
F
Should we put in some kind of example, for a stacked version, uh so they know what we're talking about.
F
Because it's pretty easy, I didn't know, I wanted to paste in the chat, but I realized you can't paste pictures in this chat, but you can basically, I took the top right one and just screened up the paint and removed some letters, and then I got a logo.
C
Could you piss it in the sig events like channel, maybe.
A
Okay, you can paste it in my candy right mathias and I came down. You can taste.
F
Oh yeah, I can do it.
That's true.
D
What's with the paste pictures there, oh nice, I didn't know that sounds fancy yeah.
So.
F
Now there is a picture there.
A
I'm not sure if we should have the e, I mean we use, we haven't so far at least abbreviated cd events with cde, I think, have we.
A
That such an abbreviation could be interpreted in multiple ways, but I agree that it makes it more symmetric if we keep the e yeah.
F
um Or I don't know if it's a good or bad idea, but um it wasn't one of the um ideas to be called evie or something.
A
Listening to the events was easier.
I think.
F
Yeah, because, uh if you're, if you remove mts from the from the end, you get cdb.
F
But basically, if you want something balanced, you would need to keep both these e and the v.
F
So maybe it's better to just to have your cdn events under if you want to do a stack from.
A
Otherwise, you would pronounce it c dev, maybe and not c, really, if you keep the v as well.
A
I was thinking that the waves there could symbolize the events themselves, so the cd and the waves.
What else makes it see the events.
A
So you don't need e there, but.
D
I wonder what happens in the stack logo if we just remove the waves on the right side of the d, so it the the right side of the logo is the stem of the d and then you have waves pointing left, and then you have the c under it, for I can try that myself.
It might work, but it might also not work.
A
It's not the broadcasting antenna anymore.
It's just unicast.
C
We could replace delivery for something which starts with b and then because them in the middle.
C
I'm going to come up with a good word that starts with b well.
A
What should we replace?
You mean?
I didn't follow.
A
Still think it's okay, you see it andrea.
F
Yeah, that's from one that I uh I was trying to do something, but I didn't manage there.
C
Right with events underneath, maybe there could be.
A
A left, the line that is, if you were left line, the c and the event e on the events, so the cd is just above events and not centered.
Did that make it?
I can.
A
Please here I'll just like push it.
F
And the uh that other one, where you remove half of the stuff.
F
The last one there was actually kind of interesting.
A
It's very stylish, in some sense, very clean.
F
Yeah and if we're supposed to follow, I know, there's been uh logos, redone and people have complained so much about them uh because they're so simple and but maybe as an icon and if you're, if you're having it small, then it might be easier having it very stylish.
A
Now you removed it, though.
F
Maybe eric is working on something else.
D
Yeah it got so big, I'm trying to make it smaller.
I don't know how to do it.
A
It's just a bit strange that all the the events just go to the left.
To me, that's a bit strange.
It sounds like we must likely just uh send events to history.
You know yeah.
I.
D
I absolutely see your point and I'm not proposing this.
I just wanted to see how it looks.
D
uh My colleagues suggested having uh yeah keeping the e making it the same size and and weight as the other letters to the left and then nudging it slightly to the right.
So it feels a bit more balanced.
I can give that a shot at some point to see how that would work, but.
G
It's it's going to be a bit hard to have the e like.
D
A little bit further away, people are really good at noticing those kerning issues.
A
And uh again, I'm not really sure what the cde would be. Then we should maybe start using that abbreviation as well somewhere or say that it's an official abbreviation.
D
Of cd events, people would think it's the one before cdf.
C
It's cde: you can make the a small jingle as well with the notes.
A
The jingle, how do you want to sing.
A
Okay, you mean like that yeah, like the notes.
A
Yeah, we should call the protocol door me instead and people don't understand at all what we mean.
They need to learn music history, music theory before they can understand what it means.
C
Okay, do you want to put some of these um ideas for a stacked version in the github issue as well?
C
Just see I mean, I think at least we.
uh We have a good feeling about this font and this uh color polite.
C
So exactly this is definitely the one we could have this proposal for stacked versions, and maybe we could yeah say yeah we're trying to to make this.
We, you know it doesn't look balanced, so maybe they have some idea on how to make it balanced.
F
Yeah uh I mean we could give like two of the versions, maybe the second and the last one or something and then say the second one is more fuller, but it's unbalanced and the last one feels more balanced.
But it's not.
A
It feels incomplete as well.
F
But I agree that the the big pro with the last one is the stylishness in it it's simple and stylish, and uh I think it would do a great deal as a icon, because it's so simple.
A
Yeah, I agree, but I also think that the second one could actually be almost as slightish or could be it's almost as clean.
A
I think we should request a bit shorter stem of the d anyway right.
C
Okay, um anyone do you want to consolidate this feedback um email, maybe on the ticket or.
A
I think matthias, you have these examples now, somewhere most of them.
F
Well, not really in hack, md,.
A
You didn't keep them.
Okay,.
A
But anyway, I can be responsible for making sure that we have those.
A
Might not be today, but tomorrow.
F
But then the question is ml.
For.
F
The uh landscape picture, and do you want to use one of them as preliminary one?
So we just have a logo and we can publish last picture or do we want to wait until we have the final version.
A
I think there's always a risk of publishing some imageware and people will start copying it and using it and whatever all over, not least the cdf themselves.
I think we'll start using this logo.
If they just get get get their hands on one of them preliminary, they will start using it, and then we will have a hard time updating all those sites later on with the correct logo, I'm afraid.
A
Is it such a rush to have it in the landscape, so we can't wait for the logo.
A
Maybe we can skip the logo in the landscape, but there's some automatic check that requests the logo to be there.
A
Then we should make it very visible that it's a preliminary toggle.
F
Or ask ask cara if she has some ideas around uh there's this routine from adding a perimeter logo.
A
I doubt that there is how.
F
Many it is to put like yeah, I don't know you could put the text preliminary over it.
A
No, I was thinking about that as well.
A
Yeah, I see we're out of time for today we spent the whole meeting or half of meeting discussing the logo, but it's a could sound useless, but I think it's quite important to have a good logo.
Actually I think it was worth it uh so okay, so I will uh note something about this in the issue tomorrow and if you have any more follow-up or if you don't agree or whatever you can comment on it and of course we should reach out in slack as well and pick here.
A
Maybe do it as well, unless you already did no, so I can do it on slack as well.
When I added the proposal.
A
Yeah, thank you and talk to you.
Thank you.
Everything yeah bye-bye, bye-bye see you bye.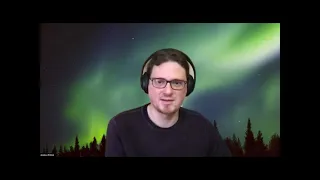 ►