A
Are you new to this group um yeah? I joined some some meetings back, okay, thanks third or fourth meeting now.
C
Okay, so I missed the last three or four meetings: okay, that explains you're with dynatrace right yeah, uh so you I've just seen you with sap.
C
Are you located in germany.
C
And are you working with steiner, trace.
C
Yeah you're a customer because I guess.
B
You are both from germany, yeah.
C
That's a little different.
B
Well, how is the you don't have uh current in germany or austria, yeah or.
A
In germany, we have a yeah lockdown light; they call it.
Okay,.
B
Heavier than swedish one, probably.
A
And I think in in austria it's even stricter than it is in germany at the moment,.
C
So we have a full lockdown right, so, oh, but for us it it works perfectly always out working in the home office.
E
Is that from your new house, you're sitting in it.
C
No, no, no, my new house is yeah.
I just started six weeks ago.
So, okay.
A
It's best time with lockdown right to start.
C
Yeah, it was a good time also.
I really had luck with the better okay.
B
So I think we can wait a few more minutes and while we wait, you can perhaps add your names to the agenda or the meeting notes thingy, and we will probably have lower participation today because of the thanksgiving holiday in north america or usa.
I think I know where else it's.
F
Hey everybody, hello, tracy, tracy,.
B
So the agenda is light today, and I think we discussed this uh during talk meeting.
Maybe today we can spend time on the white paper review because we have new case studies contributed as well as some updates to some of the chapters.
I know, if any of you had a chance to look at those updates.
B
And I put some of some questions to the uh under the topic, the white paper topic and if we have time left, we can recap the discussion we start few weeks ago on standardized metadata.
B
I don't see james stration here, but no matter what we can see.
B
Okay, so, and if you have any other topic, you can add that and we see how we do with the topics earlier than that.
B
So before all the topics as usual, we look at the action items so that the first two action items are on me and the first action item was to ping. We have be about to get jenkins, techno, plugin contribution for white paper, and I know viva contributed that case study, which we can come back to that one when we come to white paper topic. So I mark this as done, and the next action item is again on me to pin cameron on jenkins spinnaker case study.
B
I actually did that and cameron said he will check with his colleagues to see if they have anything to contribute there and since today is all day for him.
He is not with us, but I will follow it up with them offline, probably monday, to see if they will make it on time, because we agreed to send the first draft to creative to team next week.
B
We can have some flexibility if they intend to contribute, and the next action item is on new tracey, to arrange a working session for the white paper, which is this meeting, perhaps yeah so thick. I did that and update the meeting time to 4 pm utc, which you did that as well yeah, I got invitation.
B
I mean to bring example from my manifest from ebay for metadata topic.
I suggest we keep it open because I know ramen started talking internally to get permission for that, so we keep it open and we ask him next time when we meet the last last text.
Item is on trace reagan and still tailored to demo hoteliers and same with them.
They are probably taking time off today.
B
So we keep that topic open and ping them before the next meeting, so they can present or tell us and by the way, if any of you have missed it, ortelio's proposal is currently being watched by toc and once the world passes one, and if the world passes it will become the next project within cdf joining the others, which would be great.
B
So those were the action items now going back to the white paper.
B
So, uh as I mentioned me, and some others made updates to a few chapters which is perhaps good to go through those chapters live and see what updates were made there and everyone can take time offline to review them and provide comments.
B
So the first chapter that got updates is this: what are we discussing with content slurry, so this paragraph was already there.
I added martin folder's definitions of definition of ci there, because that is kind of what we agreed to take definitions from some other document, and this was this is perhaps the most famous definition of ci.
So that's why I included it there.
I don't know.
G
So one comment um in general- and I just like to run this by the group and see what you think um to be kind of self like consistent across, like in particular I'm thinking of the landscape, I'm keen to use the term continuous delivery as the umbrella, for you know, ci and deployment, and not particularly in that paragraph.
I don't think that that one's a problem.
G
Okay, like later on, we refer to tools and we sort of say: okay, these are all ci cd tools, but almost making the distinction between ci tools and pipeline orchestration tools, um which is consistent with, I think how they get labeled in the landscape.
G
Does that make sense, should I say more.
G
So one of the the main things if you look at the cdf landscape, like we have a pipeline orchestration category continuous integration, configuration management, there's no category there, that's actually called continuous delivery because continuous delivery is, you know that pulling all those tools together to be able to to release um sort of safely and securely and regularly.
G
So I'll go through and I'll just highlight the bits I think just need tweaking.
B
Yeah, that would be great.
B
Any other comments in general or about this chapter, because this chapter was the tricky one.
Everybody you know shared their view and we just said: let's move that discussion to a new white paper and just be a bit lazy on this chapter and use what is already there.
B
So, okay moving on to the next chapter, so the next chapter is what does interval mean continuously every context, and I read few other articles from different industries and the healthcare, as I mentioned during plus meeting they have this nice article talking about integration versus interoperability, which is what I kind of got influenced by their definition, and I took some things from that article and added some of my views.
There, followed by some of the points raised by the people when it comes to what they think when they hear interpreting cd context.
B
So that is the list there and ending up with the conclusion saying that interval in cd context is not very different from how interval it is defined elsewhere.
So it's about data and exchange of data and standard stuff.
So please take a look at this and you know update.
G
So for this part section like if I was to summarize it, are we basically saying here's?
This is what integration is, which is kind of being able to use tools together, and that's not what we're talking about we're focused on interoperability, which is more specific, and then we give those examples and then we're saying that's what we want to drive for and especially tying in.
I think standardization yeah.
B
Summary yeah yeah, I think the the most important aspect of this like why are we focusing internally, is to make users lives easier, because if you think integration users may need to put custom fixes to get tools to talk each other.
If those tools are not built interpretably in mind, but if interoperability or some kind of standards were in place, users will have less trouble to.
You know, bring different two systems together.
G
Okay- and I guess the way I would think about that like jenkins- is a tool which supports a lot of integration, which is fine.
You can integrate a lot of things, but that's different from saying: let's have interoperability across lots of different tools that have standardized apis and metadata, so you can sort of move pipelines around or move workloads around yeah.
B
I think what james talked about with the standardized metadata a few weeks ago is like one of the key aspects of internality.
B
Okay, so the benefits yeah.
G
I added that, and I thought we should hammer homer a bit of a why, what what's the point and who cares like?
Why does this matter, so I took a stop at just putting a few bullet points, but I can flesh those out and maybe tie to the end user case studies a little.
B
Okay, so this chapter seems to be you know good enough to you know for everyone to review, and the next chapter is key considerations, constraints and concerns.
So I uh added some considerations, constraints and concerns there, like lack of shared vocabulary, is the first thing we did within the seek.
So I simply took the paragraph from the rosetta stone document and put it there, followed by the complex and cicd pipelines, like organizations start with simple ci, perhaps later on.
B
They extend that to cd and over time, things become complex and they need to look at things in an end-to-end way.
So that is a concern like how to have with those things, because different tools and technologies take part in that type of setup, and the next constellation is being agnostic to to the technology and processes.
B
I know how much now it makes sense loose coupling scalability flexibility and some more I was out of energy to write more than I wish to die.
B
And somehow we need to you know, tie these considerations, concerns to interoperability.
Again, please uh go in and update.
You can even delete some of those things if you don't think they make sense in the context of this white paper, which takes us to trends reusable libraries again.
This is something we discussed early like before summer and I just added some tools there and they need to have a home for those libraries which may be developed by individuals or group of people and cdf taking providing home detect on hand.
Sharp is an example.
B
Standardized metadata is the new topic we start talking about, and I put a simple pipeline: there commit build packaging test promotion deployment to highlight the fact that we pro produce lots of data when we go through the pipeline, and this data is produced differently and consumed differently and the necessity to have a standardized approach to metadata or trend in a way.
B
The events in ci cd has been there like since two months.
I think the work stream contributed that for a while ago, so we can move and the api signs secrets.
We added those during last meeting and we have tracy and james rollings as the names for those.
B
This is one of the questions.
I
Yeah, I I'd missed that before so I thought I was all done on my tasks.
Damn no no worries.
Maybe I can.
I can have a little pop of that and maybe with cara as well.
So carl's had been doing some stuff around this as well.
So yep awesome sounds good.
G
Yeah for apis, I was gonna look at kara's article she'd written about kubernetes in its approach to apis and why that made a big difference and yeah.
B
Okay, so case studies, so techno client plugin for jenkins from web vivo.
You want to summarize what you contributed.
E
It's a problem of of uh calling in so he asked to get the raw pin code in the jets.
Oh.
C
Oh hello, you guys can hear me.
D
Yes, yes yeah, so hi guys!
uh I'm uh I guess, is my first introduction here.
So I work at red hat and uh basically I'll just uh quickly go through this case study.
So this is basically the technon plan plugin for jenkins, and it's supposed to uh kind of bridge the gap between jenkins and techtown in terms of how jenkins users can get to know tecton easily and start using tecton uh without having to uh be without having being the aml engineers or anything so I'll.
D
Just uh to share my screen to give like an overview of where we are right now and what's uh there for the future.
So.
C
Yes, okay, so let me start sharing my screen.
D
Okay, so, uh let's uh so basically for this, we uh we need to know what jenkins is and what tecton is. So I take it that uh I take it that people already know this so we'll just move forward to what the solution is for into interoperability between jenkins and tecton.
D
So for, as per the current scope of of this, we are currently at v1 alpha 2- and this is the repo here go here, check it out, and the first time this was introduced was uh during cdcon.
D
The whole idea behind this was to just have jenkins users to get started with tecton without uh without having to play with yamls and just basically know what they uh know about like do what they do in jenkins, uh but instead of doing it in jenkins, they are doing it in tecton.
So basically they just use their uh jenkins philosophies of build steps, and then they get started with tecton.
uh They create uh they create tasks.
Task runs pipeline pipeline runs.
D
So that's the idea that we are going here with so uh currently now we'll discuss like what uh is the current scope and where we are right now and what is there for the future.
D
So currently uh we are supporting these uh build steps, create resource, create tasks, create task, run and delete resource and create resource and delete resource here are raw, which means that you will be able to give a url or yaml and then create the uh resources you know through them, and this is done through build steps.
So build steps are a very common.
D
uh We is a very common way in which uh jenkins users usually do things, and uh it gets uh things done. It is different from pipeline, uh which requires users to know a little more about jenkins and kind of, and jenkins file is a part of that. So uh this is this is something uh that is not supported so, but uh currently, this is. This is uh what the.
D
Have uh so next, I'm just I'll just elaborate on what these are exactly so. The raw steps that are there right now, which are tecton, create, draw, uh create resource raw and tecton, create uh delete resource raw. uh These these ones will allow you to use url or yaml to create resources, and you can input your url uh where your resource lies and then your yaml, whatever it is, you can just give it and then uh the plugin will figure out okay.
D
This is a task task run and then apply to your space, and then you have got delete resource where you can tell which resource you want to delete and delete it accordingly, like this example here and uh moving on next.
D
So uh the main idea with this plug-in is that the user should be able to interact with tecton jenkins users should be able to interact with tecton without knowing much of tecton, so it should be more of a fill in the blanks kind of scenario.
D
So in this case you can see the tecton create task where the user can just give the name namespace and the entire spec. So if you, if you, if you know your tecton, you can tell that this is not completely finished.
D
There is a lot more to do even in the task and task runs so and it is, it is on the roadmap, but basically uh you should be able to create tasks or tasks or any tecton resource in a very interactive way without having to uh like figure out the api go, you should just able to click button.
Okay, I want to add this.
This can add this.
Also, oh, that's cool.
D
So the jenkins user is just kind of blazes through all this tecton stuff without having to refer to much of documentation, because uh all of the help will be given on the plugin itself.
D
So task run is similar and uh in the future there will be auto filling of these uh task. References or pipeline references uh for pipeline runs and stuff.
D
So in this case uh the it it it provides like the jenkins users complete uh control of what they are doing and they wouldn't have to uh go to the terminal, select uh figure out what tasks they want to. uh What task is there and then copy paste? The name uh because the times some tasks are created with generate name, so you can't always know the name of certain resources and stuff, so you uh this will just make it easier for the jenkins users to do things.
D
So what is what's remaining in the current scope in the current scope, as you saw, there's very limited uh support that is there for creating things and, uh what's remaining is the complete support for interactive creation of all the resources, uh including event, listener templates and everything in between uh two pipeline pipeline runs and.
D
uh Then what is what is most ambitious about this uh project is that it should uh give tecton hub or catalog support and yaml uh hydration into the uh into the build step, so that you should just give an amul uh like a task camel, and then it will just basically fill out the entire task, with whatever is there in the yaml and then you can go ahead, edit. It and uh just basically uh get get down to the using the task uh directly uh and uh the tech town catalog support is basically uh so.
D
Basically, the tecton hub is a place where there are uh tasks and task runs sorry tasks which can be used uh and reused. uh So, with the hub support, you should be able to use tasks, and just the user would have to provide what parameters they want for each task for their task runs and then execute those trusteds.
D
So uh next, as I uh had said, the next thing that would be coming up is uh resource discovery and autofill support. So if I have a reference to a task or a pipeline, I should be able to give it in my pipeline or not asked in the ui itself, so this will make it easy for the users to kind of you know not have to search for the task or the pipeline and just get started with their uh jenkins jobs, and you can check out the rest of the roadmap here.
D
It's not a lot, but it will definitely help jenkins users get uh get to know tecton and the timeline for this is by the end of q1 2021 uh for delivery, and this will include obviously uh good coverage, support and testing.
D
So this is the current scope that we are working on right now.
The next thing, what sort of so what's for the future is the cloud event support uh which is not thoroughly discussed yet, but this was just an idea uh that was discussed in the cloud native sig for jenkins.
So we really don't know how this one will go about, but uh considering that uh ci cd systems can be considered as like a seas and the water that goes in between could be cloud.
D
Events uh to trigger or to reach reach each of those uh pools of water uh and get stuff moving so uh cloud events, uh as we know they are important in this landscape, and support for this would be good, but uh there is still stuff that needs to be planned in this case, and uh this is this is basically it so.
Thank you and any questions stop sharing my screen.
F
Thank you.
That was a that's an excellent presentation.
um It was interesting to me that one of the things you highlighted that this project would do would be to help um jenkins users become more familiar with taxon.
F
Would you say that that is one of the main goals of this project.
D
Yeah, so the the reason I even started this project was because, like jenkins users, don't know tecton and the way they would usually go about using tecton at first, they would write the tkn uh tkn task start get like they would use the tk and command line inside the jenkins file, which is a very crude way of interoperability.
D
So this this was supposed to allow them to get used to tecton, easily learn.
D
Through the health mechanisms and all that is provided in the jenkins jellies and everything, so yes, I would say this is one of the main goals of the plugin.
B
Okay, any other questions.
B
And I suppose your contribution above summarizes the work you described as well, which is great.
D
Okay, thanks for fatigue,.
B
Thanks people, let me share my screen.
B
So the next uh case study was controlled by uh karen james on jenkins, x and tech tone.
If you want to say a few words kara or james.
F
Hello, james, it's really good!
If you did it.
I
Nice uh yeah so finally got to it.
Sorry for the delays very persistent.
Thank you very much for bearing with me uh for bearing with us uh yeah it's just trying to keep it a bit high level you can.
Anyone can have a read a bit after this.
I
um We just wanted to try and not do too technical keep a high level some of the advantages of um of tecton and why jenkins x uses it and kind of the deep interoperability we have without sharing the data between um and the visualizations as well so yeah feedback.
Welcome.
I
If there's anything that one thing wants to change, we can do um it's also taking a bit of a bit of a snippet out of a blog that james did kind of kind of talks about the structure and shows that we've got you know native tecton resources actually embedded in the in the git repos.
So it's just hopefully going to spark some interest and people understand a little bit more.
They can relate to it.
B
Thanks james, you got your first comment by the way from tracy yeah there we are.
Oh there we go.
I
Anyone but tracy!
No, no!
That's fine!
That's great yeah!
That's cool!
Thank yeah I'll!
Tell we'll look at that, but we can move.
That of course sounds good thanks again any questions.
B
To james about his contribution.
B
Okay, so captain has been there for a while thanks andreas and your colleagues for contributing it as usual.
If anyone has comments it's time to do, we have one way to you know.
B
Okay- and the next case study is the new one.
One of the new ones- zul and uh jeremy from open infrastructure foundation contribute this and it is.
It looks similar to captain case study because rule case study talks about how zuul is helping companies to achieve interoperability, especially between acm systems.
I think github and garrett were the two of them, and originally we discussed this contribution as well cars uh contribution.
But when I had a chat with james, he uh sorry jeremy, he mentioned he found some other uh case studies from zold users.
B
One of them is lebron coin online.
E-Commerce marketplace and volvo cars case study follows that one and followed by zuul itself.
B
So as usual, please review this and we can get in touch with jeremy if we have any comments either during next week or earlier than that- and he put some numbers here as well as we discussed during the previous meeting.
B
So one thing I had a chat with jeremy was on.
Maybe this looks like three case studies, because it talks about lebron coin volvo, cars and zul itself.
But again I'm sure when you will read the contribution.
You will see that then you can put comments directly on the document.
G
So just a general comment: um how do I say this like to me?
It's not necessarily clear like.
I think we need to be better on the narrative here, because it's like like what is the message from each case study and I wonder if the way to achieve that is tying some of these case studies in under the trends.
So we talk about a trend and then here's the example.
G
But a lot of the case studies seem to be kind of a mix of here's, some technology or here's some people using it, um but it doesn't like.
We don't necessarily emphasize what the point is.
So if I had to be a bit more critical um so like if we took let's say the captain case study and it's in the section where we're talking about cloud events and we're saying: okay, here's how cloud events are making a difference and then a specific example is kept and this company amazon.
G
And then we should do that for all of them to make sure that it fits in because, like if I'm honest, if it.
If we were talking about integration versus interoperability, just saying okay, you can use every kind of source control management.
G
It might be nice to say.
Okay, that's the level we're at today, but I think that's distinct from what we're trying to push forward as interoperability, which would be like a standardized way to talk to each source, control management system.
I
I wonder if there's a way I could kind of agree actually, but I wonder if there's a way um to try and you the theme you mentioned, I wonder if there's a way to kind of have it relate to some some kind of capabilities from the um except from accelerate or state devops that we kind of mentioned before that we kind of we want to be acknowledging those the work.
I
That's been done there around around accelerating the the efforts that they've identified, um but I wonder if that's we could show some kind of interoperability that that's there.
That kind of also, then helps with that is the threat.
There's the trend would that that work, or is that too much work or does that make sense.
G
So I can see that for like when we talk about loose coupling, we have that section on loose coupling and I think that ties in with accelerate so then maybe pulling in some examples of saying.
Okay, these tools work in that way and they're loosely coupled.
So it's it's a good, a good way to approach it uh other than loose couple.
I have to give it some more thought.
B
Okay and other comments about case studies in general, because this was the last case.
B
Okay, so I put few questions to the agenda.
So you know one of the uh objectives with this white paper is to address different audiences, so we have an introduction section in the paper.
I don't know if we should convert it to executive summary or have an executive summary separately.
So, like decisions makers can just read one paragraph or something and see?
Oh, this is an important thing.
We should really get engaged and contribute and collaborate and invest in this, but I'm not good at those things.
B
So just putting the question out there, I'm shutting up.
G
Yeah, I think that could work.
I threw in a conclusion as well just before the meeting and for me I think that would kind of tie into an executive summary which is basically saying this.
Whole landscape is ripe for driving interoperability and then this is the group doing it and you should just get involved.
And yes, yes,.
B
Okay, so maybe we can take this paragraph and just modify it every time.
Put it as like at the beginning and reiterate message in the conclusion: yeah yeah.
G
I in the executive summary I do a bit more reiterating the benefits and then the trends.
So here's here's the benefits.
These are the trends and this is how we're going to make it happen.
B
Faster, so my question answered, so we uh the other thing I put here, because we talk about lots of things in the paper like the tools technologies.
Like some definitions like we like, I personally took some of the definitions from somewhere else, so collecting references chapters, references yeah, putting a references chapter for further reading, for example, at the same time, giving credit to others who came up with those stuff, you know to be like to create people properly and also give people to blows things around when they read the paper.
Oh tacton.
B
Let's click this link or captain go there and check.
So that is maybe I should like let a chapter the references for the reading.
F
So that will be a section on further reading or suggested resources, but are we going to actually link them to the quotes if there are quotes in the text like like footnotes,.
D
I I had a question when we say audiences: uh what are the different kind of audiences we are talking about here like in my mind, the first audience that comes is someone who's on a legacy system needs to get on with the new system.
Then there is someone who is starting off can do experimental.
They would like to use different kind of ci cds.
D
Are there any numbers around like how uh what like what other, what.
D
Distribution between these audiences and what kind of interoperability is more needed than the other.
D
Maybe maybe something to think about.
B
When I think about audiences is, one of them is like decision makers or the people with the money.
You know who can say, let's go and work in this thing, so that is one of the audiences and the other audience is like developers, because developers take part in communities and come and contribute so like that was what was in my mind when I asked the question audience like how to address different people because, like if you are on c level executive, and if you get this paper, you will not have time to read 15 pages.
B
You know you will browse through and you look at few chapters paragraphs hopefully, and that is our chance to you- know, get the message across so they can see.
Oh, this is something that is critical for.
G
Can we go back to the reference question kara asked: what are we thinking on how to approach that.
B
So the only one who put references is rule uh case study so.
G
Move those to the further reading section or just leave those there and have them at the bottom of the page.
I don't know if anyone's got experience with.
I
I actually I had some links, but um I removed them because I figured um I didn't know how it was going to be distributed.
So if it's like a would be.
G
Yeah, maybe add the links in and I'll I'll check with the folks who put it together and see if they have recommendations.
B
Now we can use this academic type of cross referencing, like numbers like number one, the references down numbers and that type of stuff, something like that and also tracy.
If you have other material, you want to link like on the further reading.
It doesn't have to be reference like linked in the uh paper, but just.
B
And that type of things you know.
G
Okay, yeah, that would work well cool.
E
Are we only linking to projects or do we want company links there?
Also, I don't know, what's the the praxis.
G
Yeah, I don't think I think, we're more linking to further reading around the concepts or the broader story, uh not so much companies thanks.
B
So this quest uh yeah contributors, so I went through the history of this document and looked at comments and so on, and I listed people who contributed different ways.
So if I miss your name, apologies, please add your name there directly.
It wasn't intentional.
B
So just add your name, because this will be part of the white paper when it gets released.
B
And this question is already answered, like I was looking at new chapters, apis and secrets before the meeting and they were empty.
So now we have tracy and james aware of the action points they have.
So we can park that and featuring conclusion.
So yeah conclusion is there and future is empty.
G
I think like for future you, you had a good section in your article on interoperability, the ericsson one.
um So I would suggest we take from some of that.
I think it talks about openness and transparency and people working together.
um So I would, if you're happy for us to use that.
B
Yeah, I'm fine if you think it is good.
B
And that was all for the white paper.
B
So any further comments, questions.
B
Thoughts, so will we be able to make it next week? You know we said we should send this to creative to team end of november, which is next week.
B
So uh we have a few chapters and this reading further reading and references thing, I think we can fix those, but the biggest thing I see here what you uh tracy mentioned, like tying case studies to trends and other things.
All that is a bit.
You know larger work of body of work.
G
Yeah, if you want to think on that I've got some thoughts of um how to so well, I could take a pass edit and send that around and see what folks think.
B
Yeah or maybe we can directly bring the creative team to this as well, so they and us do the work in parallel.
They can give firstly to see okay.
This looks great all this misses this thing and at the same time we adjust the structure and it is like 15 pages.
I don't know if, like the white papers generally, are less than 10 pages the ones I've seen so this is like pretty extensive.
To be honest, we put a lot of effort into this, so my worry is like.
Will people read this.
I
Or is there any place we can?
I want, I mean a lot of it is the is the use cases, so I don't know, maybe when they do it, sorry um yeah these.
So I wonder if that's kind of more of a big content of the of the document, it's probably it's a lot less.
I don't know what is it before the use cases start.
I
You know.
People then have like these cases, because people would skip to they'd be listed at the start of the contents or something.
G
Question three james for the jenkins x case study you had that block diagram when you announce jenkins x alpha is that something we can use?
I think we could kind of make it fit if we maybe try.
G
Section more to abstractions and apis.
I
um Yes, yeah yeah, totally yeah.
We can I'll pop it in and then see what see what you think yeah.
This is the one where it's to do with yeah the abstraction layers yeah.
G
You've got the sort of abstractions the icd service developer experience yeah.
B
So that reminded me that we don't have any logo or diagram or anything.
It's like pure text.
G
Yeah, I'm adding pictures in now.
G
Project logos: uh we should go sprinkle, those in.
G
I think the creative team can add in icons for various things as well like when you talk to benefits or talking about trends, it can have little little things that make it a bit more.
B
Okay, so uh then we continue working with this and tracy and we can have with the creative folks now if they can point this, you can point this to them or like.
If I know who's talked to, I know who are those folks.
B
Okay, so we have 13 minutes left and I'm wondering if we should. You know talk about standardized metadata now to at least see where we are, and we come in on the topic uh two weeks later, when we have fox from us back, because we changed the time start time of the meeting as well.
B
What force think about this standardizement later.
F
I think that would be a good area for us to discuss now.
B
Okay, so uh this is where we left, we discussed to start a document and we had tracy, steve and james james volunteered for the work and, as you see it's empty at moment and few of the extinct force listed here.
G
To give us ebay metadata and we just run from there- that's good.
B
James, you are saying something or james stretching or.
J
I I can fill in the jenkins x metadata that we.
B
Okay, and also like I want to uh pull in andrea's materials because you some of the things you are talking, events work stream are related to metadata. Maybe you could, you know, share your thoughts on the documents as a you know, as an existing effort, because you have been talking about events for last couple of months, and so we bring your thoughts to this work as well.
B
And unless okay, then, uh I will pink roman again, and hopefully we will have some uh examples by next meeting like jenkins x.
Metadata would be, example would be great to have so we don't start from scratch and also if we get some input from advanced work stream.
That would be good things.
So we see different perspectives for this topic, and then we see where we are after that meeting.
B
So then we end the meeting and give everyone 10 minutes back.
G
Yeah nothing else for me.
B
Thanks a lot everyone, especially with the white paper.
I think this was huge amount of work and there is lots of valuable thing here.
I think this will be a good closure to 2020, no matter how bad the year was so and then we can read this during our christmas break.
While we think what will happen in 2021.
I
So what you're saying is we're rescuing 2020 by the white paper.
B
There is some bright spot in 2020.
The name is like white, you know not all dark.
G
If anyone was missing christmas gifts, you're all sorted now,.
H
You know again my dad yeah okay for your family yeah.
B
Brilliant yeah, okay, thank you all and have a nice day weekend week evening and weekend and talk to you in two weeks, perhaps the last meeting for the year, because then we will go to christmas break, but we talk about that during next meeting about what to do with the remaining meetings.
But again, thank you and talk to you in two weeks.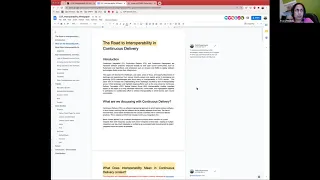 ►
Description
No description was provided for this meeting.
If this is YOUR meeting, an easy way to fix this is to add a description to your video, wherever mtngs.io found it (probably YouTube).