A
Hi there I had a message from dan lawrence: he is based in texas and, as gail tells me, they've been having some crazy weather, so he says he may not be able to run the meeting because they're having blackouts and brownouts and really no electricity.
A
So I will just stop prepping the meeting notes and hopefully he'll join, but if not I'll step in and uh run it today is that right, gail.
C
How how are things that you're in um yeah?
So fortunately I'm on the same like city grid as a police station, but yeah?
It's pretty bad.
We've had people who have had no power for 24 hours and it's 30 degrees fahrenheit in their homes and power lines are frozen and trees are falling and taking down power lines, and we have a shortage because we get most of our power from like wind turbines and the turbines are frozen.
C
So we have a supply chain issue as well, and the coal generators and gas generators we use for power are also frozen, so we have very little energy and then increased consumption.
So yay thanks.
A
Okay, just give me a minute.
A
Okay, for those who are just joining us, just sharing dan has sent his apologies he's likely to not have electricity uh in austin because of the storm there and he's just asked me last minute to step in and run the meeting um I was going to focus.
I know we had a priority item of gsoc, which we wanted to get resolved ahead of the deadlines.
This week, I'm hoping cara, no kara, tara, sorry I can join, but if not, um we can focus on that.
Are they any other items?
A
Folks would like to make sure we discussed today.
D
All right was there going to be a discussion about the uh the event seg.
A
uh Yeah, let's cover that see where we've gotten to.
E
uh Because I think I think dan was going to send out.
D
Did there was a there?
Was a vote um and isaac stepped up to be our sponsor.
Thank you isaac, even though he may not be on this call, so I didn't know where the vote.
Yes,.
A
Let's, let's review that look at the vote remind folks and just I'll identify what we need to do to get that finished, and then we can follow up with the folks involved.
A
So let me find that thread.
A
Okay, so folks, if you want to go ahead.
A
Please go ahead and sign in.
A
Okay, so I'm gonna look up the thread we had running on the events in cicd but, as tracy mentioned, thanks very much to um isaac for stepping up as sponsor.
A
And have folks had a chance to go vote.
Have you seen the the vote?
That's been kicked off.
A
I'll just find it if you haven't I'll stick in the link here, so I can see.
We've had a whole bunch of votes, um but we are.
We need the kind of talk folks to weigh in j thin.
Have you had a chance to review the event sig and cast your vote.
F
uh Sorry not that I've been something behind on two things: I'll get it done today.
A
Okay, great and do we have isaac on the call.
A
Okay, okay, so it looks like we just need to get uh just chase some of the talk members to get their votes in so I'll follow up with dan, so we can ping those folks anything else um on the uh event six, so I expect uh once the vote goes through.
A
um I know we are gearing up. Roxanne is drafting out an announcement, so we can uh put that out so she'll be reaching out to members of the sig as well um for for kind of quotes. So to review that, um then we will have the chairs be given access to to kind of just set up the meetings and to the repos anything else. Folks, in that sig need or um can think of that we want to get addressed.
G
Sorry we we discussed that during the last meeting and trying to pull the list, but I think nothing urgently.
So we get the number of small questions related to the github, repo and who's going to have access to it and so forth.
But you already mentioned that um so.
A
Yeah and typically um I can we've been just setting things up in general, as teams so like we'll have the interoperability and and the best practices. um So similarly, we'll set up a team give that team access to the repo and let the chairs as well, have additional access or be the points of contacts um to to have additional people added to to those groups.
A
So we can kick off getting that setup.
G
Right and just uh things that we mentioned that we might do um if the c is accepted, maybe write a blog post on the cdf blog that sounds reasonable to cdf. uh We could maybe think of a podcast and other promotional channels. Basically, we want to attract as many uh interested parties as possible to the to the sea, so.
A
I think that's great and jackie: um maybe we can get you to sync with them on the podcast.
B
Yeah just submit a form um and I'll drop the uh links in the in the chat but yeah as soon as you um submit that, then we can get you scheduled.
A
Yeah, so maybe if you drop that link to to folks, so they can do that and then the other thing as well for projects and physiques, if there's ever interest in doing a webcast, um so like a a webinar type session, which is usually quite nice, not not necessarily live on the day, but as a reference on the cd youtube channel um for events and ci cds.
So that's another option as well.
A
If you want to kind of maximize exposure for the group and what you're setting out to achieve or a summary of everything, that's happened to date,.
G
Yeah absolutely do you have any example of the the format for this webinars.
A
So jackie, do you want to see more about that.
B
Yeah, let me also drop in the youtube um uh playlist, and then you can take a few look at a few examples of how other folks have done their webcast, but basically it's just kind of like a breakout session, you're talking about the problem and then walking through um a dac plus, maybe a demo or or whatever.
However, you want to structure your your session.
A
Okay, anything else on events in ci cd sake.
A
Great, let's move on to uh google summer of code 2021.
B
um So tracy I go ahead. There's a few pr's that still need to get um the pr's need to get uh reviewed, and I don't have enough access to merge any of those pr's.
A
Okay, so I think what we've done um is we've set up actually I'll show.
Let me show folks, so we have a where?
Is it a g sock?
It's a kusakuchi, sock, gsoc admin and mentors group.
uh So I went ahead and started adding folks who I have the github handle and who I know are either mentors for their projects or admin.
A
So that group is now has access to the sock repository.
uh Well, some of code won.
E
Yeah, I saw spinnaker put the pull request out at end of last week with their updated.
A
So um we can go through these now.
um What I would think- um and I know tara is not on the call, but she is planning to go ahead and do the application this week.
Kara did you manage to sync with her?
I know she was looking for some assistance and I pointed her your way.
H
Oh great good, I'm very happy to sing with her.
um I will follow up with her.
I kind of popped in the slack chat for that, but um yeah, but nothing beyond beyond that.
Actually, so I would definitely think with her.
A
Okay, so maybe we can um yeah just continue that communication in there, but I think like what we're trying to get away from uh is. Is me or jackie kind of being the bottlenecks on this, so we can certainly help you um to with things, but we want to make sure people have access and they feel empowered to go ahead and just kind of review and merge things within this group.
A
So that being said, um let's go ahead and do some live reviews and just kind of look at the projects coming in so we'll burst on what we have coming up for gsoc and then we can get all these merged and then a good state for the application to be made and if there's any follow-ups or chasing we need to do. We can do that.
A
Does that sound good to everybody?.
D
My only concern is that we only have one person from the toc on this call if everybody's okay with that.
A
Yeah, so I think, like we're pretty much trying to operate in a in a more decentralized way, so um I would say for gsoc, if effectively, tara and kara have stepped up to be admin. So I'm pretty comfortable if cara's on the call uh she can have those approvals and then sync with tara to to move that ahead.
A
Like I don't think we should be in a position where for every gsoc proposal we need a full talk review.
If that makes sense, that's fine with me.
I just.
D
Wanted to point it out, I don't want to irritate anybody from the toc.
You know they're doing their job yeah.
I.
A
Think it's it's hard at the moment and everyone's super okay so and maybe a moment to appreciate all of those who have been able to attend uh really grateful for your time.
Okay, so.
A
So we've got spinnaker screwdriver ortilius and it looks like the jenkins one and I just have a quick check on that.
One.
E
The first one, so it's kind of sort of from bottom up so jenkins was the first uh update uh and they did it to the readme.
E
It was a little little confusing because we followed what jenkins did because the instructions were saying, update the project ideas file, but then jenkins went and updated directly to the readme.
So from the artillery side we actually did both just to be covered.
So that's why there's.
E
Pr's out there from um uh 16, 15 and 16 are from artelias.
F
I think both are fine.
Yeah I've seen that some projects have their own website, so the readme can just point there.
I think the spirit of the project ideas was just to have a link.
If you don't have your own landing page that can just remove the cluttering of the readme.
A
Where's the source of truth for the ideas, would it be the read me.
E
uh That's from my viewpoint, the readme would be the one because it's cumulative it has all of it's.
Everybody's, been updating the readme and it's all cumulative.
A
Okay, so let's do that, I.
F
Think readme is a source of truth and uh from what, from my understanding of the project, ideas file is just to remove the cluttering of the readme and link there so that you can be more elaborate over there.
Removing the cluttering and readme.
A
Okay, so having this format of saying, here's a brief description of the project: here's where you find the ideas and that could link out either to um kind of your own github or your own project page or that.
D
That was part of the instructions.
D
We should have our own project page.
Okay, it's a it adds.
The confusion is added, because I think what you're looking at is last year's.
E
Yeah, you have to look at the the the file in the pr yeah.
D
So what you're looking at now- and that was why, where I got some, I got confused because I thought like jenkins and jenkins x and screwdriver had already submitted and had been presented, and then ours wasn't on there.
So I asked you know what happened and then I looked at it.
That is old, okay,.
A
Yeah, let's just we can, I think we can merge those and then just get them cleaned up.
A
So this is the jenkins one.
So we're saying jenkins has linked out to the website jenkins x,.
H
Jenkins x, yes, yeah because of um limits on mentors jingle x will not be participating this year, so I've actually just removed them section.
A
So this pull request um updates the readme for the jenkins projects and links out to the website and then just marks jenkins x is not participating, yeah.
Okay, um so that looks good to me.
So go ahead and merge.
A
Sorry, I'm going to do this very happily, but feel free to okay and then artelias.
E
Number 15 is to update to the readme number.
16 was the update to the project ideas file.
We could probably skip number 16..
Everything is included in 15 already.
A
So does 15 um have this project spelt out and 16 links out.
E
16 just has a couple lines about uh the prod: uh what project ideas?
It was hard to tell what was wanted in the project ideas file because it was empty to start with so.
A
Yeah, I actually think I like the idea where we link out to the project ideas as justin said, um so we don't clutter it.
So 16 would make more sense to me.
E
But 16 has nothing about the details about um like the jenkins one had about what the recommended skills are, who the mentors are the project landing page the description of the ideas, it's literally, the in 16 is two lines or three lines.
A
Okay, so let's go with 15 uh and then we'll look at the readme.
It might be.
A
Just a minute, sorry, I'm just I'm just gonna go read the jenkins one again.
H
I think we have very little information in there about the actual project.
The proposed project ideas, it's more just giving some general information about um waste access information really like so.
H
More thorough pieces of information- yes.
D
If you go to those links, you'll see it's from last year.
E
Well, this is, this should be the merged version.
This.
A
Is the merge version?
So I'm saying in this case the the format is uh overview of the project list of the idea list of the project, ideas and then uh kind of a bit on the the channels.
A
I think that's a good format rather than having the detailed project ideas here now this links to 2021 and then in jenkins case.
They give a lot of details on that.
A
So I think it would make sense to follow that format steve.
So I could merge that pull request, but if we could clean it up to move a lot of that information to the projects, 20 20 ideas, 2021, so you've got an overview of otilius um and then a link to the list of project ideas and then maybe a link to engaging with the community.
That kind of gives you the headline and then if people want to get into details, they can follow those links.
E
We going to use the project ideas file at all or not so.
A
The project ideas is uh like a suggestion: if you don't want to have something locally, and certainly many folks have used it in the past, like screwdriver and techton jenkins prefers to manage things on their website, because they have lots of ways to do that.
So it's up to your community, if you just want to have a lightweight place, to put the project ideas, go ahead and use that file.
uh If you want to have something on your own site, you can do that too.
E
Okay, because there's the if you go back up, there's a project idea: template markdown and that's what we were following.
Where does that get placed.
A
So I think this template um is.
E
That does that go in the readme or does that go in.
A
No, it would go in the ideas so last year the 2021 folks use use that template um for their project ideas we kind of if people use their own sites, we redirected them to the home page, and then this year we kind of clarified that name with project ids 2021.
But this would be the same file.
A
Hey tara, hey good morning, sorry!
Guess what I'm going to put you back in charge here.
J
Yeah, thanks for covering uh a very slow start: okay.
A
No problem I can keep going, but uh yeah please feel free to. uh Let me know if this is in line with how you're thinking.
J
Yeah and uh the deadline is coming up so um we're, I think, then, is it the 19th.
H
So the 19th is this friday.
um I I know that oleg when he would do this for the jenkins project in past years.
He always liked to actually submit um the day before, just just in case, you know really really thorough.
uh That sounds like a pretty good policy, our goal, if we can so that would be this thursday and I'm really happy to sing with you uh tara and help in any way.
I can okay.
E
You could go ahead and um just close uh don't merge that one.
A
I yeah, are you happy to update?
I would just merge it, but it looks like um because we've probably put the jenkins one in there's.
Some conflicts.
E
um Don't worry I'll re, uh just don't don't merge that one and I'll um get it sorted out and you can close that one just go ahead and close that one and what I'll do is I'm just going to combine the two together and I'll? um Do a new commit to 15 with the updates, okay, I'll I'll sort out the conflicts on my side once you get everything um yeah.
A
Yeah we haven't been super clear on it.
I think we tried to imitate how jenkins have done it, but maybe our instructions weren't that clear either um so screwdriver justin.
Do you want to talk us through um yeah.
F
So what I, what I did was I just deleted: that project ideas 2021, because it's not an md file, so get a point under it right the markdown, so I just renamed it two dot empty and the underneath the champions.
I added my screw.
The proposals from screwdriver.
F
Yeah, so uh the overall theme is just improve few uh yeah. The overall theme is to this is from a bunch of uh requests. We have got from developers within verizon media to improve their build, build productivity.
F
So more is easier and concise ways to represent a build pipeline and more workflows to uh enhance the build workflow like uh even if the build is failed, continue the pipeline to do some cleanup activities like roll back after a deployment and when you run a build, have the ability to run a bunch of steps in parallel so that removing the overall build time.
So you have like a bunch of docker containers and you want to make sure that you have the ability to run them in parallel and continue the build workflow.
F
Now then, another one is ability to support matrix jobs.
What I mean by matrix is you have a build configuration and you want to run in different versions of containers like one in ubuntu, one in centauris, and so you are producing binaries or packages pertaining to different lawyers, so uh the ability to represent them in concise ways.
F
So these are bunch of things which are clustered under uh one theme like improving developer productivity.
So I don't know how uh I mean when we are going to apply for this.
Okay, all of them are aggregated.
What do we get so so?
So these are just the list of ideas, so we can pick and choose uh on how we are aggregating.
All the proposals from all the other projects.
A
And mary, like, I think this is a great list and I think one thing we'll come back to um so. I think I've seen like four proposals from screwdriver three from otilius um jenkins has is that five car more.
H
In the pipeline, which might make it it's gonna.
J
Say five seems low for jenkins.
A
Yeah, it is actually so um what I'd suggest is when we finish this we well.
Maybe I can ask now jason like if you were to get all these four and it will be a similar question for for autelius, folks and and spinnaker um like is, is this kind of offering different options but in reality like, I, can see overlap of mentors?
So maybe, ideally you want two.
So the mentors aren't too stretched but you're giving choices for people to pick the most interesting project, or do you actually feel you could support those four.
J
And remember two mentors per because interns can be expensive.
F
Yeah, so I I think most of them share that common theme.
So uh if we get all four, I'm confident that we'll be able to support, but I would leave that to total number of seats we have before deciding how much uh we want to put out.
But all I think the overall theme I'm putting forward is a improving the developer productivity.
So, on the example like you can get, you can choose like two.
That's also great.
A
Perfect, okay, um folks, happy for me to go ahead and merge this or any yeah.
A
And I'm going to go back to the otilius one and just ask a similar question um so with the projects here um see.
Is that two main ideas?
I seem to call three in that other pull request.
E
uh It's two main ideas.
A
Okay and it looks like you've, got mentors to to support that, so you've got four mentors or two per project um that looks good, okay, so two strong projects with mentors to support for otilius, okay, anyone here from spinnaker who did we have this from dan johnson.
J
Rosalind was the poc last year.
I don't see her on today.
A
Okay, so this has a description.
A
And it's got a link out to that page.
A
Okay and they have one two three four five projects and it looks like some overlap of mentors fernando, is on four of those.
So this looks like five ideas, but maybe two to three realities of slots.
J
Give me spinnaker cameron's back for more of these, mentors must be buttons.
A
Great okay, so I'll go ahead, so they've linked out and then they say we also invite you to present your own ideas.
Okay, tarakara happy for me to merge that.
A
Okay and tacton, like any folks from tecton community.
J
Yeah, I don't, I don't think so.
J
They um they took on a lot of varying interns last year and I think they're a little bit burned burned out and they lost one of their senior folks from the project left.
Google, okay, for good reasons off to go.
Do things in order plan, if I recall correctly, but.
A
Yeah, so maybe um what we can do is go ahead and just update remove this link, and then we can just update to say something like I guess. Tecton is not participating in gsoc 2021.
J
I'll, uh let me let me circle back around and confirm that last I heard I don't think they were going to, but let me just double check.
H
um I'll just give a quick shout out and say that tatara, I guess, if you're speaking to the tactile folks, there is one of the g-suck projects for jenkins.
Is a techton client plug-in um so should any techton, would-be mentors feel it left out, they are more than welcome to come enter on that as well.
That is an awesome point.
Thank you.
Car.
A
Andrea, were you gonna, go, say something.
G
um I was just going to say that um I don't remember discussing about um g stock project is here yet I don't know if you had any conversation with anyone else from the governors meeting a team.
G
I don't know, I just wonder if I should bring it up, then.
A
I think you can um we mentioned to dan lawrence and um I guess tara have been the main contacts here, but that may or may not have made its way to the tecton governing board. So if that's something of interest, um I think the main thing is to find mentors and kind of scope projects.
A
So that's certainly something we can do.
uh We just do have a deadline coming up on a friday thursday, thursday.
A
But if, like in theory, you think that you know tecton would be interested in a project and you are confident you could find mentors, um you could go and just ahead and let uh car entire. I know that you'd kind of like to throw your hat in the ring for at least one slot.
G
Okay, I'll I'll just check with a few folks, and uh if there is anything I'll, let you know as soon as possible, then perfect.
A
And finally, just a minor note cara, I was wondering if we should put jenkins x back on the list um with its little description in an explicit, uh it's not participating or feel free to check out jenkins projects or just something like that, rather than removing it from the list completely.
Okay, if you want, I.
H
Can I can do that entirely um and then just to manage, like I'm sure, you're all aware uh just to manage expectations. This application right now is uh really an application from the cdf to gsoc itself to be accepted as an org, and then these project ideas.
H
So they need to be seen as good enough from the point of the view of the gsoc, organizers and and then they're used, basically as a way for the students to get them interested in our projects and helping and contributing.
But um it sounds cool just because we are we are submitting.
These doesn't mean that all of all of these ideas will become actual gsoft projects, even if the cdf is accepted as an org.
A
Does that do that?
So do you want to run through the process, so we apply as an org and we set out a org level number of projects.
Then what happens and.
J
Then they come back.
um No, no, please go ahead.
I'm just gonna say there is a review.
There is some weight that is attributed based on historical participation.
J
They come back with a set of uh basically an a if they come back with the project selected or a number of projects approved last year was a little fuzzy because they basically gave us as many spots as we had on the cdf side.
um But there's it's there's.
It's there's a little bit of a back and forth that happens at that point um and then the projects that are accepted get registered.
um What did I miss cara?
I think I'm missing a step in there.
H
No actually, that sounds that sounds really good.
I mean the students also need to engage and put forward their applications so that that whole next step is what will be happening in a couple of months.
J
Is to make us look good so that we get a number of slots, the more slots we get.
I mean I.
I think it is safe to say that we have more projects than we'll likely get slots for, based on my recollection, um so the other.
The other thing is, you know just to be prepared for, um depending on how the projects are received, we may have to a little bit of negotiation.
B
And then just remind them of like jenkins, getting grandfathered in to the cdf and.
J
Yeah dan and I reached out to the gsoc coordinators.
uh We will remind them again- and this is cdf year number two, so um that helps as well.
So everything every little bit helps here.
A
Yeah, I believe, every cdf we had 100 track record of um folks completing all their gsoc projects, which is really good.
A
Okay, so um once we get our slots, um then there's another round of um well well, I think we we have students apply, and then we put in various applications depending on the strength of the students, if you're finding good students, um then we can select those and then we do have to wait to see how many slots we ultimately get given and then uh potential negotiation has to happen or that's where uh tara comes in and helps us manage how we allocate across the projects.
A
uh One thing I will say is um like I: I don't know how many slots uh gsoc will have for cdf this year, but regardless, like I think, mentors is the hardest thing. So if we have projects and we are finding students and if we can't find a way to make it work with gsoc, I would like to work with communities to figure a way out through community bridge or some other way.
A
We can kind of channel funding to to pay to pay those folks to work on your projects and to help with your community development. So we do have options beyond gsoc um to help here.
A
Okay, so I've kind of put this down here and it's looking like we want we'll be requesting at least 15 slots.
Is there anything else at this stage?
Tara would be useful for you to ask folks about or to discuss, uh for the application.
J
um I think kara fear.
I think that was you who was speaking earlier.
If your offer still stands, would love to grab a little bit of time on your calendar on thursday and we could pair up on that to review since I'm still an administrative rookie.
J
um I pestered oleg a lot last year, but if you're offering happy to to talk to you.
H
Great great we will meet up on thursday um and then I'm just going to say for all the projects that are that are listed. Make sure that you have, as many mentors give a last minute, push to gather mentors. That's always that's always good, and then uh things like first-time issues for students, things like that round out the project application.
H
So you want that for all of your proposals.
J
Yeah I was actually noticing us on the um the spinnaker stuff, there's a lot of overlap between cameron and fernando, which is great. I mean they did it last year too, but um maybe we can I'll ping the rosalind to see if we can get a couple more names on there.
A
Yeah and I think uh cameron's in the in the slack channel, so we're gonna also ask yeah.
J
So yeah, that's the other thing is, as we identify new mentors who aren't already in the channel and want to pull them over there.
A
Okay, steve will follow up on artelias pr uh cara on the jenkins x, andrea.
If you can get us any update ahead of the the deadline um that will be good I'll go try to do a little bit of cleanup just on.
I know the years are out so just tidy.
Oh no, someone fixed that cool, um but yeah.
I think the instructions um we can just tidy those up to reflect what we discussed uh in this meeting and yeah.
I just.
J
Seen the christie wilson and she is tentatively enthused about your idea, cara so we'll circle back around with you on that as well.
A
Yeah, I suppose we could list that as a tactile project as well.
Even if it's for interoperability and cross-project collaboration, it was jenkins idea, let's give credit where it's due.
J
But if it'd be cool, if we could get a techno contributor, absolutely that would be great.
A
And one last action item: if you are a mentor or an admin and you're not um as part of the the github team, uh please ping me your github handle and I will get you added. um So you can work to to help merge things as they come up.
J
Did you did you go ahead and merge that last one?
ah Yes, okay,.
E
Yeah and ours is, ours- is still outstanding.
I'm gonna I'm in the process of going through the conflicts and I'll push push ours up here in the next half hour.
All right.
A
Yeah and and feel free to link out to your website or to use the project ideas 2021 up to you.
J
Oh and by the way, steve and tracy reagan, uh kids, and I were watching a cool documentary on disney plus this uh this weekend and they were talking about ortelius and how he figured out the whole continental drift thing.
And I thought of you really yeah.
J
I tried to explain your project and they just started with like the 10 year.
Old is a little too early for.
D
Was one of the first open source contributors?
D
He was he.
He gathered all the cartographers and rep from all of europe and brought them all together to contribute all their code to build his atlas, basically all their maps.
So it was one of the first open source projects, cool stuff yeah.
He was a very interesting individual.
I'm glad that they got to learn about him.
D
I was like, oh, my god, tortillas look.
D
He is a real person he's not an alien.
He want to look like one, but he's not really one.
A
All right, just a quick one.
On this one tara, I was wondering if it's one of the standing items we can get rid of um so the teams and policies.
Yes, okay, where.
A
So I was just showing folks earlier that we have set up teams by general sixx and the talk and then gsoc.
So we have a set of teams and we're using the teams to give access to repos.
So we don't give it to individuals, we give it to the team and then we add folks and typically the chairs, help us manage um those lists and expect we can do annual cleanup at some point.
J
We basically did my job for me because I dropped the ball.
Thank you.
Tracy.
A
Again, if anyone feels they're not in a team or they, they weren't aware of that, and they should be a member of that.
Just please feel free either to reach out to your sig chair or to us at cdf, and we can get that fixed.
A
Okay and on to lfx tools, security scan via snake so go ahead.
E
So I attended one of the lfx tools webinars last week and because they were said they would provide a security scan using snick to any of the projects.
E
But what I actually found out was they would only provide security scans to products that they deemed that are high of high, that have high visibility like kubernetes, so the chance of like ortiz, being able to leverage um a snick as part of our visibility scan. uh We probably won't be able to get it.
A
So is that kind of like how they're prioritizing or just as a.
E
Yeah, you basically send in a request and then they go and decide whether you're worthy or not um to be included in uh as a project that can use that service.
Okay.
So I.
A
Yeah, let me follow up because we maybe like we haven't done any and onboarding with cdf projects, but I wonder if we can try to tackle it as a hey.
Let's get all cdf projects on there, including yeah.
E
And and the other thing that uh as part of the security scan, they don't scan containers at this point so we're all container based- and I mentioned techton- is all container based so right now it's not a priority because they can't support containers as part of the lfx tools.
Snick can, but the tool set from the lfx doesn't.
E
Okay, so I wanted to bring bring that up as per yeah.
A
It's good to know and what's seem to call you had raised.
um So did you hear back on the ezcla.
E
uh No, but I did on that same webinar, I did get a how to what they want us to do is open a jira, take it directly um with the lfx tools group. So I need to um do that.
A
Okay and yeah: if you've got um that you're, you can just pick.
I I'm not sure we can see it, but if you can bring it over to us, we can help kind of chase that, through internally yeah.
G
So so something it's a bit surprising stig that I mean I'm not sure about the container scanning, specifically at least like the general scanning um on the security.lfx.
G
I mean ortalius is not there, but the other cdf projects are listed there.
So, like jenkins jenkins driver attacked and spinach, they all have like a list of open issues and so forth detected by his.
G
So it would be really surprising if okay just did not qualify for that.
A
Yeah, I wonder, could there be a chance, they didn't understand your cdf project or.
E
I did I and they, so it was basically, they said they just didn't, have enough resources to um do every project and that their some of the projects were they're proactively going out and um uh scanning them.
A
Yeah, I thought there's a place.
We could see all cdf projects.
um Well, we should make sure it's part of kind of.
G
I I don't know if you can see that.
A
Oh cool yeah: if we've got all the projects there, we we need to get that up on boarded and have we added artillius?
A
um Is it on dev stats, because if not, I can open an issue to take care of that as well.
Probably not okay, yeah.
I think we're missing that checklist, but that it should be on there and it should be on this page, and these are all scans cool.
B
Tracy, on that same note, we're also missing screwdriver on the dev stats.
All.
A
Right: that's cool, okay!
Let's get that all kind of cleaned up, screwdrivers here not there, and this will still be useful to otilius, even without the container scanning.
E
Is I believe this is the uh code scanning against the repo yeah.
A
Great okay: we can follow that up um internally.
G
I opened um a ticket about this security scanning trying to understand whether there was some kind of integration with the project possible, uh but the answer they got was basically, this possible should be possible to download a csv file with a report, but that's as much of integration.
So it's not possible to get like a github issue filed or not widget out of these issues or anything like that.
E
So you're kind of blind as what they found.
G
I mean you, can you have a dashboard?
You can go and look at the dashboard, but you cannot really build any automation out of it.
That was at least.
G
I got for the jio ticket.
A
Okay, um yeah, I think it'd be useful, um certainly from cdf perspective, just to keep track of kind of our request for enhancements coming from our community.
A
So we can collate that I know they're trying to roll this across all many different projects and prioritizing different concerns, but I think if we can um understand what our projects want and kind of speak as a united front, um that should help.
Hopefully- but I know it's it's a bit early.
A
uh I know jenkins had requested some apis for the donation page on community bridge um so yeah. Maybe we can start keeping track of all those requests and especially where multiple communities see value using that as a way to just increase our adoption and get them to focus on those.
A
Okay and I'll just just show that any other topics.
A
And tara, when, before you joined, we had a quick update on the events sig, I don't know if you've had a chance to cast your vote.
A
Just trying to get folks to to do.
J
All right yep here we go, I'm sorry, I'm just gonna.
Do this last.
A
Perfect, okay and just to finish off, then a quick reminder.
A
We have the next newsletter going out early march, so we've uh have a deadline of tuesday february 23rd for your project updates.
A
So if you want to go ahead and share any updates, you've had since the last newsletter, uh please do so and then roxanne will follow up you if she needs any information or will include them in the newsletter to to promote what's happening in your.
A
Communities: okay, uh unless folks have any other topics for discussion or want to discuss.
I want to know why otilius was the first open source contributor, but if nothing else I haven't heard that story.
D
Segregation, yes, he reached out to these cartographers and said: hey.
We want to publish a theater of the world and he went around and talked to them and told them how important it was for them to share information and put it in this one big.
You know map and if you look at the original maps, the photographer, who contributed is noted in them.
J
And that's when also how he noticed that it looked like africa and south america might fit together.
That's the groundwork for plate tectonics.
um All right I have uh for thurs.
uh Wait is jackie on the call I hate zoom.
I can't see everybody.
J
She looks like she's dropped off, okay, I'll ping, her um so for thursday's working session with the t-shock org.
Anybody else.
Besides me and cara and making sure jack use.
Is there?
J
Okay?
I will, I think, a cara dale market, cloudbees yeah, yes, okay, all right!
I will find some and what time zone are you in I'm in the uk right?
Okay?
So this will.
H
Be an early morning and I have a little bit of a conflict because I'm I'm speaking at a conference at four in the uk, but I'm happy meeting in the evening.
So it's not that early for you, so actually I'd be happy meeting after that, and then I will have clear mind.
Okay, I.
J
Will I will figure out a time okay, jackie in arizona, so that's only two, two one hour two hours.
I forget anyway, all right.
Okay, awesome,.
E
All right thanks, everybody, I'm gonna, put.
E
uh Pull request through here in the next half hour, so all.
J
Right, yeah ping me on slack or tracy.
Somebody will get it merged for you.
Okay sounds good awesome.
A
Thanks for letting me sub in for dan, hopefully has electricity and we'll resume in two weeks thanks.
Everybody thank.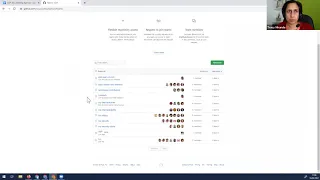 ►