D
Hey cuz, okay, yep, oh really, quick before we get started, we're finishing up the annual report we'll send out a draft here shortly for the TOC to review one thing that I'd like to track down our committer numbers and participation from the community developer for Jenkins X is carat right person to track those numbers down.
B
You asked includes the right person to track down.
Yeah, yes, that'd be again, I can add a second for the I think the I think Traci would know for sure, but happy I'm happy do I, really positive good, okay,.
D
I'll send an email out later today, Jackie or I will send it over to James and Kara, and we'll see see you just for eyeballs, okay, okay,.
B
Yeah I think yeah I think you see that Traci see you there.
Okay sure.
D
Let's give everyone a couple more minutes and we can get started. Yeah I.
B
Hope people have a wonderful break, I did.
C
Almost nothing it was glorious.
B
Yes, I'm thankful for this kind.
You'll agree, I.
B
Feel like I've found on your desk Bhatia, American, really and really break, which is like a much heavier on the other side and I'm very like on any other side.
It's the other way around in Varig.
You have to go out.
B
In Tokyo, I usually work until actually December 29, sir sorry Stephen New Year's Eve is we all feel like servants.
C
Dan is still a maternity leave by the way, so I don't think he'll be joining us. Dan Lawrence I.
D
Don't believe Andy will be here either.
C
Let's get this show on the road.
B
Right, I guess: I actually tie her got like fun during the new expression every day, I guess what did you?
What you mean is that let's get going.
C
Sorry, that's probably a California.
B
All right, Cyril, so I think the other boats necessary bolts.
We CBPR got just got Mars yesterday.
B
So we're that's up to us, I guess it's just.
B
Yeah, a teacher is from your perspective, like: where does it stand at?
What's the next yeah.
A
And this this was I, think I put this point Sunday evening or something and and then came straight ahead and fixed all the questions like repo, mainly slack channel and so on, and also me emerged.
The pier so I want to thank everyone for supporting this idea and I really look forward to collaborate on this important area and we have out of interest to this area.
A
So, as I noted that I just set the survey up to decide the meeting frequency and day time and as Dan was suggested, Thursday I put four times lost I for Thursday and I will send the survey to CDF talk and see interpret email list, because not many signed up to see in term a list and.
A
That the survey link under PR, because there are many people who are watching the pr and by Sunday I- hope we get enough responses and can have the first meeting by next week.
A
Have sent the survey on the mail list yet I, just under PR and I will send the mail right after the meeting to me, yeah.
B
Anything else, so we can help on that looks like them looks like you're alone all the way yeah.
A
Then yeah then fixed everything, so you know I I just put the last question there.
How should we get these things fixed, like the issues in CDF get up, and he just fixed time, so we don't need to create issue or anything right thanks for that, alright.
B
So where does this stand at the moment?
Yes, it's so that you have some looks like that.
I feel silly, the PR conversations and then there's some yes.
D
I can fill you in what we're yeah so far, I had a couple email exchanges in a phone call before the holidays.
We are in a process of what thank you, everyone for voting to get that through and now we're in a place to coordinator an official call for them to transfer IP assets as well, as you know, logos and that stuff over to the CDF, proud of the part of the process for integrating projects.
D
We're gonna walk through that Steve, Winslow and I will walk through that with them on Friday about you know how code in committed code is all copyrighted by the project itself, but that certain assets are transferred over so just walking through the basics of what that looks like in the landscape will change.
You know a little bit for them, but not that much and so just walking through that, and then what to expect now that they're an incubating project right and that happens Friday.
D
So if anyone on the TOC would like to attend that, please let me know I'm happy to open that discussion.
It was your comm scheduled by their site on Verizon sec.
So just feel free to, let me know you would like to attend and I'll get the official time.
I believe is 9:00 a.m.
Pacific.
D
That you anyone else on the TSE would like to attend.
B
Be my connection looks pretty.
D
You repeat that code, okay, he.
C
Was just asking if people could hear him.
D
Think we lost him the see his mouth moving around, but.
C
You're experiencing technical difficulties.
C
Can you hear us close okay.
C
That's the more important question right now.
D
We can skip a little bit, I, don't know if he can hear us or not, but for everyone on the call the project service desk is live, which means, if you go to the repository and github for the foundation itself under issues.
That's how we're managing issues for the foundation and any projects that need support.
We're gonna, try that for a while and it seems to be working and I'm opening it up to beyond just operational internal activity, but to do stuff on a larger, more transparent and broader scope.
D
I'd like to open it up now, so that that lives underneath project services, you click the button open up a request or ticket on github the project services.
Also, that page describes services that we offer again for community just learning about TDF for wanting to deep dive into what we offer for their project or what have you that is now live so that went up right before the holidays.
C
I think we finally made the call.
D
For things like that, for like supporting asia-pac time zones or float into different time zone so that we can make sure that the time is appropriate, I don't think we actually solidified a time yet.
But that would be something that asynchronously.
If you're thinking about something care, you can just open up a ticket.
We can.
B
Your back costigan treats the network during it's.
This you'll see just one question back to the IP transfer me reminds me of still unfinished: students transfer.
B
Not I'm trying to be go. What's the current son Bob lobbies, but he can see, we have you remember where it's still stuck.
D
You know I just got an email from Chris asking if we could start to finish and wrap that up so and I know. Mike Dolan had been participating in that so I apologize for.
D
Let's get that closed up, I Tyler had sent over some questions a while back, yeah I think that's where we should go through an item itis list of what's outstanding and just check it off and close it out right. um Okay,.
B
Yeah you'll be needing it be, and if this is being kind of going off forever- and you see this getting resolved and if there is anything we can be wish.
This forward.
B
Next foundation is pretty big, you feel like should be surmounted or we have all the right people so.
D
Yeah so I think funding.
There's olenka brought up some questions about how to what's the destination for funding.
Moving forward is going to go through community bridge or is it going to go through CDF or both are the features Richard and community bridge to support metric ship and all the different things going for it as well.
So there's additional conversation from not just the IP transfer, but then, if things are transferred over from a funding, IP trademarks infrastructure, all that what are the what's a fall out of there.
D
Yeah, let's consolidate that question offline, okay and and get all the partners involved and we'll give it up.
B
Yeah cool thanks and then I think before I brought you back to the ego topic.
I think you have moved farther down back to you where I guess how far away.
D
What I did cover you've seen the foundation issue tracking on github I wanted to open that up now, it's working fairly well, but I wanted to provide that as a service to projects see how it goes and opening it up on a wider basis.
So if you go to the project services page, it describes the services that CDF offers projects, but it also has a hey if you need support or either your project or working with the CDF in some form click this button, and it goes to our issue tracking and as I believed.
D
So far, it's working well just click.
The Service Desk button and it'll.
Take you to our github repository and where you can open up a ticket with the foundation.
All.
B
Right cool and then please money going beasts on the other side.
Is that, basically, you know Jacqueline.
D
And if we have an internal routing, you know I'll have to maybe grab some of our other team members to participate.
Chris is also on here, as it gets larger in terms of footprint for requirements such as our cluster and some other things getting stood up.
Other members will step in.
D
Be there I'll also be point person make sure it's routed properly.
B
The Dinkins Francois running fries stuff, like should, should they be also trapped here, he's up her youth and organised a walk you maybe you saw me happy to create tickets.
There yeah.
D
Off in the board meeting kohsuke was to have some growth in project recruiting.
We write success with a screwdriver and then I just wanted to put that here for the TOC to reference.
D
You know there's other right now, but I.
D
Bid on resiliency I talked to Aerospace Corporation and Defense Department. The DoD may become a member of CDF and by doing so, they've offered a few different things. Hardin repositories for kubernetes and some other things that they're working on as well as the zero footprint and resiliency are two big efforts in their depths of Chekhov's awesome.
D
Cool, oh I have a scheduled followup with them next week, so I'll, let you know how it goes unless you want to be on that call.
Absolutely okay.
B
I guess this must have been nice nasty things Anya already bored and.
D
More a little earlier, we have a bunch of wrap-up for the kind of a final draft and we'll send that out to the TOC for review and provide comments and feedback before we start cutting it up for publishing to the web and a PDS and kind of making it look.
Nice, but and.
B
That's what I was mentioning.
D
Coach K's that we still need some numbers finalized by the cloudy's team or the Jenkins I mean and Jackie will follow up on that.
B
Okay, yeah I'm happy between Jason and I.
We happy to track there any people who can look up that numbers cool.
D
The CD of cluster, the bare-bones cluster, provided by credits from packet now equinox it'll, still be packet, providing the services I, don't know.
If you all are aware, but packet was acquired by a clinic, so they will still be providing support.
As we had just started.
Launching the service CN CF has a similar cluster.
We will I documented the cluster.
It's in a repository now treated as draft format feel free to update any terms in the prioritization or usage policies that you'd like to see at the toc level.
D
But I took a lot of inspiration from how CN CF has been working at how to prioritize projects and members, and then the community.
So.
B
Yes, I guess, in the context of like any TV, still be thinking sleeper work like some of the things I'm.
What I'm curious is, at least in the Jenkins project, the people who are like a working on the infrastructure, though there are a lot more pressure, might be people and the rest of the contributors who work on the code.
That kind of different, beautiful people, so I, wonder, maybe you know think, would be I didn't think you'd be nice to get these other projects like I.
B
Don't like text on what the infrastructure takes time you guys on, but I'm sure the spinnaker had some folks working all those things as well, so being able the Contra focus, people for different projects together, I think they be, they probably benefit from so he knows and sharing the sharing the warden and then so.
I think something like this.
She probably follow me.
They probably find a bit is positive that we just kind of like a historical, be the challenge.
B
With this open source project infrastructure is like we usually did I on so there's a time period where maybe like a five years or so, where we being heavily on this like a donated assets from this provider and then that- and it tend to create difficult spots over hard to maintain assets and then so one of the reasons we don't the other CEO was having that consistency in from the across that turned out to be actually very no effort, saving, so I'd.
B
Imagine I mean somebody already using this packet cluster I'm, not aware of them, but are they being used by some projects?
Already quite.
D
Quite a bit on the CNC outside this facility, I thought would be good to have some, especially the size of Jenkins or other projects that are incumbent.
Graduated projects may not fit the bill, but as we scale, it should provide infrastructure, lab support or prototyping support even to member corpora, Asians or incubating projects, and so forth or or even if there's an outcome of a sig that requires testing in a test bed like a lab.
We have that facility in this cluster.
D
May have existing infrastructure that buying into some of the the kool-aid and conveniences of specific vendors is is good, but if you're needing just some some resources to get stuff stood up or that you want to move into something a little bit more mature than the development that you have going on that.
That's what that this is for.
Yeah.
B
Everybody hoping we can buy waste, it is the overhead of operations, but what I see is the new protein?
It's.
It has to do so many little things, so you could kind of board and be more people together and, like I, say the Berlin anyway cool all right.
D
Yeah Chaplin: do you want to go through the CFP I.
D
Don't know if you can hear us the CFP.
D
We are going through a process of getting the CFP committee, stood up for I, believe it CDs summit, Europe yep.
F
So um Christie sent out an email yesterday, so I don't know if if people received it um so right now she's the chair, and so she is, if you didn't receive it, then I will forward it from the air, but all the Outreach Committee folks already know so. At least someone from your someone from your company should know, and if they don't, then please, let me know, but I will send out that email and I think the deadline to let her know. If you want to be part, the Planning Committee is January 21st.
F
And then we also and then papers.
Let me look at that date.
Another call for papers, like no I know we have a tentative date with what, with the Linux Foundation on on deadline.
F
Okay, so we are going to close on February 7th and we will notify speakers that they've been selected on February 17th.
F
So that communication is going to be sent out soon, I know that we've given we've updated the call for papers, and so the next step is for Emily to send it out.
So those are two things for the four CD summit.
So if you want to be part of the planning committee, let Christy know she sent out a note and then Emily should be sending out the call for papers.
F
Probably this week she is traveling, so it might be a little bit delayed, but we're giving folks about mmm about three weeks and then also I, know Emily said that usually over the weekend, they leave they leave it open, so you can still submit, but our what we're telling people that the hard deadline is the 7th.
B
The usual tactic: yes, for those who are those list- contributors, users, yeah.
F
So I think right now, both are the two things that you guys should be aware about for the CD summit, Amsterdam.
F
Then Katherine I sent already Emily a note, so emily is our Events, Manager and so I.
Let her know that, that's that we need the prospectus so that you can review the type of sponsorships that were gonna be hosting or that we're going to have, but as soon as I have that I'll send it over to you and when will we'll distribute the the sponsor because we are gonna be wanting to.
We are gonna, be looking for sponsors and something that we found really successful at the CD summit in North.
F
America was the mindshare cocktail hour, so I'd love to to be able to do something like that again, but will need sponsors. And yes, it's Emily brough.
B
Completing the other people appreciate here, yeah.
F
I know I know so that was like a really great key learning from last CD plummet planning was that we just we really weren't as persistent, and you know aggressive I guess on the on the sponsorship.
So this is what I'm trying to correct that this time around.
B
So I guess just I mean since no one else here will just leave this on the record I'm trying to make more progress on the Jenkins infrastructure, expense and moving that over to the seediest I've been in conversation with I mean I mentioned that a few times in the past, in this cold and another opportunities I'm trying to get the discussion moving along.
B
So if you have any thoughts, the input that'd be great, otherwise I think I'm gonna be yeah, continue to push that up into the DV and other coalition, so that I start a fire.
B
Alright I guess that's kind of it.
Then anything else before we wrap this up.
I.
B
Guess certain Oaks, these people, folks I, have a good, have a good day have a good evening. That's a trap and then I'll see you in two weeks all right.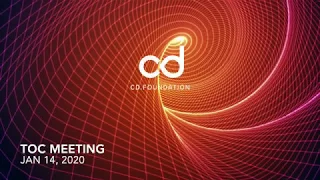 ►
Description
CDF TOC Meeting - 01142020