A
C con and then canceling meetings for cdcon.
That's all we have so far.
C
Are we doing a shipwright status reminder.
A
Yeah, I was just counting this morning and I think we're one shy of having enough combined finding slash almost binding votes.
A
All right we've got 10 people, let's get started one more time and share my screen.
A
All right sign in if you're here.
A
Let's go cd.
Con updates uh wofs have been updated.
Should I click this link?
Yes, please.
C
So for everybody who had uh filled in the form we had sent a while back, you should find, uh I think.
In most cases we were able to assign the bot if you are done, if you go ahead and click on the off sessions filter, which is the light pink.
C
Other right there, so, um yes, all the birds of a feather sessions should now be up for each project and, additionally, we'll see um like we found a slot for a best practices, one so yeah, terry and tara.
um Just hope!
That's, okay with you!
C
um So I know um we did have some feedback about whether we could try to avoid certain ones clashing. But what I will say is that we're pretty tight um and because we've got a a lot of communities and different groups, uh we do end up having some overlapping. So, uh unfortunately, we can't we've tried our best to um make it so people can attend as many as possible, um but yeah.
C
It looks like next year, we'll have to add another day to cd corner something, but I would encourage folks to also treat these as uh perhaps ways to welcome new folks to the community and pitch them as like overview sessions, letting people know how they can engage with your communities and where the permanent places you you meet are um any questions on that or comments. And the final thing I will say is uh some folks gave us abstracts um you're welcome.
C
I think we we have a minimum for folks who didn't if you do want an abstract, updated or you have a link to a document, uh perhaps for sharing content. Let us know we also are going to enable the miro platform integration with hop in uh which has some interactive features like for for building road maps or just kind of brainstorming things together.
C
If folks would like to use that, uh let me know- and I will have the events team- send out the information around how you would set that up in in the platform, any questions.
A
Comments it's exciting, so many people signed up.
C
Yes, and uh definitely last year, the the boss first many great cd contacts we had people did love to show up at the the buffs and listen to kind of the unstructured ramblings and just have that opportunity to ask questions and engage.
D
Sorry is there, is there going to be a uh uh just, a quick overview for any necessary controls in the hosting platform?
C
There is a guide um that will get sent out.
I not sure if we've already shared this, but certainly.
C
Had a guide last year, we'll be updating it, and um so that will have information for folks on.
You know how to log in how to share things.
um Jackie, I don't remember, I want to say roxanne shared an early version of this, but I can't I.
B
Think I need to check with emily, because I know that they were going to be updating um last year's deck uh and I can't remember, I think she also said it might be already available in the um in the portal.
But I don't know if that's like the speaker portal or, if or for sponsor portal.
B
So if not I'll, just uh I'll get the link and I'll update the agenda notes with it.
C
Thanks yeah, so for we'll get that out.
D
Including how to register for all you're doing as a buff?
Presumably you need at least some sort of minimal better than attendee permissions.
C
Yeah, I think uh it's fine, like the events team, can elevate your status to be presenter or speaker. um So I expect, if you're registered, that's all they you need to do and they can handle um just flipping the switch to say you're a.
C
Speaker um I'll go have a look for that document, but if not um I'll we'll make sure this gets sent out to all the folks who have volunteered the only other thing I did want to bring up for the get up summit, which is the day before cdcon.
C
We had reached out to the get ups working group and asked them.
You know said that they were welcome to have a bath session and we never really heard back, but I think there's still an opportunity.
Anybody here um was willing to um like moderate an interactive session at the github summit.
I think we've got at least one break uh where we could have a just kind of a free session for for get ups, so um yeah.
C
Just let me know if, because it's coming up quick, um I think we're not going to follow up and chase with folks we already reached out to.
But if anyone on this call wants to do that, uh let me know- and we can set up a session at the get up summit like just a get up.
Scoff kind of free fall discuss the talks whatever.
As long as we've got community folks who want to.
A
Moderate okay cool anything else.
There nope all right um talk meetings, so we said sorry for the calendar issues, I'm not quite sure what happened, but I barely understand how to work my own calendar.
um Everybody should have got this one back on today, but we're about to cancel the next one.
So june 22nd will be cancelled for c con.
A
I'm checking the calendar.
Now I still see it.
I'm scared to delete it.
A
um But yeah we'll make sure that gets deleted without deleting all of the remaining ones and then july 6th after that will be the first one with the new official toc.
So looks like tying us into the next topic.
It looks like the shipwrecked proposal is on track to either get affirmed that day or just be automatically approved because of the almost binding votes that we have so that'll be a fun first meeting.
A
Any other talks on the schedule.
I guess the new toc can figure out.
If this time works, shuffle change up any scheduling.
They want to do two as we go so should we leave this one recurring past that one any thoughts.
C
Yeah, I'd love to just recreate the new just do a new series that starts on july 6th and directly invites the new toc members, as well as any technical contacts we have, and then I don't know if we formalize the way people can request if they want to be added directly to the meeting, invite I I think it could be uh like if you put your name down as some of the sigs have lists of people who say they're interested and then we typically add them to the invite whatever process folks want.
A
All right anything else for today or let people get ready for cdcon.
C
Yeah, I think I'll see you all at cdcon registrations are doing really well.
Just so folks know we top 2000 for get up summit and I think something like 3700 for cdcon itself, so yeah looking really good more than doubled.
What we had last year and yeah.
It would be great to welcome loads of folks uh in a couple of weeks.
D
Well, congratulations!
It's a huge milestone for us really is yeah warms my little infrastructure, nerd heart.
A
Thanks everyone: in a few weeks, thanks.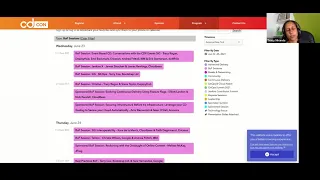 ►