A
Yes, you can imagine no idea.
B
What features are because when, when the rest of us do, we have to set up like a wholly different?
Oh really,.
C
We'll take it we'll have a time.
D
Oh so, let's I mean I think we could probably get started it's about five minutes past.
So I have an agenda, I mean KK or you know, as chair you're, basically kind of control, the agenda and meetings.
But together you know something really.
The most important thing is to decide on is meeting cadence about his principles and a project acceptance process over the next month, or so in my opinion, but I'll defer to you as chairman, Lee yeah,.
B
All right, all right, so I guess I get to run the show.
um So let's go on D yeah.
So it is the opening.
So this one seems to be TV every two weeks and I think that's the frequency other being involved in CN CF TLC, and that also seems to meet in that calendar, and that seems reasonable to me, like any other South, any any thoughts of this one way or the other.
That sounds fun.
A
Andy, do we want to try to have like in person?
You know many of us are planning to attend.
That's.
D
Fine, that's fine too I.
Think in general, like meeting through every two weeks is fine in the beginning.
Over time you may want to make it.
You know once a month or, however, you want to do it, though identifying also sometimes a quarterly face to face or face to face over six-month.
B
On the MS you are talking a being always on the meat, but sounder to every two weeks is five: zero I guess the same time this week, I mean the same time. The week yeah.
D
I, don't know okay, I believe right.
So whatever was this work?
If this time works, it works, it works for me, cool.
A
Yeah hit, the big thing for cadence is just making sure that we are not a bottleneck on any of the only things trying to happen, and so, if we start to be badly have to revisit decision-making, yeah, yeah, I think.
B
We can come back, see an in-person meeting.
Well, we might as well and so I guess then, if you are gonna, have the in-person meeting I think the next obvious one is the bars cute calmer salon, a severe summit, yeah I know I'm going and you're done he's going, James I believe you're going at spell.
Andy I, don't know.
If are you trying to join us?
There I haven't.
E
Been able to make my plans yet I love.
D
Other line space during that day so I mean you could either do it. May 20th during a summit or another day throughout the week the 21st 22nd works, dude yeah.
B
And I know I eavesdrop on some noticed a conversation between like about the name of the Emily from the NASA Foundation, which is tracing down so I know that that day is getting plans and then so moving on to the CDF TOC bodies and principles, so I may just right before this kool-aid the it's the proposed that it's in the talk that we specified to be busting evening, so it's just I.
Did he just moves multiplexed up and down so I guess I feel like most of the that's.
B
The round of conversation has gone and, and it died down where the you know any any more thoughts on this.
The most talking about it here, I guess, maybe not worth the addition like I have it be.
You know on the incus you had this security well, try I have security deleted, velocities I added IV.
That was since the missing from those series split some text in there I hope.
There's nothing controversial in there.
I think everything else is more.
Let's just copied from the original version from down the only thing: I wasn't quite clear.
B
The fairness done yeah.
So you mentioned that a spell you learned.
It should be like to be upheld and copied over a bit.
I tried, I, read it and I try to understand what it's like.
It's like, trying to put myself in the head of the cnc of folks.
Don't you understand why they did it?
It sounds to me more like the higher level than the technical thing, but I'm curious to hear like making when they say that could not paper play or the avoid and the influence.
B
It sounds like it's more like talking like well, the TV shouldn't.
Do those sneaks yeah.
A
Sure yeah yeah I was a little unclear.
They move that document around on github several times, and so it was kind of hard to trace the authorship back to exactly when these things were decided by which body I.
D
Mean the original thought was to avoid any play to pay to play semantics in terms of technical contribution or anything around a technical leadership and contribution I.
B
Mean obviously doesn't hard to have it bear it.
That was kind of curious.
Is some there's some back story started to those young.
B
So what should the next step be?
The I guess we can maybe sit until the next time we meet and and kind of call it at version.
1.0.
D
Yeah I would basically you know if we're happy with it kind of where it is.
If someone wants to volunteer and basically make this into a github full request, and then we could iterate through there and then my suggestion is both amongst the tiers need to improve it.
It's kind of a v1l and then kind of go from there.
B
Right that you got okay, because everyone else yeah.
A
I'll get some more comments on the post yeah.
It's good a little point that these are shaded out to your editor and fast in this doc, and then we can deal with the pull requests for vehicle.
B
All right also, both in the next.
B
I guess any, unless somebody wants to take this as I I'm happy to take that action to create appear.
Alright.
B
Okay, so the acceptance process so I think I assume it's Chrissie added this also right before the yeah pressure.
D
Makes diamonds no I I through and basically kind of what CN CF and some of other kind of Linux Foundation best practices or foundations in terms of project acceptance and proposal criteria?
It's fairly standard I, don't think, there's anything surprising in there.
If you want anything else that a project should put in a proposal kill Rita at a point, but but my my feeling is, everything has to be done via github, you know should be a full request to the TOC repo they should present at one of these meetings.
A
Alton, you know Chris I know it's been a requirement for the students.
Yes, I.
Think overall, a pretty good thing that the students you have ended up getting backed up for like six months on projects.
Is that because of the presentable you need Oh.
D
Correct so we got backed up so much.
We've created another meeting, that's clearly dedicated their presentations.
I I, don't think that's going to happen here, just because the number of projects it's a little bit smaller in scope, but if that happens, we're always free to kind of ring.
Rearrange things around I, just you know, I think it's fair to have it we're running time.
The presidential you'd have time to kind of critique them and in a you know, face-to-face or whatever distributed meeting type fashion is.
A
This is fun if we ever start getting backed up for that many most, we didn't yeah.
D
I, don't think it'll be an issue.
In my opinion, budget sounds.
B
Like a good program to have yes, my.
D
Region I had is like maturity, levels of projects, I think it's something for you to kind of think about.
So you know when, when CN CF was formed, everything kind of started out in incubation by default, um you know so I probably recommend the same thing for here arm.
You just have to kind of decide how many levels what it means to be I graduated to project you still want so that's kind of for you to soul, is.
A
That would have implications on because the products come with seats on TOC, so yeah.
D
So yeah you uh correct right.
D
Add levels or something it's up: the technical board to figure out levels but yeah new projects that come in will get a seat on the on the PHP, so that the way it's gonna work is there's six seats on the TOC reserved for projects three.
It will come from the governing board well, but.
A
So I guess the question is in the Charter: they didn't break out levels or anything like that.
I know that's difficult, average, the sandbox style level, but did you come with a seat?
Would that have to go over the Charter?
No.
D
No, it's for you to decide.
The technical board owns owns the whole process.
Hi.
B
Yeah there is a I guess.
If you have those series, ladies I think I feel like the product that'd be for projects that we currently have maps.
Both the incubation graduations graduated projects, so I, guess that would be the seat criterion and having some books it helped us have a power.
B
Yeah I was looking at some of the dogs kriste at this end in the first few days and I was curious, like what you know what people I felt like any chance than what other groups do to incubate the project effectively, it seems like there's.
A lot of thoughts have gone in in different validations, yeah.
D
I mean for, for us at least it's important for projects to grow.
The number of like maintain errs from different companies.
We kind of avoid, like a bus factor problem, have a reasonable like security disclosure process.
There's an effort from the linux foundation called the core infrastructure initiative.
That's best practices, badging program, which kind of lists a lot of like we're like best practice, is that all open-source projects you know should should have, and we require folks that go through that I actually highly recommend folks to kind of look at that.
D
But generally it's diversify your core maintainer ship.
So it's not you know single vendor or single kind of maintained or driven have reasonable plans in place for security to slow, do type issues, grow or hold meetings in public, do Camino releases and, and so on.
A lot of that information will be able to pull from from dev stats that we set up for the CDF I.
Don't know if I've run of Andy's seen this yet when he doesn't see it soon.
D
They're doing here you could hold office to be a lot of statistics in the projects and that that we already have.
E
Any reason what Chris you would recommend we wouldn't model this after the CNCs.
You know: sandbox incubation, yeah,.
D
The only reason uh if you didn't have a desire to except early-stage projects and not have any for a sandbox level, then I would advocate, dropping that, but if you do think like you're, just gonna support early-stage objects that may fail, or or or sixteen and I would keep the sandbox.
Also, you know if you want to support early-stage projects and then I would just cargo cult.
What CN CF has done and maybe put your own spin on it.
Otherwise you're not gonna support, really project early-stage projects, just not incubation in graduation, that's waffles!
A
There's some of the concerns they had an intern recall.
Those modules were about profit like it becoming just a dumping around for projects, yeah very good things in no real process to get things out.
It's always harder to like.
If something stops being maintained, you don't want like them in order.
D
To kick off projects like we're going through that discussion now and see and CFO Pacific Park will arc our projects, and it is a little bit difficult, though, if you only keep the bar high quality, you know really high, then avoiding sandboxes is the way to go.
Yeah.
E
I mean a my two cents: I feel like the the domain that we're in and in the the idea of practitioners and whatnot with.
E
To continuous delivery, I I'm in favor of maybe avoiding the sandbox idea for a simpler process, but also kind of gives more credibility.
With respect to the tools that we're advocating yeah.
B
Yeah I, guess let me do the kid that I mean kinda.
Echoing that point, maybe the way to look at it is if you're not eating the on the treadmill to get to the girliest some points, and maybe you don't need to be here.
A
You know to be kind of like I think we don't understand why people would want to put things in a sandbox here, someone's, probably just company's a lot more maintainer Xand, think they'd get that by putting in the foundation.
Maybe we can encourage other ways to do that or marketing.
D
Yeah Brant, it's the brand affinity right that we kind of you know people assume anything in CN CF meant it was as mature and stable as kubernetes, and that was kind of the rough rough.
Should we kind of ran into you and had to create the whole sandbox thing and basically did minimal marketing for sandbox projects.
Particularly, you will have that issue.
I.
Think any project that comes in an organization that's willing to be benchmarked against kind of the misty optics of the organization, so yeah.
A
I learned, especially in check, we've already had some corporations asking about moving some of their intervals to be like a sandbox.
You know exactly what they hope to get might be a good way to I've.
D
Already seen it in CDF, where people assume Tecton is as mature as say, spinnaker or our Jenkins witches, which is not true.
So it is something.
D
So it seems from can census, it seemed just keep it: let's just keep incubation or graduation and it would go from there and then yeah.
A
I guess just gather data from people that want to put things in and see if a third teamer makes sense.
Okay, that works, we could leave it open.
At least we can always add one it's hard to take one away.
D
See the other kind of point to think about the meta point: is you know the more projects you have the more requests for budget, and so on that I happen to show is kind of a limited set of resources to definitely better mind.
A
From the TRC, but as we decide like the scenes yet provides some kind of like documentation, budget security audits, I kind of make progress so as I guessed assignment for all, we have here.
That would also feed back into like the levels in your office.
Yeah.
D
You'll be able to like the side of the tiers.
If you want to request budget for specific things, you know it's spinnaker wanted a security audit.
You can make that request.
You know present.
B
So if you do away without sandboxing, does that mean there needs to be some and trans criteria hold I, guess the side or adoption or some such student key baking?
In other words like if I had her projects today, like my project of the day, next exact I, guess she should data?
Should that not cold fine for incubating nothing like he has sure to go, etc.
So what what did that be?
I.
D
Think you have to differentiate, could definitely list the criteria.
I'm happy to put something together for you know graduating, but you know there's two ways to look at this one: it's like things that you've developed on your own as kind of independent projects that you want to put forward and then there's kind of the notion of each project within CDD have kind of runs independently, and so, if there was a let's say, spinnaker, you know, I don't know.
D
Andy came up with a cool little utility, that's useful, the spinnaker community that could be a separate side project for the spinor community community and decide themselves to kind of add on to the organization saying things would apply to to jenkins and so on.
So you know in CN CF the analogy is community SIG's being able to accept projects you know on their, you know as something they own versus you know a separate project, that's under understand, CF, a lot.
A
Of those discussions are revolved around the same kind of question why people feel they need to put things in the kubernetes and a lot of expert affinity and they've been trying to craft?
You know a way for people to not have a potential of every to still be integrated with communities and will be associated with it.
D
And in this case, I think we just want to leave it the freedom to do the projects, decide if it's something that has a natural affinity under it or it's different and part of its.
If you drop one.
A
World, where everything has to be in a product or in the CDF, to integrate with the things that are yeah right, but for things they do fit, it should be right right.
B
Okay, so yes I, guess then I kind of take it that it does mean we should have some level of maturity, adoption criteria for the innovating, because we believe not every course can hold.
The project needs to be here.
D
Correct and yet in at the end of the day, you have a lot of flexibility like like its deferred to the TOC.
If the TOC decides that, like hey, we really want to support something early-stage, that's critical, you can like it.
You have the authority to do so, so you just have a requirement.
A
On the job description, where you just put some well, these are living documents to their bit of all right.
B
Right well, so all right, so yeah I think if I understand people in conversation correctly, I think we are converging on only in sandbox when I, let's community I'm the incubation incubating and graduate in few stages and then I guess we all.
We need to work the abatement meet and details on, but it means so that's a next step.
D
The other thing to note is we'll be holding the first governing board meeting on April 18th, where I plan on essentially the governing board, we'll add two more. We have 40 of C members right now, two more slots will be saved for project and the governing board will basically fill out the three other one, so I think I will bet.
D
We will back pocket, keep the two slots for projects that coming in the future and so will essentially operate with a seven-person POC for a while, probably charting I'm guessing may probably one concealer collage of Elections right.
B
So, just to recap, I understand what you said.
So you expect the DBT send us three more young poll and then T slots left yeah pocket.
Did we.
D
Write for new projects as as 800 you know, technically the governing board could fill out the rest.
You know, but I think it's important to leave those two two slots for four for projects and Curtis.
E
The governing board, the I guess: what is the voting criteria?
Is it other governing board members yeah.
D
So it's gonna be nominations through governing governing board members, and then they could be anyone.
They don't have to be part of the governing board.
It could be like I, don't know some crazy academic or from another project or someone else relevant in the in the space and then they vote on.
It will be like kind of endorse it style, which is like rank choice, essentially voting.
D
So if there's candidates that the TOC is interested in, then that's I think that's something that you know co-state could bring it to the board.
As a chair, if, like you know, hey these folks will be eventually good and we consider them as not as the technology isn't.
B
Yeah I think that's I, think that's something you should think about.
um Yeah like at one point to Nepal I thought somebody acted humble or some.
B
People who are well-known in taking up space would be yeah, I, guess yeah yeah.
He.
E
Is a good you shouldn't and.
E
Sorry he is a Google employee, so we would want to kind of be careful of the optics of.
E
Have many people company I, think.
D
Technically you're allowed I need to double-check the chart: I theater to free people from one company, I'd also say like right now we have four dudes essentially on on the tools we need to like keep in mind that I think diversity.
Inclusion are extremely important, so I would keep those factors in mind as a recommendation, all right, I'm, Vicky, asleep.
A
Yeah I mean ooh.
Sorry, yeah tip brought this up actually at the last.
That kind of informal meeting we had, but the CNC actually has formal of exterior for nominations are out diversity.
Oh.
D
It's not formal requirements.
It's it's like office, yes, yeah yeah.
It we're sort of strongly encouraged.
Essentially, all.
B
Right, well, we got a I guess, two more weeks to think about names.
I think it's good!
You know, I think we want people who we can like really respect and value and we can kind of share the same values, etc and.
D
I mean they could come from an end user to look like you know, you're, the other thing I'd strongly recommend is you know if there's a and I've been thinking either company that uses the projects and having that voice within the EOC is is extremely valuable.
So if you have customers or clients of your project and also jumping certificate or yeah.
B
So the so do we, when the what's your expectation, the timeline of society in the DB material, things, I, suppose the election with we take its own bit of time.
D
Take my guess is it'll take probably two weeks from from that, a whom a would be the first realistic time that your new book Lincoln coming I'd, also advised when that happened need to you would open up the project a proper.
You know acceptance process and approval process, so people could do PRS for from from that day forward.
Setting to me is a enough to have a healthy number of folks do except projects yeah.
B
Okay, yeah I can't think of one name.
So if took up my head right now, but I'm sure she we can yeah sure I, don't think about.
D
Well, we could also ask for volunteers on the TOC list.
Like say: hey, the TOC is looking for candidates.
If you're interested, please, you know reach out that's another approach that you did yeah take the other kind of thing that you know I kinda forgot to do and it's Hall is essentially yeah.
I think we have some observers and kind of like just casual introductions.
So that's another kind of thing that we should have had tonnage that we start.
We all know each other, but there's something maybe new.
D
Folks on the on the call that do not know us.
B
What do people think about having like a I guess the having somebody who's serving both C&C if TOC and CDF EOC as a kind of a bridge I.
D
Would be pros proposal face-to-face meeting at UConn for that their first thing just to have that discussion.
Every.
B
Any more thoughts on this or should be may be on T next topic.
I.
E
Had a question in looking, you reminded me to look at the kubernetes TFC I noticed that they have different terms and I.
Think Chris.
You mentioned this and the phone call during the conference.
How do we figure that aspect out in terms of terms.
D
But what do you mean by terms good.
D
So we'll stagger them I need to honestly I, don't remember off the top of my head. I have to dive in generally, we'll stagger it so Linux Foundation we generally prefer two-year terms, and so generally, what we'll do is once I think. Once we get the seven, maybe we could do it where people would like draw straws or something we'll just been a random thing, where the first, let's say four, will get to your terms and three will get one-year terms and then will forever stagger in your turn.
D
After that is going to help those doing it.
B
So that's what happened after we have the sympathy of people yeah.
D
Well, I, don't think, there's any reason.
B
Does that make sense on D.
B
All right, so any any questions you get generates from.
D
Poc members or folks that are on the call.
E
Chris you brought up that we haven't done introductions.
C
Embarrassing yet going right back out the top.
Yes, yes, sorry go.
E
I'm Andy Glover I'm, with Netflix and spinnaker and I'm in the Bay Area how's, that for an introduction, I.
G
And there was a call with you recently yeah.
G
Saw your face, so it's nice to see you the real world, your subjects, just reckoned from tickets.
It in.
B
The air in UK, alright.
G
um If a d-dimer know Leah Foom in a little fella called Mel's, that's in the West Country, so 150 miles west of London.
F
Am sure Roy maka I am the head of technology at ThoughtWorks products where we will go CD and I'm in the Bay Area's.
Well.
H
For today, I'm angie from erickson Sweden, Stockholm and I am here as an individual contributor, not as Alex name I.
B
Guess we are cos K it economy, k, Kate, it's much easier to pronounce and then I'm the thinking sky there yeah they give up. Tokyo I, guess, that's it then.
D
Chris and it's like helping basically kind of drive this behind this news- the Linux Foundation person.
I
Tyler hi I'm Tyler, Froy I'm, a board member on the Jenkins project and I'm in the West Coast and I.
D
Think that's everyone.
The first call it's not good I mean any other kind of questions from folks.
You know in the community, outside the TOC on on things.
B
But from me yeah, yes, not from anyone there, cyber.
B
As I guess, there's huge next steps.
What are these so there's a walk on the next.
This next set of details for this acceptance criteria create the PR, that's not a luxury item and then nominate you think about the people to recommend TGV, for they can the TLC candidate any other, and it to these some people's mind.
D
There are particular budget related things.
Potentially you know for projects.
Let me know so we're basically drafting the first budget for the governing board to approve I mean we're all clear.
We will hiring a program manager to basically kind of you know, rpm VM, for for CDF, okay, we have Kennedy observer or folks that are potentially just whittling and running a foundation.
Let me know, but what will happen is the governing board?
Will approve the initial budget, then we'll go.
D
Try to you know, hire someone and then do it only needs funding in from the projects.
A
Cool, so will there be like blanket butters or partnership.
D
Requests little more generally, we prefer a request.
All like every you know.
Every project tends to be unhappy in their unique.
You know ways and have different budget needs.
So that's that's generally.
The way we prefer to to work I know you know like, for example, I think Jenkins, you know, has some hosting requirements or something for tests and CI that they run that we kind of needed to deal with it Microsoft or will donate some credits there, but I need to double check with them.
I honestly, don't know what Spinnaker's need large.
D
So it's something you know maybe evaluating what different needs projects have and you kind of go from from there.
Okay.
B
Yeah, it sounds like a useful baseline.
It's the get.
The best I know how much like, what's what's being spent yeah.
E
Yeah, first and foremost, so it sounds like most of the TOC will be in Barcelona.
Was that I think that was the only one who is non non-committal?
E
All right is there plans for I mean I, know I feel like I want to go, I've always wanted to go, but now I feel like it's required to each own person, but are there?
Are you all planning to you know speak at the conference and whatnot I.
Just I was curious about that aspect.
So.
D
There is a continuous delivery summit on May 20th right, so idly 'v be able to see like a project.
I think actually has a speaking slot.
So at least that's the way we planned it.
So we didn't reach out to you and tell you that then sorry, good.
E
It was like I need to be in Barcelona.
A
No any agenda, I was just men calling yesterday there's in the morning that day helps give a quick update on that I guess yeah in the morning of that day, there's more talk, there's a little intro from 4:00 to let me do the OS LS and then a talk from each project giving an overview, and then the afternoon is panels.
A
That's like working sessions and birds of a feather everything.
A
A dictaphone 200 people are session, then a hundred an already signed up, so we use the gives you do not get.
We don't have reserved spots so if you're probably make sure you get a spot soon.
Oh.
A
Like well, we'll figure it out like I'll, make sure we'll get you to Emily.
Give a big warning yesterday say: make sure you drive spots for ourselves, but yeah I'm sure we can say could have some pretty good.
She said it was also the most popular of all the co-located about trying.
D
To find that dad got that dot and with the rough schedule and I'm just an idiot I can't find it so.
D
Here you go I'll paste it into the.
Let's.
Do that so.
E
Another question unrelated tube, Arsenal Barcelona, but, regarding you know the the projects we have currently in the CDF I'm curious from the other TOC members.
Is it on your plate and when do you or if it.
F
Is on your plate, when you.
E
Plan are we gonna change package nate package names like well, some of the low-level details, I'm curious, there's.
D
Nothing you're gonna have to change regarding package names or anything like that.
You will to update your websites.
Basically, the governing board is going to probably put forth some guidelines for like on the bottom.
Things will be like copy your right.
You know.
Spinnaker projects will be copyright, the Linux Foundation and a reference to the trademark policy I.
Let it stick that will happen.
It's not an immediate rush, but you know kind of the beauty of this and kind of working in the Linux Foundation.
D
Most of the time you don't have to change anything regime, change, package names or opening space, Wow.
E
Sorry, low-level kind of yeah.
D
Yeah, it's totally a little question to ask.
I've went through the renaming of like go package, nightmares and stuff like that.
It's it's we're all good you'll have to remove any like company branding that you know ties it to a specific company.
You know you could have like an about page that you know says you know horn, you know or net Netflix, but you know maintained by people from all over the world.
Yadda yadda.
So.
D
But I share the dock for the event in the hangout, so you should have a rough idea of the schedule and so on.
I.
B
Copy that in today, yeah that's good thanks.
D
Any other questions from folks.
You know I mean this is there's time.
So you know doing this.
The.
I
Jenkins project we've got a discussion coming up with some fella infrastructure people, yeah I, don't know if spinnaker cuz I'm assuming there's some infrastructure assets already out there for first spinnaker.
If y'all have already started a discussion with LF on what we should strive to consolidate versus what makes sense to maintain independent versus what should be operated by Ella, but I just wanted to bring that up.
That word we're going to start having discussion from the Jenkins project and just see what we can operate.
I
A mystically consolidate yeah and it may make some point in the future.
I don't know if this is a toc level, 30 yep, but at some point in the future, I would like to have a discussion around what shared pieces of infrastructure we might want to rely on because I think that'll make it easier for us to secure budget for these things.
Yah.
B
Yah Malini from like Netflix sorry, the spinnaker somebody run involved in spinning running spinning as in protein.
That would be a I think it'd be great to have that person also join the same call, but we're just kind of like an you know the discovering they are doing the discovery at the moment like know what we, what we currently round like what the linux foundation for a team has traditionally down with the I.
D
Think there's all kind of basic things of like you know.
Generally we, the the philosophy, we've operated each project kind of decides.
You know what it needs.
Some need.
Some are just happy with.
You know.
Third party online kind of service really cure to Ronnie.
You know tests and all that some need actual dedicated hardware.
D
You know other small things around like you know, maybe it's time we you know have like you know, last pass or some things for people.
If it's Jerry, you know creds instead of you know, holding on to their phone, so just getting idea what what the needs are is important.
D
I know Jenkins a little bit unique in kind of their needs, but I'm not sure about a.
E
Standpoint you with respect to infrastructure everything you just covered makes sense, but there's also in my mind, additional infrastructure.
For example.
I.
Consider, like you know, Travis CI or artifactory discourse, and then the big one I'm curious that the Linux Foundation has a relationship.
The slack yeah.
E
We all have slack teams and they're very expensive, so we.
D
We do so yeah, so you know my thing is like you know how about over the next like month or so kind of collect their requirements from projects of like here are things that you know we would like and what we need help clear and then we'll kind of do our do our best I mean I mean it might be the best climbers they put on the.
I
Ftse mailing with is that, where the discussion should.
D
Happen, yeah I would do the city of TOC basically out someone start a Google Doc, maybe and just throw it all in there and then Judi notice.
Yes, yeah well,.
I
Overdue because I need I needed to do this ahead of the meeting we have on Thursday and with LF folks.
Anyways is all I'll put a Google Doc, together with it's sort of an inventory of what we consider infrastructure assets for the.
I
And then I'll share that with the TOC mailing list and then you know Andy, you could go throw stuff in there.
Dude yep.
D
Yeah ventually will also move to the model where, like current assets, that are like owned by companies or individuals, will eventually be transferred over to a lot lfi t for shared management.
Essentially, and then, if you need to like the dns or something you all go, you all go through like the Linux Foundation Service Desk, essentially to get that or they can chemically art assets.
Instead of you know, one person holding all the SSH keys for I.
B
Guess that's something like I know that some lady.
B
Yes, so Chrissy you're, gonna start the new dock and then the rest of us.
This roster thing I think.
D
Tyler volunteered or started startup, so yeah, and then the goal for that for timeline is you know, I'm hoping after the Governing Board meets, improves a budget and kind of just gets gets operational on their own.
We still kind of have this table.
It's called bootstrapping, so probably Mae would be a good time to kind of make formal start making formal requests and I'll do my best.
Take care of any intermediate leave energy.
You know getting it says: CI credits expiring soon or something that potentially we need to deal with.
Yeah I'm up.
I
Working my magic on that at the moment.
Okay,.
D
Cool yeah, laughs, cool awesome, so I'll be my best friend immediate.
Eventually, you will have someone that has a full time.
You know give you full time, love outside with my very minimal.
B
But again you stick your tighter.
That's why yeah, so my personal credit card might not see this charge.
D
I love projects you run on personal credit cards.
D
Hopefully, that's like it on yours Andy, because I could relate to the expense expensiveness of it.
I love points.
B
Anything else all right, I guess, then that's that's it.
For this time, see.
D
Ix and that's keep you.
D
If you want to set up now, you can wander invite for repeating now I think for every two weeks or whatever.
However, how to do it and then give the TOC members and me admin on that calendar?
If, if you can, that would be great sure and then I can.
A
Even want us recording to you Chris or post it to YouTube directly.
It's.
D
Going to send it to me and then I'll have Natasha pre like we're, creating like all the marketing.
You know, move in YouTube channels.
All that blah blah spell.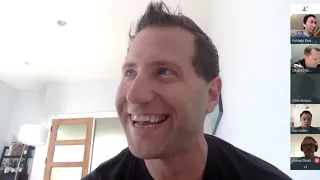 ►
Description
CDF TOC Meeting Agenda
o Welcome!
o CDF TOC Meeting Cadence
o CDF TOC Values/Principles
o CDF TOC Project Acceptance Process
o First CDF GB meeting will be April 18th
o Q&A
o ACTIONS

TOC Attendees:
o Kohsuke Kawaguchi (Jenkins) [CHAIR]
o James Strachan (Jenkins X)
o Dan Lorenc (Tekton)
o Andy Glover (Spinnaker)