A
And we are live so hello, everyone thanks for joining the call, our we're going to start with the usual update.
First.
For me, probably one of the first things I'd like to mention here is that we had a presentation on the cranky geek web RTC event last week and I'm going to pass them paste.
A
The link here we talk blue and I talked about how we use react native in order to have sold our soul by the way is coming along very nicely, ah and there will be a short update on that in a second I'm just trying.
A
Karthik is that the yes?
That's it.
A
The iOS application to the.
A
Which that didn't make sense like, for example, make sure that.
A
Whole point is that this is ready in which is not tackling the humanities.
A
George around by the way, Latrice.
A
ah You when we start um going Damien, why don't you talk a little bit about the.
A
Pulling the Debian packages.
B
To consider both in in our code and I mean honor.
B
um So, in order to assure that, we need to make sure that the TCP connection is kept alive.
B
um We have been seeing a problem where our.
B
That it doesn't know its public address and there's no error.
B
Popping harvesters from the bridge to the ice forge a library.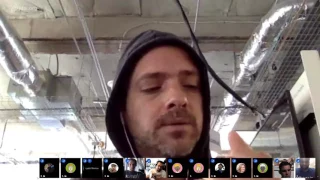 ►
Description
No description was provided for this meeting.
If this is YOUR meeting, an easy way to fix this is to add a description to your video, wherever mtngs.io found it (probably YouTube).