A
There we go okay, so we're live-streaming I've got a full screen, so I'm gonna be coming from a laptop today, because everybody here well we're in the conference room we'll have control of the camera, so I'm gonna kind of set it here where everyone could see at least somewhat so we're gonna have a pretty brief call, because we have a pretty limited crew here, but uh here we go.
I have been mostly working on the stability of our infrastructure, some of our scaling and some of our ability to launch in multiple regions.
A
So none of that is really gonna be visible here on this platform, but uh that's where I've been mr.
romantic.
So.
B
One of the things that I started doing is the way we are reporting some failures and errors.
B
Legitimate, so we have a bunch of cases that we pay or we have on JavaScript.
There are some exceptions they have.
We are just.
We are not reporting, like an exception from the library.
So as the first step, we start reporting those errors to the global era kind of chamber.
B
From that page, global error.
B
So we'll continue with so the plan is to first fix the errors related to create local tracks like get to the immediate step, to be somehow a more descriptive like we're going to start passing the with no errors, and maybe after that, where we are going to with better weight, will be talking.
Those errors I mean like not directed to the model theoretical the gang were reported.
Among some calls.
B
My thoughts are, oh, maybe maybe, with some events, error.
B
Other than that I discovered an issue with latest library, because, because that we were always reporting a promote stream by tightening this internally created by the library with no body force like SSDs,.
B
So extra I'm talking about the track option that we are returning, so that should be fixed yeah I.
C
George, will you been doing so?
You should speak up and speaking yeah I'm.
Sorry.
C
Before has been working, the voice for performance ratings Hamilton, we have observed some frequencies in the results that we are getting Boris's and some ones that were sent to fix porous is more about some security that we have found in the bridge and relationship with Japan, and also there are some.
C
It seems that we have observed placed station with us from being against from the videos.
This will speaks.
Another takes an additional six to one without in doing so, and it's not what we we already have has been made on Fridays or BCD fix.
Now, then we have served, have some issues with Firefox, which defeats with how my humble dsdp and I can fix that it's not done yet.
um What else I think?
That's all you.
A
Know and this because you're already on camera and you wanna go and.
D
So for the last two weeks, I've been mostly working, fine.
D
I have started to be structurally restructuring.
D
The code so that we can so that we can have some very basic components.
D
We can have the the key component systems and.
A
Thank you all right now we're going to turn the camera to Boris.
E
There's even the bridge on the simulcast doesn't really perform well or as well as we expected.
E
Simple works, the majority, the problem, the main part of the problem is that we don't drop the packets early on.
So all these things that we don't forward, so we thrown them somewhere on the bridge.
We drop them.
Maybe too late in the chain.
E
So we have an optimization coming there, which should make us sleepy big simulcast.
E
Apart from that, there was a leak of some sockets that maybe so we fixed one problem.
E
But now we are still not sure that all these effects are still investigating.
There is really.
A
Cool all right so I guess that is that, for at least our part I see the Davis asked for a bump on this PR for Chico Coco.
Do you want to talk about that at all Dave.
F
And what we are noticing is that if the video bridge is connected to our XMPP server through an ELB, the EO bees, don't really terminate the connection very well.
The connection stays up, but the instances behind it go away.
So I put in a fix to jacoco so that it's configurable, if you exceed the maximum number of ping, requests your ping threshold, it will tear down the connection and reconnect and that that's auld, a pretty nasty connection bug for us.
F
It was pretty hard to find that one, but it's a really simple fix and it's configurable.
So if somebody could take a look at that, I'm not really sure where to document it, whether it should be documented in jacoco or in the video bridge project, because it's you know it's kind of like it's used by the video bridge, but there's no documentation for jacoco at all.
So I'm.
Looking for you know any feedback or advice on that.
A
Yeah, so I'm I'm obviously knew enough that I'm, not the jacoco expert I'll, leave that to whoever else it might be.
The best person for this, but I do I do think we should get someone to look at it.
At least this week.
You guys that's true.
Anyone.
F
Yeah we're maintaining our own buildup jacoco right now, I'm just pulling it from our own maven repo, but it might be helpful to other people as well running this in AWS.
G
Seems, like you know well, know 40 miles.
A
High so right, okay, cool yeah, we'll definitely try to move that forward this week.
Thank you, I appreciate it.
Thanks for booking us about it and.
F
Just let me know if there's a where you guys want the documentation for it, I'll type it up.
A
Cool, probably in a dot MDE somewhere in jacoco to maybe I, don't know what do you guys think that's a recommendation for.
C
Other properties or that we use what kind of documentation exactly I know you have talked about during the previous calls and we'll.
But then you refresh our memory.
Sure.
F
It's just an extra parameter added to the properties.
File basically says reconnect on ping failures.
Oh sorry and it's a property properties, file of the jb b or jacoco.
It's the SIP communicator properties file.
So that's that's used by both.
Is it not?
You know, yeah.
A
It depends on the deployment because you can have them come from different directories.
A
It's it's a each to the component base class yeah, okay, well, I I would say them.
The documentation belongs to jacoco.
That's my instinct, but.
E
Okay, yeah I'll send that over today then just sign your tiny note on the convention you're using imports with single classes, and we use start imports every way we you could fix that up, because I'm.
A
Sorry, I didn't quite hear that he's basically saying our code convention is with star imports and you're importing individual classes, and he wonders if that's an easy fix for you to make back again sure absolutely I can roll that back.
No big deal cool.
Thank you all right.
Anybody else have anything they want to talk about.
A
Going once going twice since this is open source is actually just giving away we're not selling it.
Thank you guys very much and we'll be seeing you again on the same time same place.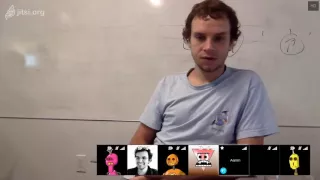 ►
Description
No description was provided for this meeting.
If this is YOUR meeting, an easy way to fix this is to add a description to your video, wherever mtngs.io found it (probably YouTube).