A
Okay, let's start today for the builder triage meeting uh today is 12th of january 21 and we will start to record the meeting so don't say nothing that you don't feel comfortable to be in the internet.
A
Let's start um by the issues.
The first one is this one.
A
The folk here is asking a little bit more information in the documentation about the metrics.
A
I think it is very, very okay.
um Someone would like to say something.
B
I feel like it should be accepted as any documentation request and also it could be a nice fit for help wanted.
A
I agree how people wanted.
A
Accept it okay!
So let's go to the next one.
A
I think the author is here: I'm not sure, let's see no he's not, um but basically, if he we can shake here, has a duplication in the code way that is generated.
A
If I'm not wrong, it is when we work with the web hooks and we have a verizon to do in the code to fix that it is for.
Would you like to contribute to do the fix, so I think it's time as well, someone has an objection, or would you like to share.
A
Something so I put you to ash accepting.
C
Fine as well, I think it could be a good first issue too.
B
Actually, there's code to remove duplicates of a single line, we should use that for for duplicates for of multiple lines.
I don't know how hard that can be.
Probably.
B
Want to be to be generic, it will be hard, but if we want it to be exactly the same lines, it should be easy.
A
Yeah, I I think the idea is, like you said, to be more generic engineer, be too much to line, so I'm not sure if you'll be really easy.
A
But we can point okay to our acceptance.
A
We can put maybe help advantage can be instead of the good first.
A
And should we say to somebody starting for this one.
B
I don't feel it needs a milestone because it doesn't actually break the code.
I mean it works, even if it's duplicated, but it should be it's more like a cleanup, so I don't think it needs a any milestone or maybe next.
A
Year, the documentation we didn't put the wireless on the next, I think it's fine or yeah.
It's not shows more, like a backlog.
Someone has an objection.
A
So the next one is this: one.
A
Okay, when, when you run uh copybuilder image shows that we should use the plugins into the project very soon, but we don't have the the fabulous.
A
So jesus is more a kind of a future where we try to improve his output and he provides the possible plugins followers versions.
B
That's actually handled by the pull request I submitted today.
I didn't see the issue.
I should also link it to to close it when I, when it gets merged.
B
The problem is that we are creating a flag set to to resolve the plugins and if we pass help it's been a hardcoded, so it returns the help for that flagship instead of the command.
But it's fixed with.
B
Number was it so that I can add it to my request.
B
Okay, don't worry, I will look for it.
A
uh I I will refine some moments it's here. Can you see this queen? The issue is one nine one.
A
So I think I can go on to the next one.
A
And she's one this that one, that she is the same yarn.
B
Yeah, it's mostly the same.
uh The thing I'm doing in the pull request is basically to to build a basic command with all the usage and help information, the soonest.
We can and use it to report the the errors so that we have all the usage information as soon as we can.
That includes like their order presented here or the help case from the other issue and other ones.
A
The central qualifier is like it now.
If he we run image process reversal energy, invalid, evaluate for the plugins.
We have a day here, but she as I use it, would you be hired.
You know know what evaluation I should put to here.
So ajito has been working like if he has, if I say something wrong, please let me know uh if it has an error.
A
We can return with the help and provider for that information like the possible.
A
Should we put your miley stone, maybe next I think it's fine as well or.
B
I mean it's already ready for review.
A
Oops so cheese wine is the last one and we actually return the option.
So I think it's the next one.
A
It's similar, I believe that you are requesting yourself as well.
B
Probably I I would have to check exactly because I didn't check that one, but it should probably also fix that one.
B
That full request solves all the all the issues related to to wrong errors.
A
Accepted it's more or less the same, just to clarify.
If you regret that we don't have the required information as well to know how what option we should use.
A
So it should be expected to have the help, for example, so I will put you.
B
Yeah, I think it should fix it.
I will add it to the list.
A
Okay, I think it's this one with your already.
Would you like to to speak about.
B
Yeah I I I actually saw that we moved from the standard jam library to to the kubernetes based one and there's I mean there's the advantage of of being handled by kubernetes, but it also he does the jump processing in two steps.
First, it generates json and then it generates a jaml which is a great idea for kubernetes because they use both json and jambo representation.
B
But in our case we are only using yam, so we are actually doing two parses instead of one- and I will I was just wondering if it would be nice to to back to the verse to the original version that only parses once, but it's more like a discussion thread that than anything else.
Right now I mean the the implementation is just changing delivery.
The the interface is the same, so it would be really really really simple.
B
It's more of a discussion topic.
Maybe we should handle this on thursdays.
A
Yeah, it can be, I think, the motivation for we use.
It is one it's because it is a kubernetes and therefore we try to you know, reduce the quantity of the dependence of the project to increase the maintainability.
B
Yeah yeah, I I know that advance the the thing is that it's not a kubernetes fork of the same library.
It's a kubernetes fork of a library that does it in a different way, which is the one listed uh it's the one listed in the second paragraph or third paragraph god's.
B
No, no, in the paragraph paragraph, the first uh topic, uh god's diablo, yeah, it's a fork of that library and the thing is: should we use that library or the standard library that library in case we use the gods yum it's better to use this the kubernetes one?
Obviously, because it's a fork and it's better maintained, but the other one.
Does it in a different manner?
B
And I and at the end the kubernetes one depends on the other one.
So it's a bit tricky.
It's more of a discussion topic that we should handle on thursdays.
A
Just one question: what about we opening our ie show it is the potato and shaky while the scenario um is not.
B
A coverage there, you know because the thing is that um it it makes sense for kubernetes as a whole, because kubernetes as a whole has both json and a jam representations of of its objects.
So it's easier to have a library that does it this the way.
God does it, because if you, when you are creating an object that will be martial to yaml, you don't use jam annotation, you use json annotations and that will work for both json and yaml.
B
With that library, with the other library, you would have to maintain both the json and the young part, so that makes sense for kubernetes as whole, but we are not using json at all, so it doesn't make that much sense for us.
B
So it's not a thing of the kubernetes one isn't useful for kubernetes, but it's more a thing of a we are using this one, and maybe it's not the best fit for co builder.
No, not for kubernetes.
For.
A
And put the cheese, and um I just know you feel we have uh some label for: don't come back or choose one or we we just leave.
It is now disclosing the next meeting, and today we can come back to using the next triage, which, what do you think.
B
Yeah sure, and if we in the next meeting we get to an agreement, we can also level it there.
So.
A
We can we can come back on that.
I think it is going to be fine as well, unless someone has another option.
Has another idea only how we should proceed in this another place of reach.
A
No, so now we have it only more too okay um cheese, one.
I believe that she is for.
We support she started to generate the the binary uh for exact territory.
That is a new architecture for mac os.
A
If you check here the releases now we have linux, uh nt ironic uh for linux, linux as well, uh but for darvy we have joshimg.
So it's a feature request.
A
For me, it shows really fine, really reasonable sciencey.
We support by default micro, essential linux.
D
I think we should accept it, I'm personally curious about this one, so maybe you could even assign it to me.
B
This is one of those issues that should be really easy, should be just adding a level or or a level to a list, but then doesn't end up being like that.
So probably.
D
I suspect there'll be a lot of corner cases.
A
Yeah yeah, it has the kobe builder tools.
I believe that is there.
They pause it for the release process.
Probably we need to so.
Where is there.
B
Yeah- and we will have to do that for all the versions of of kubernetes that we are supporting in our continuous integrations. So that's from 113, if I'm not mistaken, to 119.
A
I think he eric andre did work in caesarea and the last month, so probably both can help you as well and to feel free to think of me as well.
D
Definitely well yeah, let's put it under next.
B
Milestone: it's not a high priority.
A
The next one, the last one.
A
I'm not sure if I got a proper cheese one.
A
The focus is saying here about she in the document in in the the in the documentation, we explain how to implement the tests and everything discovers.
We just discovered the switch test, so I'm not sure if he here july key.
We started with a controller test for each controller that is scaffolded or any entities in the switch test, or if it has anything else, so I just make the question: do you know put it here?
A
um The link is for the data with the latest version and he asked if he could put it like he in his ankle and to describe it exactly.
Do you know what she he would you like to expect it with the code that should he would you like to find which is disabled?
A
Why don't we be sure, but if someone would like to take.
B
I think he means that, from that audio generated file from that scaffolded file, there's something that you have to write manually.
B
I haven't done a end-to-end test lately, so I'm not sure if, if there was any part that had to be done manually, but if it's the case, we may want to use the insert logic that we are using in in main and other files to to generate that part of code too.
B
Gonna see you're gonna sing that to me, and I will I will take a look when I have some time.
A
I can put, but I think it's nice, but I think he what you think about she requires more information as well like he.
A
Because if the focus provides exactly you know in example, you will be sure because it would be far sweet, not necessarily it doesn't know what exactly he would like to have.
You know it doesn't know if he is the controllers, like the fragments uh to call into the controller underlying the test.
You know, but I'm not seriously like yes,.
A
So I think it's fine.
I think the next thing that we can do is check the smiley stones uh for the next release.
A
We have this one, that's it's easy.
B
Yeah, that's like clean up at the end of the line yeah.
This is fine.
That's a search and replace.
A
It's just should we replace a v2 mainly for.
B
The only thing about the first issue is that when we do it, we want to to do it when there are no pull requests pending for right now, so because it will make everything need a rebase and probably the rebases will introduce some bugs.
So we probably want like to freeze the code for some time, make the the b3 and and do it the last part of the version free release process or something like.
C
Think it has no way has no solution in this case, because we need to replace the imports.
A
And all opening requests is, after that, to get to marriages which is boring, but I think we don't have it so much bigger opening quests.
Now I believe so.
A
This one, we need to wait for this table.
A
Release cheese, one I do like to speak.
I usually like to just say to ask a healthy for you folks.
I possibly request we feed these steps to migrate to the project.
A
So if he you folks have time and you'd like to collab you'll, be very welcome because we need to throw up later this documentation, probably before the stable one.
Is your missing sidestep, but actually we have the biggest part here and if you have any better idea or an easy way to do, for the user is achieving the same.
Would you be nice as well?
That's our feedback.
A
And the change one is for we created the branch and with the documents and the thing we probably need to do some configuration to put the master on for the new branch, uh but I put here that is blockage by the immigration guides, for we don't need to do another um request against the new branch as well.
You know, I, I think it's it's better way to do them.
A
Has someone that would like to raise any topic.
A
So I thank you.
We can finish the budget rise meeting for today and I would like to say really thank you for your attendance and its collaboration and all your help so keeping the public secrets.
B
And now there are 30 minutes free to check the pull requests that are uploaded and review them.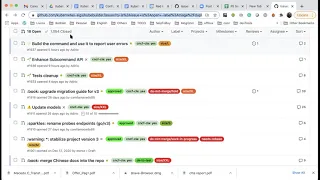 ►
Description
No description was provided for this meeting.
If this is YOUR meeting, an easy way to fix this is to add a description to your video, wherever mtngs.io found it (probably YouTube).