A
Awesome so welcome to I'm not sure which meeting is it by the number, but above 10 for sure uh just before we start.
So this is the nexus marketing meeting uh we haven't done it and recorded in a month almost like.
I think it's for four weeks, but we weren't resting so far for everybody here, keep your bring your ideas, even the crazy ones.
We need to get out of our comfort zone and discuss them, and once we once we're done discussing, then we need to work on it.
A
uh So today, if you all see my screen, please add your in the attending list. We have a new member to the nexus market, marketing team, so I'll give the words to tom to introduce yourself shortly for everybody.
B
um Hi everyone uh I'm tom, um usually uh tom brack and all the various uh systems.
B
uh I guess my interest is uh trying to figure out how to get um more cooperation between a lot of the um industry uses of mix and xos.
B
I have a particular interest in the usage of uh nyx in highly regulated areas, specifically things like government and defense, where there's a lot of control needed, there's a lot of understanding needed about like what's being deployed and where- and I think nick's has some interesting and useful attributes that can take advantage of that, uh and so one of the things I'm though I'm seeing, is that um sometimes companies kind of see their use of nics as kind of like a secret weapon and sometimes that lends the amount of sharing and kind of cooperative development.
B
um So I'd like to kind of break down those barriers, um kind of make it more apparent of like who are even are the people using it and how and how we can start kind of solving some of the problems um that kind of tend to be repeated over and over again uh between the various uses.
A
Awesome, I think this is more of a it's not really a a hard technical problem to solve, but it's really more of a social problem or documentation.
B
Came to the right place, yeah one example would be just to make it more well known of yes, this is being used in industry.
Yes, it is being used in these other locations, but that's more of a um like a pr type of a function.
A
I would just add one thing: you know that you're the only or the only native english speaker now, so we will definitely use you for some weird uh wording that we use on the website.
A
If that's okay, awesome, so um I'll, just move if this okay with everybody, if you have any questions for tom, like I mean just, ask shoot them.
A
Otherwise uh we can just go to the next topic sounds good one. Two three awesome next topic, um so the first announcement I would just like to to make is that I'd like to thank you turbo mac for helping a lot with the nexus search. I think this is more of a giving recognition because he was working uh tirelessly like just improving different aspect of the search and contribution, I'm just scrolling one into one of his latest prs um and yeah.
A
If there is anybody out there that wants to help uh and does not really want to contribute in discussion, it's completely fine, not everybody wants to talk about the issues, but rather the one you want to work on center stuff.
A
That help is much much much much appreciated, um because these are kind of my announcement that I kind of um opened I'll just continue, except just stop me anywhere when you have a question uh or concern or anything otherwise, otherwise I'll just go the next one is the the terraform guide was added.
uh I mean not really by us as a marketing team, but uh doman kosher, so he wrote the terraform guide.
uh It was merged.
I think today yesterday not sure today and it's already on the website.
A
um If I go to the nexus org, I think this kind of gives us the opportunity to consume the the the guides.
So here it is deploying mixer is using terraform.
I can see a many.
uh I think there is going to be like a range of the documentation coming from this, like you know, nyx and kubernetes and so on, and we already have uh building and running docker images.
So everything just kind of works uh we are, we are improving.
We are not doing it particularly fast, but we are improving in this area steadily.
A
uh So thank you.
Doman uh next thing is.
This is more of a fun, but I'd like to show it is we added a merge graphic to the donate patch page?
This is one of the last things that um uh the designer that we hired for uh the redesign did.
uh So let me show you that as well, so this was also merged.
I think here today or yesterday evening, so there is a nade page.
I really like the graphic.
So this is the um this.
A
Is the octopus holding all the merch around it even in an xos t-shirt, I'm always almost considering this should be our mascot, because nick's can be so many things and then yeah uh so yeah. That's it uh on this pr. So this is another announcement and then another bigger thing that landed actually today, uh I think when was it eight hours ago.
A
We discussed this previously already and uh the description uh of the on the landing page.
What this whole nexus.org is about was changed.
I'll show it in a second, and also three icons were added into the wining section, so you probably already saw it, but this text before it was kind of two columns was added.
A
Now is this the best we can come up so far, yes, and I think we can still improve a lot on it, and I think this is just a first step so for everybody- that's watching this now that this website is fluid, we can always improve on it, but I'll just read it once allowed.
A
So reproducible builds and deployments.
A
Nix is a tool that makes a unique approach to package management and system configuration, learn how to make reproducible, declarable, declarative and reliable systems, and then there is a download and getting started image, and then we have this three graphics uh kind of before it was without it, and I think this it's like moving further with the website- and this, I think, was one of the last steps of the redesign uh we'll talk about. uh What's still missing from the design part but yeah, that's on this front, um am I going too fast?
A
uh No, no sounds good, okay, perfect here, okay, um this kind of announcement, I think they're just nice for anybody seeing uh watching the video.
C
uh Well, there is an issue, but I'm going to uh open a com, a comment in an issue about that that the colors are not right for the icons on the main page.
Oh.
A
Awesome awesome: we can think we can even fix this ourselves right without involving the designer.
C
Hopefully, if not, we have to make sure that we can the next time.
A
Yeah yeah, I will actually I forgot, but you reminded me: uh I need to upload the graphics document that it was sent to me because we just collaborated directly either collaborated directly with the designer and okay, this and yeah the last thing.
So I think we discussed all of this and the one that's kind of being in the progress already for a month.
Now is the features page or what used to be a features page, um and if I go you can see it was quite big and.
A
We the so the name change from features to explore.
um I think this is the so far the best name we could come up with.
uh You will see later why?
So, if I click on it, um this is what we kind of come up with, so um it should be a way.
Instead of talking about the specific features we actually want to talk about, the benefits that uh features page will kind of give the users or able the users so and kind of make it.
A
Let's say: if you talk about complete dependencies, not everybody can connect complete dependency into always working development environment, and I think everybody will understand always working development environment much better.
So um these are the topics.
uh Did we read them last time?
Do you remember.
C
Well, uh in private, with myself,.
A
Because yeah, we didn't record this.
C
And we didn't have a call either.
It was more of a um discussion that we had yeah yeah.
A
Yeah, okay, um so let's go to sli like at least briefly through them.
There are only seven uh and of course we can always add, but I think we exposed always work in development environments kind of as the first one uh there uh below it at each item.
We have this.
uh We have the description.
A
uh This is very shouldn't, be so that much technical at all and there is even going a bit into details, uh maybe even sometimes uh highlighting certain things in this case uh it's kind of, but it works on my machine so which also uh this talks about the portability of development environments and just below this first description, we have the links of features, so sometimes it's actually some people perceive features.
Also is an important in their understanding, and if you want to know something about complete dependency, complete dependencies, you can actually click on it.
A
We need to kind of make it more obvious that these are the things you can click on, but you can then read about complete dependencies and I'm going to come to this website just in a second.
How does it look and how we can improve it?
But, and then each of these elements of this sort of so to say, benefit comes with a image just to make the uh yeah the kind of uh to kind of put the emotional part into the whole experience of exploring it.
A
So always work in development, environment, um one tool, many languages. I think this is um yeah.
A
I think for us this is kind of obvious, but many will not understand that this can support all the languages and even if we sometimes talk about the same, the benefit of the same feature, it's actually much better than only talking once about one feature, so one tool, many languages.
So these are all the polyglot environments.
We have again the octopus here with all the flags of different languages,.
A
Yeah continuous integration for free kind of, I think the image kind of came from, don't wait for the disaster, but prevent it.
um Text can be improved always, but I think it's from the existing mixers features which I'm going to show now, it's already an improvement, so we just move gradually each each time from zero to cloud.
I guess this deploying to cloud and even mentioning docker images.
A
It's a big thing uh I mean it's a benefit to show off is the previous version: better roll back anytime.
um I'm not sure if everybody understands that this is the from from where this car is minus the logo.
uh But it's kind of hope people will understand this graphic experiment without fear is another of the benefits we try to highlight and then the contributing is only a pull request away.
So we are on github it's easy to contribute.
A
um I think everything can be improved, so it's not the end result, but I think we're the step where we can merge it. um Any comments so far.
A
I mean tom you for seeing this for the first time.
I assume uh maybe give your opinion.
B
The I mean so I mean I've used mix for a long time, and so uh one of the problems I've had with in getting people to like these are a lot of like the words and catch phrases and things I've used to try to kind of popularize this with others.
B
But then, when it comes to okay, they say all right, we'll give it a try and then like.
I actually want to do it, uh then the big problems.
Okay!
Now, how do you do it and then very often that requires a lot of domain specific knowledge about exactly how nyx works, where all the right functions are.
B
How like how it operates so he's had a link over to like step, very clear step by step like if you want x, you know: here's how here's here's, how you do it um geared towards the beginner um that you know for for the for the expert right, there's all sorts of resources to find the information. I think the for the beginner um you know having examples for each of these would really help.
A
Oh yeah, definitely I.
I also think that I mean the beginners come from two different ways from different different kinds, which is one one to learn how this thing works, which is also one thing, but the more common thing will be like.
Oh now, you got me interested what's the next step right and the next thing is to actually give it a try uh and I think we like.
Currently we don't really have the for all of this.
We don't have the manual the tutorials or even manuals, but yeah.
A
There should be, I think, for example, for the docker part, um so they are like docker images and this actually links to uh the building and running docker images right. So there is a guide for this, uh but, as I said, we need to make it more obvious like this could also be just become a link as well to that manual.
A
uh I'm highlighting on this on a share screen.
A
Okay, samuel anything um the thing yeah: we.
C
Discussed this already: that's because we discussed it, but I don't really have anything and you're going to hear some echo because and again there's the wrong colors on the lambda flakes which I'm going to add as a comment to the pr.
A
Awesome awesome: let's fix this.
I I think I have this uh on my screen.
I have.
A
How do you say this uh to protect the eyes uh redshift.
C
If you look closely um at the rocket logo, yeah.
C
This one is a is a all right.
The one on the rocket two of the branches are now.
C
Away two of the branches are darker than the other.
This is a telltale sign that this is from the early important illustrator, which destroyed the gradients, and then I think the other is correct, but I'm not sure so I mean.
C
We need to verify that every uh color and uh lambda uses are correct.
Okay,.
A
uh Please create the ticket.
uh I will meanwhile update and we'll discuss it.
There awesome ilko any comment on uh on the rabbit, maybe or or or on the octopus.
I really like the octopus.
I.
E
I really like that.
One too, I I had a nitpick about the lion, so he's wearing a suit, which makes us look very corporate.
A
The first one, uh the lion, no.
E
Actually, there was another one, I think.
A
Yeah, I think the same body was used, but just different.
A
Okay, I'm not sure about you, know all the animals.
I think we can.
Maybe we can all change them once in the octopus and just use it as a.
E
The octopus is that it's uh it's a kind of github like.
A
True um yeah yeah: I can see that maybe if we make it a polar or arctic octopus, I think they exist.
So they are a bit different.
I think, because because of the snowflakes snowflake logo and yeah, I'm not sure but yeah yeah, we need to find our mascot in the next year or years to come so tom, if you have any ideas or like like after showers like oh, this makes this reminds me of nix.
A
Okay, um I think this is kind of uh with this.
I'm I think we it's fine if we just go and merge it and then improve those little bits, and one thing I wanted to mention: what's changed as well?
Is that all these links well, not all of them, but some of them which explain certain concepts in x, which is like complete dependencies, portable language agnostic?
A
We also need a bit like about a bit deeper uh explanation of that and if you will go either, if you click on this complete dependency or if you go to the learn page, there used to be uh two buttons.
Only kind of I'm not gonna switch to nixos org how it's currently.
So you see the next.
A
So this is the current example.
So there are two buttons.
uh Intentional intention was to have actually three buttons, which is kind of highlight three things that most of most people would want to learn.
One is how to install links.
That's always a guide first steps with nyx, which is how do you do your first development environment and get it up and running and then how nicks works and then, when you click this how nicks works?
A
This is what used to be a features page for now.
um You can see that it's hard to do the big rewrite all in one, so we'll have to do in multiple steps, but I think it already gives us a good well, it gives us a list of what things need.
uh We need to include there um and I think we can explain nick's much better and we will have kind of a guide that explains how nyx works and we can even ignore the why nyx works.
This way just explain the details.
A
um I hope to do this in the kind of iteratively in the in the until end of this milestone or this release cycle.
A
uh Is this: okay with everybody?
It's something that you would do.
A
Okay, I'll just assume everything is fine. uh I mean we work in small steps.
B
I think you could raise his hand.
E
I think no, that's a strange uh thing.
I don't know why that keeps happening.
A
Me um yeah: let's focus this uh while we edit, I guess we can do.
A
Nice ah even dab it, okay, I'll just go and merge it. If that's fine and we'll work on the rest afterwards, one two here we go okay, so I think that was it for all the review of the work and what we've been working on and now is just the planning part. um Let's see how we're with time 20ish minutes, uh I think we still have. We can spend another few minutes on the planning.
A
uh Supposedly, we would have to do this already in the beginning of the starting of the uh let's say we because we work on this six six month cycles, but as every proper company.
We do this in the middle of a next cycle right.
A
Very cooperative behavior from us, okay, so this was merged.
This was the for the preview and there we go so uh I'll.
First go quickly through all the uh uh all the steps uh that all the two items that we wanted to work in 2009 um and I think I'll close them later on, but uh we said we're going to redesign the website.
I think with just what we merged this can be marked as complete.
Yes, there are things that we want to work on.
uh I think one most notably is we need to check.
A
We need to select the fonts correctly, but that's gonna, be uh there is an issue already open for that, so.
C
um We need concrete steps instead of the vague redesign of the website, because most of it is done exactly.
A
So that's why I want to close it and just uh kind of move, smaller things into the and open them as part of the next road map.
A
um We we change, how we talk about nexus on the landing page.
I think that this was changed.
A
Plus on how we talk on the features page, which used to be which is now a features page which is now explore page, so I would consider this to done.
A
Of course, there's always room for improvement right, more documentation, we added a section of tutorials and guides.
I think I would.
This is very general.
We just said like, let's just add few- that was the the intention.
A
I think what needs to happen now and I hope to focus more- is um actually adding language specific examples that people can actually interactively work.
um I have a ticket already prepared for that and I hope to work on it in the next, but we'll talk this in the next road map.
So I'm consider this kind of done find better examples.
I think we for on the landing page.
This is.
A
These are the these examples that are being played in all of this.
I think we still could, you know um improve them a bit, but it's a good starting point already so far.
C
We also wanted more examples for the bottom part yeah.
A
Yeah yeah, I think, apparently yeah we wanted to have like 12 of them, where the three important and six less important.
A
Let's move this, and I I think I'm still.
I have another example in mind, but I'm still missing them too, to kind of align them nicely, uh so I'm I'll move find better examples for to the next uh milestone uh and up to date, azure gcp images.
I think this is was just too big of a uh task, but it was uh done in a good spirit.
um I think this is going to be a bit too hard to do and we need a lot of help from the um from the infrastructure team in general.
B
uh So on that, one, um like that's, been something that uh I've had to kind of work with a little bit, sometimes just to bring um to use up-to-date uh images, but also to put them into uh aws gov cloud. And um so that's something I've done a few times and can probably help with.
A
Oh awesome, because the problem here is.
A
Let's, let's move it if you're interested in working on this, I think we can move it to the next item.
On the I mean to the next roadmap, so the next cycle next plan, um because I think this is definitely something that will show up.
A
Currently, we only list the ec2 images, the amazon images, but I think we could easily do more and having them up to date would actually be also a nice thing, but there is a different problem with pricing with you know, because if you upload too much images, I think the price goes up something uh yeah.
We need to think about also the costs on that part.
C
Maybe we need to figure out ways to get contacts at those uh providers to maybe they they have plans for actual distributions to maybe.
A
Work better with them, maybe maybe that's also uh an interesting yeah um moving further a community survey review.
I think we said we're going to do it after the new year.
I think that david is uh is going to work on it.
Still, I think I mean he's not.
He said he's going to step away a bit from the marketing team to focus on other work, uh so we just postponed it a bit later.
So I'm we're definitely moving this to the new um um news.
A
New milestone uh this and the last two things were actually like kind of wishful thinkings of me that I would have enough time to do it, but I'd like to be there a job section on the website where people could announce jobs and also to have like a blog section or new section where we would aggregate all the news, because on the current website, sadly, all the news are hidden uh for now.
A
This was intentional until we bring this up- and I think this is one of the things I'd like to work on um in the next.
A
Cycle, so uh I guess only the first three can be marked as done. um How do we do this mark as.
A
Closed, okay um and the rest.
A
We can assign them, I think we said everything will be assigned to the next roadmap, a milestone, so 2103 roadmap.
C
Think there's just the ec2 azer and uh outdoor cloud gcp issue that we might want to split into three distinct issues.
C
We don't block you either of when one is fixed, because we also need expertise, expertise on each of those clouds.
So I agree.
Maybe we don't find someone that knows about tcp to air puffs.
A
Yeah definitely agree um when I go to do.
I need to close yeah now I need to close this one.
A
Okay, there we go.
um I won't mention the last which we just uh went through, except if you have some certain questions, but I think I already moved few um as we went that we need to do this.
A
uh I think this one is the high priority which I should fix is somebody should should fix as soon as possible, um because there are three different commands to install links.
Now, if you look to all the examples or actually there is more, I think even they are slightly different, but yeah we need to agree on.
One might be a bit bigger discussion that needs to happen.
A
um Is there anything else you would like to work on it's more of a question? What do you think should happen in uh until end of march.
A
uh Also, the answer does not have to kind of doesn't have to you: don't have to stick with it. uh It's more of a.
C
I'll, just uh you mean.
A
Yeah for more from your perspective, like uh what do you think you will be working on?
uh If you say you want to work on something and then not work on, and you will not have time.
Also fine, it's just it's.
C
More about the implementation details stuff, but uh so I don't know if it's really uh goals that you want to add to this, but we like without private last time.
C
We need to somehow get the styles reusable so that the search nexus or get the status next os organ.
uh Hopefully the mobile next osr insights share the same uh well framework for their styles.
Definitely.
A
Yeah, I think the next stop should be search nixos.org to use the same styles.
C
Well, in fact, search and status since they both build on the same uh template.
C
Be the same, it should be done at the same time.
So again it's going to be mobile and xos.org that's going to need more work, but it's also based on pretty much the same base.
So all of this is more about figuring out the better pattern to use to uh reuse.
A
Okay, um I already talked uh about the status that nick says.
I already talked with, graham briefly, because he's the kind of the.
A
uh If you've seen, uh I want to move the status nexus.org to netlify and kind of use the same workflow, um so that means we will just create a new repository and yeah do the same thing as we do with search and home page.
A
Okay, so uh we need to create tickets for those and assign them to this milestone.
A
Okay, ah one of the things I want to also work on, but this might go.
I hope to get it done by the end is, or at least start to- and this might interest you tom is.
I want to make nick's look so with adding all these blog sections and job sections.
A
It will raise the awareness of nick's being like a active community, that you can kind of trust and, if you're interesting you can get in, there is a road map for you to that. You can join the community, but what I also want is to show a sections section of on the like highly visible, where, like success stories of nics, where companies could you know, do certain, like short white papers on it, a few, a page or two long of how they use nyx and then I'm not sure how to rank this properly.
A
So this is one part I want to work on and another one is so.
The the hard part is because I need to contact all the companies that uh have been working on interesting things and kind of let's say a nice example would be shopify uses nix in this.
In this way right- uh and you know uh they write it from their perspective or this company- I don't know io io hk uses for this, and this uh and I have a paper like a short write, write up about it.
A
um I think that might help.
So this is one thing and the other one is create a kind of in parallel with this, like a list of providers, uh that let's say you have a if you have a company and you want to invest in x, you want to also know that you're not alone.
So, if you get stuck, there should be somebody that you can ask for help.
So um you know.
A
So that let's say you have, even if those are only, um how do you say, self-employed people like just doing freelancing completely fine. They should be equally uh kind of ranked against the rest, uh so we just need to do some kind of a randomization so that it's a bit fair on that website.
A
um So that was my my thought, because I think we need to bring nix is a cool project into oh nix is actually using production uh and kind of get this confirmation.
It should feel that it's like, oh people, are using this in production.
Okay, I can use it too.
A
I haven't opened tickets, I think for this, but if I do, if you want to join the conversation and maybe help ask around the companies to provide their use cases, that might be.
A
Or if you have any other ideas that you want to put on the website, tom.
B
uh There are there's some. I can't really speak for some of the companies, but I can reach out to them to see if they're interested in the um like case, study, white paper thing.
A
Yeah yeah yeah.
That would be really helpful.
I think uh okay.
E
uh Maybe one thing to mention the uh nyx flake search feature.
Oh, it might be something to add to the road map.
A
Especially yeah, uh especially if we can get it yeah, okay,.
E
Yeah, if we can get funded, I mean well, we have funding uh which is not so we need somebody to do it.
A
uh Maybe we should post this as a job offer, because there is the funding which isn't we know how yeah right, let's create a ticket and maybe um define what needs to be done.
So we define the scope and then there is a funding.
A
We define the scope, somebody should and then we can write on the discourse if somebody wants to take it, but just for the whoever is listening to the video, the next flake search is we want to extend the search.nixos.org to not only search inside like this is kind of being future proof to not only search inside nix packages, but also any other flag that is out there and it wants to be searched in right.
So you can opt in that.
Oh my flake.
I want this to be part of the results on search.nixos.org.
A
um I did.
I said it correctly.
Alcohol.
E
Yeah, although well I would, I guess it can actually be opt out if people don't want to research, because I mean it's: it's about public github repositories,.
A
Yeah, definitely I mean we can talk about details. I think the the kind of the policies uh we first at least need to implement so that we have two plates that we searching.
B
There's an interesting uh thing that the go community does, which is the godoc.org, where it automatically takes anything that is in github as a go project and automatically generates.
D
The um documentation for it.
B
Yeah so golang does this thing where um if you have a a get repo hosted somewhere, that's compatible uh with kind of their their underlying system. uh It will then fetch that and then generate the godox for you.
E
Yeah, I think that's what we want here as well.
So once we have the the next doc command, which which already exists on our branch, then we can just generate documentation for andy flake and and provide it somewhere, maybe on search.nextrest.org, docs.nextrestored or whatever.
A
So I guess we can ex right now we only search packages and options, but I hope we can add more sources.
Even so one would be definitely documentation of those flakes.
A
And another one would be the website itself, because there are so there will be some nice resources and the other one is maybe even github issues it would be in either case.
It would be nice to have multiple sources well on the side of the github.
It would be nice to have a backup of all the issues that we have there and pull requests and everything.
That would be all the discussions.
That's a valuable thing to have, but I don't think we have it.
A
Yeah, okay, um searching docs, okay,.
A
Okay, I think that covers for this meeting.
uh We did it in less than 40ish minutes and we see you in two weeks.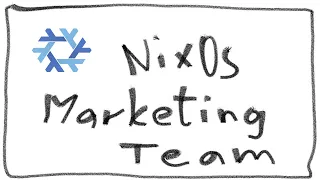 ►
Description
No description was provided for this meeting.
If this is YOUR meeting, an easy way to fix this is to add a description to your video, wherever mtngs.io found it (probably YouTube).