B
Okay, as the lady said we, this is the eighth.
I think I said the number correct uh marketing meeting.
B
uh Please write yourself as an attendee, if you already, because I think we already all did and of course we're here- to discuss marketing and mix wise, uh let's be encouraging and yeah we're all here to do to put to make sure nyx goes mainstream um I'll, just start with the agenda.
B
uh I kind of added a few things, but maybe the first we could do is review what has been done uh so people who are here uh what has been done since last time from the things you kind of mentioned, that you are working on and I'll just go from top down, maybe somewhere else. You can start.
C
And there wasn't much to review so not much was reviewed, but still what what was done.
I looked at it and if there was no comment from me, everything was all right.
B
Okay, that was awesome uh ilco.
I think we immediately solved that issue right.
uh What issue?
uh Sorry, I'm looking here, yeah.
D
Right yeah, that seems to work, so I did a release today and the manual got updated automatically.
So okay looks good.
B
There was one bug that kind of got up.
I mean I'm not sure it's a bug but um like where we mentioned that we should like uh the problem was as nix wasn't built in hydra and then it still got released um like it was still merged to that branch that we created uh and then the build of nick says our homepage got a bit slower.
Because of that so not trying.
D
There but yeah not not much, uh I mean, does it time out or no.
B
No, no, it just takes longer than okay.
B
Does but um eventually it goes once you build mix, uh I think there is some coverage test failing on hydra for next, or at least it was the last time I checked.
Oh.
D
Yeah I mean I I don't know what's up with that.
I I didn't really want to spend time on that, because if the coverage job is working on master, just not on the 2.3 branch, so it doesn't really matter.
E
I had not much time, I think I have most of it in my head and I have to write it down, but.
B
For next time, yeah yeah yeah- um maybe this what's more importantly, if you need help, you know uh you know be loud because let's not get stuck there, because I think it would be nice that kind of community survey comes with the release or before or after the nexus release. I mean there's still plenty of the time, but um yeah.
B
Awesome uh and for me uh um so the first: how should we talk about nick's? I I had a plan to work on this, uh it's kind of in my head, how I wanted, but I didn't uh I have a plan, but it will start actually tomorrow morning, um um yeah. So that's uh so.
B
This is one thing and I mean I had many um discussions with many companies and people regarding how we talk about nics and I was collecting ideas, but there is nothing concrete yet to be kind of inviting and showing everybody uh that we can discuss it, um but for now only research. uh I was mostly working on search and exercise.org, like that's not actually done here.
B
There were like bunch of fixes that needed to be done, and also this suggesting hopefully after this call we'll review the less bits with samwell and if all looks good, uh we'll merge it and if not fix it and then merge it like it's.
We are really this close um and then yeah.
I announced like that.
We're looking for better examples- and I think this is going to be like a ongoing theme- that we should um might be even part of the survey that we should always ask like hey.
B
What's the most representative example of nyx is from your work from your personal experience you know, um and but I did reach out to um world of peace, and we, um I kind of presented what our ideas are.
I think there is a ticket regarding that um which I updated, but basically means do.
I research how others are doing.
B
Do a research how others are doing the release notes?
You know just the what are basic sections?
B
uh uh Probably some video, it's nice, if possible, examples um also, then kind of start, creating the release notes already ahead of time for the features that we know will be a bit more prominent and the other part which is a bit more technical, is actually creating a div between two releases, so you get which so we can list which packages are updated.
B
um So I I haven't yet started on any of these, but I hope that at least I'll tackle one of these items until next time and I'd like to actually I've wrote a bit about the redesign process, but I don't think we'll kind of reach the agreement today, but at least we can start talking about it.
B
Did we lose somebody yeah?
B
No, we gained somebody.
We gained somebody: okay, graham hi, hey hi yeah.
We already started but we're just going through what we kind of promised to do and what the state is about.
B
um So you can we're at this point uh here, so basically redesign process we'll have a discussion later on.
I think that's uh at least we can kind of figure out what the next step is um and kind of going.
Next.
um I already said that search nexus.
Orc is now feature ready.
Not every feature is as it should be, but it's in a better shape than um I think it's good enough to be replaced uh to be replaced to be replacing existing search right now um so and then we can gradually improve it.
B
um I notice samuel you so going to the next point um I mean, except if somebody wants to ask questions about any anything said so far,.
B
Okay, um there was a question regarding to adding a different store on nixos.org or like place where people can buy things.
B
Yeah so samuel, please update us on the.
C
um Well, I don't have much since well, it's a little if this already happened two days ago.
um There's a contributor on this course hbgan63 that that has been in contact with the owner of a shop called hello.
Tax.
Cable clan is the honor um and well they are interested in having uh on making a version of their product with nexos branding.
C
uh What's what they do is. Basically uh they don't print shirts they embroidered and brought dirt sure. So um it looks I decision. I don't have any thing from them, so I don't know if it is, but it looks uh kind of more of quality than most other like easy print services like redbubble and everything that's uh for mass commercialization, uh and if you uh I don't know how much all of you have read from the discourse thread, but the this store also produces every every product is made entirely from linux.
C
So there's no uh software used on when those to produce uh the pattern to make the embroidery everything everything more or less aligns with the values of this project.
So from there there's a discussion to be had, and then I I I'm right now, I'm just a messenger that.
B
uh Elko, you had uh you raised the hand, maybe by mistake, but just asking.
B
About that yeah no problem, um I guess uh the question here is: um will they uh move uh move the funds to will do the same as um we do for the other store where the they donate the funds?
I've read something that they will, but.
C
Yeah from there uh about us page, they do, they explicitly say that they will, and uh one of the last replies in fact the last reply.
That's not mine is from george the honor of the store and, yes, they do donate back.
C
I don't know how much of the profit but part of the profit.
B
Okay, that's not all okay, um I guess we need more details proposal. Is anybody wants to take on this to kind of be the point of contact and kind of uh continuing uh the discussion to kind of have get the report?
B
In two weeks we have kind of collect all the information uh prepare the pull request to have it there, so we can preview how and how to promote it and any takers.
A
I guess this is sort of opening the question of like who, who should be allowed to make merchandise with the logo and like?
Is there.
A
Like can we actually prevent anybody from making merchandise with the logo and it's sort of like a bigger decision?
I think.
D
um Well, we don't have a trademark at the moment. You could say that we have a copyright on the logo, although even that is somewhat weak, but.
C
Yeah there's we know exactly what's the uh like sense of the logo, uh it's 60 by uh escape. uh I think it's by and it's not sure if it's by, but it's just it's in the artwork repository everything is documented.
B
I guess more of the question here is: let's say that we don't have a proprietary like that.
Nobody can really ask.
Nobody really needs to ask us for permission right now.
B
I think that's the current state, but what we can say uh what they are asking is actually um to promote it on thenxos.org, uh as we do already um and I'll show now on the website in case you didn't know where we do this, um so here the donate and it's like one form of donation right go to the shop, and here we will go, go to the shop one go to the shop too.
B
If that makes sense, we'll just have to do it a bit differently.
A
Not to be uh I don't I I don't mean this as a joke, but I wonder if we could get like a sample of what they make and see if it's, if it's like really nice.
B
uh Is this a requirement, I think.
B
uh So I'll go to the website how they do stuff, so our existing shop. uh I hope from sorry.
A
I guess I shouldn't be derailing.
This.
B
No, no, it's one of the will sooner or later go to this, but um so do we have any so in previous meetings.
We discussed that at this point.
This is what we have and we should kind of it's like source of a fundraising a bit um until we have any clearer standards.
I guess this is the best we can have right.
B
And once we will have time, we can actually organize this in a bit differently.
B
Like I, I don't know, what's the difference between this shop, and so this is what we currently promote already um the reports are coming each release in I.
This is what the hello tux looks like it's like a simple logo on the right.
They have these polo shirts and they have t-shirts um sweatshirts, and I think that's it.
B
um I guess we just need to know that how much how?
How is the money financially so that it looks fair, I mean on the website.
They say they want to play fair, that's their purpose.
It's basically what we want to support as well like one supports the other.
B
um So so far, any takers just to take the discussion further on kind of managing the this process.
B
uh If not I'll, just write what we've been doing here, yeah sorry go somewhere.
C
I could I could continue the discussion but yeah at the same.
C
I I will see what what comes from from there. I just don't know exactly um what we want really, but at the same time I see that nobody knows which is not necessarily that.
B
Yeah, I guess what we need to know is now about the financial, how and like uh just try to explain them how it's done with our current situation.
With um this red I've always forgot red bubble yeah.
So how is done with redbubble, and can we have a similar arrangement uh with with them?
And I think that's all it is, and once they say yes, we give it a try for one release and see if they, if they donate at the.
C
End, um it's a uh just to be clear.
It's it's really a different kind of product.
It's not uh redbubble is more of a shop where anybody can throw any kind of picture on a shirt on a bag on the shoulder.
C
Meanwhile, as far as the website of ltx describes, the this is the um almost handmade, it's it's I'd, say and crafted design since the it's.
It's not print on.
uh It's not printed on the um fabric.
It's embroidered, it's uh yeah!
I understand.
B
The raise yeah yeah, I understand all of this.
It's like we need.
We need more information about how they, how they see um the relationship with us.
Okay, but.
C
As far as the product goes, it's basically it's the there's, not much overlap in the two kind of products, exactly yeah yeah.
B
Okay, um if there nobody speaks up I'll close it samuel.
You just continue.
The discussion bring the more information next time, and um even you can there can be a pr opened or ping me and I'll have the button.
So it includes both links and we'll discuss how it looks and if it's good enough next time sounds.
B
Good, uh if you're talking, you're, muted.
C
Well, I did.
I knew it when I said yes, but I think maybe my microphone didn't catch it.
So, yes, okay!
Okay, thank you.
B
So the next item to discuss is um the redesign of the website.
Now I put on quotes redesign um because what we really want, I think, especially in the long run, we actually want to have a brand identity.
We kind of want to achieve this brand, uh which we then use for everything.
um As I said.
Ideally, this would be.
We would first do brand identity, define it and from there we would um from there.
B
The website will actually come to life like the design for the website and for the search and all the others, all the other design elements.
um Now this would take time and I'm not sure, time and more money, because time is money, but so I'm now looking for the so at this point, I'm looking at, if we just do the quick refresh of the website, do it faster and then, at the same time start looking for options how to fund the brand identity.
If we really want to go this way.
B
So my questions here are that I mean questions kind of statements that we find somebody or some company that until next week meeting who can design or a group of companies um we I hope, to discuss what we can offer in return.
I hope there is.
I was kind of hoping that there is some small budget we can offer um from foundation so that we don't have any time to spend it.
B
Maybe I'm mentioning the footer or and um most definitely I just don't- want to try strive for perfection and just get something better that it's currently um and iterate on that. I think what I learned so fast so far uh is that we need small steps. Otherwise we get um kind of stuck discussing things.
B
um Any comments on the approach.
B
um Okay, go david, you started then somewhere.
E
Yes, I think the idea is good, it works quite well so far, and we also already achieved uh quite a lot and the obvious idea is to ask the person who did the design for rust, since we liked that.
C
um Okay, so my main concern is going with a quick refresh of the visit of the website.
C
Is that it's going to it?
C
It's it's going to uh to make it that there's not going to be a um proper redesign after this, because it's going to be good enough, since we already redesigned the the website and in that same sense, if it's going to be done in a more quick and dirty quick and less costly way, then it's it's my main concern.
I don't know exactly I'm sure things can be all right in these conditions, but.
B
uh If I maybe summarize, I think you got disconnected a few times, at least for me. uh What you're interested in is what your concern is that we do just good enough, and then we will leave it again to kind of rot, uh as it is uh now.
E
We should have a plan when we do it quick and dirty now to say: do it in two years again or so,.
B
I I would even go beyond that, like I think the problem for a brand identity is that we need a person who will work on it like um and push for it really hard.
um I think that's the main problem currently right.
So for current perspective, I just want a better thing, and this, like I, just take one thing at a time in small steps.
That's why I took it this task upon myself, I'm not interesting so much.
B
I would love to have a brand um identity, but I see more value of kind of moving in smaller iterations um samuel.
You want to talk.
C
Do you need a person from the marketing thing that will work with some someone, or did you mean that you need someone?
That is a designer that will work on this when you stay.
B
So yeah, okay, uh so what I meant is from the marketing team that will push for this and it will bring it up that will work um on finding the people finding the budget, organizing everything, uh I think both of the things can work in parallel. We can still have a quick one, one month, two month, iteration and get something updated like really fast.
B
I think and at the same time, the process of funding uh the brand, the brand identity, doing the research um and so on can already start at the same time- and you know just this- this long process will be finished. Let's say in a year right.
B
Does that answer your question somewhere I mean this is my how I see it, so it's not uh set in stone right.
C
Yeah about brenda- I don't see a thing, I'm fine with uh well a lot of what you said in handing this thing, I'm not comfortable with is about budget and money and everything since I still I feel external to this.
So I have no idea about any of that, but otherwise I think I'm able to work on that and make it my project.
B
huh Okay, um then there is a conflict of interest I think at least from like. um So we need somebody to organize this right. um I think it's a conflict answer, I'm not sure.
C
Work on organizing it's not working making.
B
uh Okay yeah, so the budget part is just if so, the same as we go for this small redesign, I kind of have every open source um project, it's kind of asking hey somebody can do this for free, and maybe we should always offer. I mean it would be nice to offer some money if we have it in foundation uh and the same goes if we want to do brand identity right, we need to do research. How much these things cost uh ask around friends get some quotes, um how the processes work.
B
How did like like there is a.
I know that for mozilla there was the whole process of brand identity, which was changed in last year, and it's still changing um updating uh was all documented in blog posts, so kind of like that's the like.
That's the research that needs to be happened as well right.
C
That's a good first yeah, that's good, first step for us to know what others did.
B
Yeah, so would quick and quick and budget quotes less option, be okay for now, as we also will start working on a brand and and identity in parallel.
B
uh Would somebody be against this um like we will come back to this, but maybe the question for ilco: um you think: how would it be possible that foundation would sponsor a bit of this?
B
I'm talking about few hundred of euros, I'm not sure how much this costs, but I would imagine paying some freelancer to with a better design yeah.
I think that should be possible.
Yeah, okay, um I'll try to so to kind of move.
um Samwell we can discuss how I can help you with all the resources I have so far, uh if you're, okay to start slowly investigating into the brand identity.
B
I am interested I'll help you as much as I can, but um I think for for me personally. Other points on the website are more important, um but like I'll work on more on the content side of it um and but until but for a quick version. So until next release I'd like to get this better design a bit better design- maybe that's a right word.
B
um Would somebody be really?
Somebody has also some comment on this.
E
um Do you have some idea how long we would have to wait um if we do it uh only once when we have the brand identity.
B
I would say so from let's say: mozilla is a bit too big, so I only know this example.
Mozilla is a bit bigger than excise, but mozilla took a year to do the research, and then it took a year and still going on about implementing it.
But let's say in one year it can be done.
The brand identity, like with the research you know like trying to figure it out, especially because we work on um because nick so has a smaller project and because we work like on a more free volunteer basis.
B
So one year, it's for me realistic.
E
But maybe nixos is also complicated to communicate.
B
That as well, but at least we can find some design language.
E
To communicate yes, and do you think it's important to not wait a year.
B
uh Yes, I think we, if we can, we can already, um because the problem is if this happens in a year right all these long-term projects. I have how high um I'm not so sure they will get finished if they are longer than a few few months. So that's why um I do think they're good to start, but let's then be honest and in the worst case, we'll at least have a bit better website.
B
um I think dorman joined.
B
uh You're mute but hi hi, hey everyone.
B
um We are almost at the last point, but um maybe your opinion I'll try to summarize for you in 10 seconds, we are looking at the discussion how to redesign the website.
There is a let's do two competitive views which actually can work together.
B
One is, let's do a quick and budget less or budget low option, uh which means something that can be done in a month or two, some with some small budget in terms of hundred euros, something in hundred euros um get somebody who can design it to do a short one month or uh iteration on this few options and we choose something and we go something that it's better than nothing per, not perfect, but better and then at the same time we can start the whole discussion about the brand identity, which will take longer if ever achieved well, but we go with it that we want this right and it's you know the whole research around brand and xyz, which will take year and one more than a year year or more.
B
I could this is the summary not 10 seconds but yeah.
If you have any comments on this.
B
Me, okay, so small steps, that's it.
um I guess the last point um if nobody else wants to add something to the discussion.
B
uh I'd move to the last point where we kind of try to tell what we're gonna work on in next two weeks to kind of document it which and then we review it next time, um I'll just start by the order of the icons. If that's okay, uh david you're, first.
E
I still have the same plan as last time.
B
Okay same as last time, okay uh ilco any uh test you wanna regarding.
D
uh No, not really I mean I'm interested in adding flake supports the nexus search, but we can probably uh talk about that somewhere else.
Okay, it's not really.
B
Marketing related yeah yeah we'll discuss this and make a proposal how this would actually look like right. um uh Graham.
A
Yep, no, I have no updates.
B
Okay, uh any plans to work what's in the next two weeks.
B
Yeah sure, okay, uh somewhere.
C
um There is going to be continuing the discussion with adult ducks and then uh I'm going to personally prepare some more talking points about the last point, the redesign of either a brand brand identity or website and see for the next discussion. What's uh what to make of this.
B
Okay sounds good.
We can chat about this because I'll do the same.
So let's keep ourselves in sync awesome uh domain.
F
Sorry, the microphone button is far away.
F
um Good question. I'm gonna work on tutorials, probably I have kind of an internal goal to write one per week, so that's kind of the plan going forward so tutorials yeah yeah.
B
No sounds good, that's it yeah and uh so I'll work I'll, try to find somebody or a few companies and try to find the quote on how much the redesign will cost. um If and try to find like trying to find somebody that we can work with would define a bit better. What do we want um uh yeah so get some quotes uh on the budget um uh and yeah. uh So this is one thing. The second thing is: uh is this one? How should we talk about nix?
B
This mainly means how do we um so create a proposal for um these two descriptions on the front side and separately? I mean it's a bit connected, but separately um also the features page. um So how do we present all these features?
B
um So that's, I think, and of course, the finish, the search dot mixers.org, um which I hope to do this right after this uh this meeting, I think that's uh it any other things to mention.
B
Going once twice: that's it everybody.
Thank you for joining and see you in two weeks.
B
Yeah.
Thank you see.
You later bye, see ya.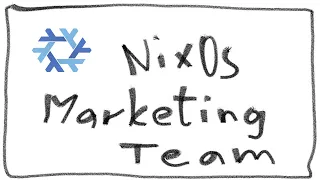 ►
Description
No description was provided for this meeting.
If this is YOUR meeting, an easy way to fix this is to add a description to your video, wherever mtngs.io found it (probably YouTube).