A
Okay, it says we're live um those watching the youtube recording hang tight.
While we do a little bit of housekeeping, I need to post the youtube link in the telegram channel.
B
And then we'll get this meeting going, I'm gonna smile.
This.
B
Okay, put the link there and let's bring up the agenda.
A
Okay, welcome to the permissionless software foundation, community committee: it's april 21st.
A
And uh let's do a quick round of introductions actually before we go into it.
I am chris troutner um founded the psf and just sort of helping manage the community um david.
You want to introduce yourself.
B
Sure, I'm david r allen I'm doing business development for the permission software foundation as well.
A
And daniel, why don't you give a quick intro.
C
Hey I'm daniel I'm a software developer for the psf been working since the beginning.
A
Right on yeah, daniel's heading up, uh wallet.fullstack.cache and message.fullstack.cache, and just doing a lot of the front-end development, so you guys use our apps anybody watching this uses our apps.
You have daniel to thank for it.
A
um So the agenda's, pretty short today, I was hoping to have more people in here from the vip meeting room like don wonton, but I wanted to use today's meeting to just uh recap uh on sort of the priorities for the community and, of course, I'll share my perspective.
But what I'm?
What I'm really interested in is is getting other people's perspectives.
A
um So uh whatever we cover in this meeting, I'm hoping we'll continue. The conversation uh on the permissionless software foundation, telegram channel, in particular the vip room, if, if there's people in the community with skin in the game who who feel strongly in what their opinion heard, I'm all ears.
A
um So I've got a list of priorities here uh that are sort of the the active projects that are going on right now, um and I've tried to break them up into high medium low priorities. How I see them uh with it being april, 21st uh may 15th there's going to be a network upgrade for both the bitcoin cash and the abc or ecash blockchains, so we're busy getting ready for that um they.
A
This is not anticipated to be a a contentious fork on either of the blockchains, um but it, but it is a scheduled fork.
So everyone is required to update the software, including all the infrastructure, we're running on fullstack.cache to support the psf community.
So I'm fully in the process of of those upgrades and getting ready so that we have a smooth transition.
A
So that's the highest priority.
A
um The next highest priority that I'm focused on is uh fullstack.cache.
We we have wallet.fullstack.cache, which is a our web wallet.
We just recently uh took the alpha warning label off of that, because it's it's reached a level of stability and now that it's stable- and we have these these excellently developed tools.
We need to create documentation um to encourage other developers to use those tools to build their own web web apps, it's more.
It's we never intended wallet.fullstack.cache to be an end user wallet.
A
Instead, we always intended to be a developer tool and encourage businesses and developers to fork it uh as sort of a boilerplate to then begin hacking on to build their own web wallets to just sort of launch, get them get them kicked off and launched into an idea.
A
So now that the app's working and it's stable, the next big step for us is to is to add documentation, because there's there's quite a few pieces of software that make up wallet.fullstack.cache and we need to illustrate what what those are, uh how they fit together and how to interact with them as a developer.
There's front-end libraries, there's back-end libraries and there's there's sort of middleware libraries.
A
So we need to document all of that better better than is done now, so that's another priority and then uh gary uh nadir, who uh is uh been been contracting with the permissionless software foundation to work on the avalanche.
Slp bridge is nearing completion.
So that's that's!
A the third highest priority in my book is is just uh getting that launch.
We're all really excited to be able to to move tokens uh between blockchains uh in this manner.
A
um So I'm pretty pretty excited about that and then you know not everything can be a high priority.
Unfortunately, so I had to throw a few things into these.
These lower priorities.
um So even though I'm extremely excited about the pay to web database idea that I I shared in our last technical meeting and the json rpc over ipfs.
This is not a high priority at this moment, but we are making steady, steady progress on that.
A
I think that that is going to be a a very important um element in um keeping the price of the psf token up um as we move forward.
So I'm excited to explore it.
You know.
For that reason and as well as technological reasons and then we are actively looking for a developer um who can work on this coin join protocol?
A
um If anybody is interested in this, but but adding financial privacy both for the avalanche chain and the bitcoin cash chain and the ecash chain, uh if we develop the protocol the way we want to develop the protocol, it's it'll be chain agnostic, so it'll work on any chain that has utxos.
So all three of those blockchains have those prerequisites and so we're this is.
This would be a paid contract position, we're going to put a blog post up on the psf website with more details.
A
But if there's any javascript developers listening to this, who are interested in it, reach out to us and we'll have more details for you and then.
A
uh For the the low priority I mean, nfts are all the rage. I think I think it's it's the the market's starting to cool off a little bit in terms of the hype, uh but we we do definitely want to continue moving forward with wallet.fullstack.cash and the nft support for that application.
A
uh Stoyan has been uh who's been on several of these. These meetings before uh is interested in doing it, so we're gonna create a bounty uh for him to continue the work on there. He's already got such a head start um over everybody else in this space.
A
As far as I'm concerned, when it comes to nfts on the bitcoin cash blockchain and sort of not not just the display of it, but the actual structure of it um he's really got got some things figured out that I I don't see anybody else working on, so that that's a lower priority, um mainly because once once he fulfills the the bounty, uh you know it'll just create more work in terms of reviewing it and merging it, and updating the wallets and all that stuff.
A
But so we wanna, we wanna work on it, but we just can't prioritize it, but we're gonna keep working on it.
um So with that, let me open it up to david and daniel.
um What do you guys think about these priority lists?
Do you think we should make something?
That's high priority, more lower priority or lower priority higher priority?
Should we add some things to this list?
This was just what I I came up with in you know a few minutes thinking about it.
D
Well, my only comment is that the infrastructure for the may 15 network upgrades is going to have to be the highest priority.
D
Anyway, uh I don't know how much work that is so.
A
But it's not it's not really taking anybody else's time and it's it's the that's what I've done every six months for the last three years.
So it's a lot of work, but it's it's all stuff!
I've done before.
So it's happening rather smoothly.
D
The only other aspect that I think is important is that some of the making people aware of the work that the psf is doing, I think we could probably be a little bit more assertive in that, and I know that there's some funds that have been set aside for that.
So you know I, I see our work um from the non-programming side to be more focused on that.
A
Okay, that's good feedback, that's good feedback!
um Is there anything specific that you'd you'd like to add to this.
A
um Maybe some of that could get rolled into the launch of the slp bridge, because yeah.
D
That's that's kind of worth, seeing it being the most logical I didn't.
I didn't see it as being sort of a separate category.
I just saw it as being something that ties in with each of the priorities, but uh initiating that, so that we're in a position to you know make announcements in a more public way.
D
Around the 15th, which isn't that far away, obviously.
A
Right and from a from an infrastructure standpoint, I want to make sure that we can.
I think that when we launch the you know we're going to do it slowly, but I think that once we are in full swing of the launch of the slp avalanche bridge, it's going to get a lot of notice.
So I want to make sure our infrastructure is in place where it can handle that.
D
I guess part of that is just making sure our messaging is consistent across the board for sure.
C
Yeah, I was thinking that that launch of the slp bridge is going to create a lot of of playing around with that.
So it's important that we have everything going smoothly box or or something like that that take away the cool.
A
That yeah good feedback, good feedback, yeah yeah, I'm I'm.
Similarly like it's kind of hard to boil all I mean daniel you'll.
You know the trello board that we use to organize our work and it's like it's.
It's.
A
And there's there's tasks everywhere, and so it's weird to like boil that down into like three bullet.
C
Points but in general that that, for my opinion, is a good list of priorities right now I will.
I will say that the medium priorities are also like high priority, but we can't cover everything so yeah yeah.
A
Agreed yeah so just to sort of look at this same list through the lens of sort of financial health of the organization.
A
One of the reasons I'm really excited about the pay to web database, which is built on top of the json rpc for ipfs, is, I think that that will directly um impact the the psf token in a positive way.
It'll it'll it'll cause a lot of tokens to get burned through use.
A
So that's that's one thing where I'm I'm really excited about we're.
A
Not um we don't totally have the monetization strategy for the slp bridge worked out yet, um but that's been, that's been really good so far, um and then, of course, the the doc there's been, there's been a significant uptake in people joining our um our community support telegram channel for bchjs and and all the full stack dot cash tools so, and there has been a significant uptick in people purchasing monthly uh subscriptions um to increase rate limits on fullstack.cache, um so that kind of goes goes along with this, even though this is more of a behind the scenes thing, it directly affects our ability to stay operational, so um yeah in terms of in terms of priorities.
A
I think this reflects well our financial reality of the things that are actually going to make the the coin more valuable and bring more people into the community and and just increase increase our growth trajectory in all in all respects.
A
uh Well, yeah, so that's that's pretty much.
What was on the agenda?
uh I'd I'd like to continue this conversation in in the permissionless uh software foundation, telegram channel.
uh So if people watching this or looking at the agenda have some feedback, uh let's definitely continue the conversation there um is there anything else that you guys wanted to to cover in this meeting.
B
I didn't have anything specific.
A
Okay, okay, um well, aaron!
uh I didn't get a chance to introduce you.
I appreciate you, you joining it and before we started recording this, we had a pretty good conversation about nfts and virtual reality and and 3d uh imagery, and how all those things might might come together.
So I appreciate that conversation is.
F
There anything that you wanted.
A
To add before we sign off.
F
Now that I can think of I'm, you know I'm just interested in learning and trying to line up.
You got to use lasers to line this stuff up to get.
It photographed right, it's pain, but but you know it's a part of the physical world.
That's that's why I like the computer stuff a little bit better, because I can program it and be like all right.
I know it's going to do that.
You know with this stuff.
I got to be like nudge, nudge nudge.
You know.
A
Yeah you're right at that.
F
Intersection, the physical world.
A
In the digital world, um so you know so aaron.
A
If you haven't had a chance to yet I recommend watching the last uh technical steering committee meeting um stoyan was uh we did a cup like a quick demo of some of the the nft technology that stoyan's been working on and he showed.
A
Come up with this protocol um that that for essentially categorizing nfts, so that a wallet can automatically figure out like oh, this nft is attached to a video, or this nft is attached to a picture or a music file or something else, and then and then that that content, that's on the ipfs network or it's on this blockchain or it's over here on this private server.
And so a wallet can just automatically figure those things out and display the content.
A
So when, when we were talking earlier about uh combining 3d 3d photography with virtual reality and like in having like a trophy room in your virtual reality, room that you can.
A
On and then and then open the media that protocol that he's developed is is, uh I think, is a clear path to the the intersection of those technologies um yeah. If we can, if we can get uh better nft support in our web wallet, then then it's a it's a it's, a very pragmatic jump from there to get some sort of app working. I don't I'm completely ignorant of app development um in the virtual reality space, I'm hoping to learn more about just what it would take to to build tools in that type of environment.
A
What a develo, what a virtual reality development environment looks like.
F
What's nice is uh there are a lot of people working on it just like there's a lot of people working on crypto, so there's a lot of code bases and a lot of different things where people are pioneering it's very new, but uh that's also kind of what it's exciting. You know so yeah I I saw that last week and uh I'm you know trying to digest it because it's uh pretty complex for me, but I'm still still getting.
F
You know, that's where he was uh attaching like a url location to one token right and then that would reference another.
A
Yeah yeah, essentially the the transaction that created the token and brought it into existence, references a second transaction and that second transaction is what lets the wallet like automatically figure out like.
Oh here's, where the payload's stored and yeah and figure out how to display it.
F
Yeah yeah, that's that is really cool and yeah.
I definitely see uh an avenue for this and and that's one of those when I'm thinking of nfts, I think there is uh a lot more than meets the eye and a lot more than what people think and I've had people go well, what's the point you know like you can copy this picture.
You can copy this audio and uh there's more to that to it than that.
F
You know, and uh I I think there are ways that, if, if it can be secured, these nfts now become keys to unlocking the assets essentially right.
F
And then you it's no different than having a physical possession in your house and you can go and sell that on craigslist and now it's that other person's possession.
Well, it's the same thing with with digital assets, and you know I I see the space like.
I said.
I see the space moving in that direction to where uh we're digitizing the world and able to sell that to uh within 10 years.
I think we'll be selling digital spaces to the average person to populate on their phone or vr or on a compute desktop.
F
You know you name it uh we're gonna we're gonna be seeing uh dome televisions very shortly.
F
That's part of the reason I got into the 360 stuff led screens can be curved if they can be curved, they can be made into a dome if they can be made into a dome.
They can project 360 video on to that, and it's it's going to start like cell phones.
You know where really rich people have domed televisions and it's going to move into the average home very quickly and we're going to go from saying.
How did we?
You know we're eventually we're going to say how did we ever watch on a box.
A
Seeing happen right now with the vr headsets is like that those things have been around that now now the people getting the new version are like selling the old version to the not so rich kids and it's the same thing as.
A
You know like they always came out with the next model and then all the people who couldn't afford.
A
The new model like bought the old model off of the people could and.
F
um Well and then the quest does that too I mean the quest price point for a freestanding, vr headset.
You know you can get in at 300 bucks.
That's nuts, I mean the software can get a little expensive, but if you're savvy enough, you can sideload free games from anywhere on the internet.
You know you can play those games on your headset or you can.
If you have a pc uh like, I can run pc, vr games and stream them to the request.
F
I don't even need a connection and that's really really cool and so yeah.
I definitely see that there is this huge space for this stuff and um it's going to take a while to develop, but once it does you're going to see craigslist for nfts selling digital assets, whether it's a token for you know climbing mount everest or it's.
You know some piece of software that you you load into a game because they already do that.
For like unity, has its asset store right?
Well, it's centralized.
F
You know!
Imagine if that was decentralized on an ipfs network.
A
There's there's two things here: there's there's the actual development of the nft industry, but then there's the secondary market for trading nfts and tokens and coins, and so that that pay to pay to write database that I was talking about.
That's in my view.
That's our key to getting to a secondary market where people can freely trade, these nft assets and other types of assets.
A
And then this this committee.
A
Community committee and our technical steering committee they're, intended to when we reach a big enough size to where we have enough people they're intended to spin out subgroups and, um and so, if there's, if, if the industry interest in nfts continues to build, and we can get enough of a consortium of interested businesses. I'd I'd love for our technical steering committee to spin off, like an nft uh group um that just focuses on nft technology.
A
What's coming down the pike, how to get ready for it and and.
A
Composed of developers and businesses that that are interested that have a you know, economic uh stake in in that in that industry.
F
Well, I totally agree, and I I think you need both of what you're talking about uh you know developing stuff on ipfs and being able to to run stuff that way, uh developing the permissions uh software permissionless software and uh developing the nfts uh there's going to be a market for onboarding, a lot of these companies uh and because people just don't quite understand, but they can use the functionality.
F
um I I like the idea of utilizing a smart contract with an nft to where all right when say you create a piece of code and you lock that up on the ipfs site with token, and then somebody sells your token while you get a little bit back from that sale.
I I like that idea.
I.
A
Think that's.
What is really a lot of the reason why artists are getting so attracted to nfts is that exact use case?
I've had a chance to talk with several artists over the last couple months and they all say that same thing that ability to track a sale on the blockchain, and then I I've even talked to artists, who already have the claws written into their contract, that if you sell this artwork, I get like five percent of that sale.
um But but even.
A
Even though even that's fairly uncommon, but even though artists have that written in they, they never collect on that because there's no way to verify it.
But but if you have an.
F
Nfp on the blockchain now.
A
You now you can verify it.
F
Well- and I you look at it this way too, uh so I don't think that we're look at uh spotify's how they do things everything's from their central server.
You pay an access fee and then you access uh whatever and then the artists are at the whim of spotify all right now.
Imagine you, as an artist upload your album to an ipfs website, that's protected through an nft token.
F
You sell that nft token and somebody would load that nft token into their itunes program, something like itunes.
It doesn't have to be itunes.
That program would basically unlock the functionality of being able to stream that music.
Now you can add stuff to the ipff's website, such as it's looking for background information, so you can prevent uh something like sound cloud or not.
F
Sound clouds, uh sound flower- uh I don't know if you're familiar with that software, but it allows you to route uh audio from one location of your on your computer, like your audio card into a digital audio workstation.
F
So it's really easy to copy any song you want, so you could essentially pay it for a month subscription of spotify and rip every song.
You want into your digital audio workstation chop them up and make your own wav files and then cancel your subscription right.
So, like there's a question of how do you prevent that as an artist?
F
Well, if you have a program on the ipfs website in which the the data is stored, then it can do something like running background checks on uh on processing to make sure that that's not happening now, you're, never going to prevent somebody from taking the output running it into another, a to d and into another computer.
That's just not going to happen, but you have to find that sweet spot where you make it easy enough for the consumer.
That pirating is too hard right right, right.
A
And it's convenient enough to just pay for it.
F
Exactly exactly exactly and then wouldn't it be nice like that we used to have secondhand cd markets and record stores right well.
This allows for that again now you own this, and now you can sell this.
You know- and I think that's a pretty cool thing as well or you're.
Talking artists say you have an nft page for an artist before the encryption stuff starts up.
Something that'd be really easy for artists.
Right now is to say all right, I'm going to create an a website on ipfs, but it doesn't have to be ipfs.
F
I just prefer it.
You know, because I think it's the future and then I'm going to sell it a token that has the url address of that website right and then I'm going.
This is where I'm going to post my next single before it's online and I'm going to sell this token to my base fans, my base thousand fans right and then I'm going to just rotate the content.
That's on there.
So now this token becomes this special access content, token and so you're you're driving interest to your fans.
That way.
A
See I can see technologically how every step of that would be accomplished, so I'd I'd, love it if a business or an entrepreneur like came in to the psf community, and we could show them how to fork our software walk them through the landscape of everything they need to know.
In order to achieve an app like that, like for artists to publish music and sell directly to customers or to consumers- um and you know like like that technology exists, it can be done today.
I know how to do it.
A
um I don't have time to do it or interest in doing it, because I'm working on other things, but this is why I'm hoping that we can grow our community of business, oriented people um who, who just need a little coaching uh to be pointed in the right direction to to to innovate like that.
F
People say hey, this is the future.
This is where things are.
D
Unfortunately, he sounds like he's in the future.
A
Yeah yeah you're breaking up a little bit.
D
Yeah you're breaking up quite.
D
Let's wrap up and connect with him uh directly.
I I mean he's got some great ideas that uh harry is back again.
Oh there, you are.
A
Yeah we're gonna: why don't we wrap this up and and we'll take it offline?
And let's keep this conversation going on the permissionless software foundation, telegram channel.
F
uh I noticed you said uh in the telegram you have two separate telegrams: one is for permission, software, promotional software, and then there was another one for discussion.
Technical stuff.
Would that be the place to have technical discussions?
The second one.
A
uh Well, that the the technical one is, more specifically for full stack, dot cash stuff.
A
Ahead and let's get a conversation going in the main, psf telegram channel and then if we need to take it to one of the sub channels from there, we can.
F
I'm gonna upload uh the buffalo bison skull that I did yesterday.
I've already uploaded ipfs, it's just a javascript right now.
You can't download the obj file, but uh you guys can check it out so I'll put that in the chat and telegram looking forward to it.
Yeah.
F
All right nice to meet you guys.
A
Likewise, aaron all right, thanks guys for attending the meeting today, um we'll have another com com in two weeks and same time. Next week we'll have the next technical steering committee meeting cheers.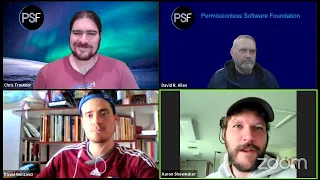 ►
Description
No description was provided for this meeting.
If this is YOUR meeting, an easy way to fix this is to add a description to your video, wherever mtngs.io found it (probably YouTube).