A
Yeah just keep an eye open for dawn.
B
Yeah we'll do okay, I think we are live on youtube for those watching the recording or the live stream hang out for a minute. While we do a little housekeeping, I'm gonna send out the link.
B
All right, let's go ahead and kicked this off.
um I am chris troutner.
I helped found the permissionless software foundation and I maintain fullstack.cash.
This is the community committee meeting for the permissionless software foundation uh go ahead and introduce yourself there, david.
A
Sure uh my name is david r allen.
I am the business I'm helping out with business development for the psf and uh yeah.
That's basically, it.
B
Right on- and we have a a new joiner today- steve uh if you want to introduce yourself, steve that'd, be great. Otherwise uh we can wait till the the end of the agenda.
C
I don't mind um yeah.
My name is uh steve: tate from uh glastonbury, I'm a new developer and I've been working with the permission of software foundations, software, especially message.fullstack.cache, and I kind of represent like the end user and maybe some recommendations I have to offer, and also maybe some of the problems in the free speech scene that this uh application software you're producing will help to address um so yeah.
That's basically me.
B
Great well yeah welcome steve glad to have you.
B
It looks like daniel's joining hey daniel, welcome.
We we're live on youtube.
You, you wanna, just give a brief introduction about yourself, daniel.
D
I'm daniel I'm, I'm a member of the permission.
Server foundation as a developer, been working since the beginning.
B
Yeah and looks like dawn's coming in.
B
Hey you made it man we're live on youtube by the way.
Oh hello, audience, yeah we're just uh we're just doing a round of introductions.
So why don't you go ahead and introduce introduce yourself.
E
uh Don wonton, I am from avalanche, I'm a general manager and a psf enthusiast.
B
Right on well good, I'm glad we got a a good little crew here, uh the agenda's fairly small.
Let's go ahead and I'll bring that.
B
Up, um okay, so here's the agenda, uh the link to this will be posted in the youtube show notes uh after this is done. Recording um the first thing on the agenda is this uh third uh voting proposal for the vip members.
B
um It is to create a slush fund of ten thousand psf tokens uh in order to um pay for thing for, like unexpected costs, um tips, bounties hackathon prizes, those sorts of things just just basically, community growth, the um the voting tokens were air dropped uh a couple weeks ago, and the voting is going to finish tomorrow.
B
um I think these are the yes votes.
B
No, those are the no votes.
There's currently two thou a little bit more than two thousand out of ten thousand tokens uh for a yes vote and I don't think there's any tokens for a no vote.
So these types of uh expenditures uh for community building have historically been popular with the community.
So I didn't expect a strong, no vote against that.
So it looks like it's gonna go through um tomorrow at noon, uh we'll complete the the votes.
B
So if anybody has uh not voted yet uh be sure to do that before tomorrow and um yeah that'll be great, then we'll have a fund for for bounties.
B
um So I just wanted to bring that up one last time before the vote is finalized.
Does anybody have any comments on the on that proposal and the voting process for it.
B
Okay, so we can move on.
um The only other thing that I have in the agenda is the this upcoming avalanche slp bridge we're wrapping up, and uh so what it's?
For?
For people who who are not familiar with this, yet it will allow you to essentially send slp tokens uh it'll, be it won't be generally.
uh For the first thing I need to point out is it won't generally work for all tokens?
B
It'll only work for very specific tokens that have had bridges set up for them, so the psf is going to set up a bridge for the psf token and we'll set up um a bridge for other tokens. um First off we'll we'll create like just sort of a fun token, with like a faucet where you can just go, get the tokens and play with this bridge.
B
But what it does essentially is when you send your tokens to the bitcoin cash side of the bridge, it will burn those tokens and then it will create new tokens on the avalanche side and then send them to an address that you specified when you sent the tokens it so it'll it'll require two transactions on the bitcoin cash side.
uh We'll have an app that does it so that people don't need to think about those specifics and then it'll also work the other way on the avalanche side.
B
You can send these tokens to the bridge, specify where, on the bitcoin cash side, uh those tokens should be sent, and so it will let you transfer tokens between block chains and then we're we'll also going to set up a similar bridge between bitcoin cash and bcha or ecash, so we'll be able to bridge all three blockchains.
B
um So the idea is cool.
The tech is there almost there.
B
There is some sort of concerns that I wanted to bring up in this meeting since it it kind of affects the community is uh so there's we already have the token liquidity app on the bitcoin cash chain. um We'd all like to see one on the e cash chain. I'd also like to see one on the avalanche chain, so that people can exchange psf tokens for the the native currency on those chains.
B
So that's three pieces of software and then there's the bridge between bitcoin cash and opex and there's the bridge between bitcoin cash and ecash, and so that's that's five pieces of software to maintain.
So it's a pretty heavy maintenance burden, um and I really just wanted to get some thoughts from somebody other than me on uh on what should we do about that maintenance burden?
Who should bear the burden?
How should we go about managing that burden?
B
um Right now, uh you know daniel you're, you're you're you've got some pretty strong chops on the bitcoin cash side. uh We've got gary who's, not here who's been doing the the most of the work on the token bridge and is getting more familiar with the avalanche side.
B
I'm pretty familiar with the ecash side, because uh it's just a fork of bitcoin cash.
So there's not a whole lot of difference there.
um So we definitely have the talent it's it's just a matter of of managing um this technical debt.
Also, all five pieces of software have the ability to you, know, burn or destroy or get hacked or otherwise like lose.
Lose money, lose things with a market value to it.
So that's that's the other like concern.
It's not just maintaining it from a standard software perspective.
B
It's also the the financial risk involved with all these all the pieces of software, um so I'll, just open it up there.
This is intended to be a round table like what does anybody have any thoughts on on what I just.
E
Said, um or are there any possible ways to kind of like have the bridges create some sort of revenue that maybe you know they could sell fund, at least at the very least like the maintenance.
B
That's a really good idea: um yeah, we could certainly introduce uh a fee.
um I hadn't really explored that idea.
I don't know why it hadn't really occurred to me to do that.
So that's a really good idea, and that would be a very direct way to to sort of solve that problem of the maintenance burden.
B
I mean there's definitely incentive for the psf to do this, because we want people to use our tokens and, if our token becomes a medium for transferring value between chains.
B
You know that that's good for that's good for the token, um and so there's that and then of course, other people will probably want to have their own bridge, and so that's that's another potential source of revenue is having you know the developers that are part of our community who's familiar with this technology.
B
uh You know that's, they could be paid to to customize it for other for other companies.
B
So yeah I like that idea.
I like that idea.
E
I think it'd be, I think, it'd be pretty well received just because you know like the the avalanche ethereum bridge just because the gas fees are so high.
You know it costs like 60 to 100 bucks just to just go one way.
So if you just tack on 50 cents worth of avalanche or bitcoin cash or ecash, or whichever way it's going, you know, I don't think anyone will notice.
B
Yeah, it's not prohibitive in terms of cost.
That's that's really good idea, really good idea, yeah and then what do you guys think about the token liquidity app?
So the idea behind the token liquidity app?
Is it it?
We don't have to deal with exchanges.
We don't have to think about exchanges.
B
We don't have to worry about our token being manipulated by exchanges, uh but the app provides perfect liquidity between our token and the underlying asset bitcoin cash, um and I'm wondering if, like probably I'm, I'm sort of leaning towards just having the one token liquidity app on bitcoin cash or or pick one chain. It could change um and then use the bridges to bring the tokens into that chain.
B
If people want to cash out of the token into a native asset versus trying to maintain, you know three different copies of the token liquidity app on each chain, but there's there's definitely um trade-offs to that decision, and it's not something that we need to decide right now.
We can definitely just I'm more in the spirit of just getting a conversation going about that and exploring pros and cons I mean one con is, that is the maintenance and that and the attack vector the risks of like.
B
If we have a token liquidity app on each chain, then there's the potential in each chain for each individual app to like get hacked or have a bug or lose money some way, or just just the time and maintenance burden um versus having it on one chain.
That lowers the maintenance burden, but it makes it less convenient for people.
Anybody say on the avalanche.
B
Ecash side would have to transfer their tokens over the bitcoin cash chain before they could cash out in bitcoin cash, and then they're gonna have bitcoin cash, which is not necessarily something they want, and then they're gonna have to like figure out what to do about that.
E
Yeah, I know it's, uh I don't know about that.
A
It already exists on the uh the token liquidity app already exists on the bch chain so and that that's working, um creating the extra technical debt around going to avalanche, which I I think is still very much under development and as well on the ecash side.
So maybe maybe it's best, just in the short term, to the plan around keeping it on the one chain.
On bch.
B
Yeah, that's that tends to be how I'm leaning as well, particularly in the short.
A
Term think it sort of puts the impetus for um the development on the other chains on the other chains.
So you know, obviously, if it's working, they might want to see it on their chain and you know, and to fund that development we know.
Bch has a variety of funding.
Mechanisms and uh avalanche has a variety of different kinds of funding mechanisms.
So these are just things to consider both with the staffing challenges and with funding.
B
Yeah, that's a really good point david, I mean ideally building this bridge and getting it functional will encourage more developers on the other chains or on on all three chains to to join this community and yeah, maybe take up arms and- uh and uh um you know, sort of do some of the heavy lifting just because it's something they want on a personal level.
B
Yeah: okay!
Well, let's, uh let's continue this conversation in the telegram channels, particularly the the vip channel.
If there's any uh vip members of the psf that that have strong opinions on this, I I definitely want to hear it and I want to.
I want to hear you voice it on the vip channel, but also in the in the more general telegram channel.
This would be a great discussion to pick up um yeah.
I think we pretty much touched on all three of those points.
We discussed the technical challenges of supporting multiple blockchains.
B
We uh discussed staffing challenges and funding, and- and I think we we touched on a few ways- that this tech could grow our community.
uh Well, that's pretty much the agenda um steve!
You had some thoughts.
uh uh Why don't you yeah expand on on what you're saying in the introduction and and just some of some of your thoughts and I'd love to hear how you've been inspired by the work that we're doing in this community and sort of yeah.
B
Where you want to take it.
C
um Well, I've been in radio in the underground scene since 9 11 yeah and I used to be from the info underground.com and you know doing the stuff on the bankers and stuff like that, and I found that when we're releasing podcasts for radios, one of the main applications for, for example, ipfs, which is kind of how I bumped into you guys, was having ipfs links to podcasts, which had been censored either through deep packet inspection or something, and we couldn't actually gain access to our links, except through a vpn.
C
Now we're reaching a point today where we can't actually access even through vpn.
Some of these links, for example in sync, we're having real major problems um and I'm trying to set an example for the others by using ipfs links um to my podcasts when I'm on the guest on the show or when I'm a caller and in the comments sections I post these ipfs links and they always get through, and so I thought.
Okay, I'm going to push ipfs more and then I came across the permission.
C
The software foundation and I was looking at how the novel use of bitcoin cash um with ipfs in a docker container to produce a canned package, white label that could be replicated and the immediate obvious implications were for the underground radio scene, um particularly the american audience quite well known in america. So um I started working with that. um I worked with like a raspberry pi, but I had to go on to ubuntu.
C
um I was kind of looking at how easy it is to actually follow the tutorials, for example, and to replicate this uh for various sites within the scene.
So if you go to grissom.blogspot.com or mama's, as it's known, um there's lots.
It's like a podcast aggregator of the whole free speech scene in one and there's a bit of a scene there and most of the other scenes bolt onto that and release their audios.
C
Now the problem is it's heavily sensitive so by showing these ipfs links and that there was packages available uh with kind permission from yourselves that we will be able to to work with um things like blackbird 9 and these bb-9s trading posts.
They were able to take some of this software on board and to actually try and implement it.
C
So I was looking, for example, the ipfs upload feature that you have uh within your software and possibly maybe make some recommendations to to have like a a more comprehensive canned package for the newer developers, maybe not so skilled, um so these features are actually built in possibly for a psf token reimbursement.
C
um I have been offered work to develop for several uh websites on your white label, one of which was the bundys.
I believe ammun bundy at the moment uh who they're going after and I've been speaking to uh one of his group called patricia a king and they're offering to pay, but I don't really have the time to do that.
I've got other things going, but I would love to sort of forward these people onto yourselves in terms of workload.
C
So maybe using the psf token, like canned packages and doing deals with certain groups within the free speech scene, could actually help promote uh the permission of software foundation.
Give it a higher profile, give it a direct application and and generally sort of promote a wide understanding about the technical implementation requirements needed for that, and there are essential features which are becoming imperative within the scene at the moment.
So the ipfs upload feature I like the encrypted ipfs chat.
C
I thought it was genius browser to browser um being able to create your own slp token yourself, so part of moving the free speech scene onto bitcoin cash.
Wasn't just that you could store the ipfs hash on the bitcoin cash network.
C
It was that people can create their own token and their own value, of which I've been moving into that scene, creating a an uno tether with on on the slp chain.
C
So I wouldn't mind if and with the rise of nfts, obviously as well, there's another application there um if we were able to sort of incentivize uh the psf to sort of work more with the free speech scene to promote a wider tutorial base for slightly less skilled people to get their websites upgraded.
C
I think this could have uh big ramifications for the free speech scene if we work with them.
um So I I think I do have some other stuff written down, but I just want to sort of hit leave it to the floor.
If anyone's comment on that.
B
Man, this is yeah.
This is really encouraging to hear, um because I definitely want this, this psf organization community, to to tap into we're so sort of we started out very bitcoin-centric very technology-centric, and I want us to to that's.
The whole purpose of the of these com-com meetings is to is to reach out to the non-technical people, who are like the free speech, people who are interested in the the applications of this technology.
B
For for humanitarian reasons, and uh that's one of the the things that I struggle with personally and in a leadership role is, uh is sort of breaking down the barriers between the tech side and the humanitarian side, and so I would love to get your help uh reaching out to these other organizations and, um from speaking from experience, um the the challenge that we have with these types of organizations is the same challenge we have with with businesses in that um there's a wide gap in terms of technology between the the high level, things that they want to do, and then the low level sort of realities, um the nuts and bolts that need to happen um so yeah.
B
So you so you listed off.
You know several things there, um so basically, if, if, if you take anything away from what I'm saying or because I'm about to say some other things that might make your eyes glaze over, um but basically yes definitely want to reach out to some of these groups and work with them and the child.
B
The main challenge lies in just bridging that that tech divide of of getting from a high level of what they want to achieve and then and then and then getting to the point where we can actually achieving.
C
The low level nuts and bolts can I just comment on that. Chris just points um I like the fact you can take the ipfs hash when you're serving it up and put it on the dot if domain on unstoppable domains, and then you can use dns to get a dot link on the end of that, and um I I actually quite like that: application with unstoppable domains and the dot eth and the dot link and the other one is the apk.
C
If you could release like a working uh android air pack for mobile devices that could perhaps help in that respect. You know in terms of usability for the end user, um much much more, perhaps directly applicable. You know, because people just want the android apac download it there. It is it's working, and so maybe maybe some work with the android there and referencing, perhaps unstoppable domains and the application there to host your website the text record as a dot eth rather than say uh on a conventional central server.
C
You know to actually put it on the ipfs to get a link and you've got a http link.
Haven't you so I think those were two things in terms of accessibility to lower end users um that could maybe sort of help you there with.
B
Those are good points, those are good points and we're actually exploring both of them.
um In fact, the apk we have.
We have an apk for wallet.fullstack.cache.
We haven't yet put one out for message.fullstack.cache, because there's there's uh some challenges around the rate limit so but we've definitely been exploring um taking our web apps and then converting them into a native android.
App uh daniel, in particular, has been been leading that up and it's been going really good.
We really just have a couple minor technical challenges to figure out before.
B
That's, basically what we're going to do to all of our products like message.fullstack.cache, wallet.fullstack.cache and chat.fullstack.cache.
Those are all going to have their own android uh native apps.
We probably won't bother putting them in the store because they'll, probably just get banned, but uh what's nice about android is that you can just generate the apks and anybody can grab them and load them and then with respect to unstoppable domains.
B
um I think I think you know I I produce a website called uncensorablepublishing.com and it it's the same idea as on as unstoppable domains.
They're, just more ease focused where we're more bch focused, but but in terms of like what we're doing and how we're doing it.
It's largely the exact same thing, but I think I need to just um bow to the the tide of popularity and uh and embrace that unstoppable domains, way of doing things um and uh so yeah both but yeah we're both looking into into both of those things all right.
C
That's about it really, though, I want to just comment there.
B
That's great, you know a couple other things.
You said that I wanted to just touch on um the uh we're exploring in terms of fighting censorship, uh yeah, putting the content on ipfs is you know in a critical first step um and then there's the the sort of the hosting of the ipfs content, having having some host of last resort uh to keep the content on the network uh is important and so that that uh ipfs pinning service?
That's on message.fullstack.cache, uh you know that's great, um because it's there's there's no sign up.
B
You just pay some bitcoin cash and someone's gonna host that content.
For you, we use a company called textile behind the scenes, so I really encourage you to check them out.
If you haven't textile.io and.
B
They they have they're the ones that that's the the pinning service behind the scenes there and they have a um they're they're on the forefront of the technology, with file coin and so file coin.
B
It was created to be that sort of server of last resort um and uh to be able to retrieve the content from filecoin when nobody on the active ipfs network is hosting it and so uh yeah we're definitely exploring that and uh and anyways like that is to say, like if that's of an interest to you, um I I'm happy to pass on any knowledge.
B
I have on that and uh and work with you on on pursuing, I I'm I'm very big on fighting censorship and making it impossible for for state actors to to prevent someone from accessing information.
B
Absolutely uh yeah, okay, well steve, where, where? Where do you think we should take this um from here in terms of reaching out to some of these communities?.
C
I think there's two main types that that come to me, um one of those who I've got to say publishing that they've made their own book yeah and they can't get a publisher say like in hard form so they're having to use like pdfs um having those guys have some sort of publishing via ipfs, but also like getting the distribution as well.
So it becomes like widely disputed.
That could be good.
C
um The other one is podcasts, as I've mentioned, so you know getting to each of the main sort of free speech sites, mainly those who've gone about the bankers, to be honest um and getting those guys to understand the not just the technical technicalities, but the value of uh some of the principles you've been advocating um and to sort of move, the scene and the movement in in a certain direction.
C
Rather because most of the people like saying the free speech scene, a lot of them are musicians um or something like non-computer literate, for example, and their eyes just glaze over when you talk about ipfs them, but you know like the power of it in terms of uh censorship, resistance and distribution, always capable of so.
C
I I think you'd have to approach each of the individual sites from the jocks and then you'd have to go to the authors as well, for the more document oriented rather than audio, um and I think I think, basically, the chat function. The ipfs chat function, the most recently been working on that I find very intriguing so being able a lot of people have built-in chats into their site um when they're going like they're live streaming.
C
I have seen like live streaming concepts on ipfs um and I'd.
Rather, let people somehow like a can the easy package to do that, rather than do something like stream yard.
B
I believe the library also just launched live streaming.
C
Right, well, that's interesting, um so yeah the the chat function. I think the third thing to take away is, I think that chat function is actually quite important and yeah, I think, and um the browser to browser. So if we sort of push those three things- the documents, the authors, uh their websites and those people, then you've got the jocks and their sites. Quite often, you have a site that might have 20 odd 30-year jocks like freedom slips has other sites. I say like radio album they, they might only have say six or seven quality.
C
um I think some of it is more important than others.
um Some of it.
You just get the solo crew, but the audio is a really high quality of high quality material.
So um I think- and they have a large audience.
For example, um no agenda is very good: no agenda on that.net, which is like a standard free speech, um alt light.
um If you go to those guys, um you should be able to get a higher profile and obviously that feeds back into the psf tokens.
C
So if you can feed them towards fullstack.cash and for them to actually pay for those services um and in conjunction with the uh the android app, for example, and the dns link importantly, um I think it could.
It could all come together.
It's kind of like weaving a tapestry, so you end up having the pattern at the end, I think the personal relationships, uh the human capital- is very important for knowing what you're directly targeting that demographic to which this technology is directly applicable, not just by the way within the english-speaking western world.
C
I'm sure there's a wider aim to make free speech everywhere.
I agree with that, and then I think we can appeal to other countries in different languages along the same lines could be quite nutritious.
I mean, where is the free speech scene in china or japan.
C
Burma or wherever these places are um you know I I it would be useful to perhaps find ambassadors who speak both languages to contribute to the meetings, not just the state of their free speech scene and what their requirements are, but also possibly what where they maybe want to push it towards.
You know: are there some like unforeseen things that they're encountering that we can perhaps adapt to um so yeah?
I just want to keep it short.
C
It's kind of those things, those recommendations, documents for the authors, jocks on the podcasts and the chat function, which could be act as a bolt-on to each of the home websites.
B
Yeah, those are great ideas.
Those are great ideas, so um make sure you reach out to me one way or the other uh either you know telegrams preferable or twitter or message.fullstack.com.
However, you want, but let's, let's touch, let's get together after this.
I definitely want to sort of reach out to some of these, these people in your network that that you mentioned um yeah, but since since you've got a bit of a technical background, just a few thoughts.
B
I want to share with you of like sort of tech coming down the pike that I've been researching.
B
um One is these uh pay to write databases, and so it's um orbit db is a is a peer-to-peer database on the ipfs network and I've been playing with their code and getting it to a point where it's a it's a database that anybody can write to.
But in order to write to it, you have to prove that you've burned a token like a psf token and that's your ticket to write to the database.
So it's uh the incentive.
B
What I like about this is the incentive model, but in terms of free speech it would it would.
uh It would allow people a place to like a blockchain uh store information, that's immutable and unsensible, and it's unsensible, because it's it's shared among several parties who have an incentive to to maintain it um and then shoot.
I lost my train of thought.
There was there's something else I wanted to.
I wanted to point out to you, but uh but yeah.
B
Let's definitely get um together after this offline and uh and let's talk about how uh I can reach out to some of these other people in the free speech movement that you're aware of.
C
Yes, definitely, I'm mainly probably on telegram, but.
B
Great perfect that works great for me.
C
All right, god bless speak to you soon, right.
B
Cheers buddy: uh does anybody have anything else they want to talk or add on to what steve said.
A
Oh you're, muted, david, I'm sorry, I was just going to say a lot to take in applications and front ends and all sorts of stuff that needs to be built.
So it's it's.
It's great opportunities going forward.
B
Yeah yeah yeah.
This is really encouraging.
B
Okay, well, I think we can probably call that a wrap um always surprised at how productive these meetings are.
B
Right on, okay, guys, you cheers thanks for uh attending the meeting.
E
Oh yeah definitely see y'all next.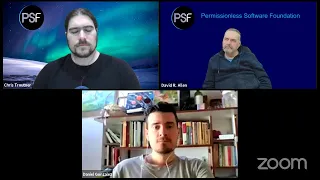 ►