A
And we're live nope Wednesday August 14th for the core team meeting.
Our first urgent issue is that next week the meeting is cancelled because of Russ conf and the week after that.
Our time slot is changing to Friday 5:30 to 6:00 Eastern Time.
A
Nico, could you adjust the calendar in my I?
Think it's yours.
A
The next urgent problem is the async, a wait, delay and check-in meeting retro Floria and anything else.
Do you want to throw out that yeah.
C
Just want to quickly race.
Last week we have the situation that we have a checker meeting and all most of the issues that block the async/await stabilization this week have already been known, and we kinda had a look at them and where I is this moving?
No one from corn Lang we're there, though, though this is no accusation, the we could also have followed up with them, but we didn't so which led to this week, everything becoming unclear and a little bit in a rush.
C
So I would just like to raise this as an a thing that we could use to inspect what we actually want some percent meeting and what are expecting what we expect around what is discuss and what information should flow.
And how do we react if we feel like something?
Some information is missing.
Do we follow up?
What is the extra we get out of that?
So it's not particularly on ice in Kuwait.
It's just I think this is a good good point to investigate what we, what do you want from it?
I.
B
Think we should do that, but probably I don't want to do it in the scope of this meeting.
Does it make sense to schedule like?
Would this be an opportunity to have a longer beating you thing on how to do us project management, or should we.
C
I, don't let us feel like we could also do this async and write it down somewhere.
I, don't know.
D
That meeting its to be short and tiny, so whenever a bigger concern is falling out of the meeting, people should talk about it later, potentially scheduling another meeting.
We can also like encourage people to keep that time slot after that free, so that, if you want to do this, you can really do this like that, if necessary.
Oh.
C
It's not about how we, unless about how, if we want to change the meeting or if you want to extend it or whatever it's just that I think there was this interesting thing of people have noticed that and didn't follow up and, on the other hand, people that could have informed us that next week, probably we're not going to hit the deadline that message didn't get through.
I, don't know if it was even like people even had that in their head, but yeah.
So, oh, it's more like what do we do if certain patterns arise.
B
Do we follow up in general, I think it would have been ideal like there.
The information sort of available to it would be nice if we were just posting.
These updates in general, not just through the meeting, perhaps and more regularly of like here's, the number of bugs I think I in particular I'm a little bit unsure about how we should implement I.
Think one of the challenges around async/await, especially, was that kind of very early on.
B
We were projecting movie States, probably way earlier than we were really in a position to make good and those became somewhat like commitments in a certain sense and that caused a lot of stress.
Are we going to make that commitment or not and I may or not a bit, even so wise.
C
For this discussion, because it's not it's not about a single way, specifically it's more like do.
We want to use the sink meeting for, for example, finding these finding things that are off or things that not happen.
C
Or do we want to people to make an effort to, for example, use the same meeting to warn people ahead that, oh by the way, async/await might not happen so prepare for that if you're on reddit or whatever I don't know so that you know about it, there was just a I think, a lot of us and clarity in the room and I believe in marki were in the meeting as well.
I believe we could have caught that with with a little more effort, yeah.
E
So I will say that at least from my perspective last week, I thought that there was maybe not a huge possibility of us shipping on time, but the possibility was there.
So that's part of why I wasn't like throwing up red flags or anything, but.
C
Maybe that wasn't clear to everyone, because it definitely wasn't clear to me: I had the impression from the meeting that it came up as okay, there's still, some stuff might still make it so.
F
I I think it's not worth really litigating exactly what happened at last week's meeting, but I think the larger point that this is the kind of thing we want to get out of this meeting is very true, like I think.
This is a perfect example of the kind of cross team interaction that has been missing a bit in the roast project, and this is a the meeting is a good opportunity for that to happen.
F
Also, perhaps that, like there will be times when things happen faster than every two weeks or every week and the we should.
F
Means of communication, but, like you know, given the the meets that we've only had a few issues of the meeting and people have been like away and teams haven't figured out who is going to be their representative every week, including the core team like I I, think this is kind of the learning pains that we should expect.
I.
C
I'm completely fine with that, but that's why I find a good that we can address it now, because it's yeah, it's learning, pains I, think.
B
My takeaway would be flurry, and also that so it would have been good to highlight that it matters a lot to you like.
If you were starting to depend on this, and you would like to know both both directions and I mean this person thing, of course, but like when you're.
We should try to keep people abreast of what's happening in the meeting, but also on the other side.
If we're coming to rely on something.
Let them know that we're relying on that so that they're aware that we would like updates.
C
A good point reminding people on how others get use out of this might so to avoid that they feel like they just have to do it because they need to read some point there and show progress.
I.
Think!
That's not the point so.
F
Just to bring this back up to the meta level being conscious of the time, I think what we want to get out of this is.
We probably want some guidelines, we're going to send four to the teams and that will come up with those I think.
Yes, that sounds good.
Does that sound like a good conclusion, sounds.
A
Great, thank you very much.
Okay, the action items, tasks to check in on section I'm, seeing a couple crossed off things, so the cross off governance, I, don't think we need to discuss, and you see a note for Steve and he's not here.
We just talked about the team wines stand up meeting.
The only note there is that there's a note that Nikko is to invite secure code in gaming working groups and get them on the website.
I did.
A
Good.
Thank you.
The next item staged RFC stage, design and I believe Nikko was going to write something up before vacation and I.
Don't think that that happened, so that is still there.
C
Quick updates, I talked to some grief, quick this today and they've got gdpr and at the MCA stuff done.
They also went a little further and came up with the GDP our policies for everything that we have also websites and all these kind of things boy, it seems, there's been like.
Let's just do this in one go, so it isn't crossed off, but it has made a lot of progress.
C
Then there's the licensing, copyright, clarity, issue, I, must say Basel this starting a discussion of people that start with I know nothing about licenses, but and that ten, which.
A
Is exactly I put it on the list for this we raised two lawyers who know something about licenses exactly.
C
That's why I would quickly get started with that and take that over it's.
It doesn't help to get that into another discussion about what people believe how open-source licenses work yeah, so I would maybe check up on that after was gone.
I'm pretty sure, I can't do that before anyone else wants to take it.
A
Okay: next item is white papers.
Anything there for him.
No.
A
How's, the core team ruskov talk going through.
C
The we submitted the proposal was some minor edits, especially putting less emphasis on the past time like and, as she said, to Russ Khan and we're going to we're writing it, though.
Steve is currently traveling for another conference.
A
Okay and I see the community sub-team fluorine II left a note that this is pushed after Russ conf, Venetian, Florian website, slogan, modification, anything there.
Okay,.
A
Roscoe how's it going and do you need anything from us last night I think.
D
It's going fine, we added some more trainings stuff is going good.
Yeah Oh.
Remember that there there are a bunch of production users meeting on this on the training day in the same venue.
So if any of you want to hang out there, we can like set that up.
Okay, they're just going to be talking about their needs and stuff and like probably coming up with something to bring to the rust teams eventually, but I'm gonna just be there to listen and yeah.
C
Canton in there its enterprise users, they were pretty strong about enterprise.
D
And enterprise users, yeah yeah.
C
Because they just as a warning, they might kick smaller companies out if time, if they space runs out.
A
And we had a note there to think about having a core team table but think about the goal of it: I'm I'm not even going to resk hump but I'm gonna, say everyone's gonna be too busy to do that.
Yeah I'm deciding for you.
You all are not doing this.
Welcome.
A
Okay, the survey for the planning, the All Hands 2020 went out florian anything to mention on that or you're still, no.
C
Longer I gave them some time until well.
Deadline was tomorrow, I gave them a little more time until the weekend, but they we got 50 people that responded and the responses are unsurprising, I'm, just not sure if everyone has filled the form, but I would expect the All Hands to grow like at the rate that it was growing another 10 to 20 people or something about so we can definitely get started.
Talking to venues and I have made it very clear in the second email.
C
If people don't respond, we will just buy the numbers and Italy misjudge the numbers we just have to make hard decisions a lot to come and who not.
F
It might be worth we read repeating sorry repeating like the people like, but potentially everyone who's on, like a team at all working group would be invited because I know that, like every year, people are like, oh I, didn't know, I could come to the All Hands.
F
So it might.
If we're not getting as many replies as we thought, then it might be worth like restating that okay.
C
So it makes it another email to all at that.
If you are part of all at you, imageable.
A
And that's the end of our open part of the agenda, any anything else to talk about.
Oh.
D
Oh just one thing about the venue planning: um we should be fast given that, like, if we're gonna be talking to other companies, for this, we probably will need some egg-like.
We will probably need to get something to set quickly, but on the plus side at least the companies I talked to it did not seem like like it was like the number of people.
We're thinking is much smaller than the number of people where they actually need to care about.
D
Oh, we need bigger rooms like so so from the point of view of like people come joining last minute this mean, if we're using like large companies venue.
This will probably not be an issue.
This will probably easy to scale up.
C
Okay, um I guess, eighty to ninety: if they have space, for that will be good.
A
Okay, so if you could switch the recordings Manish yep.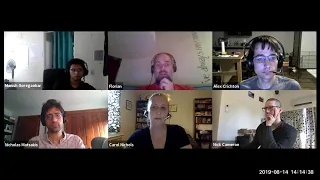 ►
Description
No description was provided for this meeting.
If this is YOUR meeting, an easy way to fix this is to add a description to your video, wherever mtngs.io found it (probably YouTube).