A
Okay, this is the February 12th core team meeting in the first item on the agenda is stage RFC's stage design, whatever we call it Nikko.
B
No major updates except I guess the main update would be that we are planning to put the project group RFC, which is sort of tangentially related to this or a funder or like a building block for this.
In my view, into FCP I think I was planning to anyway it's a tea core or exceeds all the rest.
You all have to take a look if you haven't already, but that's what we were discussed at the governance meeting anyway, and it seemed like the conversation had reached a steady state.
B
Yeah, that's it I, guess the rest of what I wrote is kind of the same, but the next step would be to talk more about linking procedure or at least discuss how we will modify what the teacher and make it a little more staged.
I'm still thinking the right place to start is sort of focusing on state zero.
So to speak, which is like getting from this is an idea on internals.
B
Having us step in between this is a random idea and I wrote in order to see it's kind of like I, solicited feedback from the team and somebody there came to help me on this and they're interested in seeing it through I.
B
Don't know how much we've talked about in here- I- don't remember, I, guess I'll!
Leave it at that since we're a week short on time.
A
Okay, there's nothing else on that.
The next item is the legal issues first, which is the licensing, copyright, clarity, amigo I.
B
Started reading the document that Florian prepared and providing some feedback I think we can iterate a little on the text, but I could just basically on the word ami, but the sense of it seems good.
It seems like the main.
More difficult task is going to be on there's sort of audit and we have someone else actually do the work of going through the things and figuring out that we know of figuring out how to result them and the document does sort of suggest.
B
You will theoretically audit the rest of the code base for things that may be concerns that we didn't already have in our list.
I.
Don't really know how to do that.
I guess just paging through the code and looking for things that look like they may be copied from somewhere else.
I, don't know it isn't not sure if there was a concrete plan, but that all takes person, power and I.
Don't know who is the just gonna put that energy.
B
But it seems important theoretically.
A
Yeah I would guess that Florian has thoughts on that, but before Ian's not here, the next up item is email about void.
Linux.
That's.
A
Okay, all right, Nexus, whitepapers and Florian is not here but Steve have you talked with anyone discord about discord, doing a white paper.
A
And Manish: did you remember whether you know someone there or not?
No.
D
I do not have chatted with like Jake I think once when they jumped into just or potential discord and was like hey reason first and then disappeared, but Sebastian.
B
Was somebody that I talked to early on when we were adopting the rest discord?
They don't claim to know them very well, but I'm not exactly sure what role they played in discord, but I think it sure I can go.
Look through my messages.
Try to figure out who that was.
This word first scraping the barrel like this.
If we're looking for people I.
A
Mean since we don't have any, we thought someone had a personal contact, but if we don't then like emailing, anyone and the author of the blog posts doing them to find the right person as a squirt would probably work.
I.
A
Okay, so yeah we'll keep looking into that road map planning ago I.
B
Guess nothing's changed since the last update what the text did I see there.
It looks correct.
A
Okay and it looks like okay yeah, it's now in FCP enough people have checked the checkboxes.
So that's all I want to check on all right survey.
Niko.
B
I think the next step is still to organize.
Please organize a meeting or just put in time to.
B
To start writing up a blog post, which I think we really do need to do.
um I have that on my list.
I could maybe get to it next week.
If other people want to pick up the ball.
I will not object thing clean ownership over this, but I don't mind doing it.
If it's latency is acceptable.
A
Okay, anything else with the working group, which is the governess working group, which is the next item.
B
We move to zulan and we plan to hold our discussions over text, but otherwise no I mean otherwise.
The update is what I already gave um well.
In particular, our last meeting, we talked about the UM the removals to the rustling, a table org we're trying to establish this, get up excess weight to policy for quite some time.
It's just kind of a tedious set of work to do, but we reviewed the list of work and sort of check some things off and meet some take some next steps.
B
There I think Petro would be the main person who's been following up, but there were no updates that, like change anything also, it's my battery.
A
Okay- and the next item is the announcement about theater, which it looks like Aidan hasn't had time to get to you, but we'll keep bugging him about that.
A
Okay, anything else for the open part of the meeting.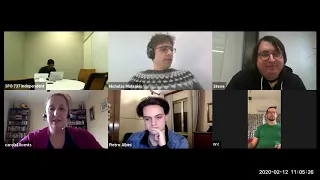 ►
Description
Core Team Meeting 2020-02-12