A
Thank you, okay.
This is the May seventh, the core team meeting at new time on Thursdays well Thursday's in this for the world.
Okay.
First item is stage RFC stage design.
Whatever we call it, you go.
B
But we have so on the LinkedIn side of things.
We have a kind of meeting coming next Wednesday.
We sketched Josh and I, sketched out a proposed procedure to introduce a sort of pre RFC step.
B
We call the proposal step where you bring the proposal and the idea is to help people sort of both help steer with steer people from away from investing effort into things that are not going to see the light of day because they're not aligning with the priorities but also help get more support and encourage people to bring proposals like where they get a liaison and will help them develop the full RFC, because we've I've gotten feedback many times that the artsy process is intimidating and they would rather have someone or work with them to do it um and their meeting to discuss that next.
B
But it is also ties with the idea of project groups and salons and some ideas if they're big enough.
The idea is that we'll go ahead and roll it in with a group to work on it.
B
Yeah I think I'm, hoping we'll actually make this too.
A
Next is legal issues I'm pausing about this because we said to check in and minmei about, the licensing stuff.
I have a new item about the terms of its a new old item, the terms of the forums, but we can talk about it in the private part.
I wasn't sure which part just go in I.
A
I mean it's in a public forum post already and someone's bringing up non-commercial, that there are non-commercial terms on the CC license and I feel like this started us talking with the lawyers about policies and stuff and I.
Don't remember where we landed on this particular issue.
A
That would be great, probably.
B
Just restarted, or maybe I'll start by searching paint, you know because maybe it's in there yeah.
A
But yeah there's an issue with links to both things and I will assign that to you.
Okay.
The next item is white papers.
So Florence not here.
The next item is the target tier policy RFC.
B
Mentioned there's a compiler team: we got a proposal to add target I, forget the details liudmila most or luminesce.
Yes, they were saying that they would like to come in at tier two and they have some people who would be volunteering to sign up and deal with bugs and so on.
B
I haven't really my deep about it, but it seems okay to me, yeah.
C
Like we need to find second positive for that, but I think we can probably massive business.
So hopefully that's true I.
D
Have some additional background context I can share on this?
If it's helpful or not?
D
Basically, oxide computer is a company, it's building hardware and plans to eventually sell it to people, and they are in the process of evaluating there, they're doing rust for all of their software and they're, currently deciding whether to use aluminous or linux as part of the thing and a lot of them are from the people who used to work on aluminous, so they're doing a bunch of work for rust on aluminous and so they're, just kind of like up streaming the patches that they had and would like prefer to help support rust on the Luminess because they love the OS etc.
D
So that's like the context is this is like a hopefully production user someday and then they actually start selling things and stuff building things.
A
Okay, anything else for the public part of the meeting.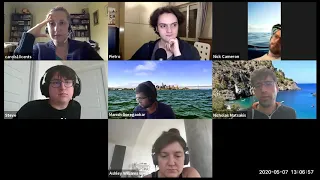 ►
Description
Core Team Meeting 2020-05-07