A
Okay, this is the september 9th core team meeting and who can update the issues for me today.
Can skater steve do that?
Thank you.
um Okay, we don't have any urgent problems, which is great.
um The next thing is the citizen code of conduct pulling it to our repo florian's.
Not here next is the 2021 edition, rfc nico.
B
This is what steve and I were just talking about.
um uh We didn't.
We didn't get much feedback to our question.
It's basically the same as last week.
We didn't get much feedback and we didn't have time to.
We didn't manage to schedule a meeting steve and I were we were just saying.
We should do that.
um I think give us one more week and we'll promise to have a response, um but well, I guess the other thing worth noting.
B
Is that mark wisely committed us to a kind of timeline uh which I approve of, because I think we're we're right near the end.
I mean yeah, we'll leave it at that for now.
Unless people want me to talk a little bit more.
A
I'm okay, with moving on to the survey.
B
There's a blog post up waiting, it has links to all the translations, I've gotten translators for all of those signed up and verified for the responses.
There are a few oddities like we asked about.
Where would you like to go for your in-person conferences next year, but uh we left it there so we'll be all right.
um So, basically, I think we're pretty close to ready to go.
A
Awesome um governance working group check in.
B
We've kind of put ourselves on everyone was busy and stuff's going on.
So we said we're going to take a hiatus and revisit this when we have more progress around the foundation.
Slash other updates, but there is continuing efforts to form charters for the various teams, and the libs team in particular has made the most progress here.
um I think libs and lang.
We were thinking of starting there.
B
uh That was kind of the last thing we were trying to do um so I don't have the draft right offhand, but it's floating around and I could circulate it.
A
Okay, uh I see niko's taking a phone call. um I was I feel like we talked about having a check-in and the foundation stuff in public stuff. Can you do that ashley or.
C
I absolutely can I actually messaged you on discord to be like.
Oh no, I dropped the ball on making the issue because there was no issue to tell me to make anyways.
I will handle that immediately after this meeting.
um Yes, so the foundation working group has been, I guess, project group has been doing a lot of things.
C
The thing that we are primarily focused on right now is uh talking with potential umbrella organizations that we might consider joining as well as like investigating what it would mean to maybe do something on our own and we're hoping to have that decision made by the end of this month and any sort of legal papers or anything like submitted for that thing by the end of this month.
So that is our big goal.
uh We've also kind of laid out a monthly schedule for the group about like what we think we're going to achieve.
C
uh We've also kind of chunked our work into at least at the moment, uh like four separate categories, one focusing on that kind of like umbrella, org situation uh and then the others being focusing on relationships, communications and then legal.
C
um These aren't necessarily like teams but they're, just like chunks of work, we're doing, and just because I see it coming up as far as like the email answering solution, I'm hoping that, as we think about how we do communications for the foundation like we can find a solution that might work for both core and the foundation.
C
But that's that's generally, where we are at with that.
um Another thing that the communications group is going to be working on is a blog schedule and making sure that we have regular communications out to the community uh right now.
C
A lot of the work, we're doing is very like organizational of our group, but um I think uh we're hoping to to get the the blog post started as like the big decisions roll in, um and so we we should be seeing at least one uh by the end of this month, but I I could kind of already expect to so it's it's on our on our minds, uh sending blog posts out for the community.
I don't know if anybody else in the group wants to add.
B
I think you summarized it quite well.
A
Okay um for the email answering solution I have, I have tried out, help monks and it seems okay, um except I don't think it'll do github permissions, but I need to investigate that, um but I think it has a way that you can basically only interact with it via email which shouldn't impact anyone's workflow.
A
If you don't want to ever log into that, I think I also just got on a beta for yeto or something I need to investigate that and like I have not tried out automating it through github actions, issues yet which I kind of still like that option, but I haven't done it yet.
um So I have I have more work to do, but I've done a little bit of work.
Is my update there?
A
um Okay, uh going to the periodic check-ins column, I'm not seeing anything to check in mostly because those are florians.
Does anyone else have anything for the public part of the meeting.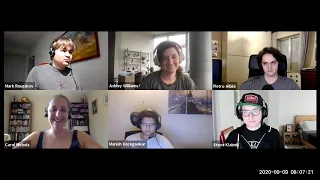 ►
Description
Core Team Meeting 2020-09-09