A
Try recording yeah, okay: this is the March 25th core team meeting, I.
A
Feel like I need to have a fancy background now that the cool thing Nico will be back in just a second.
Let's see.
A
Well, I see him now, so we'll just wait one more! Second, oh.
B
I'm wearing the right shirt for today, very.
A
Nice, how did we do you haven't?
Have.
A
I was like you didn't, you didn't even come and that's an organizer color.
How does she get that?
A
Okay, all right, first item stage, RFC stage design, whatever we call it Nico.
C
I know that um Nell told me she was gonna, do a little work on the art director oversee around a pre PRC plan, but I don't know if she actually did and so I'll find out yeah.
That's that's all yeah.
D
Oh by the way, I am NOT gonna make that meeting tomorrow, because I am I have way too many meetings overlapping from different things in the next two days.
So.
A
Okay, next item legal issues, any updates from Nico or Florian on licensing copyright, clarity, I.
C
Have no but I would maybe it's is it?
Is it worth taking two seconds to talk about next step here or should we defer it I.
B
Think the next step was actually forming forming a small team of interested people or at least setting up a chat venue where, for example, Felix o'clock week's best interest and all the others can chat.
I think it's not necessary for the court topic just something that we should track so.
C
So, like I would be happy to make a little PR with I.
Don't know you Felix and as a starting point and make a little like to make a little team in the repo and we'll make a stream for it or something, and we can I.
B
Would said was just a stream?
The question that I have currently is: do people have the bandwidth to set up a team because I definitely didn't during the last two weeks.
B
But yeah like having the starting discussions like making at least a plan, what we're going to do over the next couple of days or something like that.
I would like to avoid to set up a team where everyone's immediately like yeah but I, don't have bandwidth for the next three weeks.
I.
C
Suspect that this on short supply right now, so it might be wise to defer this until, like me,.
B
Maybe I'll just stick around with Felix and and the others, and just ask them directly about that.
Like do we even have time for this I would I would do that.
I can do that.
That's bad I have time.
Okay, good there we talked and.
C
It's a good I know.
It was three yeah I mean I, know that just adapting to the current situation, the shelter and home situation is taking a lot of time for Felix at least and I'm sure others too, yeah.
A
Okay: next item is white papers.
B
No movement but I would like to work on this this week.
C
Updates on the blog post de life, I think they were minor, we're still kind of waiting for that.
It's still in draft form.
C
Would be nice to get that done.
C
We start the next service.
A
Anything else for the governance working group.
A
Okay, um anything else we need to do to support conferences. Breast breast we've decided we're just not going to this year.
B
I've been personally in touch with all of them and all of them were cancelled and so I think.
The only thing that remains is restaurant and I think we should give full support to what I have all their needs in case or manage in case you or so considering, cancelling and I think that's it.
B
Finish and I'll also try to get in touch with the people from rats, love and that's all I know about currently running conferences.
That I know that I newbie organizers so.
B
There's a conference in ruts love that is planned for September, but they have done nothing except saying that we're gonna run it and I would I have a personal contact to them. I would get in touch them and just did.
B
What's love yeah, okay, Poland yeah,.
D
I know yeah sure I heard conference in Italy about definitive scheduled for October yeah.
B
But there will be like their group yeah yeah their company.
They have all.
They have a lot of experience with that yeah.
D
So Russ conf situation is I'm, not calling the shots on this Leia is but Leia already ran a conference virtually um amber, conf, I, think and I think it went pretty well um from what I heard. So, what's probably gonna happen is what we've decided is Rusk.
D
We will run Russ conf, we don't know yet how we will run it, but before we before we open ticket sales or um like have speakers have like definite yeses from speakers, we are going to make a choice there so that speakers, if we end up doing it in person, speakers can or I mean.
D
If speakers don't want to do it remotely as well whatever they can make a choice, knowing exactly what it's gonna be like and, of course, if it's in person- and it turns out that, like in August or September, it's still pretty bad, then we would probably have to cancel it.
That said, I my impression is that we probably know we're not going to end up doing it in person.
C
If we want to keep it on to monitor payments, that's fine current status is that paperwork is pending.
A
Okay, anything else for the public part of the meeting.
A
Alright, switching recordings.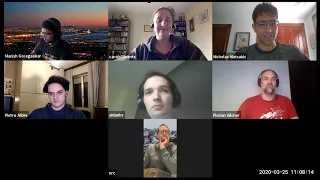 ►
Description
Core Team Meeting 2020-03-25