B
This is the core team meeting on May 22nd and we're going to start with checking in on action items and initiatives, Nikko a status update of a sync in futures discussions.
A
We're planning to talk about it in the lane team meeting tomorrow, there's been a lot of discussion on the internals forum since we discussed this index last time.
I don't think anything terribly dramatically.
New has come up, but one thing I did start in particular is a thread asking for people's experience.
Reports.
A
I will note without comment that it is significantly quieter than the thread where people are not explicitly required to have used the syntax to make comments, but also significantly less negative or not clearly, and has brought up a lot of interesting other unrelated things.
A
But I think it's that's no real update.
It's been a good discussion overall.
B
And what's happening next async/await.
A
And we're planning to organize that kind of meeting around the little stabilization like to make a very clear roadmap and plan, but the current schedule that we proposed was that we would try to get our I think into one two one, two, seven one, three I remember what our current releases.
Let me check one.
A
That means that we would be trying to stabilize by July 4th, so we have some work to do, but that would then hit stable on.
You know.
B
Okay, next item florian establishing a better procedure to check in with teams, working groups and tracking we're, not premise- and you have to here.
D
No, the government's working group is so getting their announcement set up this week to create my business yeah.
D
So no updates on this okay.
B
The next one is lifting the working group creation moratorium, which you posted the announcement and I wasn't sure if you were intended for people to post their applications in that thread, but that seems to be what's happening.
D
Given that this was mainly for getting interest in getting some form of structured.
D
Structures responses: that was definitely not the intention, but people just used it that way and I will collect them all and collect all the answers and put them into issues at the governor's working group.
I would from all the groups that apply, give a slight priority actually to the gaming working room because they have the third time.
Then writing an application working.
C
Group, the game works, yeah, Gaming, okay, yeah.
D
I thought you, you want to say something: oh no,.
C
I was just saying that we also have this secure code for security, something security working group that seems to be official already a monster, but it's not um I'm not sure what their status is but like they exist and I think that they have official I, don't know.
Sorry, okay should look into that one.
B
All right, the next item is stage RFC's stage design, whatever we call it Nikko.
B
Okay, any updates on legal stuff discussions, Florin Niko, I'm.
A
Scheduling that meeting for next week, because I was not around okay.
D
Base three same status: we're working on the tickly white paper that is coming along nicely.
I got the template from you and have access to that and we'll stop playing around with it on the train on Saturday.
B
Okay, next is the core team.
Rust can't talk, theme I, think fluorine.
You and Steve had talked about talking.
Yeah.
D
We talked about talking, it's the am I.
D
Still not sure what and maybe.
D
He's inspiration: it would be the core earth thing to talk about directly after the announcement in August or the the releases in August.
Given that async/await is there and like what would be an interesting subject.
D
Yeah and I'm confident we're going to find something so bouncing around.
B
A related point that I added on there would UNC be interested in refreezing.
Your talk at Ross well rust in October.
It can be the exact same talking me slightly modified where you can say someone else should do it or you know one has to do it, but I wanted to raise that as I'm starting organization and I don't need an.
B
You can think about it.
D
Well, I won't say no, oh.
B
Right website team working group from maintenance, Florian I, have.
D
Circled that community team today in the community meeting and people were positive of moving the website due to the community team and and content I'm trying to start to do.
The team were the people that have replied to the call for changing the CSS soon and I'm, currently drafting a document for translation teams, because I would really like to get moving on translations.
After the harsh feedback we got out of the Chinese community for K, like the Chinese translation, so yeah, and we already had a production incident.
That means stuff is working moving.
B
Okay, mini showers, Russ cough coming.
C
All set we've got like all the trainings are set, we might add one more but like whatever it's are being bought everything's all set.
There are a couple issues that is going to push on, but like we're fine.
B
Tools, mess and the line yay.
B
How are we feeling on the future possibilities of messes well.
C
One of one of the like the temporary fix for the tools mess we've got a permanent fix in the pipeline.
Ollie has a full request.
We just need to polish it a bunch more so working on that or in general for future things.
C
There are rumblings from various parts of the tools team, including for me, but if we do think that we should start considering either gating the compiler or maybe moving towards a world where there's at least like a warning before such things that learns like maybe running this on Travis or whatever, um so that basically having a bit more time to coordinate these things better and well. I'm gonna start discussions on this.
C
At some point: it's not very urgent, so I'm trying to get like the more important fixes into the tools that, like sort of make them more robust towards these changes.
First, but yeah.
B
Okay, CVA parse, modems, nico.
A
De post ones, what did I put down I think what I meant was it's been a little while, since I wrote down there, I think what I meant was that someone I, don't recall what forum or what context raised the idea of doing post-mortem after CBD incidents I think it may have been central actually and I thought.
That's actually not a bad idea to think about.
Like was there something that we could adjust.
Should there be I?
Think I can I raise that concept.
Given the recent CB aviation I.
B
Think that sounds good.
What are the are there any objections to doing this?
What are the next steps to making this happen?
Can we do that, for the most recent one I would.
A
Think this really just needs someone to.
B
Do you think that's something we could ask central with doing maybe.
A
Yeah I think I would be willing to.
You can put me put me for now, whatever work right, um if you want to talk and figure out who maybe I'll just do it, I mean I, think they're mostly disciplines, but also to run with bang.
Of course, I don't know whether central.
B
Ok, I kind of asked a whole bunch of questions.
Does anyone have any objections or concerns about doing post-war knows for CBS.
A
Anyone else feel like it's a good idea, like not only objections or concerns, but I.
B
Like the only concern I would have would be like sometimes there just isn't anything like it's really a weird, one-off situation that isn't something you could prevent again, but just going through the process and determining in this case is probably a good idea.
A
Yeah I feel okay with that being the determination from any given examination.
B
Okay, the last thing is turn off: engagement, e discourse, badges Manish.
C
Josh Triplett brought this up on on Twitter that basically they're a bunch of badges on discourse like oh hey, you've, been on the site for one entire, like you've, been active on this site every day in the past year, which is not like, which is like, maybe for a fun site.
It's fine, but this is more of a workplace, and we should not be encouraging that so I feel like.
C
We should probably go through those we'll get someone to go through those and turn off any badges that are like super engagement gave me like I, think badges that are like Oh created a post that got a thousand likes it's fine, but like the ones that are a bit more.
You know toxic.
When it comes to a work environment, we should turn off Matt GRU Beck, who has been sort of administrator during the discourse, is also on board.
So I can just ask them to do it and he'll make and I trusted a judgment.
B
Yeah, just before the meeting I copy pasted all the badges from the badges page and do a paper doc that I have linked in there I started I need to finish: I need to finish reformatting, but yeah, there's fun.
It's like read every reply in a topic with more than 100 replies.
B
So I think we should do this offline and and I was gonna, go through and make a proposal and see if there any we should argue about so anyone who is interested in doing this audit well there are there any objections to doing this I'm just kind of assuming that this.
E
Is sounding like a lot of work?
Would it it would be much easier to just turn off all the badges or any of that really offers huge benefits to keeping them.
C
They do encourage you to do tutorials and stuff, sometimes yeah.
B
There's, like the verse, three ones are kind of nice.
Then there's like the trust level ones, I'm, not sure what happens if we turn those off.
E
Okay, that last category definitely sounds kind of important I mean if you, if you think it's worth doing the work, then let's do it, but.
D
It's also that matters sometimes give you a little bit of a secondary channel, for example, the popular link that I use it to figure out.
It's something that I post that is doing is because that tends to happen.
B
There's there's not that many badges, so I, don't think it's it like.
The descriptions are pretty short.
It's pretty quick like yeah.
That's fine!
Oh yeah!
No.
B
Okay, so, like I'm, fine helping out this manish sounds like he's.
Fine helping with this Matt Brubeck sounds like he's.
Fine helping with this is anyone have any objections to the three of us and whoever else is interested just making this decision and doing this okay, and we have two minutes left.
Is there anything else anyone would like to discuss.
B
Okay, then I'm going to turn off the recording.
Thank you.
Everyone.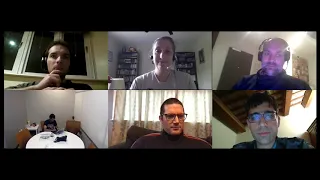 ►
Description
No description was provided for this meeting.
If this is YOUR meeting, an easy way to fix this is to add a description to your video, wherever mtngs.io found it (probably YouTube).