A
All right, this is the august 13th core team meeting and, first of all, may I have a volunteer to update github issues on the public agenda.
B
I can try to do it again.
A
Okay, stephen nico, you can work together on that all right. um The first issue we have is permissions on blog wrestling org.
C
uh I just wanted to raise this josh triplett reach out to me, because there's been some inside rust, blog posts that he was involved with for pilot team and lane team, and he wanted permission to like push them through without having to wait for someone else to merge, which can sometimes take a while for inside rust, not for the main rust blog, which is kind of owned by the core team.
But for the team.
Vlogs.
And I thought that made sense.
But I wanted to check in with people.
D
Makes sense, I definitely think as a member of the team, that seems fine.
If we eventually do this communications office, I think a required review from some representative.
That would be useful, but that's not a thing we have today.
So it seems good to me.
Yeah.
E
I'm okay, with inside rust, being like the wild west and like josh, is fine.
F
Yeah, like uh yeah, okay, I'll figure out some technical details to make it happen.
Yeah.
C
I was going to ask whether we wanted to anyway we'll work out.
No one else.
D
But the object model for the team repo is for blog perm sounds a little complicated, so it could be useful to have like a team representative for the blog, which would mean that there's, like the blog person for the compiler team, the blind person for the language team.
F
Yeah, I was just assuming uh just all team elites can match, put requests on that repository on that directory.
F
Lead sounds like a good calling.
C
Yeah team leads, but I wasn't.
I was going to make it informal that it's limited to that directory, but because I'm.
A
Okay, uh that sounds that sounds decided any objections, other reservations, okay, uh so the next in the initiatives uh we have consider pulling the citizen code of contact to a wrestling repository.
I think we decided that was fine.
Is there anything else to do here or just check in.
C
No, I wanted to do that on tuesday, but tuesday.
A
uh Next is 2021 edition, rfc anything to check it on there.
B
This, the comments and stuff have calmed down a little bit, but with nico being gone and dealing with all the other, things have not really done anything specific.
C
I wanted to like there was like us, might be good for the core team, not in this meeting, to discuss the major alternative and talk about it.
C
I think, but or at least even I I don't think, we've even done that, like we could summarize it here, it basically comes down to a question of.
Do we want to uh go continue the sort of big bang where we talk about rush 2018, as if it was all the things that are in the three years or is it worth trying to or separate out the like retrospective side of celebrating what the work?
C
That's happened from the edition, which is a smaller event and is very specific to the actual migrations that have to take place.
If any- um and I don't know it's a little out of my- I don't remember all the pros and cons, but I feel like I thought it's worth revisiting this just to be sure, not an obvious question.
A
Okay, so it sounds like you can see we'll talk about that offline and anyone else interested can talk to you too about that.
C
Yeah in particular, though, there was really no opposition to doing an audition.
I think it was all about this question how we frame it, which I think is important.
A
Okay, good.
um The next item is licensing terms for the forums nico any movement there.
C
uh Jeez I forgot about that.
I think I have a post.
I was going to post and I didn't post and I will go post uh that that I always we talked about the last time that sort of isolates the scenarios and describes what happens in each scenario, and I ran it by mozilla legal.
So I know that I'm not making stuff up.
A
All right!
uh The next item is the rust survey for 2020.
it's assigned to niko.
C
Yeah so I was trying to get. I still have an open ticket to get approval to hire a contractor to help with the survey gathering, but I'm feeling a little dubious about that uh and things move slow and I'm not sure that's top priority. So we were discussing um aaron and I were talking a little bit on zulip about.
C
Maybe we should pair the survey back since it has a lot of questions um and or basically try to move forward in a way that you know we won't get overwhelmed with data crunching, uh but that itself is work.
So there hasn't been a lot of motion there right now.
D
Have we considered reaching out to see if someone else would sponsor a contractor?
I feel, like the survey has so much value for us that I would like to explore that option.
Before we decide we have to pare it down.
C
Yeah I have not, but I that's not a bad idea.
um I have some.
I don't want to like I'd rather talk offline about it by the details of like how much it was and all that stuff, but I have I can get some estimates on what it would cost.
E
Was just saying that um I have a bunch of contacts who probably might have money piles, so we can coordinate on that.
Let's see.
B
I like piles of money funny shh.
A
Oh okay um target tier policy rfc anything we need to check in on there, no okay, uh anything with the governance working group.
C
uh We didn't have any meetings since the last time we, due to various scheduling, conflicts and complicated right now. The next week is our next schedule meeting with restaurant, which we won't do.
A
Okay, moving on to the periodic check-ins anything with licensing status of the compiler or white papers, no.
A
Anything with rustcraft or anything else for the public part of the meeting.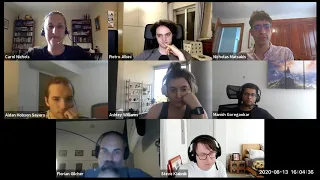 ►
Description
Core Team Meeting 2020-08-13