A
Okay, this is Wednesday May, 8 score team meeting and we are going to start off with checking in on a bunch of action items to see their status.
The first on our agenda is Nikko a status update of how async and features are going.
Okay,.
B
Lang team reached a tentative decision on the syntax, dot, await and posted various blog posts, and there's been some active community discussion and you haven't discussed it since then.
I think we also posted a schedule.
B
So are a rough plan is to shoot for the 137 release for stabilization two branches on July, fourth and part of the reason we're trying to make a decision now on the sin taxes so that we can have that done, are updating books and try to basically all the things in place so that when we actually stabilize, we can also explain to people how to use it.
B
So, like some of our work items are updating the already call it the async book at least we're extracting out certain sections on to try and tell people how async/await works in isolation.
C
Did I see that it's basically implemented already, so we can just try out the top of white syntax unsteadily like so.
Yes, indeed, it slanted door me awesome.
Yeah.
B
There we had that PR queued up I, think so just had to tweak the final syntax, which was the relatively easy part.
The um I would definitely appreciate people trying out sharing reactions.
A
Okay, the next item is establishing a better a procedure to check in with teams working groups and track word mint progress.
Do we have any movement on this front.
B
No, but I think did we forget I think we did fine forgot to like note this down on the government's working group agenda, but we have we were talking about starting to get the government like announced some, we finished it.
We have a proposal for a charter which actually we could discuss in this meeting and and so on and I think this could be one of those like first working items that we start to talk about.
It seems like a very dispensable.
D
I'll open up an issue on the governance working group issue.
Tracker focus that up to a meeting.
A
Okay and Steve's, not here for the next item, I, think.
B
It's a duplicate, more or less, okay,.
A
Okay, I'm just going to delete that one. The next one is lifting the working group creation moratorium, Florian yeah.
D
My final revision of the draft on the core, Channel I, think I fixed everything that people asked about.
I have added one paragraph on the kind of gives like that, makes it clear that there are a couple of reasons why we would turn down a working group specifically, if is if we feel like it's there, to promote a project instead of working for the ecosystem, and I would really like to have some focus on that some some feedback on that.
D
If that reads well or weeds badly yeah, it's the yeah, that's a part like I'm, already yeah I've got to mention to everyone on the document.
On the paragraph.
Do.
A
You have a deadline by which you'd like to receive feedback and post said draft I.
Would.
D
Be happy if I could actually post it this week, yeah I mean most of the rest has already been reviewed once so.
It made me that paragraph that I still don't feel 100% good about, but yeah.
A
Okay, how about we say: get feedback to you by Friday I named a post on Monday.
That's.
A
Think that'll get slightly more eyes than posting it like at the end of the week. Okay, um sushi RFC stage design, whatever we call it meeting next week, was that from last week, or is this with this meeting.
B
Referring to the meadow working group meeting, it did indeed happen.
A summary is posted in internals and there's also a video available of Feynman.
That's time, they'd love to kill, I, wouldn't recommend it.
You can get it all from the summary.
I'll put a link in your future.
B
There is a another meeting scheduled for this Thursday.
A
How are any decisions that we should be particularly aware about?
Okay, oh sorry,.
B
You know in this meeting we covered, we pretty much just discussed our motivations like what were some of the problems.
We saw and good things about lang, team, /, RFC processes, I.
Think what I had expected to talk about in the next meeting is Marla.
B
Figuring out what our products will be, and also digging into like some case studies, thinking what happened in these cases, how could they have gone differently or actually we're off coming work?
How could it be structured differently to be more inviting to people?
A big theme was that we are not doing a great job, communicating the status of our designs and talking about ways we could do that.
There.
A
Okay, next item is legal issues, Niko or Florian.
B
So I talked to Mozilla and the I chased out on the right contact, we're having set up a meeting yet and that just happened today.
A person was on pto we're making slow progress, but progress on.
A
White paper is Florian, so.
D
I have been in touch with clever cloud and pink app cover cloud are interested and I'll send them a mail.
Tomorrow, um I've been in detail discussion with pink app.
Think I passed proposed to subject one of them being well high, concurrency with rust, why they picked it for the base, implementations and the other reason why they picked.
It was being easy to integrate in all the other languages that they use in their products, they're using quite a number of languages and yeah I kind of suggested.
D
Just for my personal view that probably leaning on the high concurrency aspect and kind of saying on the side that one of the other reasons is because it fits the wallet.
Is this per ecosystem probably makes a a good fight page thing, and if every one of the agrees I would just go ahead with this and maybe be in touch with you Carol about how you wrote the like how the previous wants, the previous white papers were produced.
C
We not do any of the existing white papers touch on the high concurrency thing, I kind of know.
D
Home and through concurrency, but not ID, kill okay.
A
Yeah I told us talks about integration with Ruby a little bit so I think I think the high concurrency would be a better fit yeah.
A
Okay, uh Nico did you respond to the emails about t-shirts and trademarks, yep, okay, we'll cross that off Russ birthday, blog post.
D
I started drafting it tonight.
I probably have something tomorrow, I'd be happy about any kind of review.
A
Core team Russ can't talk theme we're gonna, continue to keep that on the radar, but still have time on that website team or a working group for maintenance.
Any.
D
There's been an update on that.
I have been thinking about actually maybe taking temporary lead on this, because I'm I'm attached to the subject, anyways I, don't have that many bad feelings about the community.
Interaction currently about handling the community, interaction and I think it would help to have someone who was involved in building the website.
Even if my contribution was a bit fringe to continue forming a team around it, because people are seriously getting anxious about like stuff not getting done.
A
Sounds great to me if you're volunteering.
B
Yeah yeah, so Florida I talked about this already, but I think it's a good idea.
D
Also temporarily means like a year or so so and then I hope, I have a replacement for myself.
A
Okay, Manish, do you have rough planning, questions remaining I, think you're, muted, I.
E
I talked about with Nico and I think we're all set right now we're moving forward.
We still need to find a bunch of trainings, but we're all set for the program, and probably we should it be announcing things this week.
I'm pretty excited for this year.
A
Okay, anything else for the open part of the meeting.
A
All right and we are going into closed session now.
Thank you.
Everyone for checking in on those items.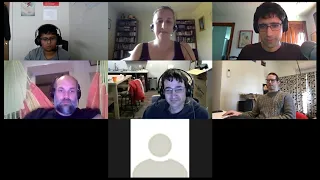 ►
Description
No description was provided for this meeting.
If this is YOUR meeting, an easy way to fix this is to add a description to your video, wherever mtngs.io found it (probably YouTube).