A
Yeah, so that was the first thing he shared this duck.
I was gonna mention is that trying to revise a little bit our procedures?
A
One of the things I did was pull out all the notes that we had in line which were sometimes useful, but I'm hoping we can move them more to the relevant places that they belong and instead have like links of things to follow through with and I'm hoping that we can use I'm, not planning on taking detailed notes as we go, although I will take down key points and things, that's what this notes from meeting section is for and hoping that the auto transcription features that Xun offers, which is relevant to what Josh is saying here, but will be sufficient.
A
um So, let's see we'll come to that towards the end and Josh so action items there. Any updates here, I think kind of none of these things that happened um probably, except for the one I crossed out just fine, maybe I should do at least you don't have an actual person to do this, I suppose I'm gonna, say Josh, but um I think I'm not sure what we meant by Josh to invite Ryan to present state of safe transmute, but I think maybe we meant a design meeting and I now have this.
B
I think that should be a design meeting, conversation and I think it needs to be like here's.
The state.
B
Project group and we're you know where we are and where we're going right.
A
And now I'm reminded that, okay, you know I wanted to as a first pass before the meeting started.
Do what I just did, but there wasn't anything so I've created this project word to track some of the like active, ongoing things and in particular we have one pending major change proposal that I opened as a Help.
Wanted can talk about this scheme.
This is more just an example though, but we had this proposal for a meeting proposal, which was the one we talked about last time.
A
I don't know if we want to schedule that, for an upcoming time it seemed like there was some discussion about the dates.
I didn't figure that out.
Okay looks like both Olli and Ralph can make this slot.
A
But let's do that once we look probably I, guess I think not this week, maybe next week or something I want to give a little notice more than two days.
A
So in terms of active projects- let's see so there's this RFC that we're supposed to be working towards and we requested some updates and I saw some messages that indeed being have gotten.
A
I, don't know it looks like I see this last coming from you Josh, should we actually just FCP?
This is that we really blocked on kind of nothing here.
B
Sorry, what was the HT over oh yeah,.
A
I forgot I'm supposed to say new topic of conversation, RFC to 867 or I forgot.
What my key phrase was: gonna need, but it's RFC to 867.
A
I'll say new agenda item. I bet the auto transcription will mess that up sufficiently often that I can't search for anything I.
B
Think you an original, though we originally talked about something like next item of business, which would be difficult to mistake in a transcript, but we're still figuring out.
Our I knew.
A
It was some things one degree Robert's Rules of Order eat.
Yes, next item of business, RFC, two eight six, seven um I want to encourage you to maybe start the FCP.
If you feel is appropriate, I think.
B
That this is entirely ready for FCP and light.
All of the concerns have been addressed.
A
There we go I was trying to find his comment earlier.
So this this problem of neighbor type fall back, we're still kind of blocked on somebody to do implementation, work, I, just remembered someone who was looking for it.
So I'm gonna send an opinion see if they are interested I.
B
Said Louie right god, this long and before last week, site on next.
A
Order of business, six, six one, seven three carry on I.
B
Was just going to say, I can't believe I've gone this long before hearing the joke that the never type is named after its stabilization date.
A
It's just don't don't make that joke here, it's too soon.
um Alright, next order of business issue, five, seven, eight nine three there's been no updates here.
This is still on me, I suppose.
Obviously, I've deployed advertise.
This I have to decide if that's a problem, but in terms of the project groups, do we have any updates next to our business with a safe transmute.
We get the idea of maybe encouraging a meeting proposal here, but that's not really an update anything else to say.
A
Okay, next order of business project group number twenty inline assembly, I think there's.
B
Some substantial updates on that front actually, so one was that there was the inside rust blog post and a lot of feedback from that.
I captured some of the feedback there into the packing issue.
One of the common things I realized was that people are not quite sure how to format inline assembly and we haven't given any guidance on that front.
B
So I took the first pass at writing a inline assembly formatting guide for the format, RFC's style team, which the style team is kind of defunct at the moment, but mostly because they declared we declared that we didn't have any more work to do so.
We should come back and solve this problem and finally, and the course of that discussion we realized that multi-line assembly statements were something.
B
Very difficult to format, precisely because rust format would not be able to mess around inside the string because there'd be concerned about that having semantic effect.
So we talked about the idea of allowing multiple quoted strings one per logical line of assembly, so that you could put each instruction in a separate string argument and then rust format would be able to freely indent each of those string.
Arguments independently and formatting for assembly would suddenly work much nicer.
B
There was a money.
You agreed that this was a good idea and I did my first major compiler hacking project and successfully implemented it.
B
Okay, so that is pull requests.
Seven, three three: six: four and separate from that.
There is also format: RFC's issue, 1 5 2, which is formatting guidelines for inline assembly, which I'm going to update to take into account the multi-line case.
A
I, don't know how to linked that ruslan for manual.
B
I'll post the link in the current meeting Dropbox.
A
Okay, oh cool, that's exciting!.
A
Here's update to inline assembly.
A
Already fa5 unwind, so a new order of business.
If a fine wine quadric group, by the way somebody joined I'm, not sure, oh hello, there is hello, we did have actually some notable things happening here.
I, don't think we talked about this problem.
A
Yet we in this meeting I mean we realized that we had been planning to say that one key that is allowed to long jump over rust frames in Egypt back here for a second, we have been planning to say that it's allowed to long jump over rust frames that do not have any pending destructors, which we're now calling plain old frames and the play on payload data, and we realized a potential issue with that, which was that, if you had.
A
One of the goal, if you have some code like this one of the goals of stock Barros, was that we can actually move this, this assignment down below the call to bar now, of course, if you have an ID equals unwind, you have to put it on both pads, both the unwinding path and the normal path.
But nonetheless the point is: you can't really observe this, but we realized that if you can act long jump over the frame, then if we moved it down below the called a bar, then it would just never execute them.
A
That would be bad um and it's not entirely clear whether like, for other reasons, this might not be an optimization.
We can do in particular there's some debate about.
Well what if this is a referent like a memory map file or is that even allowed?
Is that UB?
But the point was we didn't want to close the door on that, so we basically edited the RFC to not say to leave open the question of when a long jump is allowed and to say that you know we can tell you it's definitely not allowed under.
A
If there is a pending instructor and the that, we might impose some conditions and we sketched out some ideas, but we didn't want to go so far as to put that in the RFC. That's like a separate RFC um with that change, I think the RFC to add the C unwind is basically ready to go.
A
And that's my next topic.
A
I took your 22, I already forget when I was recently so I like next agenda item I'm gonna go with that, it's easier for me to remember: I, don't!
Is there anything and constellation updates beyond that?
We talked about making a meeting.
C
No I don't think so that last comment number seven one.
Eight two four is merged now so okay, but that's about the only I think I.
B
I had a very, very minor item on this, which is coordination with inline assembly.
The inline assembly syntax has as one of its operand types Const, followed by an expression, and that does in fact mean evaluate this expression and plug the result at constant time to be assembly stringent.
B
We may want to look at that before assembly stabilizes and, ideally before it gets too much more widely used and figure out what that would look like in concert with this, because it would be odd to have to write Const expression.
C
Yes, that would be on so it's sort of like it has its own version of the inline Const.
B
Nice to unify the two and make sure that we are not being redundant, maybe even be able to use the same handling for it.
So you might want to take a look at the handling.
B
And work with them on you and see if it could be unified, yeah.
C
I'll look into that thanks for pointing that out.
Oh.
A
Really, no more things on the project board.
A
P high issues, I, don't think there are any so next order agenda MPI issues, but I don't think there are any updates on any of these.
A
So move on from that nominated pr's.
A
mmm There's this, so the next agenda item would be number six, nine seven four one perform WF check, well-formed check.
This is a thing we talked about making a meeting to discuss the overall strategy.
This actually probably, is a good idea to do that meetings.
You know rather than later now that I think about it, because there could be addition related implications.
A
So I guess an agenda item or an action item that I don't mind taking on I can do is to prepare a meeting proposal for this topic and maybe schedule that, along with the other one, we have.
A
Probably in the next two weeks, okay means I'm, not.
A
Very good, not many of issues.
We got some okay.
A
Next agenda item: seven three: one: nine one make cup type foo equals bar and club use bar s; foo interchangeable in the next addition.
A
There's some interaction with tuple struct constructors.
This seems very much like a project like a lane team proposal.
I think.
B
It should be yes, I wasn't sure if we wanted to go ahead and kick that process off with this or not.
But I do think it would make sense to run through that.
B
But I nominated this, because it is something that would likely need to be deferred to the 2121 Edition, because there is a rare but possible backward compatibility issue in that you could have named a function using non-standard style, with a name identical to that of your structure and use it as a smart constructor function and in fact, the most common case of people doing.
This is to work around the fact that rust doesn't automatically create such a function.
For you for a type alias.
D
I think the other possibility there is, if you want to migrate from a tubful struct to a named struct and still let the tupple struck.
Syntax, look like it works with the obvious aspects for patterns where you can't.
A
Have definitely um done that intentionally.
Sort of for the reason that that I just mentioned.
A
So what exactly is being proposed?
I guess it's that we would would we be saying all all type names are reserved only in the event that you're typed you'd have to have been some comments here from no I guess they had some talk.
This would interact for sure would name a solution.
Yep.
B
So I don't think the proposal was to change name resolution.
I think the proposal was to do the same automatic creation of a tuple struct constructor when you do an alias I, think that's the only proposal here, I, don't know if that's actually implemented in a magic way inside of the name resolution layer, but.
D
So I have a silly question on this one.
Why don't we want people to just use they use here.
A
Probably just a matter of light: well I shouldn't speak for the people who proposed it, but I would imagine it's just a surprising interactions.
A
So I think one of the challenges here is gonna, be that you can have what kinds of pipes on the right edge and.
A
The definition, basically, the the name resolution doesn't really look at the right-hand side.
Right now.
I mean it does a little bit, but it doesn't try to resolve it to a type or something and.
A
It's just kind of an implementation like a it cuts across some lines.
That would be tricky, I think to resolve I'm, not necessarily opposed in principle, but practice might be tricky to do.
B
For what it's worth, one of I don't know if this will be a problem or not, but one of the common reasons to use a type alias instead of a pub use is if the thing on the right is not just my struck.
It's my struct with T so, for instance, pub type specific, alias equals generic struck of specific type.
A
Yeah and that's exactly the kind of complication and sorry okay.
A
So let's take a few notes here so.
A
My opinion is we should this, this uses a no my opinions.
My opinion is this is cheeky and should probably weigh in with a few people, but so you're saying a common use case for type is too narrow, so it's pretty specified.
Let's say generic types like.
A
Start with T type bar equals through with you 32 or something, and you want to be able to type this.
A
Basically that the name name resolution code doesn't today have to look at the right-hand side of a type alias, and it knows that only groups is a name and tightening I'm sure.
That's being.
D
Sort of the pattern namespace that still pronounce as a different when I forget, which.
D
It's never been clear to me if patterns are also another namespace I.
A
Don't believe so I think there's name value in macro, but I.
A
Think patterns resolve in the value in space.
Well, it depends I mean like on the pattern.
A
But I do feel like it would be somewhat consistent with.
A
Probably, with the sort of feels like we've been making various changes, mostly more targeted itself like a splint and allowing you to use aliases and more places right, I forget if we allow you to use them in patterns.
Actually that's in development to what you were just saying: yeah.
D
I think that's a better phrasing of what I was going towards Canton does the type alias?
Let me use the total struct pattern through the type alias.
A
Can I do something like.
A
Certainly I would expect that to work yeah.
D
So seems like currently that yeah we are at least consistent in what we do now so I guess we change when we going to change both of them.
A
Yeah, okay, so next steps, maybe you loop in touch of shampoo.
That would be the most obvious thing.
A
And I don't know, that's probably started I'd.
A
Someone want to write this up ready to come in.
B
I'd be happy to write it up.
Sure.
D
And are we doing that?
We want this to go through the new process thing.
Oh.
A
Why not there's a prototype the new process and see how you feel I.
A
Mean it's basically just gonna be copying and pasting the existing issue.
That's a good I, don't have a strong opinion.
We could also just say: okay, we're going to treat it as if it was one of those issues for now and throw it on the project board.
B
That project board is on a different repository, though itself yeah.
A
But they don't have to it's not eliminated.
B
No reason we can't just copy-paste it alright.
A
You decided I'm fine, with either way so Alec Aaron, Lerner was nominated, doesn't seem like there's really been any updates here.
A
We're still waiting, I kind of feel like we gave our opinion that if we have to do one we'd rather do the smaller one, but we're not sure why we have to do one right and I guess Felix Geist himself with something has been done.
A
I'm kind of inclined get on the nominee, go, maybe all uncommon II but add it to the action names to check.
A
Config version so next agenda item six, four: seven: nine six version.
Last time we talked about the idea of having a flag.
I was thinking about this and I.
Think it's fine and I guess I, don't know, sir.
A
Should we just uh nominate this?
There doesn't seem to be more for us to learn.
You know this time.
A
It depends how much we want to push this forward to stabilization, which I don't know.
If we really do.
A
One thing that occurred to me is: we could certainly add such a flag as a deaf sea or an unstable flag, and then you know I'm gonna have to stabilize it at the same time to stabilize things like.
In fact, it never really needs to be stabilized, because it's only meant to be used if you're pinning lightly, it might be nice to stabilize it, and it has no effect unstable so that you can just have this consistent set of flags that you passed in the matter.
What?
A
But, if you're, using a pin, you aren't opening all right.
A
It still feels like something we probably want to commit to not changing at least even though it's on me, despite being on lately,.
A
All right, I, don't think we have more to say on this topic at this time.
A
So next agenda item five: five: zero, zero.
Five.
This has been nominated forever, there's not really any.
A
The only actionable step would be to add references, I.
A
Guess I'm gonna write it off I've signed item to myself to propose adding such methods as a way that people can write code.
It is correct today.
A
But that that reminds me of I think another leg.
Team proposal like Help Wanted Lang team proposal might be putting this year because it's coming to mind raw pointer methods, I, don't know I, don't know if I have the energy I think that would be an important usability improvement for this, but I don't think I have the energy to think about.
There are any complications involved.
A
Maybe not all right, ok, good.
A
Try to look over these so there was this unsafe, statics RC open by votes, much our veterans, alright!
A
So next agenda item two nine three: seven: the idea was to.
A
Instead of having static, mute and once a static, we'll know, if we need to talk about a year, seems obvious, we could assign it to votes if we're gonna. Do that um I think my part of why I added this on the list was that if we moved to an MCP proposal, I want to be noticing and redirecting new RCS, which raises an interesting question here about like.
A
Then, if the I think, if this were we had, we had MC P's up and going.
We probably would be requesting MC, please for stuff like this, but we don't fully sanitary I, encourage you to leave comments.
A
I haven't been through the rest of these I.
Don't think we'll do that today.
Nominated RFC use, none RFC about pending list.
A
So we have some pending proposals here.
Anything we want to look at.
A
See your name, you might be interested, looks like we're we're almost to emerge State for these two items.
A
There's also this one stabilized transmute in constant statics, so I think there was some questions raised.
The last time next agenda item, seven to nine to zero, where we talked about the fact that we don't allow unsafe code and why and I think for those who rich did there was a link explaining why but I think it uh right is kind of what I expected that I haven't really quite decided.
A
What unsafe should mean in the case of the constant context and before we do that we want to avoid sort of committing ourselves, which is exactly the topic of the proposed meeting.
A
Can we talk a little bit about.
A
Where is this one a light or a size RFC to five like this is a really old one and I feel like we keep going back and forth and I.
Remember Josh, you had a concern with I was proposing that maybe we'll just close this and you didn't want to I think it comes back to basically a question of how soon are we going to be able to get to the more general solution to this problem?
I.
B
When we last talked about this, we had not yet really finalized or even really written a template for the major change process.
Yet I propose that I am okay with the idea of closing this and opening a change proposal that says we'd like to solve the underlying problem of having to specify the size of a static slice and then linking to this RFC and saying okay, this could work or constant Eric's could work we'd like a solution.
That's forward compatible and doesn't introduce technical debt, but we'd also like a solution sooner rather than later.
B
Here are some of the constraints that I would be fine with moving this into the major change proposal process and seeing if somebody's willing to champion it yeah.
A
I feel okay about that.
I would sort of like to go through some of these olders stalled discussions.
I mean in some ways we might just Restall, but I do kind of want to reorient ourselves to.
A
People who are will have energy to proceed.
You know to Kenny on the block and if, if it's an older discussion and there's no one with energy, then that's fine.
A
All right, I will leave a comment.
I feel like it's been long enough that that I've CPUs to some extent should be canceled I.
B
Think it's appropriate to cancel the FCP and to say we think this should be taken through the major change process instead and revitalized.
On that basis,.
B
Okay, for what it's worth, it's something that it would absolutely be one that I would label with I, don't know how we've handled the labeling process yet.
But if we have labels for person willing to be liaison, I would be.
B
One of those people- it would not be the top item in my queue, but it's absolutely one.
I'd be willing to be a liaison for when I have the bandwidth.
A
Okay I'm wondering if it seems like.
A
Likely to me that we have enough of the infrastructure to actually implement the general solution, but I have to try it out a little and see.
A
Any other issues on here someone would like to visit I.
A
Think this is another candidate to close.
A
This one, we should probably close, because it's old enough that it has old members.
A
But I think I don't know yeah I, don't know if there's desire, like maybe closing, reopen and see where we stand, but.
A
I'm just gonna also close some older FCPS.
A
I'd like to get this list more actionable, all right, no one else seems to be jumping up, though so I'm gonna give you five seconds and then we'll move to judges topic.
A
Alright John she wanted to talk about moving away from zoom I.
B
Wanted to bring attention to their bins several news articles recently about zoom.
This is leaving aside the whole thing they had claiming that they had into end encryption when they really didn't meant.
Oh well, it's in to end as long as what you think of one of the ends as being our server, so misleading.
B
Marketing aside, that was a month ago, there were two more recent events, one where they suspended a large number of activist accounts in China, discussing topics that are considered controversial in China things like tienamin square, as well as a separate report that they put out a note that they've decided to stop encrypting free calls so that they can more easily collaborate with law enforcement, give people access to meetings, etc.
This is between the various news reports on this.
It's pretty clear that zoom is.
B
Exactly oriented towards values that we may potentially share and I wanted to raise the question of not necessarily moving in a fiery rush, but starting to talk about what the successor to zoom should be for our virtual meetings and considering what other things may be out there.
B
There I have seen given the current situation, a number of potentially interesting alternatives.
There are services that are hosting things that previously required standing up your own server, so there are things like jitsi, for example, there are hosted instances of that we may be able to use, and there are a few other possibilities out there.
B
Don't want to push for a particular alternative right at the second right now I'm more asking do we can we get consensus that we want to reasonably soon move from zoom as long as we have something that will successfully replace it.
A
Let's talk about what our requirements are like some of the features I'm making use of cloud recording transcription, not sure how important that is, but it's you seems nice, of course, working with which sounds like a joke, but you know it's not taken for granted, in particular with larger number of participants, but you know people often just can't connect to some service or another reliably.
I think there are yeah.
There are some places where a zoom is not great like it doesn't have a well a client that works very well.
A
We have tried, did seeing things in the past without much success.
I, don't know whether a hosted instance would perform better I guess.
I would rear ace.
The idea that could plausibly move triage to Zulu, but that only solves one of the two meeting duties I.
Think.
B
It's safe to say that we practice solution for meetings.
Even if we choose to that always is it right.
A
Google Hangouts is the other or Google meet or I.
Don't even know the differences between those things, but the other obvious alternative cloud recording is not as important as recording I guess.
B
It would be nice if it doesn't require someone to have a local video capture setup that is potentially high bandwidth high requirements piddly.
It would be nice if you can just hit a button.
A
There are some problems right, so no web only client, it's hard.
If nico is not around to do.
Recording our state, no Mozilla, employee I can actually easily enough delegate to Felix, but you can't delegate outside Mozilla.
A
Yeah, you have a yes well.
B
Yeah they're related the reason that it's hard, if no Mozilla employee is around, is that the person who starts the meeting needs to be paid a capped.
Yes, I.
A
Guess I would say: I'm not opposed and I appreciate the motivation.
I am reluctant because it's annoying and a practical problem but I'm game to trying a few different things.
B
And that's why I wanted to bring it up.
Early I was hoping to make this a you know, walk don't run to the exits kind of situation.
A
It'd be nice, maybe to come back with some proposals, and you know report how they fare on these different sort of features and so forth.
I guess the other obvious thing is screen sharing most everything supports that, but.
A
Not always I had some problems with the web clients in.
A
Okay, so we call the meeting to close any other final notes quietly.
A
Any thoughts on the newer setup finally, project board and so forth when well I think I will add on that, is that you know we talked about the labels.
I didn't make labels, yet what I did do was try to assign people who are at least four.
A
Like these project group issues, the idea was to assign all the leads I had a bit of an obstacle that some members are not I, don't know whether we don't have it I think we don't have github team set up properly, so some people weren't eligible so I, think if they comment on the issue, then they can become eligible.
B
Repository or a team somehow I.
A
Think the right thing is I had to fix the rust team.
The way the teams are set up in the rust team repo, which would then sync them with a github team, which would then make them eligible um I just didn't do that work yet, but I like having I like this, and it could work for instead of labels in general, like we can, just you can assign up to ten people so um seems like a pretty reasonable way to express interest, and then you have your little face.
Show up the only thing.
A
I have some hesitation about I is it.
You know having like an issue for each project.
Group seems nice, but it kind of duplicates I, don't know if they people want to make announcements in other places.
There's like a duplication.
Well, you put it here or you post it in the comment on the repo.
What um but I sort of like having a place where we can easily review?
What did we say in the meetings.
C
I, like not having the wall of text in the drop box and yeah I, think we can just sort of append in those issues to the comments and maybe keep some like Evergreen State up in the summary yeah.
A
That was the exactly we would keep the top the top of the this part, which I didn't really make put a lot of effort into making very nice, but would be sort of us.
What is the latest?
What is the status helping you, or at least how can you find it.
B
I'm all for the notes from meeting section going away each meeting and being refreshed.
You know no.
B
Of like how'd, we find anything in this right.
A
Yeah I'm gonna do that at the end of this meeting.
Alright, let's call it then I guess.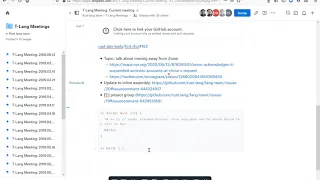 ►
Description
No description was provided for this meeting.
If this is YOUR meeting, an easy way to fix this is to add a description to your video, wherever mtngs.io found it (probably YouTube).