A
Share this with hello, everybody sharing the right window.
A
Welcome to the meeting in terms of action items I don't think there is any major updates here.
A
But in terms of shepherded item updates any updates around inline assembly, you.
B
The LLVM Assam PRS got merged or will be later today.
The actual RFC is when the discussion has died down so I think I think we're pretty much done in terms of initial discussion.
You referring to the Azzam RFC, yes, I think there hasn't been an evening post for a week now.
B
That that our wood chip with its renaming the old as a macro tool via NASM, okay, yeah, that just got merged right, the the PRI got merged right.
A
So the RFC got merged at some point.
B
Last week, I think the PR will be landing soon.
A
State turns me: I, don't think anyone here, it's Brian Brian told me that something's happening, but that's all so for FF I unwind.
We were waiting on people to what they thought, but I'm the kind of things that exist so far.
All right, so I posted a comment in flavor of Ceylon wine.
That's highlights oh man, but central.
Also favored, seon wine Felix didn't write a comment, but if they ever see I'm lying in our PRC discussion, I, don't miss, preferring see cuz I think it.
A
If I remember, is basically that it presented a kind of simpler overall feeling for systems programmers.
It seems like on the basis of this week.
The decision is fair enough.
So I think we should try to move forward with the C online.
A
Where was I?
Oh right, yes, I think we should go forward that the only question I had is you were saying I'm anew about and of the scope of what rx.
He makes sense that you would want to include the behavior of foreign exceptions and I was saying we could possibly just say: that's unone, that's you being will resolve it in this follow-up.
B
We can leave it as future work.
I would.
A
Miss with this, like typicals, would like to get this.
These guards and things landed in the UV systems, but.
A
But we can discuss that I guess at the.
A
What you want to summarize a little bit what you did in this PR.
B
Basically, if caption wine catches a for an exception to C++ exception, it will return a box for an exception as the con type.
But when you try to we throw that box, it's gets wreath thrown as a rust panic ignores.
We can't actually capture a C++ exception without adding a dependency on the C++ runtime.
A
Would require us really rebuild standard or something.
C
It for an exception, sort of best thing.
B
I mean okay: it assumes that the foreign exception is using the same and winding mechanism as what rust is using.
B
In particular, this means that if you have.
B
Cross DLL unwinding on Windows can get a bit tricky if you have two separate instances of Lib unwind.
B
Seems like the only other behavior would be, but but I mean it.
The foreign exception isn't using the same unwinding mechanism as Rusty's, and it's just you be anyways right.
A
That's probably I have the impression that in Windows cross do a.
B
Lot of things it works, but you need to depend on the Lib.
Gcc DLL has to be a separate DLL, so that there's only one instance, that's shared by everyone.
B
We yeah we do support this for the case of rusty, which has multiple dll's.
B
Yeah, let's not go to the details now probably.
A
Enough, but that is on our list of things to cover, which is wireless, where I was where's one strike, while the iron is hot, but it seems like that details can be hairy.
We can certainly like if we're saying that foreign exceptions, you know, are you be at the moment, and we can.
We have some room to experiment with different behaviors right.
A
We have to decide whether to learn.
This I guess is the point I.
B
In theory, it's just an implementation detail in that, since, for exceptions are currently still, you need, as matter where do we catch them or not right so I'm saying in theory in terms of.
B
Yes, so some code is a student I noticed he's using catch on wine for sound this too, so that create.
C
Either at students that it's it gets, quotes or or ported or or it's you one of those work.
A
Yeah, if it can't yeah, okay, I guess that's right.
um So basically a key constraint would be, or whatever happens, catch on line must have one of these behaviors to make way on /.
What was the crate?
You were Mia take mokou, taken Union /.
B
I think rayon really cares.
No.
B
It's not caught it; it gets to the root of the thread and just divorce.
The program well, which is around.
A
Suppose that's sort of true real and carries the destructors run in general, but I suppose in this case yeah I care that much.
A
Exception is but I guess you're saying because in the case of rayon, that depends right.
So right now, rayon never runs and always uses a helper thread.
But if it ran in, if we allow you to use threads outside of the pool just thought about, then we would start handing.
A
Okay, well, let's well I guess: do we want to decide when we're the other, whether to lend its PR I guess is the question.
B
Because one of the options that mark suggested was to board, if we capture for an exception right, they.
A
Seem like the only two real yeah well, we could just remain firmly you be to throw for any exceptions that are not quite what we.
C
Could we could catch the attention and divorces seljuq declare the uvn.
F
One note is that, as currently the PR is sort of stated, it doesn't actually update any of our documentation.
So like we don't mm-hmm.
The main reason why I still wanted some sort of laying sign off is because, historically especially in this area, we've had very sort of it.
Is you be?
But people depend on it and in practice we are hesitant to change things.
A
I guess it doesn't matter too much, but it if we said that we'd never intend to allow for inception mind across fi5 boundaries.
Then.
A
See unwind doesn't have much purpose right like.
B
A unwind across it as rust memories.
It does because it's still useful if you want to have a rust panic that goes via foreign code and then back into rust.
No, that's the use case that no.
A
I mean because you could just see that steal out of you to propagate that case.
You're, not well, then, that all that means is.
We would not mark C functions as yeah, then we're back to proposal three.
No, but we're not because the main downsides the proposal three was around or what happens when you change to you introduced you be when you.
A
When you change to pay me, people support it and that's no longer true, because that only a matter piece of misconceptions: um it's okay, we'll have to go too much into it, but it's just interesting I think we should move on so.
C
You don't think we should make any sort of decision I.
B
Think the decision is going to be part of the RFC from the a fine wine group.
C
Okay, so we don't learn that we are right now, I.
A
Think we could land it because it's as you said it's not modifying right, it doesn't stay below to access the foreign.
G
Exception quite right really: why actually that, for an exception, type isn't even exposed possible.
C
Yeah, so so, why did we why why we abort, instead of making my marks and just like that.
F
The main reason is that I personally feel like if we abort your program, people are less likely to rely on the behavior than if we like another world.
C
One thing we do have a message right like this: okay, explain that we possibly.
B
Yes, but that string is only is only actually printed in the panic hook, which is before the exception strode.
So if you do catch catch and wine and resume and wine won't actually we print the string well.
C
Well, if you abort the then.
B
We never we never touched that string.
Also, we never got after it's thrown.
Do we.
C
Yeah because I was thinking- maybe you could say something listed on the stable thought about for this. It's Midland me interest rate, but it seems like I shouldn't.
A
Say lightly in terms of the documentation, the weeks we should whatever we do, I think we should explicitly document that the behavior is not to give a lot of money.
If we don't like not just leave it unstated, but yes could.
C
How many could you file it?
Pr against there are turns on the nominal I.
D
Mean I'm surely marks camp here that it?
The intention here is not to provide like a hint as to what the trajectory where you're going on for this semantics here, then we probably should be aborting.
C
Yeah yeah sure morning is still.
D
Sort of something it's still something I know, it's not I know it's not.
You know either.
A
Way, I think you want to be.
We want to site over and say: Vader is not stable.
The finaland project group is working through it.
F
Also note that the current like cash and wine function, docks are very vague and the way you can currently interpret them is like we catch some panics, but not all panics and it's very sort of up in the air whether it can actually be used for what taking it does.
So there is assumes the actual main.
That's or.
F
It tries to get at that, but the way it's worded in my opinion, like I've, never been able to convince myself that that's what it actually means beyond like looking at the implementation and knowing that that's what it means right.
A
I propose we move on with no firm.
That's in take this to this is enough time for this I.
C
Would be okay reigning aboard for the yeah I think, but if you can't some Doc's who, like phenomenon the reference I'm, the actual dachshund on the function, didn't function itself.
That would be great.
So.
A
Nominated pr's, I wanted to jump to just close some tax, so there's the lane open the pr to accept to bulldog 0 that 0, which we and when this originally was proposed.
We opted not to didn't feel like changing the lexer and.
A
I don't know how well people feel that decision has aged.
I know it annoys me from time to time, though, usually I take that as a sign of I should probably have fewer tuples and make some means, but.
A
But I guess there are two questions: do we feel this means an RFC and or can we make it in a PR you know, do we want to make it as new, no I think.
C
This this is the sort of like small thing, but if we made it an RFC, people would buy a bunch of not very productive comments and I think it would probably be better if, like two main experts like that, each ingame that you go garan game, is anyone on how this makes sense from from electing thinking of point of view, background or anything simultaneous.
C
Making one do we want this, and do we think it makes sense?
Thank you.
I mean.
A
I, just clear actually do don't minor thing: I, don't think it merits mercy.
A
You know how important it is to bring this to the attention of the wider yeah.
It doesn't seem very like so we want to try to reach a decision.
Now.
I haven't looked at all of those myself I.
A
That's good I like to see her opinion as well and have a chance to digest it.
So why don't we move on for this moment.
A
I guess I would say this before that, though, is there anyone at least present in this meeting?
You know as opposed to this on principle.
If so, you should go at least sometimes.
A
Catch foreign exceptions of day we discussed this already so discussed above decided that abort is a safer semantics but didn't reach a firm conclusion.
Consider continued icing.
A
Limit maximum alignment: okay,.
B
So basically, the context is that lots of operating systems, slash linkers, / change, whatever don't really support global variables with large alignments.
B
At least on Linux, the limit seems to be on.
The next limit seems we page size windows.
The limit seems to be 8k, but we're not passing the right options to the linkers who's.
Actually, 4k.
C
Okay, maybe this should be.
B
Dependent I I'm, not sure it it depends really.
It's limitations of the linker and limitations of the whatever is loading our executable into memory.
So.
C
Os well.
Well then, this should be an error or not seems like, because they're trying to target so.
B
It's definitely unsound to promise pairen alignments than what we currently deliver.
A
This for clay, ok, is universally.
B
For K was just to get tree to run, it seems like it's.
It is the limit on the next and windows, lot of oats right, I have armed, and should we reach out to the embedded working group.
B
In terms are most possible, K page size and depends on the operating system.
F
Do we have use cases for like I, look through the issues and there doesn't seem to be like nobody actually says, I want this.
Just people saying it doesn't work.
B
No I don't think there are new use cases, hence the way to run just to be sure.
E
We so is the proposal here that, if you say a wrapper, a line with a constant, that's too big, that's an immediate error on the attribute order.
Yes,.
B
So, okay, so we have his new options.
The first option is to error on any lineman.
If you try to put in alignment greater than some target dependent value, let's say so: okay, then it's an error.
The other option is to allow large alignments, but don't them for statics, and this gets a bit more complicated because you have other issues like constant promotions and a bunch of others as well.
I'm sure I think.
E
I'm just pondering a restriction like right now we have the we don't say your arrays can't get the most 4 billion.
We say well that type that you tried to make is too big to fit on your current target.
I'm sort of feeling like in the abstract.
This is that same kind of air.
It's like it's not necessary.
It's not like a.
E
Virtual machine error to specify to request us type that big or an alignment that is large.
It's just your platform, doesn't actually support that right now, I, don't know what I mean.
This distinction is meaningful, since I think.
E
Think of anything where I care more than about 256 byte alignment anyway, but.
E
Guess the other, the only other side I could see to it would be that at some point, I assume we would like contigent Erik's to be able to set alignment and I, don't know what we would expect a bound on a constitution Eric that was trying to set alignment to be or if we care enough to resolve that question now.
C
We have well if we could always move this restriction right.
So true, so in this give us options.
A
When you say constant, Eric studying alignment, you mean an alignment specified with expression yeah you.
A
Evaluate that to a value right like some point or another, we have to know what.
E
Is it a mano, a mano, more physician time, err on the type because the alignment happens?
He could be that big or does the constant air I have to have like a where clause to constrain the values of this below for K?
Could.
C
Also was the restriction that you know, I found an issue that.
B
Originally raised the minimum linemen to dutiful to any 32-bit value, because somebody wanted enlightenment, a 32k.
B
Yeah somebody needed enlightenment of.
B
One megabyte Alignment, apparently.
C
System in that case would be affected by by europeans.
A
What I, like being that person in the thread and come back to this?
Okay, where I want to make sure we get new things.
A
Next issue so I put this on: it's not it's a closed PR.
The reason I'm not me is that they change the set of programs.
We accept so yeah.
C
So specifically, if we have a for loop on the path, is a a cube of iPhone 5 to.
C
In this could parse- and this one first since, like 1.1 but semantically, it only got accepted in in 1.38 I think when we allowed typewritten resolution to either variance, but specifically, remember that you need a unit variance in on, in this case more or less for this to compile and it because it needs to be refutable, which makes this pretty much useless the actual code to be a struct.
C
What you mean by univariant, you know it still has to be ejection unless you are using no, it has to be oh I see, this has been a mean, yeah, sure, yeah, so I think, and this was sort of an oversight.
I think when we stabilize that feature in 1.33 8.
C
So now we are sort of this PR audit of insurance policy so that we could have sinned, explore specific quantifying chair cleaners and who wants to so why this PR thing about someone approached me about they and like three, three of their friends doing the university project over like one year on some some Ross project and something in it was wondering what, if I, have any suggestions, what they could work on, and so I suggested that the theme of working with non-inferior closures and so on so yeah that led to a discussion with medium will be on a degree before that, and so we really realize that we had in future proof this thing and I sort of realized that this it could break when I was actually looking at the partial code.
C
It was pretty close that I actually realized that it's possible to make this.
A
Right but we didn't do any greater runs or anything, but this this landed not.
C
That long ago, I guess I, don't think it's worth doing on this. Specifically, we can just do it on the meter on. We can because major problems very easy, I'm.
D
Gonna, it's the really stupid question now someone wanted to write for you know invariant code leave some parentheses or something.
How do they do it now, not to be an effort yeah, but I thought.
C
I not would birth, yes, just like parentheses around the afterwards.
A
Is for an angle bracket and.
C
Well, what happens, is it tries.
C
He tries to parse generics instead of instead of about and that's why that's why chance, you could don't tweak their message a bit, maybe just backtracking and and they suggest Francis it could be an option.
C
Where it tries to person or if there's a graphic, so what happens is that we we try to okay.
So we try to decide check if there's a for keyword and then we try to decide whether we should parse generics or not like a for you and honey's, and then we, if we decide for the former, then then we try to parse.
C
You know the quantifier before like function, pointers and Unbounce in which might Martha, and it will get an error inside that and we could do background backtracking when trying to parse that and you figure out, okay, which is actually in work as battle patterns that and then we can suggest Frances, although this is sort of initial case electri.
So maybe it's not worth it, but I could do they do that.
Well, that's just for error messages.
Maybe you're suggesting.
A
I, don't know that yeah I, don't care about that.
um I just want to understand what rule we actually might know.
I, don't know I I'm, okay, with this change, I think it would have been nice to being a team but I think it's a reasonable.
A
This that enough energy for thoughts of hands.
A
So there's two other things and resolve that and stand over here yeah.
This is basically take your about this.
C
Okay, do you want?
Maybe please what's going on exactly so.
These are two methods up on the Spanish yang and resolve that takes the current span and resolves it with the hygiene of the other span and located takes the current spawns and changes.
The location to the other.
Spaniel teeth keeps the heightened emotion this like better, but instead in that was me.
A
So they're kind of the same method right just switching like a dog, was all about be.
Is this be Bob.
C
Mixed site yeah- and this this one is maybe a bit more involved so from this.
Since currently we have a hydrogen mixed site, which is basically the limit rules, hygiene for so far.
The bindings and such no here is that sites fighting but sort of things it wins for fighting.
C
So this is exposing this for not authors, the main rationale doing the exponents.
We disappear, that this is prerequisite for.
So, if you go to this one, does this enable.
C
The print that one yep, if you.
C
This this is a prerequisite for doing this.
The reason we've been history since then lies from macros in expression patterns in statements is that we have an exposed, no reasonable, inviting option to use names so right now, if we stabilize this without me site, they would use my qualified hygiene, and this would be very bad for questions and.
A
So is this enabling, like people to write things without using partner cracked.
C
This to give you an example of what this would enable it would enable to become stable.
You remember what the rocket crate and to move to the table.
This is I think this is the the last eight that they are using.
That's a maybe.
A
Can you say more on what how do you know?
Okay, well, I, don't know how they're using it.
So that doesn't tell me exactly, but I know that proc macro hack is used for a lot of stuff right, John rocket, so.
C
Rockets, they think they are using in their Diagnostics and they don't want to move to stables before thinking it's a no for something, I'm, not exactly sure on what they are using it for, but also being some some internal, which I think they need.
These expression.
C
Micros, perhaps for the URL well, I think they have something which is the part micro, okay, I'm, not exactly sure what music I just know that this becomes statement.
So.
A
I feel pretty personally pretty motivated to make something like programmatic, or fact that works it doesn't require using a creative called from macro hack and, hopefully is less of a heck, yeah I.
However, you know this has been this.
Is that perennial issue of we don't know?
Quite what's going on whatever I'm wondering going.
C
So one concern I have, which was result is that this wouldn't be the default option.
Okay, folks, while people could do the right thing, the default in introns sort of non steeple in the wrong direction like you have to use, quotes found instead of they were not from I mean it's basically passive, it's like which is, and unfortunately there were some some vacated making changes in.
C
We create around testing this and we would change the default in quote than some crates been great, so he's no man, I didn't feel like would be reasonable to to make a mention change right now or introducing the Rochefort award or something like that, but I sort of they sort of switch.
My concerns because they image how to not to increase which I felt was reasonable.
C
They wanted this movie feast over time that they added a new way to do it to the creative.
There was no.
C
They basically said thing that some some documentation on the pitfalls like think about this as using is been like cinematic vote, so I think is easily.
Do we think we could migrate?
People with deprecation in the quote.
Great love was something you suggested it on the threat, but they didn't feel that would be proportionate.
A
Okay, so I think I wanted to ask is: would it make sense to use a design, meaning slot to talk over this proposal, and maybe you a little more like detailed, look at the overall hiking picture and bring it back if so, I think it would take some prep you're the right person.
C
Exactly sure what design what this does expose is a hygiene option that we have in the language of having the language for a long time both way so.
A
mmm It may not be productive, but what I would like is to spread the knowledge a little past contraction right.
What that, actually with that sentence, you just said means expose that, like yeah, how is it working and so forth right.
C
The problem is, it was the writer like I think you would need position there.
C
You need them there, but you would definitely need to talk to them for him.
Well, I, don't know without the people who you could actually I mean well.
A
I mean like it would be whoever's.
You know, we've been meeting with, go and talk to them beforehand and actually understand it, but and then it's waiting so that's kind of the prereq for doing that.
C
It's probably it's my genes, hard.
C
But I do agree with the sentiment that you do.
The best factor on meetings is way too long.
I.
A
Think I feel like a design means it's a good idea at night.
C
Energy or then, let's do you think, there's moments that should that should not this well, do you know I, don't like it should that's.
A
Been my concern, I think it would be good for someone to put in work and try to like write design, meaning isn't so much to do design in this case, I would say, as it is yeah Elaine what's happening, but I'm concerned that if we do that, we just won't it just won't happen.
Perhaps it.
C
Would being perhaps, since this is more about like writing something down and learning about?
Perhaps that would be more productive to unsparing the knowledge of our Lord to try to add some you to give us a guy like a lecture or something with better jingle.
A
All right, well, people should leave questions or check box with this been pending for quite a while.
C
So the xep didn't start yeah.
The comments were to stop stating I.
A
Know it's been on my list of two new items, but it feels like forever, but it's probably only been a few weeks that is review this PR and give me feedback.
It's one of the items.
C
I'm checking out ten minutes, I think we are.
We.
A
Don't have any new nominations.
A
Any updates on the instructions that.
D
Functions: I did not.
Let me still or not, I had a concern when I was reviewing the situation to understand what the current situation is like.
Whether I was just resolved, my concern or not so you know, I'm.
D
The unsafe block and unsafe functions, I was the one who had posted.
Like the you know, formal concern I was trying to encode what Hale or, as others and said and I always find.
It done.
Read the summaries of later discussions trying to figure out whether we had decided something that was resolved concerning.
F
My impression is that we have and that we need a new, probably a new FCP or just entirely bypass it, because the new, the thing that I think we have consensus on is that we don't actually need any RFC or FTP here, because we're just adding an allowed by default length, essentially and then separately.
There will be more discussion around the broader question of whether we want to change things in a more severe sentence of techy.
Faults are all right: I wanted.
C
To split the Ling's, the existing limb into and making that person as well.
Yes,.
F
So my understanding, none of the currently planned changes, have implications for laying team that I think we have concerns on as a.
F
Possibly modulo boats but I I think they they're.
They had some concern about Niko I think you were saying that, like whether we wanted unsafe to be more like the default change but I think that doesn't apply to the lit change.
Everyone else, the universe, robbery, yeah.
C
I agree with Niko in the direction we want to go in general, but I.
Don't think we have changed yet, but it seems like we should cancel in CP and and then to either the author wants to make a new yard or.
C
Forest make the change here, I'm feeling.
A
Confused what to write here, I guess I may be I.
Remember we had worked I.
Think amongst the meeting members.
D
It seems to me like this is the the summary can put here is that the consensus we reached much the line team whatever it was, it didn't match what they were select.
Ct was for and that's why we should cancel II have CP and climate summarizes the new idea.
Well,.
F
In my opinion, the current action item is to camp until the FCP and close the PR, because it does not do like at all what we sort of want to do.
It's an approximation but like there's so much discussion on the PR that moving further with the current PR seems not productive right and we.
F
Tell the author that we would be happy a PR for the allowed by default lint that I think we have consensus.
That is not a bad idea to add I.
F
We could FTP to Lynch separately so make sure you.
A
Are you specifically excluding the idea of.
F
No, the lint is like a necessary prerequisite for any change in defaults as far as I understand it.
So it's basically we're taking smaller and smaller.
C
Is that worse somewhere, which could be it up?
I.
C
Think those things mean, let's see, let me counsel the that's.
A
I agreed, but maybe it seems like a little too small, of a bite to feel like like if we're not gonna change the default we shouldn't, which is just me as it is, if it's consistent now and it will be consistent if I change the default.
C
It will be weird well I, think if, for no other reason than for internal use in the sound library so like, if we don't make this sorta, it I think it would be even productive to just make this a lossy internal lids.
F
Yeah I I, don't know if this is helpful, but in the recent exploration of like betrayed code and so forth that I've done I would have found on this lint immensely helpful independent of whether we have you know a default on for the lint, because I can just enable it in standard library or whatever and.
F
It will be easier to convince people that the default change is reasonable if we can say the standard library does this and the standard library has found it helpful here.
Are you know, links to code examples.
G
Yeah I think we should go up with a whole heart, but I won't stand in the way of a little bite.
I completely.
F
Agree with you that going further is what we should do, but I don't think we have consensus on that.
Just yet.
Yeah.
C
Okay, let's see which one is it okay, so I will I will cancel the NCP and maybe Mike you can leave some comments for the author.
F
Yeah I can do that.
Thank you and close.
The PR.
C
Sure I think you can organize the main meaning the remaining work just using.
It could also be left as an unresolved question or.
A
Dad yeah Thank You counsel, I'm saying it could make an artsy that says we will add this man and we may or may not change the defaults to be resolved there.
It's the same thing.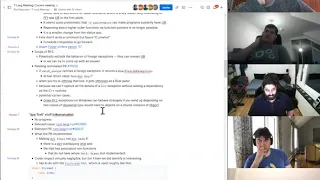 ►
Description
No description was provided for this meeting.
If this is YOUR meeting, an easy way to fix this is to add a description to your video, wherever mtngs.io found it (probably YouTube).