B
Is started hello, so we did some pre triage on you all can see the screen.
I guess I think I'm, sharing it right.
Yeah.
So just briefly go over things.
B
This one didn't really need a lot of discussion from us.
There's a regression.
It's issuing a warning.
Couldn't read some of the details there or there was a bug fix.
There was a bug, a bug fix and now we're doing.
The bug fix, feed up.
B
We usually do the here's some interesting questions that have come up.
B
We've discussed in Prior meetings, the question of when draw order should occur for async offends and we basically fixed the main problem.
So unused parameters are now being dropped at roughly the time that you expect them to be.
However, in so doing, we encountered some discrepancies in our own in the drop order, with normal functions like basically, what we're doing now is something like this, if you, if you imagine, there's some pattern up here and we're sort of D sugaring this something like.
B
Which is sort of how I always imagined functions work, but it turns out they actually drop.
There are some subtle differences in order which drops might occur but like if you compare to a regular function in the case where you have patterns with underscores and things like that and I forget all the exact details.
The question is: how much do we care about this?
B
Do we want to MIT?
Do we want to sort of match precisely the order of normal offense at the cost of the implementation more complex in the discovery, much more complex, or do we want to say that the ordinary or draw order of functions is kind of wrong and, like too bad that I can't change it?
But um you know it's close enough.
I think that it's really drawn.
D
Well, we're just gonna say it last time you talked about this: Felix was the person who had the strongest opinion, so maybe I don't know discussing it.
Yeah.
B
I was gonna say that my hint, my hunch is, we can make it a bit.
D
Also think that boats would probably have an opinion somewhere.
It.
B
Might be something okay, I agree.
Let's just move on people feel free to leave sort.
A
It sort of felt to me like the default answer as it matches.
Someone should make an argument if it shouldn't.
B
Yeah, it's hard to make a principled argument.
It's not based on it's annoying to implement I.
Think my argument would be that I, don't like the order which I fans drop their things but I know that's not a very good one, because I.
C
Can see one matching, which is that I would expect to see a lot of the interfaces that map a kind of a slot to call an async fun with an async, fun and frameworks.
For example, web frameworks other things where there's a fixed calling signature and you don't always need all the pieces of that calling signature.
And so, if you force holding on to the things you've been past until you're actually called, then you can't necessarily optimize that that said, I'm not suggesting.
C
That's a good enough reason to change this, both because it's different and because that assumes that not only will you have a lot of those frameworks, but they will be passing around things that have dropped in yeah.
B
But that feels like it has more to do with yesterday's debate, though, but like about the, when do you drop relative to the creation of the future versus this question, which is more of like assuming you're going to drop after the future has been pulled in what order within that we drop, but let's cover it. Let's, let's put it off, because I think Taylor's right that we don't have enough quorum for um maybe we can elaborate in the make a specific example in the UM the issue.
D
Like I I, don't know schedule the plan out.
D
A sink we kind of hard roll votes.
D
My wheels trying to get everybody collected to to actually finish up that Docs that we can get it released.
I've been paying people daily to try and get that photo.
I, don't know what I guess.
We have a separate topic.
That's this, but in any case, aside from that, it feels like we're very close to having something that stabilization, ready and I.
D
Don't want to have this be a thing that, like we discussed it in two weeks when everything else is in in a line and we're like oh yeah, this is the thing that's gonna make it.
You know mister release, I that.
B
Makes sense, I mean what do you so in terms of this meeting?
What do you propose?
We do I.
D
Just want I'm like pointing out a problem that I think that we need to solve.
Oh that's, fair, yeah, I,.
B
Agree, we should not let this slide forever.
B
Okay, I have a I think we should come back to it next time.
I have some thoughts but I'm, avoiding saying that, because I don't want to get dragged back into discussing this, when we already agreed, we won't be able to reach a conclusion.
um I have some thoughts on a case for the current report.
B
Okay, but I also have some thoughts on how we could implement the proper fix, so I'll try to put those on the thread, at least which might give us more data.
B
Whatever the proper fix is good, so we could have the most imagine.
B
Do we think that we should just skip over this to tailor the imple perimeter thing?
Do you think Rhys quick I mean.
D
Eric, here right is the issue, so I don't know what, unless there's somebody here?
Who cares a lot I.
B
Don't know um well at least we would find out if there is oh all right, I'll briefly cover what's going on, you.
D
Can see if anybody has anything that it like sticks out to them right, that's what I mean so.
B
And you say if you have you're allowed to allied lifetime simple headers thanks to Wes 2018.
So, but um you are not allowed to elide lifetimes completely invisibly, they can't be totally hidden.
So, for example, if you have like the ref type, you have to write tick underscore when there's a lifetime parameter, you don't get to just leave it out in an imp letter.
That's not true in like a function for backwards compatibility reasons.
B
The reason we did this is because we intended to fully deprecated this behavior and there is in fact, a warning, but you have to opt in to the warning right now.
The reason is that those warnings working they weren't ready to go when we did West 2018 intention is to turn them on after a while and I realize.
Now that that's what work item we've been letting slide, but that's fully independent from this, so we figured there was no reason to support the older behavior in newer code.
B
We share a lot of the code, as it happens in the compiler, the handles imple headers and async offense, and so this this error miss this.
This issue.
It has to do with people who are we're not using tik underscore, and they were not getting the results they expected.
One way to fix.
It is basically to make that hard error in the same way that it is an implementer saying like that's deprecated, you should write tick underscore.
B
um This is what I prefer, mostly because I find code without tick on a square very hard to read, but also because it's probably easier, it obviously would be backwards compatible if we wanted to allow the older behavior at some point, but central raise this type.
This I think because he thought and I agree that it would be good to run it by people here.
If anyone objects to that or feels we should not do that.
I think.
A
It's the conservative choice.
We should do it and not walk on not block async fun on potentially doing something right.
We can always make it the other way.
Later we're fine, that's roughly, and we roughly.
D
Ok, I agree with that.
I think.
The kind of argument is that it makes a stink FN look like it has missing features compared to other parts of the language right, which is an impression that we're trying to avoid.
We.
A
Could also try and just get that land on by default at around the same time that async fun stabilizes.
B
Actually, it's not crazy, but yeah I'm not too worried about the missing futures.
I.
Think if we say that it's deprecated or something I, don't know it won't at least look miss, but yeah I mean.
B
Alright, anyway, we can tube there.
So there's two RCS nominated the I think this one we already talked about the rod reference I talked to Ralph, didn't yet find it perfect date for that, but the other one existential types with external condition.
So this RFC is about.
It was about allowing you to define an existent like a big, substantial type infiltrate and then specify the value in some other crate, big idea being defined like a global alligator.
This way or other kinds of global configuration.
B
Probably a good idea, it's certainly I did I'm, certainly sympathetic to the problem.
They're trying to solve the Taylor and I were discussing in the pre triage and thinking that it doesn't.
It's not anything.
We've had on our roadmap, where that like fits any of our priorities and we were inclined to hone it and suggest that we revisit this at a later time, but for the temperature of the room.
D
I think I think the biggest motivator.
For me there is that it doesn't feel like something that's like rapidly within reach of implementation in the next year or so.
D
I, don't know like we could postpone and say, like maybe we'll come back to this, but alright.
B
I think you've got a good point, so only this not on the roadmap.
It's that it's one, looking you're trying to avoid I think is designing far too far ahead of where we are in Copiah are already far.
Nothing that doesn't is and you're I think, like imple trade is on shaky footing in general.
A
With that we say this this year is not new things, we're just finishing other things, maybe not maybe future.
A
Maybe, with an explicit notify we're not making any statement of whether it's a feature, it's good or bad right.
A
This goal certainly sounds interesting: yeah.
B
Although I'm happy someone else wants to.
D
Well, another thing right is that it as sort of crazy, potentially crazy impact on compiled times and everything right, yeah.
B
It's it's just not it's not a small feat.
Like implementation, see it's a big job on a small team.
It's not a work and cost.
A
Great type in, for instance, I mean.
D
Inner modules right, like you're kind of in terms of completion, it's.
A
Even more than that right because it's crash create.
D
So right generic models that could be instantiated so.
B
Who wants to write this comment?
Do the thing me Taylor or Scott,.
B
Assigned RFC's, so there are three here: three groups: I want to do them in Reverse ordering starting I picked out these two standard, aware: cargo and portable pucks in the vector types as possible candidates to discuss at a later meeting the idea being.
B
They seem like things that would happen particularly standard or Accardo, which doesn't seem on a squarely laying I don't, but we obviously are interested in it, and it would be nice to talk about it in sort of tell us what's to be interested in in trying to figure out what the link team opinion isn't.
This I think.
C
Worth having that conversation and including a couple members of the cargo team, ideally yeah,.
B
And that's a good point, um hopefully include so members of well.
The question is: does anybody care does anybody volunteer want to be the person who, like does that some Iranian drives that forward, or is anyone here, I'm opinion who that might be a good person?
That's do that.
I.
B
Don't mind getting it scheduled.
B
Aren't you a cargo aware sort of person?
Is this out of your wheelhouse?
I am.
C
A member of the cargo team I do not have anywhere in Arabi expertise to drive this particular topic and for the next month I am buried alive.
B
Okay, all right so so there's a work item here of like dead, it's scheduled and talked about.
So if they're interested I'm.
E
Talking where you went, how long have you been here long enough to.
B
Get an entire conversation: okay,.
E
I, don't know anything about the sort of seat.
D
You actually like know about this RFC, so no I guess I could volunteer, but I will.
D
Than someone on the Argo team, I think I think.
B
It doesn't have to be perfect right there, hopefully we'll get some of them.
Hopefully, we've got some people over involved in the conversation to be around and add to your insight.
B
Let's just try to schedule it first now will this.
B
I, don't know how good it is interacts.
E
With on a concern, what I don't.
D
Even know how this interacts.
E
With political thing for poisoning, it's kind of one.
D
So there's a lot of stuff around like portability.
B
Land and what the behavior of panic equals abort is and stuff.
D
Like that, that has Lane interoperate.
E
Yeah yeah I, don't know why this all compiled into one RFC was I.
This is the whole space of always think you just mean like I, don't know how to just demise.
It well.
B
What about portable pacts in D, vector types?
What's?
Does anyone familiar with this one.
C
That is, one I would be happy to help with under the banner of the FFI and ste parity working group.
With the caveat of we need to have the other conversation about meta, getting.
C
Before that I'm happy to take that one in the queue.
C
/C parity or similar I'm still not quite sure, okay I've had a few people suggest that the nature of what I'm, describing as FF I should be broadened a little bit to include effectively parity.
It.
B
Turns out to be a pretty good lead-in to some of the things I wanted to talk about with working groups, so, let's put a pin in that comment overturned.
B
Well, the only other.
So there's there are these two RFC's that you open Josh about floating-point types of various kinds, and my main reaction to them was that I had no idea.
They were coming and I, don't quite know how they fit into our general priorities.
That guy it's not clear if they're, a part of in your mind like a see parity, FFI thing or if they serve a different function, might be curious.
C
So one of them is kind of half C parity, half the intercepting future hardware, the other one he is something C doesn't have, but I'm expecting C to get as well in the future, but the it's actually the other way around floating-point optimization for extra precision is the one that is half C parity half intercepting future Hardware the f16 be floating point type is primarily about intercepting future hardware that will have hardware support for this in terms of prioritization.
C
That's something I wanted to bring up briefly in this meeting as a general rule, I feel, like so I think that the discussion that we had at the All Hands was good regarding the idea that there are some RFC is that we want to defer, on a basis of we just don't have the time and bandwidth, but that's not so much a statement of we don't care about these things.
As a statement of we can't do everything and we have to prioritize and.
C
Of the point of creating some working groups is that that eliminates the we don't have time problem, because the working group looks at it more extensively and then can bring a summary up to the Lange team and it would be rare for us not to have the time to just look at the results and say that sounds reasonable or that doesn't sound reasonable.
C
So on that basis, I have noticed a handful of people starting to use the concept of this.
Isn't a wrote on the roadmap as a hammer to say, go away and don't come back and I think that's overstating the conclusions that we had on roadmap and similar.
Does that seem like a reasonable statement?
I.
B
Think I find myself somewhat in between in that I think I definitely agree that there's we should have the first.
We, the roadmap is not like a fixed thing, but I also think.
B
Working groups could be useful for this kind of exploration.
I also think there there is definitely work even when a working group is doing it to review and fake the Paladin.
You know try to understand.
What's going on inside so I guess all I'm saying is that I feel like I would like it.
B
If we did think carefully before embarking on an effort about how it's gonna fit in with the roadmap and our priorities with the roadmap there, meaning to make sure it doesn't the things that we don't do if any, because of it, things we should have done.
B
Is that, like I, think we need to talk about the priorities in the remember, but I do agree.
It's not a iron client reason.
Two rejections in.
C
Particular oh I'm, trying to make sure it is that one possible response to we don't have enough time to do this without dropping something can potentially be a subgroup, does have the time to work on this.
Do we have the time to review their conclusions when they're done?
Yes, that makes sense to just the concept of oh well.
This wasn't on the roadmap, so we can't do it if.
B
We have an actual group and we really have confidence that that's true I feel a little bit like uncommon.
I would like us to have a structure in place before we start leaning on a structure that doesn't exist too much which I.
C
Agreed entirely and like I said, I need to actually start that before I state that claim I'm just suggesting that could be a a escape valve for additional pressure.
I.
A
Think some of its the what's on the roadmap has a couple of sides to it as well of like.
What's the theme of the roadmap as opposed to the details of the roadmap, mm-hmm, we're definitely going to work on things that will be on the list of features, but.
A
But you know we have the theme this year definitely felt like we don't we're trying not to think of new work where we can avoid it.
B
Let's well I'm wondering if this is all of this seems like a good I feel like you'd, be good to revisit these after we have some working good talk a little bit about these discussions, the more in the abstract.
Does that make sense yeah.
B
So we had two things on the agenda.
One was hoped to be sort of quick which was about the async/await syntax checking.
So we had this plan that we reviewed last time to roughly go over the a rough plan to resolve questions around async/await, syntax, but I, don't think anything got announced and I wanted to sort of make it actually happen.
B
So I wrote up what I think the plan is, and you could, if we could like say who's doing what, but, since central it's not here and some of those things might have been central, that might be harder, but I guess.
The main question is for the summary so boats there there were some additions that you had in mind for this room you're like a part that you wanted central to writers.
E
Does it like why we shouldn't like there was an argument was made by a both central and Josh about not avoiding having syntactic sugar like additional hope like the away collection, Marc form being that's preferable, if that were just the composition of two indexes that otherwise exist, and that argument I think would be better if one of them made it then trying to make it for them.
I would.
C
Be more than happy if there is a summary document to edit who provide a detailed write-up of that and.
D
Link- and you can do that, like yeah.
E
And I think the other thing is who finishes the conclusion where we say that we're going to move on to next, which is for you yeah, so when's the rest and then I can write that and then post it.
It doesn't seem too hard to write right, yeah, but then I don't know how to how it should be close to I think not to my blog, better who's posting summer I'm.
C
Assuming by conclusion, and next steps, you're referring to something that says how do we make or in progress rather than something that says, here's which answer we decided on exactly yeah, okay,.
D
John I just sent you the link.
uh Did you get it on discord?
I did.
C
Receive the link is this the same document?
They came up and be all hands.
That was that, in its current form, that says we all agreed.
No.
C
Okay, then sure I'd be happy to see if I can help with that I mean.
E
So, let's, uh let's follow up on them tomorrow and I think on next.
D
Four contacts Josh: this is one that boats actually started so yeah.
B
So what I think we should do is post it to the issue along with I would sort of excerpt.
The conclusion highlight like this is the plan right up.
D
So without writing up the reasoning.
Can we say now what the plan is and can we have a timeline for it?
That's what I'm yeah I was just saying right.
The.
B
Plan is like basically, what is kind of summarized to your right.
That we are going to here is a summary document.
I feel like we could even post it personally without all the pieces of, say: okay, we're still adding some pieces.
Maybe you can do some comments.
If you have thoughts over here or something but I don't have to do that care too much post.
The summary document, then we say votes has written one post.
B
We wanted to explore the interaction of four loops, there's a couple blog posts and we plan to have a meeting I guess to reach a conclusion.
B
What I was gonna ask so I think also, should we use this meeting for it I think it makes sense, I, guess, um yeah.
D
I mean given that everybody said they wouldn't be available.
Another time it seems like it would be a good it's.
B
So we're I, don't know.
What's what time we should do that.
B
There was how many blog post, like 2.
D
2 weeks from today, two weeks from today, can we do that.
C
Two weeks from today is the 9th I will not be here.
Ok,.
D
How about one week from today, that's.
E
The way to like I in theory, where we're giving the other people a chance to respond to the summary before we I think.
B
We should go well, so we could do three weeks for it all.
E
Right, I also don't think that there's that times goes necessary to make like I think that it's fine like why.
D
You can I very much.
Do I think we need specific dates because so far we haven't been able to make progress without them.
No.
E
We don't need to be next week, we're not blocked we're not going to be stabilizing this if other than this thing next right, I mean that's true, like.
B
Because we're not done with my patient, like there are 10.
D
There are not tons of implications.
The blockers there's one implementation, blocker, there's literally one, but.
B
When is their next release,.
E
Like yeah, it's not gonna be in one 36, so we have like I.
D
Mean you don't set time skills for ourselves that we can make then we're talking about like saying three weeks instead of one like we are stuck by setting a date, we're.
E
Not we're saying that it doesn't need to be next week, yeah.
D
As hyperbolic, but it does need to be soon so.
C
By as part of a pair of conferences, I'm going to be out from the third through these 16, okay, I would be more than happy to do it on a non Thursday date.
In order to do it sooner.
If that would make things easier for people.
B
Does seem like we should you say just third through the 16th I'm.
C
Out the the third of May through the 16th of May,.
B
Trying to figure out, if it's hmm you know I guess it is realistic.
B
Well, it seems like if you're out, the 3rd of May through the 16th of May, then the only like next week is sort of the best time that you would be able to be there right.
I think we did some streaming.
C
Do think that we should take the streaming issue into account by way of, let's create a an orthogonal syntax that meet that additional requirement.
I think that I I also wanted to explicitly mention by the way, I think boats bringing up that new syntax idea.
So 408 Way is an important part of the discussion and something we should roll in.
We.
D
Should probably also I would like it if we also talked about specific use cases for that, because, as someone who uses async/await a lot, that's very rarely.
The thing that I actually want is to do a loop over the values like that.
Normally I want loops over streams to be concurrent, so.
B
Could we talk next week about that.
C
Sometime to write up the document having a framing with session next week and then several weeks after that on the 23rd or possibly sooner if we can schedule it having a more final discussion, something along those lines.
All.
B
Right, well, we should talk I, think out of this being a little bit.
Maybe you and I can just Josh talk about it like in terms of you're gonna, be ready 2/3 to the 16th, depending on where things are.
We might like to like wait until the 23rd doesn't feel ideal, because yeah.
C
I'm happy that sooner than that, if we can so.
B
Let's discuss it a little after and like what happened.
Well, let's at least plan for next week to talk about photos, um and that seems like a good next step.
B
Certainly on this, there is also Friday with 17th, for example,.
B
So what I wanted to talk about with the next section was to talk about the meadow working group concept and some chairs some thoughts and just sort of start.
The discussion here I'll.
Just briefly summarize what I wrote here.
B
So the first thing is sort of what I think was a way to get things started because I've kind of been spinning real some how to actually get this working group sensation going is that it would be useful to have a discussion about what the situation a simplest thing I can think of to make that happen is to start having some weekly meetings to just talk basically and hammer through some of the proposals.
B
I thought that the first thing these would be separate, I think from this meeting, and it would be open to people to attend.
But hopefully not everybody in this group would have to attend because, like any working group, it should come back, and the first thing I was thinking that would be really good to agree on is to kind of hammer out.
Actually what are the problems?
We're trying to solve talk a little bit about problems.
I have some thoughts here.
B
There might be something we could talk about in this meeting I, particularly like people's input, and you know the rough shape of the solution which I think we sort of already know, but there's a lot of little details and like basically writing down.
B
Well, if we plan to have working groups in some way for ideas to come in like this or that, and so this would function like any working group, with periodic updates to the team and so forth, and once we kind of have that, once we've hammered out what we think the problems are and the rough shape of the solution, then we would start digging into more of the details so that, as it happens, I'm presenting out of order.
B
But that's okay, that, as it happens, I think this is roughly the shape that all working groups should have that like it would be great.
If the first thing we can do is spend some time exploring the initial the problem.
B
This may not be a whole lot of time, but coming up with sort of what is the use cases we plan to tackle and the general shape of the possible solutions that we see and then selecting sort of the one possible solution that we think is the most promising and the reasons for it, and this would kind of be like the spitballing phase of things that I wrote in my original blog post, but instead of having that be like a per RFC concept.
B
I think it makes more sense for it to be a per working group concept.
So you could imagine, like the RF FFI, just trying to hammer out the problems that there's specific scenarios and things that we are trying to do and why and so on and then in the second phase here going into the exact solutions and in more detail, so that that was kind of the spirit in which I thought about coming up with problems and here's.
B
The list of problems done and I stopped here for a second and see what I said makes sense.
So far, two people.
B
I'm, assuming that's a yes, um so when I thought about what are the problems that I see that I would like to sort of solve by jigging up our process.
This is the stuff that I came up with I, actually Josh I think this last point relates to what we were saying about the earlier, which is you know, first, that not everybody needs to make every decision that right now we kind of have only this one meeting and it's not every times things aren't that exciting or relevant.
So it's kind of hard to.
B
I think a big one is that we're not communicating very well to the outside world.
What what does the team think and what are the things that we are working on and prioritizing like?
We have kind of a lot of individual comments about what we as individuals feel, but we're not like sending a clear signal about actually laying team's focus on X Y, & Z right now.
That's what we're spending our timeline, um which I think could be really divergent right.
B
We might as individuals to be really interested in all kinds of features and hammering out speculative discussion, but that's not necessarily where the team is I personally, feel this a lot that there's a lot of work around a feature and we're not very good at dividing it up. um I would like it if we were better so that we could basic I think what winds up happening is we just don't do all the work that we could be doing like we don't have it's really hard to follow the discussions?
B
We don't centralize the results so that you can later come back and understand the reasoning for any given thing.
We don't have explainers telling you how to use features most of the time we don't for a lot of features.
We don't have documentation like the rest.
Reference may or may not get fully updated and so on.
I feel, like those things, are really part of the job, and we should be doing them as we go and you should be trying to do them together.
um What is this?
B
I have no idea, I meant by this Ted scored on RFC cred.
Oh just that there is discord, not discord.
The chatting mechanism, just that often there's conflict on RFC, threads and I- think that's partly a symptom of them trying to serve too many purposes, um and so on.
That's right.
It's the last one I want to focus on, which is that we should be able to.
B
We should be sure that we're spending our time and energy on the right things I think right now it we often get like when people open, rfcs and so on our practice a lot of time.
We know spending potentially a lot of time sort of dealing with ideas that are dragging us off of the course we wanted to set.
I would like to make sure we're making progress on items we feel are essential.
B
I'm curious, if this is like the kind of problems people see if they think there are other problems.
C
One other item, which is when opening an RFC there is a degree to which we are either relying on on organic discovery, or we heard manually rallying people who think might care to an RFC.
The former has the notion that the tone of an entire RFC discussion can be set by the first couple of people to show up and if the first couple of people to show up take a general tone of you know, I don't want this so go away.
C
It must not be important, then that can set the entire tone of an RFC thread.
It is difficult after that point to try to get more voices involved and especially to get more voices involved without the feeling like.
Let me go rally people that I know actually want this.
So there's a degree to which not just team attention, but community attention is a concern and getting things raised up the flagpole for people to notice.
C
Is the set of people who notice before a this week in rust surfaces?
It can be quite.
B
Yeah I might add lack of feedback on close to stabilization features.
B
Is some of these things are only partially us but I?
Think it's okay.
We should be.
B
The it's probably also just where earlier just in general, my assumption about the conflict on RFC threads that I didn't really spell out, but I think it's relevant to what you said.
It's that I think that the more that we can get a team of people sort of involved as early as possible, but teams yep whether we can engender a group and feeling that, basically the better off we will be um as well as keeping our discussions.
B
You know focused on one thing at a time um it seems to be kind of distinct from some of what we've done before of like we've tried opening a lot of issues, and each issue is on one thing at a time, but there's a lot of issues.
I, don't know, but that we'll have to see.
B
Okay, so yeah one thing I wanted to get out of this meeting was who who thinks they would like to actively participate in these discussions and to be more content to follow along I guess I would.
C
Be interested in actively participating in this type of RFC process and governance.
Discussion.
B
Folks was that you yeah I mean we are.
B
That's good: it's not a decision.
We all stomach now, but it'll help scheduling if it's not too creamy.
B
Figured we would start with a series of sort of zoom meetings like this, although I might like to transition to a different structure if we can, but this is maybe easiest way to get started.
B
Okay, so why don't I send out a doodle pull then, as I try to write up some announcement?
I.
B
Shall be away for a few weeks, but that's alright.
B
Okay, I, just when I look back over this one thing, one more time, um josh is gonna.
Do this argument it gets, but since I think we're done with the way open or discussion agreed.
B
Okay, just to make sure we have all the pieces of the async/await syntax checking thing.
Josh is going to write something here: votes, you're gonna, write a conclusion and we're gonna post it to the issue.
B
For now we can always cross post later um and we're gonna.
Do we're gonna talk on May, 2nd about the interaction with for loops and go over that and then figure out.
The next meeting sounds good yep.
B
Alright, thanks everybody thanks.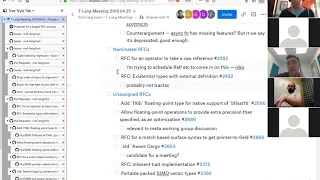 ►
Description
Triage meeting from 2019.04.25

The topics up for discussion were:

- Async-await syntax resolution plan 4 – we have a general plan for how to resolve the question of async-syntax, but we've not communicated it (surprise!). We are going to touch base on the plan and who will communicate what and where.

- Meta working group kickoff proposal – plan to kick off a group to discuss how working groups should function.


https://internals.rust-lang.org/t/lang-team-working-group-sync-meetings/9573/7?u=nikomatsakis