A
To another West and webassembly working group meeting, thanks for showing up the first piece of news on the agenda, I, don't think Cowan is actually on the call today, but congrats to Pawan for joining the core team.
A
They've been doing like really awesome stuff, if you haven't seen them around on issues and all that, but really good designs and RC threads and more recently, some work on glue.
So yeah thanks, Polly.
A
The next item is RFC triage and there's not much going on, except that the amendment RC process RFC, is in SCP and will emerge tomorrow.
So if you haven't have like super super strong feelings about bureaucracy, you have one day to make your feelings known.
A
And the next item here is: we are currently in our first of the revamp of the six-week, sprints and the end date is the end of April 25th.
If you would like to contribute to, Reston has some stuff, but you don't know where to focus on or like what's going on, check out this list of sprint issues.
These are things that you know we would like to fix now.
Ish yeah.
A
All right and onto the status updates for our 2019 roadmap items, I threw in a bunch of stuff because blues been like really taking off.
There's been a lot of good design.
A
Discussions going on here, I'm, not gonna, like read through every single one of these, but if you want just like the summary and prose form that got posted on our blog yesterday, so check out that progress update and then that kind of lays out what we've cited upon with this kind of like onion lair approach, where one of our our main kind of goals of glue is to make sure that everything is reusable and we kind of bolster the whole community of crates for the rest of my as an ecosystem, and so that kind of onion layer approach or being very deliberate about splitting out layers into reusable parts is important for that kind of lifting all boats and yeah so check out some of that stuff.
A
On the multi-threading front.
I believe the only update is that I'm not sure how to pronounce your name but I think you're on the call Elia.
A
So my understanding is, you started looking into how to make the futures thread safe for the multi-threaded world.
Yes,.
C
I started to do research and actually Alex I clarified the point of the issue.
C
There could be kind of future, but we we can become the chair promise so well, but we can build the features on top of promises and we can share signals using MPs, see multiple producers single what see consumer yeah so I'm just reading on the dogs and trying to figure out how to how to implement it.
Actually, originally I thought it is something related to future signals, but probably it's not a mature yeah.
A
I think it's something else like this, so.
C
I'm just doing my research on the deputies and.
A
No updates or debugging unless someone else has an update.
No okay, there's been a bunch of cool stuff in the Wesson bunch in front this week.
The first is that the NPM dependencies RFC implementation, that merged so I, don't know if that made it into the latest release of plasma engine, but either with master or maybe with the newest release the next release.
A
You can write your own kind of like library, crates that are for other people who are compiling to Azzam and you can say actually I wrap, this npm library or I dependents and pin libraries and then that will just kind of flow through the whole tool chain.
I think.
D
It actually landed in the last release, but though I haven't actually checked the reason.
I think that is because Alex filed an issue for it to get implemented on, wasn't PAC, which would make me suggest, like I, would imagine that it is ready.
A
Sweet yeah there's this kind of fun issue.
If you'd like to read more about it without large u-32 is turning into large negative numbers when they get past JavaScript I, just felt like that was worth pulling out together, is that the no modules target got a surprisingly small fix and all of a sudden it works in cloud care workers and just automatically slits their awesome thing just.
D
To add another thing it in addition to enabling Club floor workers also enables like any type of like if you have a frames or modal's, or anything that also want to share a similar resource.
D
The reason why we have to do this is irritating, but, yes, a small fix that improved for many situations.
A
This is the D fixture like not relying on instance, of right.
D
Yes, but we actually ended up like the logic in Wesson.
Binding was kind of backwards to begin with, so it now just passes through and there's, there's a difference between the instantiate branch and a fetch branch, and we were like prioritizing fetch, even though that's not really the primary use case.
A
And thence these last three bullet points here, provide Punja and are basically our reverser going on spree and like this, isn't even all of the requests that they set but like they're, just killing it lots of, like nice, real world, the motivated performance optimizations for the bindings and translation over ABI, yeah, so good stuff.
There any updates on Westpac's.
Yes,.
D
Sorry, I didn't it's been a very busy week.
Cuz this other thing, I was doing yeah, there's gonna be a couple things.
D
So I was hoping, we've gotten enough feature and fixed work to warrant a release before the end of the Sprint, and so I kicked off a change log for that and then promptly was put on a very time-sensitive task, so that is over now, though so I'm hoping that later today or tomorrow, ODOT 8.0 of was impact will be out and that adds support for some of the stuff that was invention had that hadn't propagated to virtual gin.
D
Yet as a couple fixes, if I'm feeling incredibly ambitious I, might try and get that NPM dependency stuff.
It also because of my other tasks, I basically already implemented wrapping cargo generate, and so I can just drop that into wise and pack and make it better.
So hopefully those two things but yes, Oda Eiichiro release on Friday.
Luckily this awesome.
A
And so there's no updates for monitoring profiling and testing infrastructure.
As far as I know, unless anyone has any other updates, I.
D
Have like a doc, see kind of one sure which is so I had originally had this marketing PR on the Westpac repo, and we decided that we wanted to move it basically to the primary landing page and I'm super down with that.
But my tolerance for working with Jekyll is low um and that's not to say nothing of of Jekyll as a technology and where to just do with my own personal impatience, but there is a marketing branch on wise impact where you can snag all to HTML.
D
If someone wanted to take over that job, I would not only not mind, but I would be very grateful.
So I think it would be really great to get some that stuff up on our landing page.
D
So if there is somebody who is interested in doing that and wants to fight with Jekyll themes, you can message me if you need anything to help unblock you. Otherwise, I'll return to it. Someday I.
A
Can maybe make time next week, if there's no one else who wants to step up.
D
I thought, oh, my god, I just saw your notes.
A
So the next item in the agenda is an update on host bindings.
This is just basically a pointer to go.
Read this if you're interested in hash tag faster than J s, Dom access.
A
So this is there's a few steps to to getting to this eventual end goal of, like statically, checked calls directly into the C++ that implements the Dom in browsers without kind of bouncing through JavaScript, and that that kind of depends on on many different proposals that are all in flight, and one of them is this host bindings thing and, and so this is actually renaming.
Host bindings to web IDL, bindings and yeah just go.
Take.
A
Pretty cool and exciting all right and now I think we're to the target discussion.
A
Does anyone feel like they would like to kick off their ask a question or something I'm summarized.
D
In kind of a summary- maybe okay they'll admit so this this conversation was kicked off an extremely long time ago and reappeared in my newly filtered github notification.
D
Email and the original discussion talked about the like the fact that we have the wesson 32 unknown unknown target in rust, but that, as we build web assembly for different JavaScript environments or maybe know in JavaScript environments, that there are maybe different considerations and that we might want to consider having rust, compiler targets that focus on things like node or es6 or as you who are familiar with our tool chain, may know the hub rust, wasm tool tray an idea of a target, so the tool chain kind of went in the direction of having this secondary target where we build everything, 2032 unknown and then from there.
D
We start doing shenanigans for the different JavaScript support and it does seem that, although the conversation in that thread died a year ago, people have various projects in the most eco system have been linking to the issue and recently, like there's, been a couple of more comments, and so my initial idea was like it would probably be beneficial as a group to put some sort of update about how we made a decision and kind of like resolve this, and then it just in a very timely way.
D
Alex has made a PR to add the wiesen 32 unknown wozy target to the Rose compiler, which is not a JavaScript target per se.
It's it's it's own thing, but anyways the question of targets, how we talk about them and which tool changed to find what they are seems to be an interesting one and, at the very least, I feel like.
We should comment on this issue with at least what we've done so far.
D
Yeah I don't know if anyone else thinks this is interesting.
E
But I'd be really interested in more details on the new y'see target.
That's possible.
A
Yeah so I think I think we can maybe start like further back with like what is a rust target and specifically, how does that tie to webassembly and then move up that direction?
A
I think all this stuff has been expressed at some point in time, and this issue thread, or maybe others, but essentially like the targets, are about like what kind of capabilities does the host provide and can the binary rely upon right, and so so, as I'm 32 unknown unknown like like it's so unknown that it had to be twice right, like there's just no assumptions at all have this environment so so there's no implicit imports in the lesson binary that you generate with that hasn't 32 unknown unknown target.
A
It's only the imports that you are creative use, explicitly add and like basically, historically, what we've done is: we've been building our own imports and and all this stuff and that's nice, because we get to move fast and need to be custom, things that work for exactly the problem that we're solving in the best way possible, but they're also not really something that maybe you would want to build.
A
A foundation on top of like like a stable, like a bi compatible for the rest of time foundation right, which is kind of what a rust target is and so separately people have been wanting to use blossom elsewhere outside the web and they want a stable, solid foundation to move forward and that's kind of where wisee comes in and then what's what's.
A
Interesting is also there's this polyfill for these same api's for running it in the browser and that like plugs standard out into console.log and stuff, like that great so yeah, so I guess, if I were to summarize like why we built our own stuff with like web impact, less biogenics, because those were solving the specific problems and not the long-term thing, maybe I'm, starting to just say the same thing over again.
So just yields yield to the floor now for questions or discussion or something you.
E
Mentioned the web IDL bindings what used to be called host bindings?
What see that, at some point the compiler might have.
A
That is a thing that could exist potentially yeah.
A
The way that I'm expecting that to play out at least initially is probably so.
A
The way that the the proposal specifies is there's a new custom section with its own little DSL for describing type conversions from like a series of wasm values to a series of web IDL values, and vice versa, depending on which way you're going and that's very similar to the ABI traits that hasn't been Jin has right now and so I expect, like the first step will be will just instead of generating this JavaScript glue, will generate the specific ABI forms that we that we expect, as as the custom section that this proposal proposes.
A
We could move to a world where it's like standard.
The student library expects these web IDL things to exist and it adds that custom section itself, and that would be its own target right, because this is now rust, see adding implicit assumptions about the environment.
A
Yeah I kind of view that a bit separate from Lassie, because I think those things are largely orthogonal.
Maybe there's some overlap with like how we implement threading, like that involves like spawning web workers and stuff like that, but I guess mostly separate domains.
So.
E
One question I sort of have along lines is when we talk about targets.
Are those targets having implications on what the standard libraries capabilities are like extensive?
It seems to make sense to have a target because there's a lot of standard library functions that talk with like file access and spawning stuff, but when it comes to targets of like yes, six and like web IDL, it's like there's no standard library for those things at all.
E
Right now, so is that we're sort of the confusion is is like if those things should be targeted, there's no standard library.
A
Yeah I think I think so, like one thing you could do, is you could build a file system on top of like indexdb or something right and like if you were to try and make standard FS file work?
On top of that?
That would require a rust target, as opposed to like a plasma, binder and less impact argot, because that would be like that.
That's how the standard library knows like which implementation of standard FS file to use essentially and what assumptions to make yeah.
That's that's a good access to kind of divide things also.
E
I do have sort of a question.
I mean there stuff about the new web.
Idl stuff is really interesting to me.
Are you saying, like there's, really strong consensus right now?
Is there is this, like the web IDL thing like looking like it's going to be the thing.
A
So it's been a proposal for a while I think it's been in stage one the whole time, and this is kind of aiming to repurpose it and I think at at T PAC in August last year, which is the w3 C's kind of big conference that they do every year, Luke Wagner who's kind of the champion of his proposal.
A
Kind of put forth that for 2019, the the goal of the wasm CTE should be or like one of the top-level roadmap items should be like enabling host bindings or by DL bindings, essentially so I think, there's like there's fairly large consensus in the community that like this is a thing we want.
The details I think are nowhere near like this is exactly how we want to do it like it's.
It's just spill a rough design at this point in time, yeah.
A
That's it I think like the Google folks like like this and and Firefox folks, which Luke works at Mozilla, so yeah I, don't know, I, think it's getting there.
It's gonna be a thing.
D
This is a bit of a non sequitur, but I literally just saw on Twitter.
There was a workshop run using the West budging game of life tutorial at Jay's Heroes, which is a JavaScript conference in Russia I.
Believe.
D
So I guess we good they did it.
What in Nairobi as well, Oh, Romania, I'm, sorry, anyways, that's very cool I.
B
Had a good bit about, maybe it's a silly question, but targets apologies if it is so how granular are are they expected to be so?
For example, technically I have access to lots of fast stuff and TCP stuff in electron, but I still use a was a target for it, but technically I can I can still should be able to access some of the things that normally a browser would not be able to.
Are we saying that in the future, I should be able to have a like electron base target versus just a browser-based target?
D
A while back, okay I'm sorry I did not see that in it no I mean but I think this conversations kind of about how we've talked about this, but how we have not like a thousand percent resolved it or communicated it well.
Okay, so I think it's still kind of an open question, but pawan is saying that the consensus massive question marks here is that we'll use cargo features for that and I think that that is something that that people want to do.
I, don't know entirely how how long that is, though,.
D
If there's like any progress on it, if it's just an idea.
A
There's there's like multiple levels right because we have yeah.
A
Have multiple different kinds of targets, so it's good to be specific about which we're talking everything out rust targets.
Instead, targets versus wasm pack wasn't benjin targets versus something else and I think the answer is like like technically like we have the ability to have as fine a grain targets as we want right.
A
It's it's more about like maintain, ership and effort and like how do we want to cut things up and, and so in that sense, I think like the highest maintenance burden, are like actual rust targets and like different copies of the standard library and then like above that a bit easier to maintain.
A
But you know, maybe not like easy our lesson pack and lesson benjin targets which essentially control like the ways where we get imports and the ways we get imports through JavaScript and then yeah and then what you can always do is you can always implement your own crate?
A
That just says, I know that I have access to be certain api's and I'll define those API is unless behind Jen and then you can just use my crate and then that's like the easiest maintainer ship, at least for the working group, because like we're here, if it's not maintaining that, but so I think one of the the benefits that huazi is is bringing here.
Is it saying like here?
Are these like standard sets of capabilities that essentially should be implementable?
A
Basically everywhere, webassembly runs or like most places and so like.
If you can implement these y'see syscalls with like on top of electron, or you know, on top of your CloudFlare thing, something like that's nice, because the maintenance burden for us is.
We just only maintain this huazi target, but it takes your your code and runs it all over.
All these different places.
E
And you said, runs everywhere, hear anything about y'see running in the browser.
It's.
A
Now so there's a demo that you can do if you compile something with the the rust hasn't 32 unknown huazi target you can like drop.
It drop the drag and drop in your browser into this one web page where the polyfill is already loaded correctly.
D
Note that that wisey target and that rust PR depends on 1/4 of Lib C. That Alec says.
A
There's no github repository webassembly slash reference district, and this is the Lib C fork released part of the Lib C Fork I didn't.
D
Really mean anything by it: I was just like: I was looking at the PR and they're, just like oh dang,.
A
Usually, when you see that that's like a terrifying thing, right, yeah.
D
I was like ok, but it was Alex.
E
Somehow so how we get TCP and UDP access.
A
Right, so not all api's or syscalls.
I guess that this layer will always make sense, and so these things, so it's nice about this thing in general I see- is that it's kind of capabilities oriented the way that the way that Azzam, you can tell like what capabilities it requires by what imports it wants right.
It doesn't get any kind of like you know ambient api's, so on the web.
It doesn't make sense to talk about like raw.
You know UDP or TCP right but like and then I mean.
A
Maybe you can like polyfill down on top of WebSockets right, like I, don't know like.
E
If anyone's interested in that wisey binding with webassembly unknown unknown on not like em yup I'm, really thinking a lot about that right now, I.
E
Guess I have a Razzie related question: that's like part of office hours, but I guess we're sort of talking about already so I'll just shoot, because I'm very interested in so I read the post, which came out yesterday, I believe and one of the things they said like hey, open topics, async networking, which is like a it falls exactly on my radar, even work I'm currently doing so yeah I wasn't quite sure how to track that, but yeah I've been working Romeo and Juliet's together with boats and one of the things I would love to do.
E
Is you know we can't get acing networking into stood, but we can do user event implementation of these api's.
So if there's any way to track this to stay on top of it just so, we can like start getting into prototyping.
E
People have leads I'd love to hear because I've got time and the ability to do that so I would.
A
Say definitely go to the web somebody's CG meetings, if you can there's I, think it's like the github repositories, web sembly, slash meetings or meeting and you might have to like email Benjy to like get the zoom link or something it's a little funky.
But Nick.
D
Is there any way we can just share the community group zoom link with this group.
A
It's not a meeting that, like I, run or anything so I, don't really feel comfortable making that decision.
I.
D
Like joining the meetings is kind of complicated, and if there was a way we could make that easier, it might be.
Nice I agree.
A
Sigh I will say like, although it is kind of complicated like Benjy, is a super nice person and really friendly and so I don't be like afraid that, like they'll be like who are you and why are you trying to come into here like I?
A
Think it's more just like a spam avoidance thing I'm, not sure that it's necessary, but all right, so so that and then also as far as people, to talk to a sunfish on IRC that mozilla.org in the wisdom, Channel and then probably just following the relevant repositories that are all probably linked from that hacks post in the agenda.
There's like I forget all of them.
There's there's a couple because there's one for like the sis route, there's one for like the Lipsy.
A
I expect like, as time goes on like right now it's been, it's been like a few people kind of collaborating to get something together enough that it can be announced and I expect that things will start to like.
You know, congeal a bit more.
You know, as things go on now right, like meetings or whatever.
D
With that target I imagine, we should probably maybe also have a separate from these weekly meetings designed meeting about what do we start doing in our tool chain when we have more than one target like non impact.
No non was impacted by engine targets, but like cuz, that's that's gonna, head up at a whole new layer of complexity to this whole target shenanigans.
So.
A
I kind of suspect that, like like fairly quickly, you will want to move pretty much most everything over to standard huazi, because I think it's I think it's almost strictly better, except for in like very constrained cases where you really want no assumptions about the environment, but like also, if you're, in that very strict, no assumptions situation, you're, probably also not using webpack and wasn't benjin I.
A
Like I think, we always want to have the option to support lesson: 32.
Oh no!
No!
No!
No, but like my gut feeling right now is that, like we all want to kind of move everything over like as it stabilizes I guess, yeah.
D
I think the biggest thing is just how good the polyfill is.
Yeah.
A
And like to be clear, also like a I, expect the plasma Bunch and like custom wasn't blenders and bindings, and everything will still work when using the Y Z target and everything like that.
E
Do you attend these meetings like.
A
When I wake up early enough, I go to the CG meetings I, mostly just like listen, I, don't really talk a lot.
A
Yeah anything else is there anything in chat.
I can't really know.
E
I've just been typing in there checking who to write people, see email and stuff.
C
Assembly topic and I'm thinking about adding dojo and Eliminator packages.
The rules yeah.
A
It might be worth we have like an awesome page, which has some degree of completion.
I guess I, don't know like we have an awesome page with with some projects listed, and maybe it's worth linking to that or like going through that and picking out the most interesting bits.
We also have the crates.
You should know page in the Swazi book which I.
D
Think you can say it just because I brought up that documentation.
Homepage thing like a landing page for that crates.
You should know we're like little boxes and pictures, and maybe little explanation would be good for our discovery.
A
Like linking to the existing crates, you should know from the landing page or I'm, not sure yeah,.
D
So, like the the landing page, thing is already made that we need to move to.
The actual homepage instead of wise impact is the thing that calls out our targets, but we kind of have like two units of things like our targets and then the like ecosystem of crates around us and so I think creating like a visually engaging presentation of those things will probably be good advertising for us, because it's a really good content that, even though we do have a page for it and like that's good I, still think.
D
Probably a lot of people skip over.
So you know just like reminding people about all the awesome things with like emoji and pretty pictures helps.
G
Hey something that I wanted to bring up for discussion as well, if, if we have time for it, I put an item under the glue toolkit status, update, section and I think I put it there incorrectly, rather should be in the office our section, but it is for to get number 49 about WebSockets, basically in a WebSocket type, and so just to give a little bit of real quick background on it.
G
David O'connor, the guy that created the seed framework and I, had some discussion going on, so the issues are cross-linked but basically kind of the thing that was causing a problem that I wanted to get feedback from everybody on is when dealing with binary data frames coming over the socket to the web assembly client, there's just a lot of hoops that you have to jump through and honestly, if it wasn't for Alex helping me out, I would have spent hours working on it and just began not because of necessarily any no problems with Waze and behind Jen, but just I didn't know which way to go.
G
There are a lot of different array data types that could be used and using the J's constructors to get the data out.
There were just a lot of usage enters, so I feel like we could improve that and then another issue kind of writing now is passing the WebSocket callback handlers for when the WebSocket is actually open like goes into open status or disconnects or encounters in their various callbacks like that or the callback for when it actually receives messages.
These have to be passed over to Jas lands currently and which I do not I'm.
G
Expecting it's going to be that way for a while, but being able to store those callbacks so that they can be appropriately cleaned up when the objects are dropped in rust, we don't have a clean way of doing that right now, there's no like recommended way of doing this.
Maybe you can start in RC, but basically one of the things that we could do that I was proposing in this issue is that the new type will wrap the underlying web sis socket and then all of the callbacks will basically be stored in this higher-level typing.
G
So I just wanted to bring it up here.
I'm planning on putting together an implementation, but I wanted to ask like actually Nick everybody else.
What do you guys think about it?
Is this something we should die or tiser right now, but then also just reading through the you know the contributing documentation in the repo?
Do you guys have a recommended way for building this?
Maybe a new sub crate within blue.
A
So the the way we've been doing it is that I think this would be a new crate within glue and then, ideally, there would be like kind of like the base kind of callbacks layer and then kind of futures or streams based layer.
On top of that, and maybe there's also been talk about implementing Tokyo's async, read and async write for these things.
A
So so, like I, think we are a suspect.
A
We all agree that, like we want WebSocket AP is that are better, and it's more just question of like what the API design is and like how we, how we slice up like the the abstraction level layers as far as like event listeners and where to store closures and everything Palin's been working on kind of an event, listener layer that that gives you like ra, íí- style management of like where you construct it and that you know acquires the resource and then, when the thing gets, dropped that you know cleans up the resource and so I think.
A
Maybe just exposing those directly at like kind of like the the mid-level callback layer would be appropriate and then like building things.
That kind of contain all that for you and expose futures.
On top of that.
But I think the event.
Listeners kind of API that the Palin's been working on is exactly that, like managing the callbacks and everything and automatically removing the Dom listener and everything.
G
Okay, yeah, that's that's great feedback and I, see Wow on just mention some stuff in the chatroom.
I'll, take a look at the the events or requests, and maybe the the correct way of doing this or the way that's going to work well with the ecosystem is to basically expose, like you just said, Nick the events on this new web socket type so that it uses the glue event system and kind of reports along those lines.
G
I'll have to take a look at the the resource management for those callbacks, but yeah like I, said: I'll, take a look at the for requests, so, okay, cool that sounds great, hopefully I'll, be able to you know, get something written up and push a pull request here soon, yeah.
So.
A
I think I need to go over the the issue again, but I think what's been really helpful.
For me when I've been looking over like API, proposals and designs is having just like the function, signatures and the types with an actual implementation, but just that I can guess how they're expected to work together, and that gives me something a lot more concrete to to kind of work with and massage and make sure we can get the best thing possible and.
D
That's I was actually gonna chime in at the end and just be like an example and like an example, is really close to the function.
Signatures I think that works.
Maybe we should update our issue templates to just include that to give people a little bit more direction on building that out, so I think that it not only would help me sounds like it would help you but I.
Imagine it would help other people better evaluate if they think it's like improving or gonna mix or not, which is obviously one of your major goals.
Here.
G
Yeah very true, very true cool thanks, guys appreciate it.
A
All right anything anyone else wants to talk about before we call it a meeting.
D
Before we do, I guess I have mentioned this idea of having maybe like deeper dive or more design.
D
Conversations are people one or people interested in that idea, and we don't have like a mailing list or anything give me I guess we could post it in an issue to get people to sign up.
A
Which design discussions are you I.
D
Would really like to I guess: I mean it doesn't even have to really be the group, but I would love to get some people together to kind of like write up our ideas about how targets working in our little fork flow ecosystem and like write some like design, guidelines and values around that and see if we have like holes or if we're kind of being incoherent so and just like get that sense and then also be able to explain why we do target this way instead of using like rusty targets, just mostly making sure that our rationalisation around that is complete and recorded, and doing that on.
D
My own sounds unpleasant.
By doing it with some folks sounds nice.
A
All right, let's make a agenda bullet point and just add your name and contact information if necessary.
If yours.
A
At the bottom of office hours and then we can maybe schedule a doodle or something yeah.
D
I can do it all via the team, repo and stuff, so I realized, I, don't need emails and I hate emails, so get home sounds better.
A
Okay, well any last things.
E
Pollan said that the glue events crate is almost done, which is really cool.
Awesome.
A
Very nice, all right, I, think our monitoring function has reached a fixed point.
So I wish you all a great weekend and happy hacking.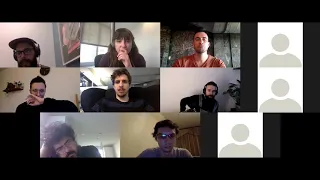 ►
Description