A
Okay, we're like now welcome to this edition of the GT community.
Go and many people are traveling around vacation, so I suppose this would be a quick one.
So people.
A
Can you update this with the mobile.
B
People are here so Holly.
Do you want to talk about what you've been doing sure.
C
Thing there were some smaller changes regarding the default table on the welcome screen.
Now it versus the users last choice and so on, and the biggest change that comes is.
B
Delta the default to the on the welcome page, and so the behavior that we want is defaulting to the calendar.
B
If there's nothing in the recent list, which is a situation primarily for new users and in a way it's a better experience, but also because chances are that you're gonna have something in the calendar, but not in the recent list was also a way for us to promote the calendar, support with what we plan to do in the future, which is we want to have access to the calendar so that we can Cohen suggest you that you are meeting meeting links to your existing kind of events.
But let's do a plan.
B
What you can currently do see the already scheduled meeting links yeah.
Please continue, sir yeah.
C
Right that is longer plan and the bigger one is that now recording is available on mobile.
So then you can start and stop recording on energy per GT instance.
That's in master not released yet so if anyone wants to use that they will need to use the latest revision from master.
D
So in first couple weeks, I believe I did was wrap up web RTC m67 update for react native web RTC, so that's landed on our fork immersed in master, so nice release we cut will Hamid.
D
It was a longer update than the usual because some API has changed and we also took the opportunity to make a couple of improvements like aligning with a new way for muting tracks in the browser's, but you just need to set that enabled default, and then the camera will stop Firefox.
Does this react native web RTC?
D
Does this now and chrome will do it in future and then I started doing some refactoring right now, I'm in the process of refactoring, the way we handle routing inside the application and back to working progress, it will not be a visible change, but it will be like lower level plumbing so that everything keeps working.
Thank you.
B
Thank you power.
Do you wanna share with us.
E
Yes, so I've been focused mostly on the improving stability around a mobile, app reconnection.
You know and Terra connectivity, just a bunch of corner cases there and then also my kingdom over, is the cave and more reliable that they are known to placate the events and the day of fire.
That's all.
E
And also the same for the coal kid sessions.
E
Yeah my fingers off thank.
B
You for yeah those are big beacon, complex issues, but they pretty much is over hound every recovery showing screen where we detect an error whatever ever like a gazillion types of errors and also notifying the SDK consumers with consistent events, especially when we do have a recovery and not confusing them with strange, unexpected events so great stuff.
Thank you very much.
I think that's pretty much of whom us we have to continue.
Sorry I'm, not sure it was clear from your description that you've now currently working on streaming right, so YouTube exactly.
B
And there also includes some kind of I. Don't know the details, you can enlighten us about authenticating with go going, something that also we're gonna go and implement what we have in it should happen. Probably we can start working this week or next week until the next.
B
What the web implemented that videos in the thumbnail in the filmstrip are always shown just tinted when the video is also visible on the world screen as well, we have to go and work a bit more on having a UI for incoming calls.
That's that's kind of separate from the g28 view, but but it's also a useful use case similar to Koki now race.
Where is to bring people close of the call flows if they won't implement it on in their apps.
B
Too much it from us to mention.
A
Thanks Aaron, any updates.
F
Nothing really visible to the public eye.
We migrated our a tree proxy layer over to newbie PCs that are across originally feared and are now doing hi.
It's your proxy peering over the cross regional feared links, but basically we did that seamlessly and without actually impacting any existing users and so shouldn't matter to anybody else except us.
It has been my customers thanks.
G
George, oh yeah, I, don't have much to share.
We've been working on, including bandwidth estimations, we're working on a test and that will ignore pretty much ignored, loss or estimations, and this is just going to be a maybe experiment where we're going to gather some data and see how this impacts, whether it improves or yeah.
We want to observe what the repercussions of this will be so yeah.
A
Thank you, George Lennie,.
H
Looking really to report on my and I've just been working on miscellaneous bug fixes essentially our.
A
Thanks yeah not much and from my side me and Lenny we were mostly Lenny- was fixing some books around recording and dial out and we hope to push that to stable pretty soon so I think.
D
Open mic I like to give a quick lease: oh god, baby!
That's all right yep, so our student actually has done some great work so far, so the beauty mint electron appease is really shaping up.
We have right now the ability to customize your user name, email address and deployment URL.
D
It means you can have a desktop app joins any meeting in your deployment, pretty much like the mobile app does, but on the desktop and we're now working on packaging and pumping actually sooner rather than later, we're going to have some alpha version to test and we're going to test this self-updating infrastructure that kids have now moved away for free.
So that's going to be exciting.
A
Yeah, thank you and after this update, Open Mic anybody something to ask or talk about.
A
Okay, going once rice, okay,.
A
Thank you all for joining and see you in two weeks.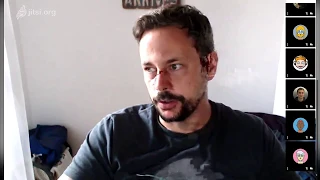 ►
Description
No description was provided for this meeting.
If this is YOUR meeting, an easy way to fix this is to add a description to your video, wherever mtngs.io found it (probably YouTube).