A
Reading live streamed on YouTube our twist for everyone's information checking stream health, we're looking good and let's, let's start, um why don't we start with it?
That's fine.
B
Porsche I not really have any updates.
You.
A
Can talk about the performance evaluation and what we noticed?
Oh.
B
Ok, so we've been working on an evaluation of the sacral testing on a patient.
We want to see what kind of pelicans we have when when simulcast is used in terms of bit rate and bandwidth on the server as well as on Sanders 0.
B
We started this with by the Panda actual quality of the picture that is transmitted with and without simulcast, and we noticed some discrepancies there, namely given the same bit rate for a regular video stream and the same iterate for the high quality of the simulcast frame.
We see lower quality for Samuels castle, so we are trying to figure out.
Why happens.
A
Do you wanna add anything to that?
No.
D
Mostly done that's what we've been doing for past couple.
A
Of weeks um we found the thing, so the main, the main discrepancy that we are observing as Boris said, was that simulcast is producing a lower quality high stream than long simulcast, which is a fully fully on the chrome side and we've been if anyone has any ideas about that, would be interested to hear them.
A
So, let's move on to crystal.
C
So it that quality is as measured by what guess, an R or s that.
F
So I don't get any important updates like I have a couple of small bug fixes of small pictures method 1 you.
A
Can just say Victoria like.
F
Nothing with the disabling, the pink of the local, a little English.
Why also?
F
There was an error with awesome, browsers, like I, think it was called quick now browser or something like that, so the desktop streaming coatless, crushing the whole out like them.
A
There's now also an option to flip the local image we might actually want to make that configurable by deployment.
D
Okay, we don't get comfy couch, huh that's.
A
What I'm saying we might want to make it configurable by doing I'm.
D
Hardly want to share anything um we launched and some new shards of meat did see recently with some of the latest versions.
Everything seems to be working well.
D
We've been reaching some of the highest levels of bandwidth that we've ever seen, em agency partially, because we have enabled simulcast and have HD streams but I think also just because it's more popular, which is always fun.
D
Otherwise, the recorder is becoming more and more stable every day, which is to say it's now even usable and I think that's about it.
I'll be also the bestest.
If I had to work on will not be visible thanks.
G
Nothing much to be as well while he was young named closer.
G
Legitimate I made your enemy I'm, still continuing goodbye Oh.
A
What you want to say, the problems that you wanna go.
G
um So most of the problems are just a very happy for searching for posit to that.
You can java education and ask if education environment, so we had to add several polyfills first hauser API or something like that.
It's missing in the act native and then white currently was becoming of powers.
That was using a project which integrate.
We were the native over the single going to they are naked.
So there's some differences are most kind of behavior third-party project.
So it's those references.
H
I've been working recently things around Earth colder.
H
It seems some stuff well like, for example, motivating reloads, and so you may make sure that the recorder is not the life it as a moderator in conference and some slow for you, our stuff, from the recording the live streaming tag and now shows for all the participants.
It wasn't the case before we have known I, don't remember anything else.
You just fix me on the front recorder, the user interface, alright,.
F
So in the last two weeks, I was still working on the lip sing.
F
It's now pushed to the master and after that I was working on panting automated test.
For that, and it's almost done and the way it works is that we we're sending up video, which has a green dot and and I'll do.
It is a bit which will be played when the green dot appears and so onion we're capturing the frames on the video and looking at what time the green dot appeared and checking if it's in sync with this beep sound.
F
So in order to reproduce like the lip sync scenario, we need to delay with to me, but we are divine audio stream and because of the past, is to track if the browser will delay with your pockets too much the AL dia.
A
See alright, thanks in the.
D
Etd mentioned the fiber from no life, so.
F
There was a problem in firefox, which term Alton two separate doors.
The first one was that if something fails became the bottom is basically not working.
That was caused by some books in our promises when we are adding removing tracks leaving the conference.
So the promises never end they, they was never completed, so I fixed up and now those from those those methods should should be completed.
In early success.
Over with the rejection, there are fixed, the king, you put them where there isn't some kind of error and there were solutions of firefox.
F
You think I failures, after a period of time, with sure sounded so that was produced on firefox madness and when I did to data speaks so probably 25 bucks to your visual can possibly diversion.
A
All right, so that completes the update on our side.
One last thing is damien here he's their son.
B
Now he was writing in the room and he says that he sees everyone and saw 20 p.
A
But existing they're happy.
A
Are okay, well Debbie ins beyond us back and he was out of location and he'll, be what might be interested to know what might be of interest to many is that he'll get back to fixing GT gassy, so that was broken since some of our dtls connection, optimizations and I know that many people have asked me about it, so we should be fixing that that's what Damien is doing all right.
um So this this completes the update on our site.
Open mic.
Are there any questions recommends desert.
C
There is a cool dip, nice diff, about added the extra stream to statistics in the channel, but I haven't seen any I: don't think it got merged yet came in.
Ok, that's insane!
Damien.
I
Yeah I haven't looked at that I need to look at it again, not a given.
You made the commitment I.
I
Can go you missed the stupid question?
Could you please repeat the.
A
Question is what did not I think that commits that Brian is mentioning, came from you and do you know if it has been merged to write.
I
The commit about the video bridge of clans statistics, anyone.
I
There's something to add some.
C
Stats in the channel adding lips adding some stats from the channel I think.
G
Brian Thomas's starts in the channel or something else well.
C
Yeah that part of the thing was eventually to push it to call stats, but there's kind of the call stack publishing piece and then there was also the gathering piece which I think was in the channel because we're spending some time getting statistics done and to push to our own stuff and we were going to go in and add stuff to the channel we've been holding off.
Since I saw that diff, but I knows hasn't gotten merged.
Yet so I don't know if it was because Dame is on vacation or what yeah.
G
The me and made changes to to push conference and channel statistics and the video bridgestone archos that it's a change in voltage.
It's in GT, video bridge and I have to review those things in order to merge them.
Okay, I always.
A
Thought merge did try to do that this week.
Okay,.
C
And then I don't know mera tu mera wants to talk about it, she's on the call that she's been working on some last end, simulcast stuff.
That will probably push a PR for this week.
Yeah.
J
Hi everybody I, guess I hope you guys on the arm area, um so welcome.
Thank you.
I think we talked to George a little bit and then I started adding some of their logic.
You guys added for VP for issue six foot, four key frame depiction and all that for simulcast.
So that's that's like it's good for you guys to review something that they helped back on.
Was there?
That's really are.
K
You saying you already push that or I want it to be nice for code review, sound.
J
Like Brady yeah and then something that we helped back I want to see your status on its the adaptive betrayed the lack of simulcast betrayed estimation, because now it's only going down and I Brian told me something about you guys have it on your list of immediate tasks and such rule yeah.
A
Yeah, so this is we're currently at Boris and George mentioned we're currently working on evaluating getting exact members of the gain of simulcast and are having a full picture.
What exactly what we are achieving, getting extending ramp up and big right estimations is basically the immediate task after that, so I expect we would start next week, I'd be a bit optimistic or they're not impossible and the week after for sure, okay.
A
And by the way, yeah looking forward to that h.264 um push pull request because we gotta do pretty much the same short stuff or for VP 10 as well.
I'm, sorry, yeah well, eventually from VP teffon, is well with 59.
First, so it'll be good to see that we have all the college specific stuff, properly isolated, so h.264 well, but then we'd also like to start playing with h.264.
Actually, how are you guys doing h.264?
Are you using the native open, h.264, simulcasting or I just uh cloning, a stream, so.
J
Chrome doesn't have the implemented so yeah, the out of the.
K
Patch we're not also upstream for first.
C
Yeah / sun and we added it.
We've done a pest of the simulcasting chrome, but you can do to 64 and chrome without a patch, but.
A
What what patch did you do to make it use the the native simulcast feature for opening 64?
No.
J
So we did whatever they have been a vpat indicate they do layers and all that we just do a really naive.
You know three streams set.
K
It up and then adjust the tracers right right, but what what they do with I'm, not yeah.
There's the layers.
A
And individuals, but open nation 64 also has the Justice vp8.
It has the feature of you pass in West.
You mean it gives you three streams out in simulcasts, no actually yeah.
We must.
A
From cisco um last week- and he said that that's a that features should be very stable and working at this point, and it should give us better cpu and also I just saying in case.
You want to have a look at that.
Well,.
C
Check know that what open agency for her and have a stabilizer is that something recent or now I think it didn't mention.
I.
A
Yeah, I don't know, I actually have no idea how far they are apart, the one that's in chrome and the one that's actually their latest.
I do.
You know how my treat might know him.
So yeah I met with.
C
Him met him before and I was at cisco, but.
A
So you might want to reach out to him and ask him, but I've actually I have the recollection of hearing about that a long time ago.
So I'm not something it was a recent thing.
Okay,.
C
Not sure how well there we have to check out how well the web RTC stack.
Wood handle that as opposed to they all they do rap, like kind of one encoder impul wraps all three individual encoders, but I do think that they have this expectation around spinning up the multiple versions that might be a bigger change, but I, don't know we.
We are our rate, that's how they do it in vp8.
Already, oh, really kind.
B
Of width DX, you have I think you actually have three different phone purse plain colors.
We had us, that's what.
A
I know that is simulcast.
It's not you know most yeah, so my bleep bleep DX knows that it's doing simulcast and uh um yeah.
B
When it provides three different, instants sure.
A
But you only put one it right.
You only put one screaming.
Oh that's.
C
What that's the same as what we've got that wall.
J
The interfaces hasn't changed is going to one string in and.
J
It finds up do separate streams of silence.
A
Ok, I: have you gotten any feedback from from the Google guys from this?
No we're waiting for them.
Yeah we had Marian put a patch up.
Ok well, with, would certainly be interested in that as well.
Actually, Microsoft is going to come out with h.264 support in the next month on their better problem, the public better program, um so that would make it much more interesting for us, as well as a at least as a fallback option, so we were going to start playing with it as well as soon as it adds an edge yeah.
C
Hardware, acceleration is not fully baked, yet we're probably going to start taking a look at that soon on the chrome side aren't see they had so.
The Google team had was making some reasonable progress on 264 related stuff for a while they're in it, and it seems to have kind of died off the last month.
So I don't know I'm going to try and be harassing a bit and see what's going on yeah.
A
I'll be good, which is the conscious question.
No I hadn't seen context question.
A
Karthik is your question about what I sell for Microsoft.
A
Yeah yeah that the h-60, for you see is already in there what's coming out, is h.264 ABC.
Okay, thank you sure.
A
Was that you Karthik, because you sounded like little a little bit?
That's.
A
All right um do we have anything else.
Oh.
A
Yeah um Lucy: are you still on the call.
A
So I has anyone I know that Lucy said he is going to look into the he's been working on the bootstrap integration and I know he was left a bunch of comments and he said that he's going to look in them, but I'm not sure if there's been any progress since that I assume that, if he's here than there should be so we're going to add this to our checklist for for this week and see yeah, there's been a responsible manner.
A
Well for the record.
We're going to try and check into that this week and see did.
C
He thought someone posted a bug about issues on the bridge under load and I posted some stats from things that I'd seen.
I haven't had a chance to dig into yet I know you guys have done some load testing and the past I don't know if you've done anything recently but yeah.
D
I mean we've basically load test each one of our builds as part of the build pipeline and publish the cpu usage.
We have the you remember: I, don't have an antacid right now, but I'll to them, and then one or two or so ago and.
C
It was in the comment that I posted the cpu usage was not a problem.
Wasn't that it was the CPU was maxed but they're quite clients, weren't kind of ramping.
All the way up and like it looks like I didn't get enough to kind of dig into it.
Look like maybe there's not a raw sea view problem, but maybe contention or something like that outer ok, yeah that I'm not sure what the testing.
D
For as well in the blowpipe one, so that might be that might take some actual personal solo.
A
Bronkaid took a bit more by exactly what you so cuz I didn't fully.
C
Understand so I don't have this fully refined, but but what I saw as I had done, some load testing with test RTC trying to get kind of that simulation of real clients and all that and what.
C
Just has does 720p Claude what this ad in the comments in the bug, but has two clients joined a meeting and they just sit in the meeting for you know 90 seconds or something like that and on lower iterations I did you know five calls of two participants each and that all looks good and I went up to something like 17 or 18 call safe to participants each and at that point cpu isn't maxed, but but clients fail, for example, to get up to like full bit rate again, I don't know good my first instant.
A
Here is to ask about exactly what test start to see you're doing when there's bitten off new new clients, because they somehow share CPU resources, then they encoded with slow down so yeah.
C
It could could be that I haven't dug into that yet so it's the the bridge is not be, certainly not the only possibility for wrongdoing there.
I just wanted to know if somebody wants I didn't report.
Anything from my findings file a bug, but somebody else filed a bug, so I kind of added what I saw to that to see?
If maybe you know, there was a pattern emerging here or something but I, don't know for sure yeah.
That's interesting, because.
A
So it would basically imply that we stored our big raid.
Estimator starts misbehaving on higher loads, ah which is of course not impossible, but.
D
They have also mentioned in that that that there is some packet loss under high CPU, that that.
A
Is more more likely a problem yet because we've seen that in the past as well, a lot of the gazillion cues that we have uh yeah I.
C
And I was wondering about it, maybe their stuff getting lost in some of the brakes.
Cues.
Oh well, thank.
A
You for looking into that, if you.
C
If you have time to look at it a little bit more I'll see, if I can get I, don't know, we'll have to see how much I can day into it, but I'd like to at least get maybe like a profile profile of snapshot or something to see.
If that reveals anything interesting but well, I think that's interesting is to actually see what.
A
Be train is coming out of the bridge.
Oh I.
Do have that so I have that don't mean the degree of B values, oh yeah, better.
A
I didn't have because if they are higher than what the clients are actually sending in the clients or not I mean in the Continental maxing out their 2.5 3.5 like a bit thing, then that's definitely a client-side problem.
Yeah.
C
Unfortunately, called a test: RTC does not expose all of the graphs.
So I can't see you like the clients view of its estimated, send bandwidth or anything like that.
But you can.
You can actually enable a.
A
Peek a blocks for rtcp and you can naturally see the art, the rmv values that are being sent from the bridge to the clients.
Okay, God.
Do you know how to do that?
No lieutenant your day, yeah.
A
Well, we should actually publish it as an md final yeah George.
Would you do that?
Absolutely okay, so you're, not a bearded, George, Brian and I decide itself so um by the way, Brian thanks very much for sending for sending me the instructions.
On the example on setting up a conference room rest, I'm going to publish that.
I owe you a beer for that abuse on campus of each other stole.
A
We will have to see how we're going to fix that okay, but yeah I'm.
A
That this week or send you the pad, so you would publish it or something: oh yeah, thanks for that!
Well, okay, do we do.
B
We have anything else, I'm, just a quick question: Brian and Miriam.
Are you guys running on firefox right now now?
B
Okay, why are you asking Damian was seeing 720p streams for everyone and Firefox will explain it because of the lack of simulcast?
Now we don't come on expunged.
A
Actually seems to be pretty decent here, it seems to be illegal.
D
You know already over 100 yeah.
A
But brass used to be only one stream instead of 20 p is every.
Is anyone else seeing that issue allowed?
What ya see bright now, yeah price low price to its 120 p hunt interesting.
M
There is one tcp stream, there's West pulled one tcp stream.
A
But that shouldn't make a difference interesting and now.
Switching back to Brian and Miriam still has stolen 23.
So we should will be looking into that yeah.
A
Hey Damien, okay, that's very interesting!
That's not that's not supposed to happen at all, but.
D
What I would like bleh bleh, my nipple, for that I mean we are going to invest about them. The network here at the office, pretty bad and so on, but I shouldn't explain well.
D
The keyframes are at least the first particle.
The key frame is a rise first, so if we have some packet loss, thinking which gateway with futuna transactional, I firestick hear that ever.
B
Five times so I finds the first packet of a keyframe was lost.
A
Yeah, maybe now that sounds like clear, switching problem to me: maybe not yeah, okay, yeah, sorry for sorry!
For that guys!
um Ok, this do we have anything else.
I.
L
Then it's a gin and ok hi.
E
That just was a packet loss problem.
I still have one Pierre, we walking the queue some of the queue and, if Brian can test it, it's in ice for G.
It's pull request, 64 and I.
Don't know if it improve something for you.
Let the corn Q now looking to match.
B
It does the pocket view interface in ice for J or abstract class.
That's only used for sctp right down.
E
Its net for the rest of the queue head of the packets- oh not yet now, ok,.
B
Ok, ok!
Us, though, if any of our cues or dropping packets, there should be long.
Are there the plane of the same something like rockets drop to the drop by.
E
The cues that I've seen are looking too much most of the time like this.
We walk.
There was two lakhs each time and there was a notify all instead of naughty professional, not sure if it's because of all the HD streams.
A
Probably not and reload hear what I could.
C
Hide you fun, I think they said they couldn't read.
E
So what were you saying it in yeah I was just saying that yet many many of the cues are looking too much and I've stopped it to ReWalk.
But if it's not used everywhere, that will not help for the test.
Follow.
G
Okay, how do you guys observe that something is working too much?
What.
E
No, no I was I was just profiling, but I haven't eat any limits.
Yet I have not done load testing contrôlée to Brian.
A
That was inaudible here are our Wi-Fi connection went really south right now, so we had no idea what you just said: Tom I am an attorney.
If you think that's worth it, could you please you can answer I.
A
Could you please write this to the list yeah I.
A
Yes, okay, well finger really bad on my number here, so I'm going to go in and cut it at this point thanks everyone for joining and see you again in two weeks: okay,.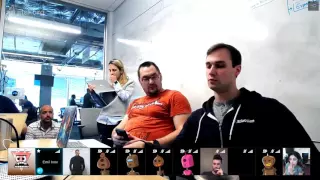 ►
Description
No description was provided for this meeting.
If this is YOUR meeting, an easy way to fix this is to add a description to your video, wherever mtngs.io found it (probably YouTube).