A
It's live now.
um You can never tell like exactly when it starts, but if people out there in youtube land are watching this, um we are going to get this started shortly.
I'm doing a little uh sending out the link a little bit and uh your musical interlude yeah.
C
Little traveling music, sammy.
A
Cool all right, we're live and uh ready to go david.
Why don't you kick us off.
C
Hi um welcome to the next meeting of the communications committee. um I guess communications community committee.
A
Committee and involves communication.
C
um And uh I'll just introduce myself and then we can go around uh I'm david r allen and I'm uh helping with the business development for the permission software foundation.
So maybe we could go to you next.
Chris.
A
Sure yeah I'm chris troutner, I'm the founder of the permissionless software foundation.
I also uh manage fullstack.cache infrastructure and uh just helping to to grow this community uh don.
You want to introduce yourself.
B
uh Yeah, I'm don wonton, a cryptocurrency enthusiast.
I work as a general manager at ava labs and uh I have the first bitcoin cash and the first avalanche tattoos on my left arm.
That's what I'm known for so all.
A
Right, you got the tattoo.
B
Oh yeah yeah.
I know I got this one on my forearm.
It's nice see it nice.
B
Ink yeah, I need to fill up my bitcoin cash one and wait.
B
Making sure it doesn't destabilize.
A
True commitment, you're, not an enthusiast here.
D
You want to introduce yourself.
uh My name is jacob.
I am bulgarian living in japan, helping with uh bsh javascript libraries, testing and development.
It's all for me.
A
Yeah much appreciated daniel go ahead.
E
Well, I'm daniel gonzalez, I'm from venezuela I've been working since the beginning in the permission, server foundation as a developer.
A
Right on that's great um I'm going to go ahead.
This is going to be a pretty short meeting.
Let me go ahead and share my screen.
A
uh Here's the agenda for today, as always, it can be found on github at the permissionless software foundation group under the community committee, and it's we filed them as issues. If anybody wants to see them uh the agenda for today, there's only this one item um so to introduce this there.
A
uh We have been going through a change in governance, and that's what's led to these these bi-weekly meetings that we have, and we had our very first um sort of private meeting for vip members, which are people who have enough tokens with enough merit to get access to our vip telegram room and the idea there is that they're they're the.
A
Let me just bring up the blog post that visualizes our governance, because a big part of this uh reason we televise these and record them on youtube- is just for posterity, um so that we're leaving like a trail uh of like why we've done the things we've done and uh and how it you know, ultimately leads to our success or failure, um but anyways this governance change that we've been uh undergoing puts these token holders at the top of the sort of economic pyramid, uh because any new projects that we fund will come at the cost of diluting uh the the value of the existing token holders.
A
So that's why they're the ones that should have the most say over how funds get allocated and then under under that there's the the com community committee and the technical steering committee- and this is the community committee.
A
So what we've been discussing and undergoing is this very first uh funding proposal so at the direction of the vip members? uh What we agreed on in that meeting and what we've discussed in previous comcom meetings, is that everybody really likes the token airdrop voting system that we had before. Where you you can you can be anonymous and still be an economic actor in this community, and you get those those airdrops of those voting tokens and use those to vote, and it's everything's proportional to the amount of merit that you have or like.
A
Basically, your your economic skin in the game, and uh so this is the very first proposal.
It's intended to be an obvious proposal.
It's gonna fund, our ongoing infrastructure, uh and so we need to fund this otherwise, like we have to completely rethink what we're doing um so.
It's kind of an aw it's intended to be obvious, and it's tended for everyone to just kind of go through the motions, um and it's also setting up the patterns and the processes that we're gonna use going forward.
A
So if any of this is seems weird or uncomfortable or people like just don't like it, for whatever reason, I'm I'm all ears- and this goes out to the just the people in this meeting, but also the wider people in the community who might watch this youtube video later.
A
I definitely want to foster discussion around these ideas and this process uh in the telegram channel.
Nothing's locked in stone, yet everything's, still just a conversation, but to introduce this sort of format of a proposal uh is that there would be an overview, a scope, a budget, so scope's really important.
It sort of sets like this is where it starts, and this is where it ends, and this is what we're going to do in the middle.
That's the scope, um and so in this pro for specific proposal.
This is for ongoing infrastructure.
A
So uh this is easy, because I can just look back at the last three months of our of our overhead expenses and sort of forecast, what it's going to be and then ultimately things that get funded will get funded in tokens and so because um the token our psf tokens hanging out around 25 cents uh per token uh and that that that number can fluctuate because it's it's we're actually loosely pegged to bch and then bch has uh is loosely pegged to fiat.
A
So it's very hard to estimate uh expenses in u.s dollars based on these tokens who that can fluctuate wildly.
So what we talked about in our vip meeting when we were discussing this process, was it's good for us to over budget to overestimate how many tokens we're going to need everything will be tracked.
Everything will be transparent and at the conclusion of a project, anything left over can be burned.
A
um It's it's sort of a problem.
If we don't have enough tokens to meet the budgetary needs, it's not really a problem.
A
If we have too many tokens, we can always burn tokens uh uh if they're, if they're unused and whereas, like in a government situation that might lead to sort of bloat and inefficiency, because uh we're a community funded by the community working for the community tracked by the community, there's just a lot more transparency and accountability in our process versus like what you would think of in the terms of like a government and taxes and and and things like that, so anyways.
This is.
A
This proposal is really just an attempt to take like here's, our expenses, the last three months.
Here's a forecasted estimate of what of what we think the next three months is going to look like based on our growth, um taking the current price of the token here's, an estimate of what that cost is going to look like in tokens, and then we talk about sort of adding a 20 error margin, and it also includes two hours of administrative work per week: I'm actually just paying bills tracking it on spreadsheets.
A
So this is essentially the bear minimum uh infrastructure we need in order to maintain operations.
That's why this proposal should be pretty much.
um uh You know obvious.
C
David, you had a question yeah just uh I wanted to point out. If you go back up a little bit um the the total for that line. Item forecasted february, 20 21, the total is about 550 552 or something just just so you can get the context of how much money we're talking about.
A
Yeah, it's a small amount of money, we're really small um and uh and we're not generating a lot of business right now.
So that's why it's good to get these processes in place while we're still small we can afford to make mistakes.
There's not large sums of money on the table, thanks um so anyways good to go back to like the general over our structure structure, because I'm hoping that this proposal will inspire additional proposals.
A
um They should all be structured, the same way with like an overview, a scope, a budget and then deliverables.
A
This is what the community is going to receive at the end of you know when everything's done and everything's paid for and then there's a voting section, and so what we talked about um in the past is so we'd create a new token we'd airdrop it based on merit, and I can go into details on the merit thing if people want um but uh there's going to be a like a address for yes, votes, an address for no votes and then an address for abstaining.
So really, this is just like.
A
If you don't care- and you just want to get rid of your tokens- uh like nothing happens by sending the tokens here- you can hold on your tokens if you want to, but it's just it's there for people who want to you know, get rid of their tokens essentially, um at the these tokens won't have any value and at the end of the vote, they won't be useful for anything and uh the votes will be tallied like on a they'll, have like a specific block, height cut off so um where everything will be tallied.
A
So it won't matter if people vote after that block height those votes won't be counted, um but that's the basic idea of these proposals. It's not too dissimilar um to the to how we've done it in the past, except that it's mostly timing, is the main difference.
A
We we used to do these and we did a whole bunch of grants all at once, um whereas this process is going to allow us to propose new proposals at any point in time and we can vote on them at any point in time, and- uh and this is more in line with this healthy bitcoin blog post, where I introduced this idea of the committees and how like anybody in the community can can uh submit a proposal and we can discuss it as a community and then eventually it would.
A
Someone on one of the the technical steering committee or the community committee would would sort of be the champion a liaison for it and would be ultimately answerable and represent the the economic actors in the vip channel and then sort of, and then ultimately the the voting tokens you get would be proportional to your merit, so your skin in the game, so it so you get to have you know more say on what gets approved or not uh is.
Does anybody have any questions?
How and just in general?
How do people feel about this process?
A
Does this seem too top heavy or seems pretty straightforward?
As far as I can tell.
B
Yeah I mean I'm a pretty smooth brain person and you know it's fairly simple, so easy enough to understand.
I like it takes maybe 10 minutes.
A
Yeah, I'm a little worried just with like fatigue with, if we have a bunch of proposals going and that's why I think it's it's important to have the abstain, one, because if people just don't care, they don't have to be engaged right, yeah.
So that's the one thing that I'm a little worried about.
I'm glad you guys feel it's simple and straightforward, because that's definitely what we're going for.
D
I wanted to ask about the budget.
One of the columns was clients.
What is it talking about in this.
A
Oh yeah good question um so yeah, so the full stack dot cash is where the the uh I sent out a financial report uh to all the the vip members and so stoian. I want to get you in on that group um and uh because you've definitely shown merit and and deserve to be there. um So, let's, let's work on that offline and get you a copy of, but that's that's one of the perks of being a vip member.
A
Is you get to join the this sort of private meeting once a month where we check in and um and then I'll, be preparing um monthly financial reports and sending them out to the vip model.
D
I I didn't uh want to ask about the details, just so the the meaning of the column right.
A
Right, yes, sorry, um yeah, so that that column is the infrastructure, that's dedicated just for servicing the client. So it's pretty important because that's where the money is coming from to fund all of this, um and so the bchn column is for infrastructure dedicated to the bitcoin cash network. Bcha is the infrastructure dedicated to uh uh the abc chain? Auxiliary is like other things like um the the the web, apps wallet.fullstack.cache and message.fullstack.cache, and then there's the clients, which is the infrastructure specifically dedicated to clients.
A
I I should really put this in the article um and then the google drive is just a google drive that we used for for storing content and sharing content for the community.
A
um These numbers are going are in the process of changing um the bchn and bcha columns are going to get smaller and the client column is going to get bigger um in terms of the the numbers um because we're bringing on more clients, we're spinning up more infrastructure to service those clients, uh and I'm I'm in the process of streamlining all of our infrastructure for for both bch and abc.
A
um uh Now that now that things are starting to settle down from the fork.
D
So so we was talking before that there will be some bridging between the the blockchains like with avalanche.
Is this included in this hardware like requirements, because it's not bshn and not bsha?
It will be maybe something else.
A
Yeah that'll probably go in the auxiliary column, um because it will, it will actually service all the blockchains and it will be um well bcha. I plan to build the bridge for b, bcha h and a b c, h and um and avalanche so have be able to transfer token across all three blockchains and that'll, be mostly a web app. So that would go into the that auxiliary column, yeah, good, good question, real good question, and you know, and that that brings up a uh an important thing like.
A
I suspect that, as these proposals get submitted, they'll have every proposal would come through.
The community committee and we'd have a chance to have this exact kind of dialogue like this would be an important part of the of the proposal process.
A
And I'm also thinking like a two-week window. So one of the reasons why I wanted to introduce the proposal in this meeting is uh sort of to set up a timing like now that we've had a chance to discuss this. We could probably have like say another two weeks to discuss it um in the telegram channel among the community and in the vip room and then we'd probably like.
A
So I could probably do the token drop say tomorrow for voting, but then we'd have like the cut off, maybe the the thursday after the next community meeting, um and so that would give us two opportunities to discuss it before the votes are actually tallied.
A
um You know and again not not specific to this proposal, but just setting up a process that we can follow uh for for future proposals.
B
Yeah I like that idea of being able to circle back and then you know one kind of initial introduction.
Then, before the final you know chance to vote, you have one last.
A
Yeah yeah definitely I mean because we're gonna get we're gonna get the people who feel strongly about things, but don't necessarily have any economic skin in the game um and then we're gonna get people who have economic stim in the game and just don't really care don't want to be engaged so we're gonna, we're gonna get you know we're then we're gonna get.
Those are the extremes uh and so it'll be interesting to see how that plays out um and how we deal with that.
But giving giving enough time to have a discussion.
A
Healthy discussions is good, but but we don't want anybody to like become a bottleneck uh instead of progress.
B
I'm sorry, okay, quick question.
um This would be my first token airdrop and you know voting process um question.
um Let's say there are like two proposals um per two week or whatever period.
Are you using the same tokens to vote either or on either projects, or is it like a?
Are you getting a token for each proposal?
Is it you know?
Is it like yes or no for each one or is it you?
Have this amount of voting power distributed among various projects.
A
Right so in the past it was an or situation where you'd have so many tokens you have to choose, which project to give them to, and that's the pattern we're breaking out of where I think I'd like us to just have one proposal at a time.
A
One voting token per proposal um and uh which so the token itself would change from proposal to proposal.
um We'd only have one to consider at a time, uh and- uh and so it would be, it would be much more serial.
That way did that.
A
In in this specific one, because that is a good question in this specific one uh there's, so I already created the token there's a link here where you can see it on the block explorer.
A
um I created ten thousand of the tokens uh and there's no minting baton, so yeah, there's ten thousands have been created, no minting baton and I called it psf vote 001.
So like the next proposal would get.
002 would be a different token, and um so each proposal would have this sort of basic information, so it would get air dropped and let's talk about the merit, because um right now things are pretty skewed.
A
I did some calculations here.
Let me see if I can, I was hoping I could zoom.
B
God, damn I would have been a merit whale if I hadn't destroyed it.
A
Well- and I mean that's, the thing is like a lot of this is everything in the crypto space fall?
Is a power loss, so I'm not surprised to see the shape of these numbers, um so these are.
These are the addresses that are known to hold tokens.
A
uh You know by like the that's in like a war chest or like, in the token liquidity app those those are ignored in this list.
So this is, this is essentially a breakdown, so the left column is the calculated merit for the address.
So each each row represents like a bitcoin cash address that holds tokens the psf token and um the left column is the calculated merit for that address.
A
So merit is the token quantity times the token a the agent days, and uh so this second or third column is the actual token quantity, and so, if you take all the merit for all these addresses, I think I looked at the top 50 addresses yeah. The top 50 addresses this is the this second column is the percentage um for that address so like the top address holds 35 of all merit um because it has a huge quantity of tokens and it's super old.
A
It hasn't moved and, uh and so it follows this power law, which is what I was expecting. um So as these sort of tokens move around they'll they'll lose merit and then, as we grow as a community, more people will buy tokens and stake them both to participate in governance, but also to unlock other token.
A
Only features like tour list.cash will allow people to advertise a web page by staking psf tokens and they'll be doing that, not because they care about our community or because they want to join governance, but just because they want to advertise their web page um and so those I I don't think the power loss shape is ever going to change.
A
I think that's just inherent in in everything that is crypto has that appearance um and uh but but but the the amplitude should come down and the the tail should should widen um and so we'll get a more and that that's how I ended up settling on 10 000 tokens. um So if I did the airdrop uh according to this spreadsheet, like that, first address would get you know 35 of the of the voting tokens, and um so I'm a little worried at how at how sort of top-heavy these numbers are.
A
um But I mean it is what it is and it is, it is fair uh and hopefully it'll it'll things will become better distributed with time as as we grow.
A
But I thought I'd share this, because some people do like to geek out on the numbers and uh um yeah they're interesting numbers.
This is all just data pulled from the blockchain.
B
Would you mind sending that out.
A
Yeah yeah I'll uh I'll, add it to the bottom of that proposal here at the end here, that'd be a good thing to I might as well. I think I guess we might as well just for the sake of transparency, like add that spreadsheet, essentially to every um proposal just so, we can see how it changes over time.
B
Be nice to like enter it into a nice little pie.
Chart.
A
Yeah well that actually, all this information was in um the the financial report that I sent out, um oh yeah, so if you haven't seen that don it's it's in message.fullstack.cache at that address that you gave me.
B
Oh yeah yeah, I was just looking at it again going over it again before I uh saw it.
A
But yeah, I I don't think I had.
I had the a pie chart in there of of you know where the tokens exist and how many are in the open market.
um But I didn't include that table that I just showed that of merit and sort of voting token distribution, so yeah, that is new information.
A
Okay, well, that's pretty much the only thing that was on the agenda, um I'm hoping that we can. uh I I I if there's anything anybody has anything left to say or talk about like. Let's do that, but also we'll continue to have this conversation about the proposal in the telegram channels over the next couple weeks, and then I do like that idea.
A
I think I think I might do the airdrop tomorrow of the voting token, and then we could discuss everything at the next com com meeting in two weeks uh and then tally the votes, uh the the following day.
I think that that'd be enough time for discussion, but also like keep things moving, because we do have bills to pay.
A
Okay, well, I guess we can wrap it up.
C
Sounds good.
Thank you.
Chris.
A
Right on cheers, guys and I'll see you online in the telegram channel all right see.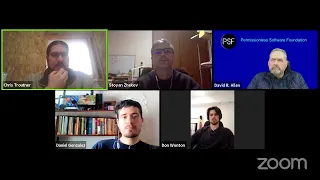 ►