A
Okay, welcome to the may 14th core team meeting and the first item, as always, is the stage rfc stage design whatever we call it.
Niko.
B
I was just editing that uh so you know we had a design meeting.
um The laying team did to discuss uh this sort of idea for a more of a stage process, and I think it was really productive um and we're hoping to move towards an rfc one of the things I can sketch it real fast.
I mean the basic idea: is that we'll have a process?
That's before we go to the main rc repo.
B
There would be a sort of proposal process where people bring a proposal with some details, and it might also be one of us bringing the proposal, and the idea is that these proposals will kind of be the result of some conversation.
If you have an idea, but it may not be fully done yet.
You have a meeting and you want to see if there's interest in taking it towards the final degree and someone from the link team, which we call the liaison.
B
If someone online team picks it up and runs with it, you know with you together with you, then that becomes kind of the seed for an rfc and there's a lot of other details uh that I won't go in for a month of time, but I'm happy to discuss it. um I was hoping to start a draft rfc soon, so I can I mean you can also look at that. The uh some of the things that I'm excited about.
B
I mean one of the key ideas that I liked is that we would probably kind of close things for inactivity after a certain amount of time, but that closing would be more like merging the idea so we'd say: okay, we had a proposal.
It didn't quite get picked up right now, because people are busy or whatever else, but we're going to merge it into a list of sort of proposals that we can pick up again and maybe maybe there were some blocking objections.
They never get resolved.
B
But someone later has an idea how to do it.
They can open up another pr that edits the proposal and makes a new or branches off to a new proposal.
um So I'm excited, I think we will try to push this through and see what happens.
A
Okay, um legal issues, the have you heard anything on the non-commercial terms of the forums niko.
B
I did um I was redirected to somebody else from my first email and I haven't heard back from somebody else, uh but I will follow up on that again.
A
Okay and the licensing guideline says to check in mid-may and it's mid-may except before hands out six, so I'm assuming no update there.
um White papers is florian um and then target tier policy rfc.
Anything there.
B
No, I talked to to josh about it, but as far as I know that changes haven't been made so mild progress.
A
Okay, anything else for the public part of the meeting.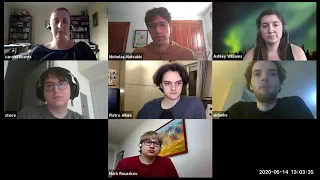 ►
Description
Core Team Meeting 2020-05-14