D
Hello how's everybody doing.
G
Let me pull up the agenda and give people a few more minutes to hop in.
G
All right uh everybody can sign in here at the top, while we wait give people one more minute.
G
All right, it is for after that's long enough, we'll start with our updates cdcon.
Is it tracy or jackie or.
H
She's got the latest the latest um okay cool yeah, so registration, wise I'll start off with registration. um We are at total of 219 and then the breakdown for that is for git ops summit. We've got 211 folks registered and for spinnaker summit we're at 223..
H
um Let me just really quickly pull up.
E
Jackie, you said they were.
It sounded like you said there were only 200 folks registered for cdcon, which didn't sound.
G
You corrected her right out of the zoom call.
Oh.
H
Sorry, I I don't know why I went on mute and I'm talking and talking and I'm just like what is.
E
She talking about, I apologize.
H
Okay, so let me start over um so total attendees for cd khan were at 1 210 and for get up summit.
We've got 211 and for spinnaker summit we're at 223., so we're almost there we're almost like at the halfway mark um inching towards towards it.
So we're looking pretty good now.
Let me just really quickly um add up sponsorship sales, because we've got a few uh updates there.
So for sponsorship sales we are at a total of.
H
Okay, 263 500 is either out for contract or has already been signed.
So we, our goal for this year, was 200 000.
So we have a little extra um 63 500, which probably will be less after spinnaker summit and get up summit costs um also get accounted for.
um So yeah registrations we're doing really well sales we're doing really well.
We've got one gold sponsorship left.
H
So if anybody's interested, um please let me know um so yeah- that's really the biggest updates there for for um cdcon.
C
Jackie breakdown, on the sales, um how many are members and how many are non-members.
E
um I don't think we'll cover that here, but maybe you can follow up with me after um I.
I wanted to just give an update as well on the cfp.
um They we have uh made a slight delay.
We were due to kind of announce the schedule and all the speakers this friday um and then I think when we had set those dates, we hadn't realized.
uh It was good friday and a lot of the team will be out.
E
So we are postponing that uh we are hoping to get the um agenda for the get up summit out on thursday uh and then we'll follow up next week um with spinnaker summit and cdcon.
So if you have submitted a talk and you're waiting to hear on acceptance or otherwise uh just bear with us, we expect those to go out early next week.
So thank you for your patience.
H
Does anybody else have any questions?
G
All right election updates and oleg was just asking about this: on tracy has been getting all the process sorted out with the governing board and attack um talk changes now. Do you want to give the latest, I think, there's a couple different elections um going on just to kind of yeah.
E
So if I focus on the elections at the top level, uh we're looking to uh finally on board some end user representatives, and um so this election actually closes, uh we had some candidates and user representatives are voting for them. I believe it closes today or tomorrow, uh girls girl's, not on the call, I think she's out today, but we expect to announce those uh this week.
E
So the election should conclude and we should have some new talk, members who are the end user representatives and just for people to appreciate we, we kind of split out the elections.
So we know there's some uh seats around uh the projects and appointed reps which uh have expired.
E
I think we're just taking a bit of time to get our processes right uh and we did want to make sure we focused on those end user, reps first, but we'll be trying to get around um to to those elections and setting out a clear schedule and process for those and um yeah, and I think we can go into details on kind of the the new charter and what those rules will be, which is some changes dan has been driving at the board level.
E
Anything else you want to say now, then, is that.
G
That's good does that answer all of your questions, though oleg I think you had something different.
A
So well, uh I was basically just wondering passing a question which was raised in my company um but yeah from the project standpoint. uh We are fine with the current situation, because, if needed, we have direct contacts with the continuous delivery foundation, talk, etc.
A
So it's not uh blocking us in any means.
A
Okay, I guess that's the main part cool.
G
All right next one g-sock, slash d: I put it there because of the threads about docs going on.
I guess we've clarified, there's no.
There.
B
Not from the cdf perspective, there's.
B
At the project level, sorry, oh, that did not mean to dismiss uh jenkins efforts.
Well,.
A
Basically, you said uh what I was about to send so this year the program is different, so it doesn't make sense to apply as a foundation.
Yeah jenkins has applied, I'm not sure whether others supplied but yeah.
We had some discussions applied.
Oh great.
B
uh Other thing is we're missing mentors in the platform I had pinged steve.
He still needs to accept his invite for ortelius and then tracy.
I just saw you on there if you could find or get steve to send me.
Email addresses for the three other mentors that you have for your project, so I can get them added, I'm going through the the project page in github right now and then trying to compare it names to the list that we have.
B
We do have 24 people in the system, which is good, but I know that we're missing, probably at least half a dozen, uh if not more so, be good to get that closed out.
A
We also bought a new mentors in jenkins gsoc, so we will likely send additional update request.
B
Yeah just get them over to me and I'll uh I'll.
Get them updated right away or actually are you an administrator?
You could probably just do it.
A
Yeah, I can do that, but yeah for mentors. um There is no strict deadline, so you can add or remove mentors basically at any moment until the end of the program, it's just better to have as many mentors as possible for the time of slot requests, because it will be one of the data.
H
Points um and then, along the same vein of g sock, one of the things that tara, kara and I are doing is um we are putting together a testimonial video to help entice students to join or to select the cdf as an organization.
H
So I reached out on the slack channel to ask for testimonials from 2020, either from the students or from the mentors. If folks want to provide a like, it should be under 30 seconds. To be quite honest, um a video snippet or a written testimonial send that over to me by friday april, 2nd, which is when I will be stitching, all those little videos together and then we are going to use that video to do some social media promotion.
H
Yep um so just to clarify this is only for folks who have been mentors or students from 2020, not from 2021 or past years.
A
Currently, in the jinx project, we have two videos under review and five testimonials from students, and hopefully we will have more because we want to publish them on our website as well. So uh cara delamar is working on that and you will submit it until the deadline, cool.
G
Yeah, sorry, my dogs are barking, so I waited an extra second to unmute right there, um they're still going, hopefully they're not too loud in the background.
G
um Cdf landscape uh was this you that added this this morning, a leg I think I saw you typing.
A
Yeah it was me I just wanted to clarify the status of the projects on this landscape uh because yeah again, I'm rather a messenger there.
But I would like to understand the status because if you open this landscape page, you can see that there are four founding projects and all of them are listed.
As graduated projects, though only jenkins has passed the graduation process in the cdf so far, and we actually wanted to understand what is the source of truth, the landscape or the real status of the projects.
G
Yeah you're definitely correct.
That jenkins is the only one that graduated.
We had a ton of confusion over the last year on whether probably even farther back than that on whether founding meant something, and there was.
G
Of confusion on the website, the website should now be corrected, but even the website had things listed as graduated that weren't for a while before.
G
I guess we just missed cleaning up the landscape.
We should definitely do that.
So.
A
For landscaper understanding that the current landscape engine doesn't support funding project as a type, I guess the only way would be to mark the project as incubating once.
G
Yeah, I mean that's accurate.
We should we should do that.
Yeah consignment.
G
Really meant to be an actual status or anything.
A
Yeah I just we just had some people uh ex who navigated to this page and got confused by the data there and yeah.
The same question is about categorization.
A
So again, if you open lens cape, there are two categories: one is pipeline orchestration, another one is continuous integration and the the current state of the jenkins x, spinnaker and tecton are considered pipeline orchestration engines.
While jenkins is considered as continuous integration engine, though it also has full pipeline orchestration capabilities.
A
I wonder whether we could get rid of these categories entirely, because I don't think that they represent the current reality.
A
Because yeah orchestration agents and cia yeah all uh projects within cdf uh support uh all these capabilities.
G
And I know techcon was in something that they thought was the wrong category in this.
A
Was inconvenienced in declaration as well as jenkins, but then it was moved to pipeline orchestration and for jenkins.
Specifically when we were working on genki student zero in 2016, we explicitly changed the terminology and guidelines for the project, so it's listed as an automation server, not as continuous integration server, because jenkins addresses other needs, and we don't consider jenkins.
As on the continuous integration server in the project.
G
I think tar you're probably more familiar with the way the landscape works.
Do you have suggestions.
E
Are you speaking to race, I'm muted,.
B
Yeah, I pulled the jaclyn sorry.
B
I'm not an expert in the platform marky and I had started to look into this stuff uh and there's a bunch of backstage outstanding issues. um I just pulled it up now uh that it is technically on my plate, so I will take this action item to go dig into this.
E
Yeah- and one thing I I do recall we in that discussion- we had had that that that issue came up and it you know it's not just jenkins, but there were multiple tools that felt they could be in different boxes, and you know gitlab was the other example of uh you know the fact it's not inversion control, um but only shown in pipeline orchestration.
It definitely right.
It's I mean it's just people.
B
That only that you know things were only supposed to be in one category, because we were scared of what was happening at the cncf landscape level, but.
C
The cncf landscape only allows you to be in one box and we followed the same exact rules of the cnc landscape.
So, for example, we could put deploy hub in like all of these boxes, if we really wanted to, because we could call a container security tool, and so we could add ourselves this container security.
C
So we were trying to be careful about um trying to what it's the primaries. What is the the tools primary solution and we were following the cncf's uh rules and how to build it out and um dan worked with me on putting this.
G
Together dan lopez, right just to be clear, no really, I did.
G
Oh dan cohen, sorry too many dance too.
C
Many dance yeah, no dan dan and I worked on this.
um He pretty much built out the back the framework for it.
I worked on initially trying to build out the the categories we passed it off to kk.
He took a look at it.
The toc looked at it at that point in time agreed that we would follow the cncf rules and then came up with these categories.
It's really easy to change.
It's all.
You know in yaml, so you can create your own pull request to update any of this.
C
I don't see any problem with getting rid of the continuous integration category doesn't matter to me, but I do.
I would say that if git lab wants to, for example, if gitlab felt like they should be in version control and they should be in orchestration and they should be in deployment, it's going to clutter up the landscape.
I think that the guidelines from the cncf to say you have to choose your primary.
C
Your primary focus is a good one and I would hate for us to not follow it.
That said,.
B
I I worry about oversimplifying so perhaps uh there's another mechanism that we could use.
A
It's a subject for creating additional categories.
I have no.
A
On a gitlab location but yeah for ci cd engines and for automation, servers we could just recategorize the projects because yeah there are clearly integration and sorry, clear, orchestration engines like spinnaker and jenkins eggs.
They do not do cia cd on their own, so they could be in this category.
A
For example, tecton at least in my opinion is rather pipeline engine, not an orchestration engine but yeah.
I guess they may have different opinion and yeah in the case of jenkins, again a sports orchestration server or pipeline engine.
But in our case I would rather call it a generic automation, server organization.
C
Framework and so, and that would be for that whole category- I think that's a great enhancement to this.
C
And that's for anybody who wants to add their logo to a category if they're there, you will get an error, though, if you have a logo in one category and you're, trying to put it in a second.
C
Because it does look for that, um but yeah, it's super easy oleg to make changes to it and just add stuff or modify it.
A
Okay, yeah, maybe one question about uh category is so if a company has multiple products, is it fine to list all of them.
C
They did they don't in the cncf you have to figure out which, which area you want to be have.
A
Yeah right uh for one product but, for example, uh at columbus we have different uh products.
C
I don't think so.
Let's look.
B
Yeah, that was one of the things that was becoming controversial.
Is people were like taking individual sort of named product spaces and scattering them everywhere, um but, like I said, I think we need to figure out a good system for this, because it's not actually, I think, ultimately useful to convey to people who are looking at it that oh well.
This is just a reversion control system, or this is just an orchestrator.
B
Somehow we need to give indicators that help people dig in a little bit.
C
Yeah there's a balance we have to strike because we can't say that jenkins does continuous testing or continuous deployments.
B
Yeah, so I think there's yeah.
A
But I'm happy to just create uh you could go to automation server because it's not on the jenkins.
There are other tools which would fit in this category better.
C
So you know- and I I see that continuous automation category- I always thought that that maybe should be something that we could broaden, because that's what people are doing so it's got test release and build in it.
B
Well and the other thing too, I think it.
We should also review this in line with, like the the definition stock uh that we've been working on so anyway, you know can drive that to at least a reasonable.
You know 0.9 version or whatever and start doing some alignment.
I think that will help too and actually, then, if we can somehow make a reasonable sort of visual connection between those two things to help people kind of explore this space a little bit more effectively.
B
Okay, so like, if you get that pr issue or, however, you want to track that into into the landscape repo uh that'd, be.
B
Make sure I don't miss any of the great comments you just made.
um Okay,.
A
uh Yeah, I will uh follow up separately for multiple products, because you know, I think we definitely need to agree but yeah for first two items. I can send the request now.
E
Yeah awesome, I think, with the multiple products you know, every company's got multiple products you just have to have someone like ibm and they'd be able to have something everywhere. So I agree: there's a balance to be had um in kind of having all the different ones, and maybe you know encouraging folks to to focus on uh one area.
C
Something like you, I always thought it would be fair for if you have like like cloud b um cloud beast has um you know several products that fit that span this all of this and why not allow them to have each the products that they do provide in each category?
C
What the date, what the danger is, is having a single product be spread across multiple categories.
I think.
E
Sort of well-named, so I think that's something we can look at and that just to be clear.
This landscape is under the remit of the the technical oversight committee.
So this is the right place to be having the discussions to push for change, and I think the timing is good now.
E
uh Just so folks know, um steve at jfrog he's been syncing closely with the cncf and we're looking to do some tighter integration with their landscape, so um at the very first level, and there's probably going to be a link out from the cncf landscape to the cdf1 and then we're going to keep exploring options to integrate them tighter.
So, on the one hand we have to be a bit mindful of their policies, especially if we look to integrate or replace the whole cicd box with our landscape.
E
But on the other hand, I think we should also be keeping in mind um kind of our users and helping give them clarity or from the 50-foot view of the of the landscape.
G
Yeah, it's not worth you know, it's not like.
We have to take the existing one as fixed in stone either and there's there's always some funny.
G
We like to see in cncf one where it shows, because it ties everything to the company, and so people always joke whenever, like.
G
Would publish a little open source tool it would show up with like head count of a hundred thousand in revenue of like trillions of dollars, um right just tied everything back to the same company. So we would always like to brag about that how much revenue our little tool that one person worked on had according to the landscape, but it's a tough problem.
G
Yeah.
You probably remember some of those tara.
Oh.
G
Scaffold so much revenue.
G
Looks like andrea has to leave uh right um jenkins, contributor summit next, one.
A
It's a quick update from the previous discussion, so we have confirmed june 25th as a date for the contributor summit.
um We still work on assembly agenda, but we will definitely have a lot of discussions about evolution of jenkins's technical roadmap.
A
Most likely we will have some user representation there and we also plan to have interrupt probability topics, so we already have uh stories related to tickton and jenkins integration. We also have three discussions with the jenkins next project, because jenkins, x, 3, is about to include jenkins again and we want to make it a part of the summit.
A
So if there are other projects and contributors who are interested in jenkins integrations inside cdf, we can also make it a part of the contributor summit it's to be announced, but we hope to have the full agenda within the next two weeks.
E
I think that's great and like I just wanted to highlight like definitely within cdf.
um The other couple of projects that are getting a lot of interest in conversations are the jenkins templating engine and jenkins operator.
A
We contacted contributors and we hope to have them as a part of organizing committee so that we have representation from these sub projects as well.
So again, it's a community event which I hope to get as many adopters and the vendors as possible, represented there and yeah.
I started reaching out to stakeholders.
B
uh Quick stupid question.
uh Sorry back to the landscape, oh like is uh or whoever is it just jenkins, or is it also jenkins x that are graduated?
I.
B
Want to say, it was just jenkins.
Okay, thank you.
A
And then, for the record, even jenkins means it's basically jenkins core, so we didn't put it up against a system because plug-in ecosystem was a completely different topic for our governance.
A
So if you talk about, let's say jenkins uh pipeline templated engine, uh whether it's a subproject or not, it's not created in our opinion.
At the moment,.
G
Right uh cdf lf cla guidelines uh so who.
A
Well, it was also me, okay cool, so it's.
F
Terrible after putting so many agendas.
A
Yeah so yeah in jenkins, we have finished transition of the trademark to the linux foundation, and now we would like to clean up our contributor license agreement, because our contributor license agreement still points to software in public interest or proving some real organization, and we have a very tedious cla process right now and yeah.
It's seriousness is compensated by the fact that we apply it on the for maintainers.
A
We need special permissions and I'm not sure how is it sustainable from the linux foundation standpoint and we would like to streamline our cla process so that it's compliant with the best practices and the requirements with the radio.
Unfortunately, I was unable to find the guidelines, so I wonder whether anyone has pointers to these materials.
If not, I will just bring up the question to the ideas foundation, legal.
G
So I don't think we prescribe anything yeah, so linux foundation, legal, would probably be the right ones to ask like I don't think spinnaker does anything here.
Did ortelius do dco or cla tracy?
Do you know no.
G
Remember yeah nothing, so I.
B
Remember we we talked about this before and I'm trying to remember what we said.
I think, but I I'm I'm leaning towards at the time that we would you know we could recommend having one, but we weren't going to prescribe everything is where we left it.
C
I mean we have used easy cla.
Some of our contributors have.
A
Actually so yeah in our case, we have uh cla and company cla, but again not for code contributors, but only for maintainers with advanced permissions.
So we would rather like to keep using this model and we can easily apply easy cla to that.
So it's rather question whether it would be enough because we had a holy war about dco, because the impression we have in the community that even dco creates a lot of concerns, why it doesn't really answer the legal side of the question about translation of payroll attention, trademark, etc.
A
So yeah right now, I'm not sure what we would do at the same time uh with regards to agreements uh so tipton cla current is currently similar to junkie silly.
Basically, the only difference is uh that in public interest is replaced by the linux foundation and we will start from setting up the same process while figuring out who is legal.
What would be the expectation.
G
Yeah, you should definitely reach out to lf legal. um I don't know that they're going to want to give you, you know they normally always say they can't give you actual advice. They can just explain things um well,.
A
So, let's see uh we already got some feedback from andrew greenberg, who is subscribed to the jinx developer, magentest and yeah. Maybe we'll find additional guidelines well somewhere in the documentation.
A
Let's see, if I find something I will communicate it back to the top my length list.
G
um Yeah, I think techcon was one of the first people on board to easy cla and it took some hand holding it wasn't quite as easy as the name described, but I think it's it's been quite a while since then.
So it's probably easier now, because I think quite a few projects have onboarded to it.
A
Yeah, when contact with lfx product managers so yeah, if you have a direct channel to ask for changes, et cetera, awesome.
E
The last thing I was just going to mention is that there is a webinar on easy cla running on april 8th, so um that might be a a good place as well uh to see if they this general guideline, so how you can think through the decision making and get the latest on how easy, whether there's an easy, easy cla.
A
Yeah you've seen this webinar I'll, find the link.
G
All right have a good day.
Everyone.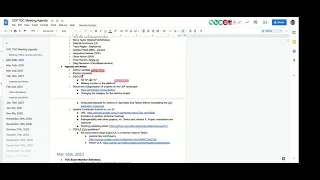 ►