B
People here early- oh one of my other meetings, just got canceled, so I figured come visit.
You.
A
You all know where the edge of the dock is, but I just dropped into traffic sign in.
E
Good morning, how's everyone today.
E
I am not awake.
I just want to.
E
The record don't expect much for me.
F
You still haven't had your coffee, I'd read to you yet it's.
E
uh A little bit too close to scalding for me to start.
D
You're an ice cube in it.
E
No, I don't want to dilute the caffeine, goodness kara. I had a wonderful dream about london. Last night I got lost in the tube, uh but ended up being in the tower of london, with a raven on my shoulder and uh was being grilled about history and every time I failed to answer a question correctly: the raven pooped on me and then I woke up, and I have no idea what that was all about.
B
Were you watching game of thrones again.
E
No, you know what I couldn't watch game of thrones like.
B
The other one I had the vikings have a bunch of ravens in it, but nothing with.
F
Yeah, I was like you know: have you been watching the irregulars?
They have a a whole episode on black ravens and then they go and kill people and poke their eyes out.
It's really cool yeah.
You know the north sister, their whole thing.
E
The first episode of game of thrones- I was like okay, let's see, we've got murder incest, uh throwing kids out of a window.
Okay, I'm out.
I'm done yeah just watch the news exactly right.
If I wanted heavy I'd watch the news I like light-hearted my favorite english, so I grew up reading english literature.
You know- and I have every terry pratchett book ever written.
G
Nice well, if you're in london we'll go out and we'll be better than that, I can't wait to get back to the tube, we'll avoid the two.
E
I I have been lost in the two.
It's it's true, but you know: what's cool about getting lost in the tube is wherever you come up.
It's like you're.
Still in london, this is cool.
E
Did we get dan?
Do we have a dan?
E
Oh there's a dad sorry dad.
A
No worries finally have some quorum now it looks like we'll join in the last minute or two, so we can get.
A
Dropped the agenda dock in again, because I think zoom doesn't share with people that joined later and now I will screen.
A
Share all right, I should be able to see it. We have a relatively short agenda today: um charter changes, um election results and other upcoming elections.
A
Gsac updates and I didn't do much work there, tara um and then some landscape discussions add anything else.
You want.
E
I was actually just- I was just about to add a landscape comment, so god thank you for having me on the agenda.
A
Awesome um anything else, people want to cover.
F
um Yeah, so I can give a cdcon update and then also um devops. World uh cfp is open and we have a track.
A
Oh awesome yeah, I just saw your email there.
um You can drop that and uh you have the link handy.
So I don't have to go searching.
F
Let me drop it in for you, one sec.
A
All right um we can jump in then, with the recent charter changes and the election results. um Do you want to start this off tracy and then I can check through more detail.
H
Yep, hey everybody, um okay, so let me drop a link in uh so recently. uh We had some changes to the charter of the cdf, uh which were voted on by the governing board and just for awareness. uh Any changes to the charter have to be voted on by and achieve a super majority um so put the link in there and then I don't know if you want to click through to the relevant section uh section.
A
Oh, wait, wait!
Sorry!
I don't see in the chat.
Oh.
H
Switch tabs.
Oh yeah, sorry, I forget the sharing screen.
A
All right section: seven here we go.
H
So, uh specifically, section b yeah, those are what the changes are, and this is kind of based on a proposal uh done put forward to the board and after discussion, that's what was agreed on uh so dan. Do you want to talk through the thinking a bit more and then I can chat about timelines.
A
Yeah, so we discussed it, I think in the last some of the last two minutes, but now the board is actually.
This is finalized.
Now, right, yes, the board did vote yeah, okay, I thought.
A
um Yeah, the board did vote in the last meeting to accept this.
So now the remaining details to figure out are around how to transition and the timing.
But the high level changes are that we're staying at nine members.
um We were supposed to be at nine before, but I don't think we ever actually filled all nine seats.
um I'd have to check.
We were staying at nine members and instead of um it being one seat per project chosen by the project representatives we're switching to be a fixed number of seats across all projects.
A
um This was done for a couple reasons, um but the most imminent one that kind of prompted us to have to take action now is because there were only six seats for projects set aside before out of the nine and we reached six projects, so we needed to figure out what to do for any future projects, um so yeah the representatives, um our attention, the intent is that they would represent all projects, not just the one that they were elected from, but they're supposed to be nominated on and voted upon by one big pool of contributors to all of the projects.
A
Each project gets to nominate one representative for those seats and then the elections take place kind of across them all.
A
um So that's four two members are from the end users, so those are end user, they're elected by end user companies um that are members of the cdf, but the nominations.
A
um The nominees can be from any company whether or not they're an end user um you're just they're just supposed to represent the end user members and then finally, the last three are elected by the governing board.
Directly nominees don't have to be members of the governing board, um but the governing board.
The full governing board, would vote to elect these three um two year terms again, but we have to figure out how to transition into a steady state staggered um setup.
So we don't replace everybody constantly.
J
Is also contributed to the project.
That's this project was received from the first point.
A
Sorry, you were kind of quiet there, your microphone, that was.
H
The question if somebody.
A
Is elected from an end-user seat but they're also a contributor to a project?
Yes,.
A
Yeah they're independent, um you know a lot of non.
A lot of companies are in the end, user are not in the end user tier that are end users.
A lot of projects are contributors, they.
A
From both um they're independent, it's really about what hat you're supposed to have on in the meetings and then who elects you.
A
The other questions, or do we have a more firm idea of timeline for the transition tracy or we just welcome so many members to the talk now.
So it's kind of a staged phase.
H
Yes, yeah now, first priority, uh we we've had the end user representative seats; uh well, certainly one seat for a while and that's something we never really set in place.
H
So the first step was getting in one representative on that so and super happy uh to welcome fatty uh to that seat as part of the talk, so the next part we're trying to work out um how to just execute on that specifically point one and uh what we need to figure out as a foundation is just reaching out to each of the projects and understanding who their official technical steering or governing board is so that we can work out who's eligible to vote in that election, and I think for some projects it's pretty straightforward, but for others we might need to work with them as they're kind of evolving their governance um for the first one in terms of nominations, um yeah, once we've got that we'll we'll be looking to then kick off a process.
H
um So we can go ahead and elect those four representatives and then um also figure out how to kind of stagger the term so that we're not kind of changing the whole uh talk.
At the same time, so we want to keep some continuity, so um we don't have a timeline yet, but I would suggest that in all likelihood we will want to have the elections soon enough to see decon.
So we expect we'll be kind of in the run-up to cdcon.
H
Things will get super busy, but if we can get a process and um open nominations ahead of time, then we're hoping soon after cdcon we can go ahead with those elections and welcome new members to to the the toc.
A
Wait, I just realized, I have to switch back.
Let me try to change directly cool all right back to the agenda doc.
I
Well, I have a question about the uh mainly the top meetings. Like you know, uh the quorum requirements like I don't remember if I've seen such requirements documented in the governance or charter.
I
So I suppose the talk needs simple majority.
I
Be able to take decisions or is there a you know, point in the charter for that.
A
The charter, um I'm sorry, go ahead.
Tracy.
You probably read it more closely.
H
Not on the chat, as could say, we do specify um the numbers for specific votes to do with the project life cycle process um like how many votes we need to approve projects, but um yeah, I'm not sure about.
If there's anything else, you had in mind.
K
This is gail, so I need um general. So I need to double check our charter specifically, but most for the most part generally, the lf charters have um quorum is usually over half as long as you have over 50 percent of the voting members um participating in the vote and that's what quorum is generally over 50 of the voting members and then from within that poll, you can take a vote. um We generally try to shoot for lazy consensus, which is kind of just like a if there's agreement, and we need a formal vote.
K
That's when we start going into that, but I'll check our charter to confirm um before the charter changes that being a super majority. That means um you need to have 100 percent. Participle two-thirds have to vote in the affirmative of the governing board to make a charter change.
K
So I believe there are 12 or 14 voting members we have for the governing board, um and so it was. We had to have eight votes in the affirmative.
I
The reason why I'm asking this because, like in some of the other communities, I was part of like when the meetings generally.
This is what is for meetings when the world happens on main list.
It happens anyways like over time, but during meetings.
There is a need to take a decision, for example, not reaching forum, sometimes those problems for those communities and like those committees, they had proxy mechanism in place.
I
So if a top member or thc member is unable to make it meeting, they could assign proxies for now a specific meeting or for time period.
E
I don't I mean dan correct me from wrong, but I think any important decision that the toc does.
We always do it via email.
We don't do it in a meeting so.
E
Way, we have the actual counts and we don't have to worry about participation.
That said, be nice to have more consistent participation by voting members in the meetings.
E
So I think there's two two issues there right.
That's a good point.
A
Yeah, that's basically my understanding.
um I don't think we've ever done a vote during a meeting and yeah.
Certainly.
A
um Yeah the mailing list, stuff, is where the votes tend to happen, but yeah there are, you know, quorum and attendance issues that we've been dealing with in the talk meetings forever, um so the mailing lists are kind of a crutch and also at the same time, um the only way we've been able to get votes in quorum.
A
Any other questions there.
A
All right, g-sock time then turn.
E
uh So, first of all, shout out to oleg who's done some good slack wrangling.
Thank you.
um I actually was.
I was gonna log on this morning to have a look at the project.
I haven't had a chance to do that.
Yet my coffee maker was fighting with me this morning and you know how I am about my coffee, uh so I was gonna log on and have a look.
um Oh, I think you had a look.
What was looked like?
E
We had a handful of things that weren't jenkins and then a whole pile that was but overall, I think there was a total greater than we had last year um from the non jacobs projects, which is a good sign.
So.
J
um So I can provide statistics for jenkins project, so we have around 20 applications in the pipeline.
Some have been already submitted.
Some are involved uh well, it's slightly lower than in previous years, but it's quite a good number and we are confident that we would be able to have several good projects from what we see uh for obviously projects.
There is also quite good traction.
uh There are some final proposals submitted uh for spinner care for screw driver and four studios.
J
um We confirmed separately this uh checked on the team that they didn't expect applications in the ci, but at least we have a project id in jenkins which basically junkies and technologies.
J
Hopefully it happens, keep your fingers crossed because it also depends on the applications on the outside.
E
And uh one of the things I wanted to call is we got a handful at least two for ortelius, so for our newest project, which is kind of exciting to see so yeah. I call 19 total.
J
Yep most likely the number will change.
Usually it doubles within the last two hours before the deadline, but yeah that's how it always works.
A
So you said it doubles, so it's going to go up to 38..
They have until.
J
Wow, that's a big change yeah!
Well, this number, but historically the most of the students who got selected reach out to the communities earlier.
E
And then one quick shout out, uh uh I saw I think I saw jithin um if you want to go, give uh pridum, um uh swiftkick and uh steve taylor.
If you're on the call uh go, I need both of you to go.
Accept your uh mentor invites in the system.
You still show us pending.
C
Yeah he's back on vacation.
I would welcome today, okay, we'll do okay.
E
Yeah and steve, if you, if you lost it or didn't, show up, let me know I can cancel it and resend it so to get a fresh email.
F
And I've dropped in also the youtube promo and a twitter link.
So you can promote like and encourage students to submit um or select the cdf as as an organization I'll throw that in the meeting notes for you, dan.
E
Tracy already in there sorry didn't mean that.
G
The idea is very nice, I'm a huge fan.
A
Awesome all right landscape should I click on this link and switch tabs over to it.
A
This is the cross cross-linking steve is here.
H
I can speak to this a little um yeah, so at the the governing board, one of the goals set out there was to foster a closer relationship uh with the cncf and well other open source foundation, but starting uh with the cncf.
H
So one of those initiatives um being driven by uh steve chin, who's, uh who's from jfrog and also our governing board chair uh is kind of a collaboration with the two landscapes, uh so he's exploring some options with the cncf team and initially we're going to cross-link the landscape so that the cd1 is linked of the cncf1 and then the cncf1 is linked from the cdf1 and then eventually we'll we'll explore some more options like if we can replace the cicd section of the cncf landscape and so that kind of falls out to the cdf landscape.
H
But we'll kind of continuously improve that.
But if you take a look at that pr, that's the progress to date.
So I I think, there's a preview of the cncf landscape embedded in the cdf1.
H
um But if the folks have any thoughts uh about how this could or should evolve, um do to, let us know as we're trying to just generally improve this and improve the interruptions.
E
So, okay, so that actually answers my question potentially because I started to dig into some stuff, as as we know, I had a backlog agenda item around this node is not my my language and I immediately ran into out-of-date documentation and no dependency errors uh trying to set up the test environment.
E
uh There was also cross-linked documentation back to the cncf docs.
Those were also out of date.
There's broken links everywhere, and so, if uh steve is a good contact, I can work with him and we can try and clean some of that stuff up, and I guess.
E
Because not knowing it turned out to be a problem.
H
Yeah, not necessarily steve, but the folks in that thread, uh jordan, there's a slack channel um with the maintenance of the landscape.
Let me pull you into that group.
If you.
E
I was going to say is that on a cncf slack or.
H
uh Yeah, a cncf slack, so I have to go hold.
E
You down give me an invite into that.
That would be great.
H
I will go, find it and invite.
A
You all right should I go back to the manager now yep.
E
So sorry, I don't have good news, but I at least did look at it.
That's my fun positive update.
A
All right uh last one devops world cfp. um I just saw this email go out a little bit before the meeting um later this year.
F
Yeah, so this is yeah sorry about that yeah.
So devops world is happening in september um later part of september.
F
I believe it's the 27th through the 30th, something like that, um but again this year, what the cdf is doing is we are going to be a sponsor and part of that sponsorship includes a track um so similar to last year, um except I'm not gonna, be collecting the the talks this year, we've included it as part of the cfp of devops world, so we are now just letting folks know if you've got um talks that you want to submit under the cdf track.
F
uh You'll need to submit your your paper through the devops world cfp portal. The link is that um third bullet there so start letting your communities know um we'd love to see all the projects there represented.
F
um You know we have different types of of talks, also that we we encourage folks to submit not just around the projects. um So that's the biggest update there. The other thing with um cdf I wanted to let you guys know that the program got published last week. So if you haven't had a chance to review um the cdcom program, get ops and spinnaker everything's out now we're doing really great on registration last week because of the program announcement and some other outreach activities, uh we were able to cross the the 50 line.
F
So as of today, we have 1830 folks registered out of the 3 000 um registration goal for the jenkins contributor summit.
That's also something that we've been working on and got added recently, so that is also part of the registration process.
F
um So if you want to participate in that you're able to go back into your registration form and just add that we have 136 folks, 136 folks registered for that um and then for get up summit we have 686 and for spinnaker summit um we have 478 and then we also have 266 000 um dollars either out for signature or already signed so doing really healthy for cdcon this year.
Above all, that's it.
E
Jackie remind me when we need to have uh stuff ready for keynotes yeah.
F
So um tracy just sent a note this morning to you um and she had a few things that she needed from you, but yeah um jennifer crawley um is usually the one that will help all of the speakers and keynote folks and she'll keep you on track.
She's the program manager for that.
E
Aha, all right, I will, I will go check it out.
Thank you.
F
Yep no problem so yeah.
I think we need time zone so that we can figure out recordings title bio headshots.
um I don't see a.
I know that slides are due.
Sorry.
Let me pull that up right now.
F
I don't have that.
Memorized.
F
Let's see so yes, it looks like materials are due may 21st for all speakers.
H
Awesome, jackie did we have the info on like birds of a feather session.
H
um What do you mean uh that we were sending out a form to for sigs and projects if they wanted to have a?
I need to follow.
F
Up with roxanne, because she was the one that was had created that- and I don't know.
F
She's planning on sending that out but yeah.
Let me ping her.
D
I believe I've received one a few days ago.
H
Okay, okay, perfect yeah.
In that case, um just so folks are aware- and in case you haven't received, anything uh roxanne is reaching out with a form to all our cdf projects and special interest groups, and if uh folks want to schedule a birds of a feather session at cdcon.
We we want to know your preference and who can be moderators a point of contact for those sessions.
So we can get those scheduled.
F
Yeah I'll ping, her again and I'll drop the form in the notes.
A
Awesome any other topics for today.
A
All right, then see everybody in two weeks.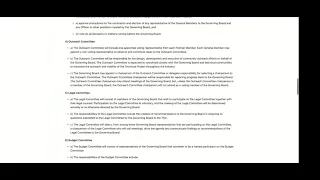 ►